---
In today's world, there are multiple ways in which a customer interacts with a brand. This might be direct – through the website, in-store, or on the phone; or it might be indirect, for example, reading a third-party review of the brand's product or service. One thing is sure – how a customer is influenced varies from person to person, and this continues to evolve.
With multiple channels, both online and offline, and evolving buyer needs, understanding the customer journey map — how a customer interacts with your brand before, during, and after purchase — can be complex.
What is a customer journey map?
A customer journey map is a visual representation of your customers' interactions with your organization, tracking the steps they take as they progress through their relationship with your brand. A customer journey map can help you to see where your existing customer journey is working and where pain points are occurring and assist you in optimizing your efforts for a better customer experience.
Ideally, you use a customer journey map to strengthen the moments that matter to your customers and to heighten the points of emotional load. This will encourage your customers to continue their journey and take the actions you're guiding them towards. It's useful not only to create a better customer journey but to increase customer engagement and to extend your customer lifetime value.
Customer journey mapping, it follows, is then the process of creating a user journey map. Charting the customer experience through customer journey mapping is vital for understanding your customer's perspective of the steps they take when they interact with you – and for making your customer experience memorable.
Free Course: Customer Journey Management & Improvement
What are customer journey mapping tools?
A customer journey mapping tool is a digital tool that collates information on the various stages of customer journeys and presents them in a way that's easily understood. A customer journey mapping tool can track your users' pathways across your platforms with the data you have, and help you to see where you can invest more time and effort to create a more effective customer experience.
The best customer journey mapping tools are sophisticated, with the ability to help you not only manage your customer journey but to orchestrate them in real-time. This enables you to personalize your customer's experience as they undergo their journey and to offer them a customer experience that feels unique to them.
Get started with our free customer journey map template
What are the benefits of using these tools for customer journey maps?
Customer journeys are often not single or linear. For a business of huge scale, manually undergoing the customer journey mapping process for every customer type is impossible. This is why tools to help you with customer journey mapping are so valuable; because the quicker you can understand the customer journey, the quicker you can find ways to improve the experience and reach your goals — whether that is buying a product, getting a customer to renew, upgrade their subscription or refer to a friend.
Customer experience often falls short of customer expectations – and that's where your audience can suffer from churn. By using tools to help you with customer journey mapping, you're able to use customer experience insights to notify team members where they need to create follow-up actions and amend journeys. A visual collaboration tool makes it easy to see where the issues lie and where your team is best placed to make a change.
Read on to understand the must-have key features for the tools you use for customer journey mapping.
Choosing a customer journey mapping tool
Customer journey mapping tools should include the following:
1. Simple design functionality
You shouldn't need coding know-how to start customer journey mapping, so whatever tool you use should offer easy design functionality. On the flip side, you shouldn't have to stick to a rigid customer journey map template that doesn't suit your customer journeys. Customer journeys can be complex, so being able to see the journey visually – in a simple and clear way – is a huge benefit. It will make the decision-making process far more effective if your user interface is easy to parse.
2. Fast and easy editing
With new channels, evolving buyer habits, and changing needs, the customer journey isn't static, and therefore your customer journey mapping tools shouldn't be either. You want the ability to change your journey maps quickly, in order to reflect new products, services, or processes, or change customer behaviors. As the customer journey evolves, so can you — meaning any actions you take will be as effective as possible. Ideally, you can make real-time changes to the customer journey using your mapping tool as a guide.
Webinar: The five competencies you need for customer journey mapping.
3. Sharing functionality
What's a journey map if only you get to see it? Your chosen customer journey mapping tools should enable you to share your maps quickly and easily, with as many stakeholders as you want. The customer experience should be something that's owned by the entire company — from marketing and sales to customer service and product.
But only by knowing how customers interact with the brand throughout the customer journey can your teams ensure the experience will meet their needs and expectations. Empowering your organization from top to bottom is key to making this a reality. Customer journey mapping is inherently going to be a collaborative process, so make sure your tool is equipped for multiple sources of input.
4. Real-time collaboration
Along with shareability, you also want a customer journey mapping tool that enables your team to collaborate in real-time. It should be possible to set permissions for those who can view, edit, or create journey maps. If you're serious about improving the customer journey, then journey mapping should become a part of your daily routine, and not something that is done at the start of the year and forgotten about afterward. Turn your journey map into a living, breathing document that every team can access, learn from, and improve.
You should run regular workshops on customer journey mapping to help your team improve as you go. Your customer feedback and customer engagement is likely to change over time as you implement new products, services and processes, meaning your mapping tool and your team need to be able to keep up with any evolution.
5. Integration with data sources and other software tools
A great customer journey mapping tool will integrate with your existing data sources, allowing you to feed in real customer sentiment into your journey maps. By using data to inform your customer journey mapping, teams can have real confidence in the actions they take, removing any element of guesswork. Data-driven decisions are much easier to chart and justify. Create a journey map based on real customer behavior, emotions and attitudes backed up by data, rather than what you assume to be true.
Customer journey mapping software should ideally also be able to integrate with other software you use for action management and team direction. Rather than using multiple tools for mapping software and taking subsequent action to improve the customer experience, the ideal journey mapping software will encompass everything you need in one place.
6. Action trackers
Once you've identified pain points and come up with ideas to remedy them, you should be able to assign actions within your customer journey mapping tools and track progress. With access to a single platform, teams from across the business should be able to collaborate, and take steps towards a shared vision and better customer experience. After all, a journey map is just a piece of paper unless you're taking steps to gain insights and implement the actions you gather from it. This is where the true value of customer journey mapping becomes clear to see.
A great journey mapping tool will also be able to automate these actions to save your team members time and effort. Your customer analytics are likely already automated – so your actions should be too where possible.
7. Customer personas
Some of the best customer journey mapping software allows you to create customer personas as well. But at the very least, you should be able to import existing personas into your maps. Why is this important? Because there is no single journey that customers take, but similar groups of people may take a similar journey. This is where segmentation (dividing customers up by personas) is helpful because you can see how the customer experience varies for certain groups of customers. Ultimately, customer persona capability will allow you to take an even more tailored approach to your mapping process.
8. Omni-channel data integration
The very best customer journey mapping tools will combine offline and online data sources, reflecting the fact that your customers will veer between the two during most customer journeys, and some sets of customers will lean towards one more than the other, depending on their preferences and demographic. This means that your journey mapping will reflect the full picture, making it as accurate as possible.
Remember, your customer data won't just come from the channels you control or customer satisfaction surveys you send out. Your customer feedback will also be reflected in the data you collect on customer behavior – your operational and contextual data – and on third party channels.
9. Unlimited journeys and personas
Once you get the journey mapping bug, you'll want to create lots of them. Your customer journey mapping tool shouldn't limit you to a certain number or set a restriction on the number of customer personas per map. Your customer maps will evolve over time, so you need to be in a position where you can as a business too — and quickly.
Don't be held back by technology. The customer journey maps you create will likely be dictated by the size, location, and industry in which your business operates. For example, if you're a global FMCG business then you will have various maps that account for the various channels in which your customer personas interact with the brand, both directly and indirectly, throughout the journey. However, if you're a B2B IT manufacturer then the journey maps you create will focus on a totally different set of customer personas, with their own purchase intent, motivations, and timeline.
10. Attractive and easy-to-understand customer journey maps
It's easier to get senior buy-in when your customer journey maps match your brand colours and are easy to understand at a glance. Don't go for a tool creating customer journey maps that are overly complex and, frankly, ugly. As a business, you want your teams to be brought into the process. Create customer journey maps they can easily understand, recognise, and use again and again. Branding will help too because it will create a sense of familiarity. Getting the look and feel right is a small but effective way of driving buy-in throughout the business.
Use our free template for your customer journey map
Helpful customer journey mapping tools
Customer journey mapping tools don't have to be complicated to get you started. No matter the size and maturity of your business, there are tools to match your customer journey map needs. Digital whiteboard tools or even PowerPoint can help you to start charting your initial customer journey maps. However, for businesses working at scale, your customer journey mapping process needs to have the ability to pull online and offline data into a cohesive, all-encompassing set of maps.
Qualtrics CustomerXM can identify points of friction and orchestrate your customer journey in real time, personalizing your customer journey maps at scale for your audience's current needs. With contextual data analysis and actionable insights built in, your customer journey evolves as your customers do.
Rather than simply outlining your customer journeys, Qualtrics CustomerXM unites all your customer data to create living customer journey maps that you can work on collaboratively with your team. With hundreds of integrations, 27 channels and 128 data sources feeding into a singular platform, Qualtrics CustomerXM offers you powerful customer journey mapping software that's sophisticated and adaptive.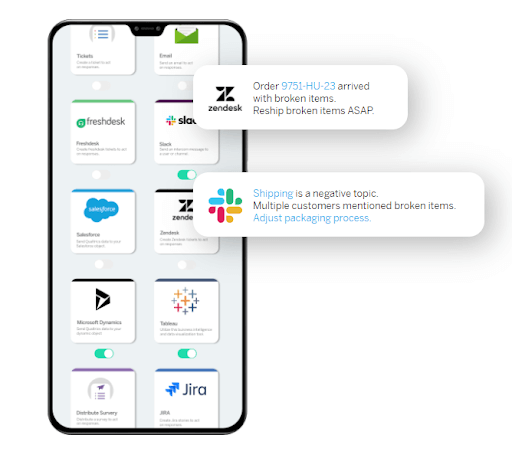 With hundreds of integrations, 27 channels and 128 data sources feeding into a singular platform, Qualtrics CustomerXM offers you powerful customer journey mapping software that's sophisticated and adaptive.
Learn more about customer journey mapping: