---
What is career pathing?
Nowadays, a career isn't necessarily for life. Many of us have more than one career or profession, meaning that a career path may take a person from beginner-level to mastery and back again as they change direction.
As the workforce becomes more diverse, with employees coming from a variety of backgrounds, and fast-changing job roles and ways of working becoming more mainstream, it grows ever more challenging to ensure that employees have an understanding of career paths and how they can move forward.
In response, companies are using a wide range of strategies to help retain their top talent and develop skills. Engagement and employee experience are key to both employee retention and meeting organizational talent priorities, and career pathing is a powerful way to enrich an employee's experience at your company with meaning and purpose, as well as building a sense of loyalty and engagement.
A career path is a representation of how a person's role in an organization can lead to other roles, or evolve into something new, possibly outside their current career or even outside your organization. And career pathing is the process of laying career paths out for each employee.
Career pathing is a tool used by organizations and individuals to help plan ahead, evaluate the journey to date, set goals and explore options.
Learn about our employee growth and development guided program
Why do businesses use career pathing?
Organizationally speaking, career paths can help you get a sense of where the skills and aspirations are in your workforce, which can help with recruitment and succession planning.
For the employee, career planning provides a sense of clarity about the next step of their professional journey, and valuable feedback on how they work and what will be the most fulfilling route for them in the future.
Career paths help employees to understand where gaps exist between their current situation and their future goals. For example, if an employee's role involves customer service and reporting on performance, career pathing can help them evaluate which of these aspects is most engaging and best suited to their abilities and personality. It can also help them map a route towards one or the other.
What can companies do to improve career pathing?
While career pathing offers obvious benefits, surprisingly few companies are currently prioritizing it within their employee engagement strategy.
An employer should have organizational goals and activities that support each person's career path. This could include regular meetings with their manager, opportunities for growth and promotions, and training programs.
Employees need guidance and support as they identify their strengths and weaknesses so that they can align their careers with their personal potential. They also need continuous listening and feedback, to know that they're being seen as a complete individual by an employer that wants the best for them.
Employers also need to make it easier for employees to understand the company values and how they apply to their own personal development plans.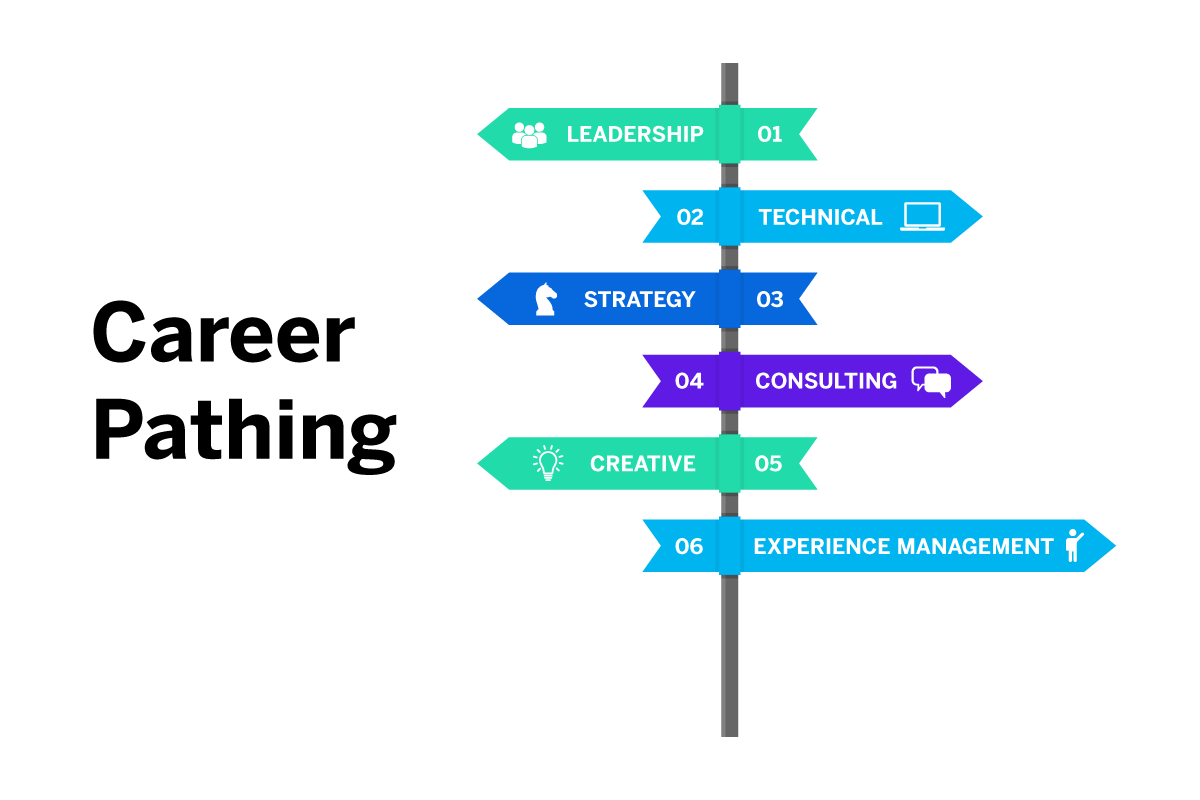 Why is career pathing so important?
Career pathing is a critical component of organizational strategy because it enables companies to develop talent that can fill future positions. Even before the Great Resignation and its attendant challenges, employees were waking up to the importance of career pathing. LinkedIn's 2018 Workplace Learning Report found that 94% of employees would stay longer at a company that invested in their career.
As hierarchies become flatter, the arc of progression for an employee is less obvious at first glance than it once was. Rather than imagining sitting in their boss's chair in five years' time, an employee may be left wondering 'what does my career path look like here? Is there anywhere to go but out?' An employee joining a new company may have some very valid questions about what route their career will take, and it's essential for employers to be able to answer, or better yet anticipate, those questions.
We can expect many more changes in the job roles of the future, since technology is growing at ever-accelerating speed. To equip tomorrow's leaders, developing existing employees' soft skills, such as flexibility, communication and critical thinking, is a valuable outcome of career pathing.
Top talent is looking for organizations that support career development
Your next great hire might already be assessing how good your company is at career pathing, supporting career goals and offering learning and development programs. If you get it right, your career progression strengths could be the reason they pick you.
Many job seekers now look at company culture as a barometer of employer quality, which includes whether or not you provide an environment that encourages employees to learn new skills and get promoted. Are there opportunities for advancement within the company? How many employees have been promoted this year? How long have they been with the company?
A smart candidate will want to collect feedback from current employees and former ones, asking them what their experience was like at the organization and whether they would recommend working there. If your employees can tell them about training or mentorship from their manager or supervisor, so much the better.
How to do career pathing
So how do you get down to the nuts and bolts of implementing career pathing?
A career path can be created as part of an employee development program, or it can be created by an individual employee who wants to move up in his or her company. A career path can be established for any job level or position—from entry-level employees to senior managers and executives. Although career pathing is fundamentally an individual thing, it makes sense for HR professionals and leaders to think about it on a company-wide level, since the data it yields can be used to serve organizational goals around succession planning and identifying skills gaps.
A good career path should have several things:
a clear direction for your employees' careers (which may or may not include promotion)
opportunities for professional development, such as training and education opportunities, mentoring relationships, and performance reviews
a way to track progress toward goals
The two most common approaches to career pathing are:
1. Career ladder (sometimes called a formalized career path)
The traditional career ladder caters to an organization where an employee typically follows a linear route through promotions to a higher level, such as moving to a leadership role from a manager or contributor role. The expression 'corporate ladder' refers to this kind of career path.
2. Career lattice (or informal career path)
The lattice approach works especially well in a flat-structured organization where lateral moves are common and employees have plenty of freedom to explore desired jobs and shape their own professional growth. Their next step might be to move to a different department or even to design and pitch a role they see contributing to the company.
Career pathing protocols can be integrated into existing employee development, either by tweaking the emphasis of these programs or adding in new steps and tools such as employee surveys.

Career pathing best practices
Think of it as an ongoing process, not a one-off task
Career pathing should be a touchstone that's always there to help employees understand where they are in their careers, as well as what skills and experiences they need to acquire in order to move towards where they want to be next.
Use talent to build talent
Offer formal mentorship programs that pair junior employees with more experienced ones. This allows you to create connections between people who have similar career goals, while also providing guidance and support for those who are just starting out in their careers or are looking for a new challenge.
The value of managers
Managers have a major role to play in employee career growth, not just in terms of employers' career pathing but in understanding individual employees' personal characteristics and providing a supportive sounding board for career growth ideas.
On a basic level, a great manager will be able to answer questions about what's expected of you at work, how you can improve your skills and knowledge, and how your performance is measured.
They will proactively offer suggestions on how you can develop yourself professionally and personally. This could include mentoring programs or workshops offered by the company or outside organizations like industry associations or professional societies.
A good manager will also provide feedback on your performance so you know where you stand on an ongoing basis – not just once a year during performance reviews. This feedback should be specific and actionable so that you know exactly how to improve your skills, knowledge, or performance level in each area being evaluated.
Our research found that 76% of people would prefer a job with the best manager and the worst workplace flexibility, compared to the best flexibility and worst manager.
How to create a culture of career development
The first step in creating a culture of development is to determine what your employees want from their careers. You may be surprised at how many people don't have any idea what they want out of their careers, or why they're working at all.
Make career development an expectation. It should be part of every job description and performance review process as a matter of course. Reward the employee for making efforts to develop their career, too. If there are no consequences for not achieving career development goals, then they aren't goals at all – they're just words on paper.
Encourage your employees to take on new challenges and responsibilities at work, even if it means stepping outside of their comfort zone or learning something new. Trying new things means making mistakes and asking questions, so having an environment of psychological safety is important too. Besides the employee experience benefits, having a fresh pair of eyes in a team or department can be of huge organizational value.
Reward employees who take on these opportunities by giving them more autonomy (and authority) over how they do their jobs, or by letting them lead projects that involve other teams or departments within your organization.
Employee engagement and career pathing
As we know, engaged employees are more likely to stay with your company for longer, which reduces costs related to recruitment, training, and onboarding of new employees. They are also more likely to deliver results that contribute to the success of your organization.
One way to improve employee engagement is by offering career pathing opportunities at all levels of the organization. This helps employees see how they fit into the bigger picture and gives them a sense of purpose in their work. The more they know about their potential career paths, the more engaged they will be in their jobs because they have a greater sense of control over their careers.