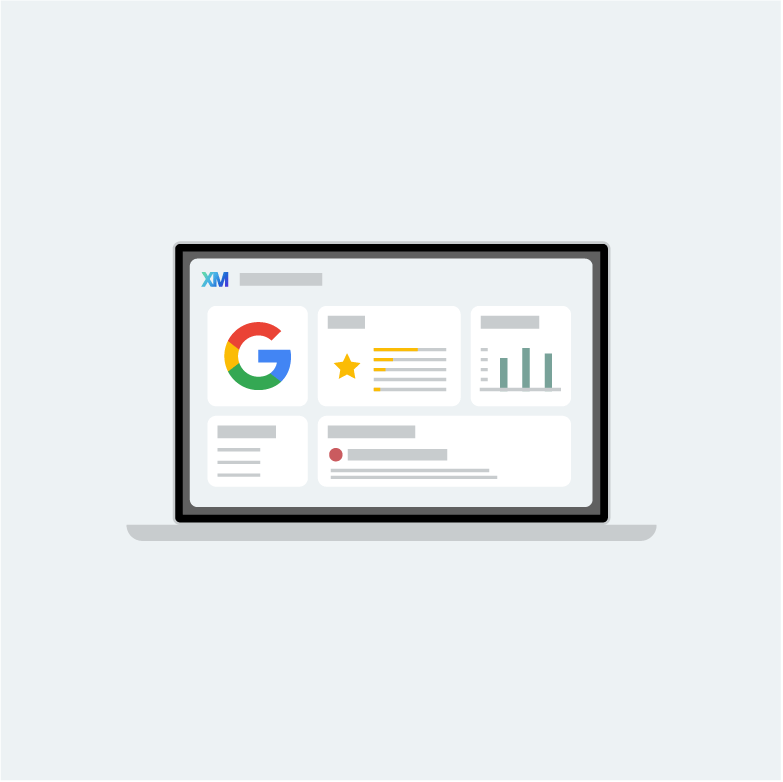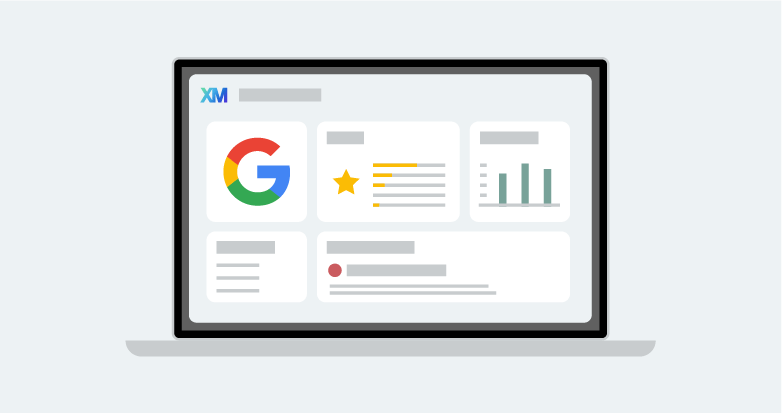 Integration
Google Reviews
Meet your customers where they are and act on their feedback
Core Experience
Customer Experience
Consumers have lots of choices when making purchasing decisions and one of the leading factors that helps them make these decisions is online reviews. Google Reviews accounts for nearly 60% of online reviews, being by far the most influential third party channel for customer acquisition, retention and discovery. Manage your online reputation and incorporate online review feedback into your Voice of the Customer Program with Qualtrics Google Reviews native integration.
Companies can:
Use alerts to be informed in real time as Google Reviews are posted and if keyword frequencies, volumes or sentiment of reviews demand action
Close the loop on Google Reviews by replying directly from your Qualtrics dashboard
Incorporate Google Review data from multiple brick-and-mortar locations into your social dashboards and analyze data by specific locations or at the brand level across locations
Apply TextiQ to surface key insights as well as action plans and automated workflows to create a culture of action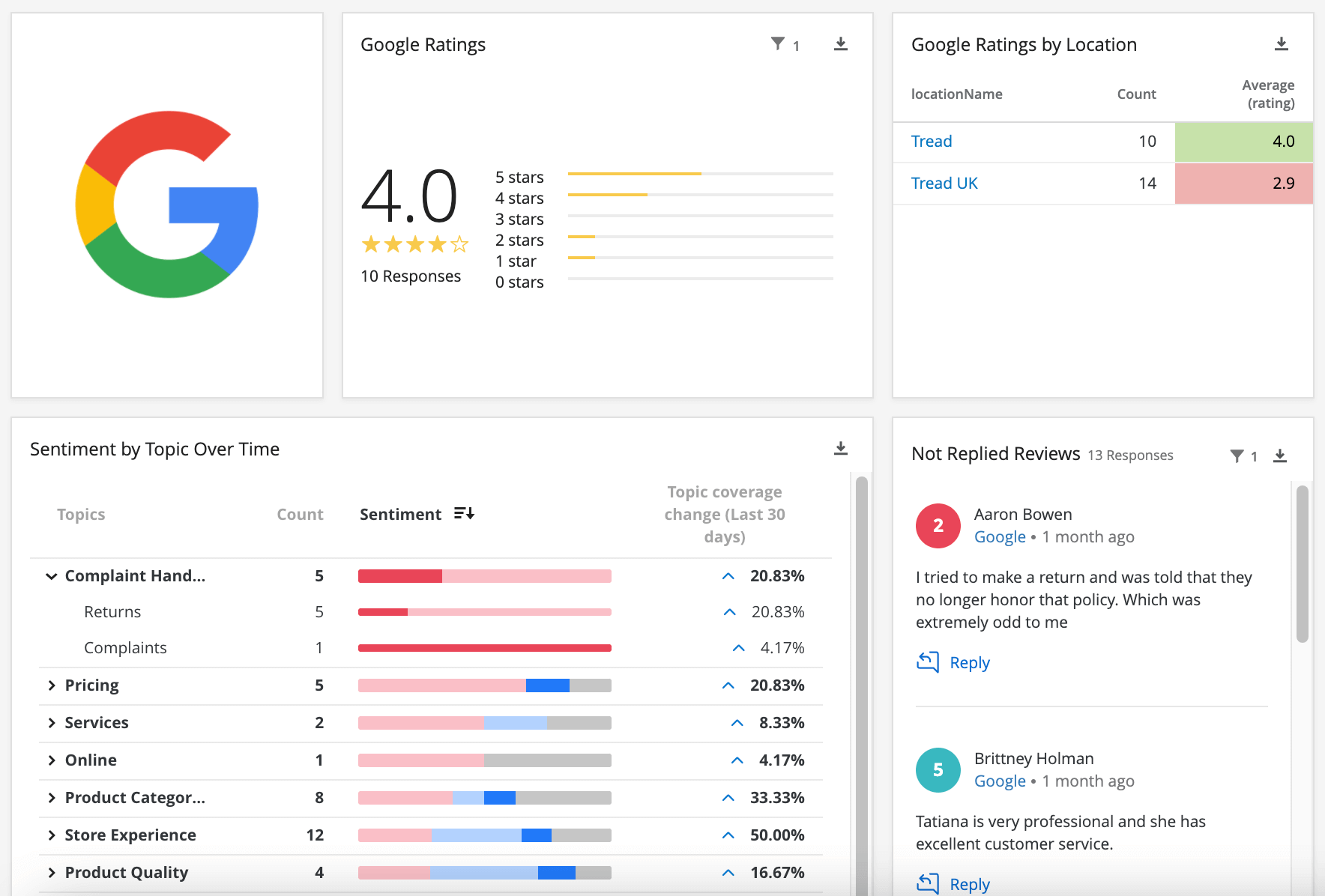 Outcomes Delivered
Gain insight into what drives buyer and non-buyer behaviors
Increase location foot traffic to brick-and-mortar locations
Decrease customer acquisition costs
Boost SEO rankings
Improve customer service experience and brand perception
Category Tags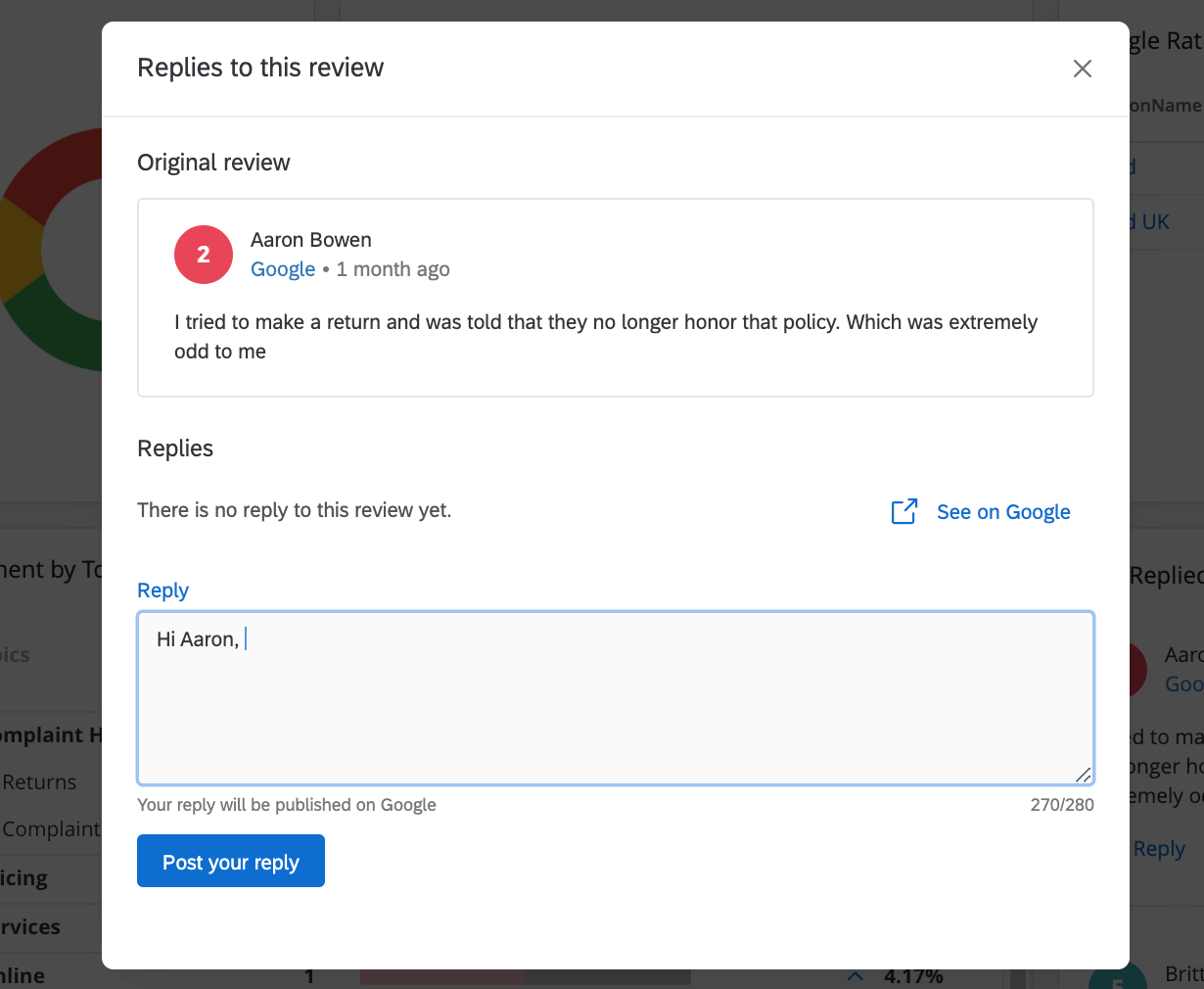 Listen and close the loop with customers on the channels that they love using with Qualtrics' native Google Reviews Integration. Our Google Reviews integration enables businesses to respond to Google My Business Reviews in real time and apply our Natural Language Processing technology – TextiQ – to get immediate insights from unstructured online review data.
What You Get
TextiQ
Turn conversations into action with artificial intelligence and natural language processing that draws out insights from unstructured data such as Google Reviews.
Track trending topics and sentiment across different sources of digital comments
Make better decisions by paring open text analytics with built-in predictive recommended actions and business insights
Automated Workflows – xFlow
Drive rapid solutions by closing the loop on insights in real time with automated workflows integrated across the XM Platform
With xFlow take action in the systems you use the moment a negative review or certain keywords are detected
Take action the moment specific feedback is detected in Google Reviews with xFlow, such as triggering an Alert or Ticket
Incorporate social insights into your Voice of the Customer program
Get a holistic picture of your customer journey by combining solicited and unsolicited data to understand customers feelings and perceptions wherever they are talking.
Solution Details
Available in all CustomerXM for Locations and Customer Care licenses
No implementation or services are required. The Google Reviews connector is out-of-the-box and can be set up in minutes.
Languages
English
Category Tags
Not a Qualtrics XM Customer?
Qualtrics Experience Management Platform™ is used by the world's most iconic brands to
optimize the four core experiences of business.