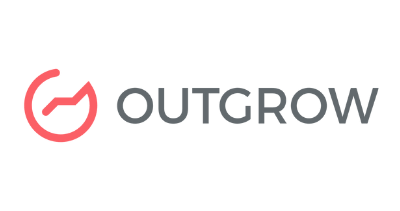 Integration
Outgrow.co
Easily build a quiz, calculator, contest, poll, chatbot, or eComm recommendation to boost customer profiles and capture first-party data.
Core Experience
Customer Experience
With the Outgrow platform, businesses can unlock the power of first-party data and take their customer insights to the next level. Using fun and engaging, branded interactive quizzes, calculators, contests, polls, chatbots, or eComm recommendations you can collect first-party data in a way that's not only valuable to your customers, but also provides you with a wealth of information to supercharge your customer profiles.
No coding skills required! You can easily create such quizzes and calculators that can live on any channel or device and can achieve multiple business objectives. You can also choose from over 1000 pre-made templates.
With Outgrow, you can seamlessly integrate the first-party data you collect into your Qualtrics customer profiles or create brand new records. This includes everything from customer interests and preferences to motivations and intents. By combining first-party data with experience data, you'll be able to personalize your digital experiences with Qualtrics.
Join the quiz revolution!
Quizzes present a fun and engaging way for customers to share their preferences and insights in exchange for a personalized experience. With Outgrow and Qualtrics integration you'll be able to:
"Strength-test" your customer relationships – Find out just how strong your bond is with your customers
"Journey through the highs and lows" – Discover the most important moments in your customers' experiences with your brand.
"Churn busters" – Uncover the reasons why customers may be leaving you for the competition
"Peek into the future" – Get a glimpse of what your customers may do next, so you can stay one step ahead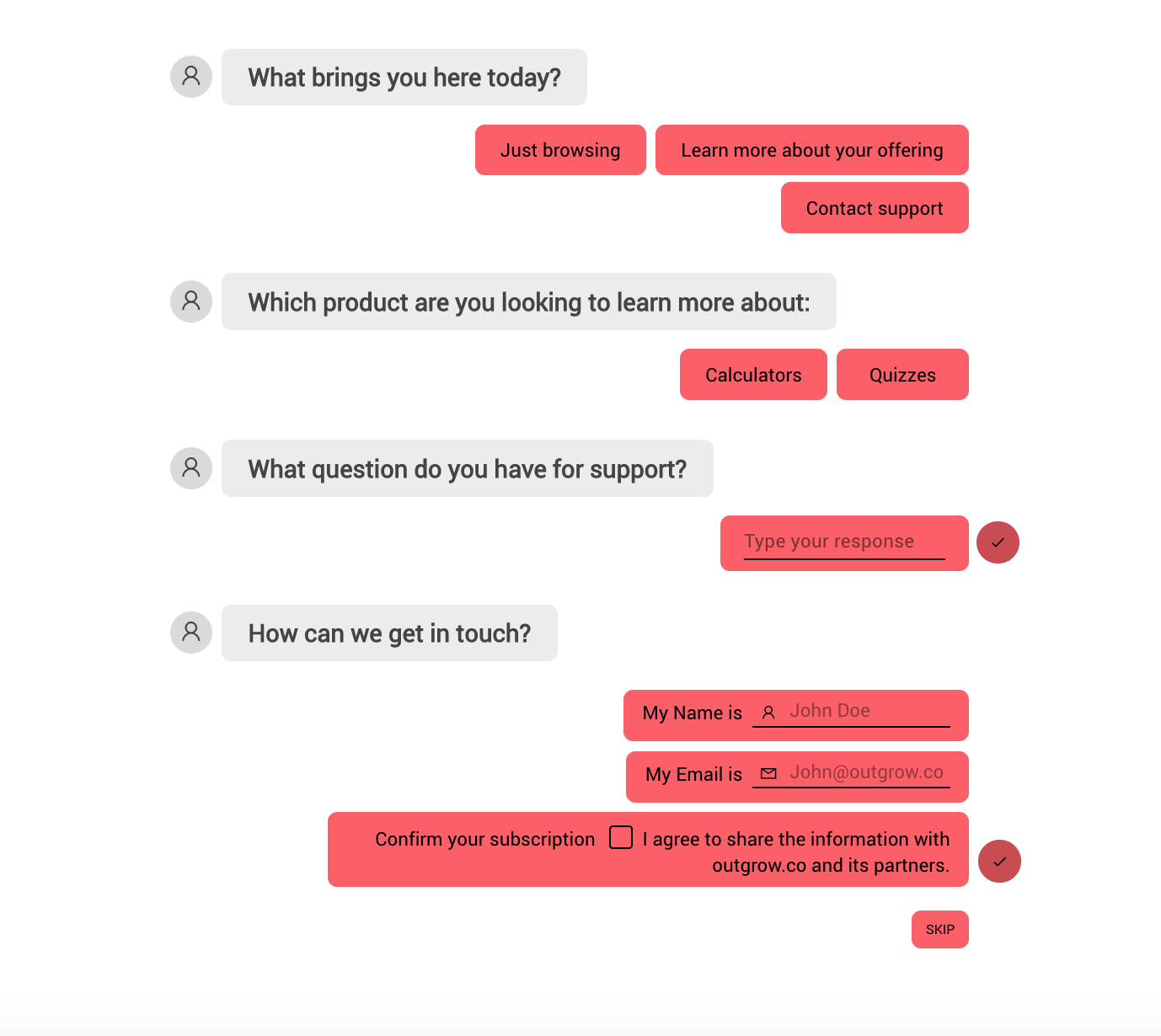 Outcomes Delivered
Data goldmine – Uncover rich insights hidden in your customer base
Boost your customer profiles – Your Qualtrics XM Directory will become more robust with additional customer data
New leads – Expect a steady stream of prospects to come your way
Category Tags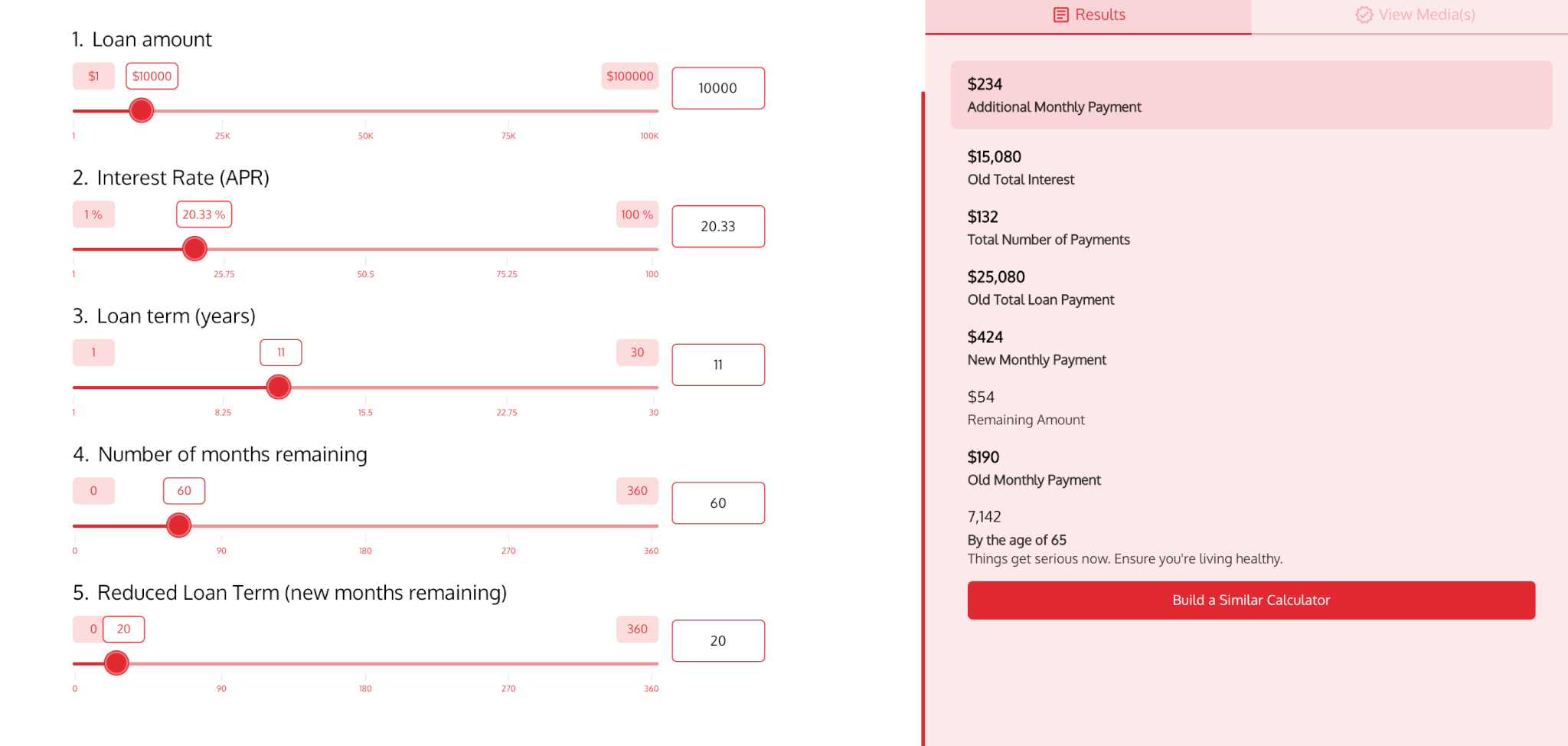 Calculators, quizzes, chatbots, and recommendations
Outgrow allows you to build top-of-the-funnel quizzes to entertain and educate the audience as well as middle-of-the-funnel assessments to highlight some of the issues and benefits in the industry.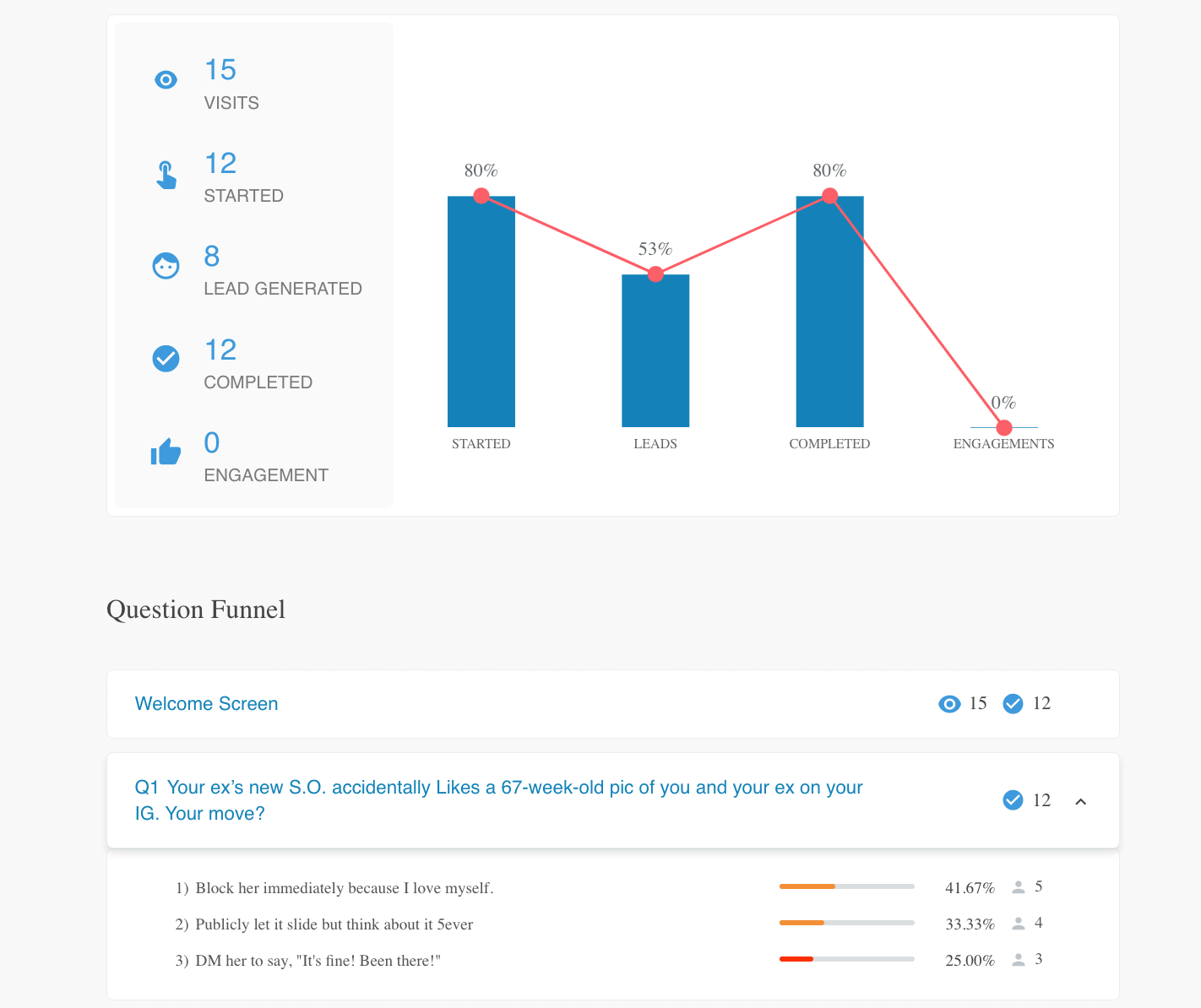 Advanced analytics
Outgrow natively integrates with 50+ CRMs. Additionally, Outgrow has its own analytics section that allows users to export the data gathered through quizzes and understand user behavior.
Optimized layouts for better conversion
Multiple design layouts that are optimized for better user experience across device types. Outgrow's zero-coding platform allows you to brand the content natively, so you don't need any programming knowledge to create an interactive tool.
Outstanding support & professional services
Our chat support is available during any time zone and the reply time is less than 5 minutes.
Additional Resources
Solution Details
You can start by signing up for a 7-day trial of Outgrow (no credit card required) and then purchase a subscription plan based on the features and number of content pieces you wish to create. You can also request a demo or idea consultation to brainstorm some interesting ideas that you can implement through Outgrow.
Outgrow is a no-code self-service platform. They offer custom-build services for teams that have time or resource constraints. They have in-house mathematicians to help implement complex logic into interactive calculators.
They also offer ideation services for teams that would like to implement interactive content but are running low on ideas to implement.
Languages
English, Spanish, and more than 20 other languages. You can create interactive content pieces in any language. If you don't find the language, we'll add it for you.
Category Tags
Not a Qualtrics XM Customer?
Qualtrics Experience Management Platform™ is used by the world's most iconic brands to
optimize the four core experiences of business.