Brand Experience
The ultimate guide to launching a successful pop-up
Pop-ups have taken the retail and restaurant industry by force, and with good reason: pop-ups offer something for everyone. Pop-ups allow businesses to create new one-off experiences to help build their brand awareness through new unique, experiential concepts.
What is a Pop-Up?
A pop-up is a temporary retail store or restaurant that can last anywhere from a few hours to as long as a month. They can appear on street corners, in outlet malls, in parks and public places, or even replacing a traditional business for a set amount of time.
The goal of a pop-up shop is to create a new experience that allows customers to engage with a specific brand in a new and exciting way. Brands can choose to offer only experiences such as a concert or interactive store, sell exclusive products, or emulate a popular pop-culture brand.
Pop-Ups for Retail
Retail pop-ups are temporary spaces that give companies the opportunity to showcase and sell products in a store-like setting that is completely unique, entirely designing and controlled by the business. There are a few use cases and types of retail pop-ups, including:
E-commerce brands that don't have a physical location, but want to get up and personal with their customers. These companies build a unique experience in a physical location, tie it to their brand, and give their customers the opportunity to have a real-life, personal experience with the brand in an immersive setting, such as BarkBox's BarkShop Live! event below.
BarkShop Live! - A pop-up experience from the subscription-box company BarkBox targeting dog owners and their pups with an open-area style dog park complete with BarkBox toys.
Large brands that are sold in department stores and other retail stores, but don't have physical locations themselves, also can leverage pop-up spaces to build brand among their customers and sell products. An example of this is Toys 'R Us, which no longer has physical locations, but opened pop-up spaces in large cities across the US offering this past Christmas. They created fun, interactive experiences for kids that was furnished with the seasons' hottest new toys to promote those products.
Toys R' Us - A pop-up experience from the former brick-and-mortar giant in Chicago that created a unique and memorable experience for families, aimed at promoting the company's hottest toys.
Exclusive brands also leverage pop-up spaces to generate buzz for their products, create virality, and create demand for limited-time offerings. An example of this is Kanye West's "Jesus Is King" experience. Alongside his album launch of the same name, he opened a three-day pop-up experience in LA selling limited-edition merchandise.
Use our free in-store purchase feedback survey to understand how customers feel about the purchase experience at your next pop-up.
Pop-Ups for Restaurants
A pop-up restaurant can serve a few different purposes, depending on the goal.
For chefs, it gives them the opportunity to branch out of their comfort zone and experiment with creative creations they have not worked with before. Chefs are able to control the entire experience without the risk of launching a new restaurant.
Another case is restaurant owners, which gives them the ability to test out new concepts, menus, layouts and more without having to commit to a brand-new business. An example of this is Saison, a 3-star Michelin restaurant in San Francisco that started as a pop-up restaurant in the back of a cafe and now is a permanent restaurant in the community.
Finally, a new trend is small pop-up restaurants at businesses that currently don't serve food. This use case allows businesses to add a food experience to their brand identity without building a kitchen or acquiring a food service license. It also allows restaurants to earn more revenue and build their brand by being an exclusive food partner at businesses with a similar brand or customer profile.
An example of this type of pop-up is Tapster in Chicago, a self-serving craft beer bar. Tapster hosts themed-trivia nights and partners with local restaurants to serve pop-up food creations directly in their taproom depending on the theme. Recently Tapster hosted a Star Wars trivia night and paired with a tacoria to offer Star Wars-themed food items such as Ewok Guac, adding to the overall experience.
3 Reasons Why Experiential Pop-Ups Are So Successful
Pop-ups are a relatively new concept for retail and restaurant brands. However, the key pillars of what makes them so successful are the experiential factors.
From grand openings, product launches, special events, partner marketing, and more, all of these pop ups include a special experience that customers remember and tie the brand back to.
A few key reasons for this are:
1. The Experience Leverages Cult Fandoms and Existing Communities
Many pop-ups are themed after a pop-culture trend and this is one of the core drivers of why pop-ups work. Themed pop-ups tap into communities and fandoms that already exist and have strong, personal attachments that attract large groups of people.
For example, let's say a new owner wants to run a special bar promotion and launches a Harry Potter-themed pop-up.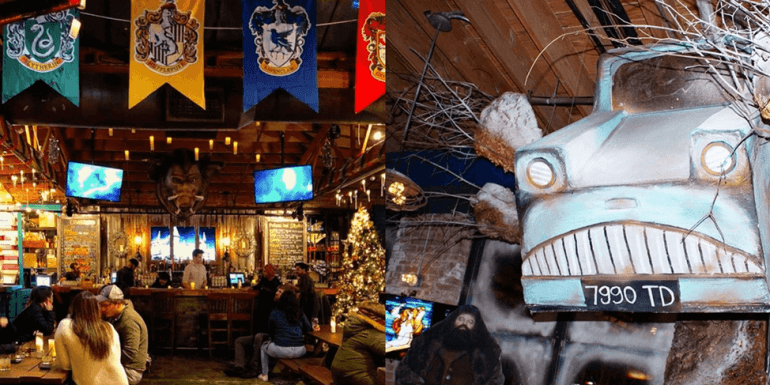 An example of a Harry Potter-themed pop-up in Chicago
That bar is now an experience that has a direct tie to a massively popular brand and loyal fanbase. Fans of Harry Potter will instantly have a tie to your restaurant and that will be a driver for them to visit your business.
It gives customers the excitement of limited-time experiences, new concepts, and the opportunity to take a viral photo at a pop culture-themed pop-up.
This is a great growth hack for businesses having a difficult time bringing in certain demographics or customer personas early on in its inception. For example, many credit this as the reason NASCAR gained popularity so rapidly in the 1990s, by turning tracks and drivers into brand ambassadors.

Fans formed close bonds to their favorite drivers, forming an affinity for the brand sponsoring their favorite drivers as well. Brands would include cutouts and limited-edition merchandise of the drivers they sponsored in their stores, and fans would go out of their way to purchase items from a specific store that was sponsoring their favorite driver, even if it was an inconvenience to get to that store.
2. A Limited-Time Experience Creates Virality
The majority of local retail and restaurant businesses lack the cutting-edge technology and marketing strategies that larger companies have adopted.
Pop-ups create a sense of urgency among customers - a feeling that something new and different is in your city, and you only have a short window of time to experience it before it goes away.
Pop-ups spread like wildfire in local communities. Customers take advantage of themes and concepts for photos that will be posted to Instagram and other social media. Local media covers the wacky and over-the-top concepts restaurants are opening.
Pop-ups are self-marketing machines. Businesses leverage traditional sales skills and innovate them by creating pop-ups with concepts or themes that are so powerful, it moves customers to spread awareness through word of mouth recommendations and hijacking local geo-posts and feeds on social.
3. Low Risk for Businesses
A major benefit of launching pop-ups is the relatively low risk associated with it. Pop-ups in nature are limited-time events that have a predetermined end date. There isn't a need to have a long-term plan for keeping a pop-up operating cash-positive like a normal business.
The startup cost behind opening a pop-up is rather cost-efficient as well. For restaurants looking to launch pop-up locations, all that will be needed to get the idea off the ground is a concept, decorations, and a location.
Since it will only be open for a short amount of time, pop-ups can be opened nearly anywhere there is open, legal space to operate. And restaurants already have the permits, food inventory and equipment, and staff to run a restaurant.
For most businesses going into pop-up marketing, the only speed bump to launch is developing a strong theme or concept and creating an experience that is well designed and decorated.
3 Things to Consider When Planning a Pop-Up
Organizing pop-ups doesn't require as much work as you may think. The real work comes from the creative side, and ensuring the pop-up concept is tied back to your brand.
There are three core pillars to planning a successful pop-up: the concept, the location, and the marketing plan.
1. The Concept
The most important pillar of operating a successful pop-up is the concept. First, conduct a competitive analysis of the current pop-up scene in your city. What has worked? What hasn't? Learn from past mistakes and successes to shortlist potential concepts.
Business owners should consider what their main goals are from the launch and how they want to frame their brand.
Is the main goal to test out a new experience for a potential rebrand or new location? You'll want to focus your concept around either a specific new item or a specific type of food experience. Think about how other retail stores and restaurants have their own unique experiences and how that is tied back to their overall brand, and use this as a gauge.
Is it a one-off pop-up decided to drive overall brand awareness of a new restaurant or store? Then you may want to create a themed experience from a trending meme, TV show, or fandom.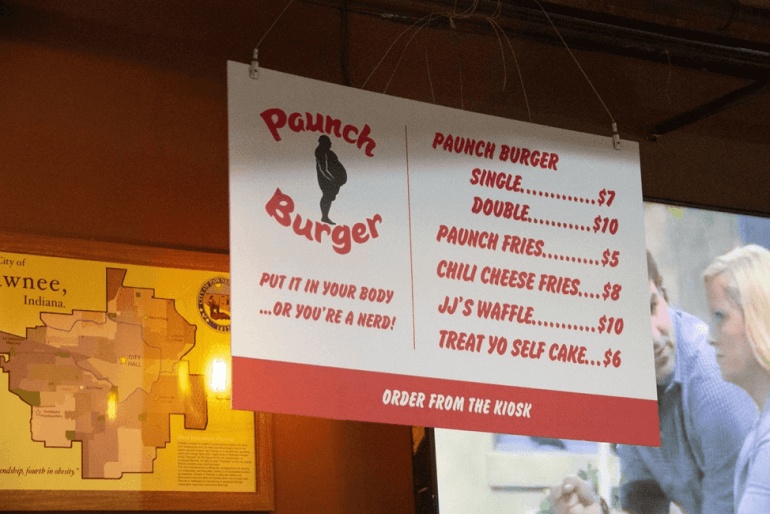 Replay Barcade in Chicago's Lincoln Park neighborhood hosts a month-long Parks and Recreation inspired pop-up.
Think about trends that consistently take over Twitter, ie. pop stars, tv shows, etc. Do research on Instagram to see what other themed pop-ups are doing and how they're being integrated into a company's brand. If you're still having trouble, I recommend using Google Trends to find new topics that are exponentially growing in relevancy.
From there, you'll want to create a mockup of your concept to ensure that you and anyone else working on the project are on the same page in terms of brand experience, goals, and ROI.
2. The Location
The world is your oyster when selecting a location for your pop-up… but that doesn't mean anywhere is a good location. A bad location can kill a pop-up.
Pop-ups can be hosted in a business's traditional space, such as turning your "normal" restaurant floor plan layout into a special themed layout design specifically for your pop-up. This is perfect for pop-ups aimed at creating a whole next experience for your customers to build virality and word-of-mouth marketing.
For example, the bar Country Club in Chicago's historic Wrigleyville neighborhood transforms to Christmas Club for the holiday season.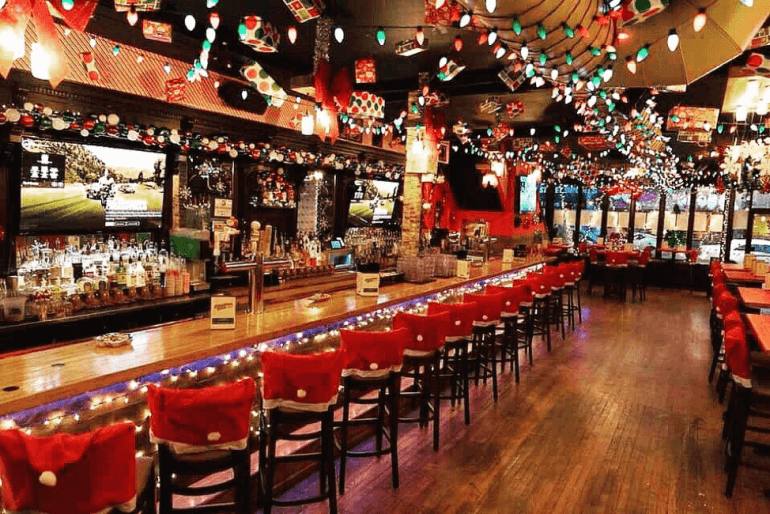 Pop-up concepts like Christmas Club are a great promotional strategy for driving business during typically slow seasons and days, such as weekdays, Dry January, and winter.
Some businesses turn their extra, unused space into a pop-up concept during peak seasons to drive more and more business.
An example of this is the barcade Emporium in Chicago's Logan Square neighborhood, who host monthly pop-ups ranging from Black Mirror's San Junipero to Netflix's Stranger Things:
View this post on Instagram
Others go for a completely new experience and launch a pop-up in town squares, coworking spaces, local parks and beaches, and more. The beauty of a pop-up is that they're limitless, innovative, and create unique brand experiences.
3. The Marketing Plan
For new owners launching their first pop-up, consider the main goal you laid out when developing your pop-ups concept. This will help create a promotional plan designed to reach those goals and expectations, and ultimately tie the pop-up experience back to your brand.
Ideate the target customers for your pop-up and create customer personas around those core segments, along with specific messaging for each channel you will be targeting those customers.
A few promotional tactics you'll want to leverage include:
Create a social media presence with your brand's tone around your pop-up, including a Facebook Event, Instagram location, Twitter hashtag, and Snapchat geofilter.
Work with local press, publications, and TV stations to get coverage of your pop-up in the outlets your customer persona(s) are digesting.
Design and print out postcards, flyers, event posters to promote the pop-up in your current business, to include alongside the check or receipt of current customers, to hang around the neighborhood, and to send snail mail with a direct mail campaign. Explore what other pop-ups have done in terms of integrating new design styles into their current branding to create memorable marketing collateral.
Build an email marketing drip campaign to promote the pop-up.
Partner with other local businesses that compliment your brand to bring co-market your pop-up and leverage other companies' brand advocates
Ready to Launch Your Pop-Up?
Pop-ups give restaurant owners the ability to experiment with their menu while generating unrivaled buzz on a low budget. And don't forget to have fun with it - because if you can't enjoy it, why would anybody else?

Deliver Unforgettable Brand Experiences with Qualtrics in 2020