---
What is omnichannel analytics?
Omnichannel analytics is the collection and analysis of customer data across interactions on all communication channels. The insights gained help companies deliver a cohesive, personalized experience as they move from channel to channel, touchpoint to touchpoint.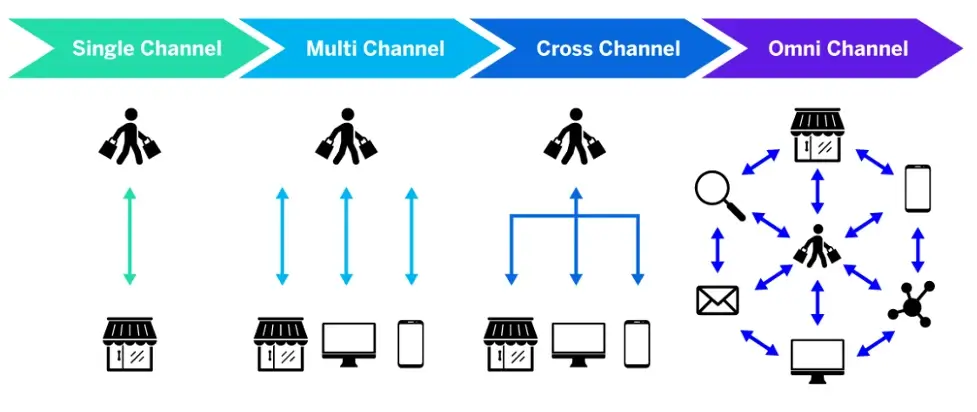 Taking an omnichannel approach to analytics is critical to profile modern audiences accurately. Customers don't use just one channel or device to connect with companies – they often jump from mobile to desktop, from social media platforms to web chat to in-person visits.
Google has found that 90% of multiple device owners change devices to complete tasks, with an average of three different combinations of devices used every day. Our own research has discovered that younger consumers are the most likely to use self-service on their phone, but 53% of consumers prefer to either talk on the phone or meet with someone in person when handling common interactions.
Free eBook: Moving your CX metrics forward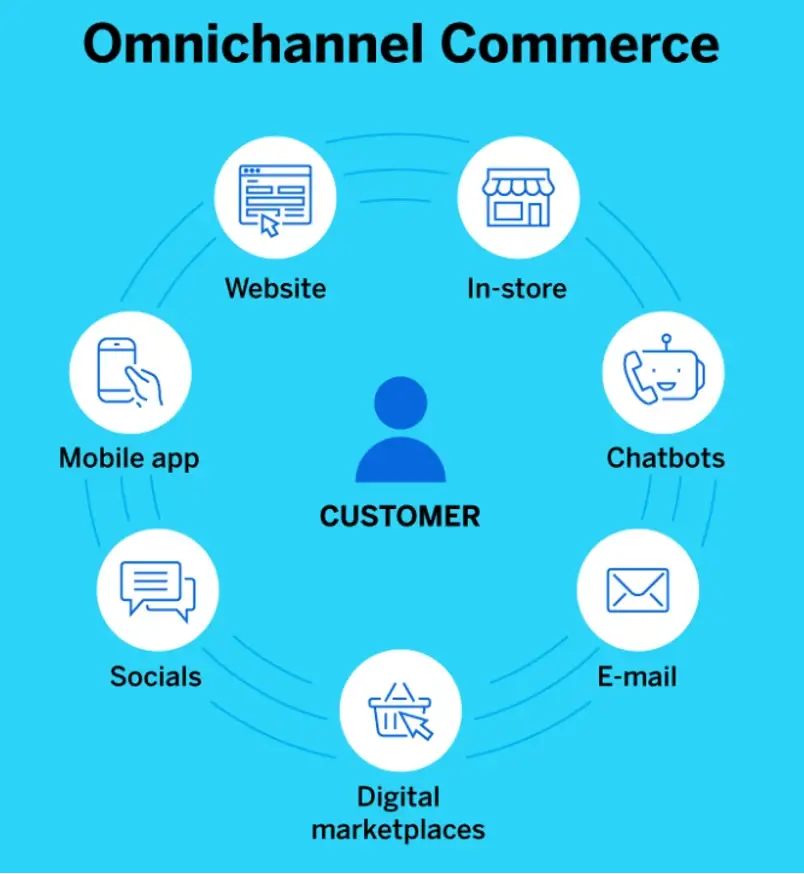 Ensuring you don't miss out on customer data created on the myriad channels they use is critical for building a comprehensive view of customer behavior, expectations, emotion and more.
Read on to learn more on why you should add omnichannel analytics to your business solutions.
Why is Omnichannel analytics important?
Here are the key reasons why using omnichannel analytics is the best way to capture and transform customer experiences:
You can meet your audiences where they are
Consumers use multiple channels to complete actions, rather than staying on one channel to complete purchases or other converting actions. For example, a survey by Google's CEE and IPSOS found that more than 80% of consumers use both online and offline sources to research products and make purchases.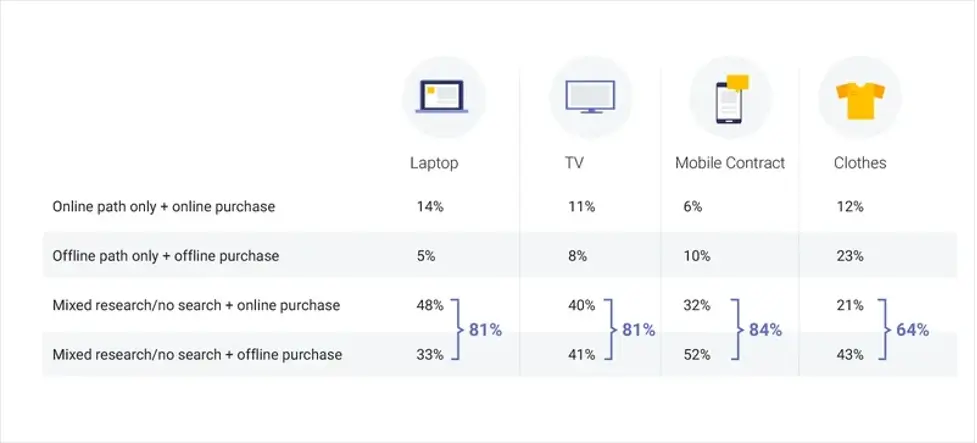 Factors such as what is being purchased affect how many touchpoints are used. For example, buying a laptop might require 3.4 touchpoints before customers buy, whereas clothes require less (1.7).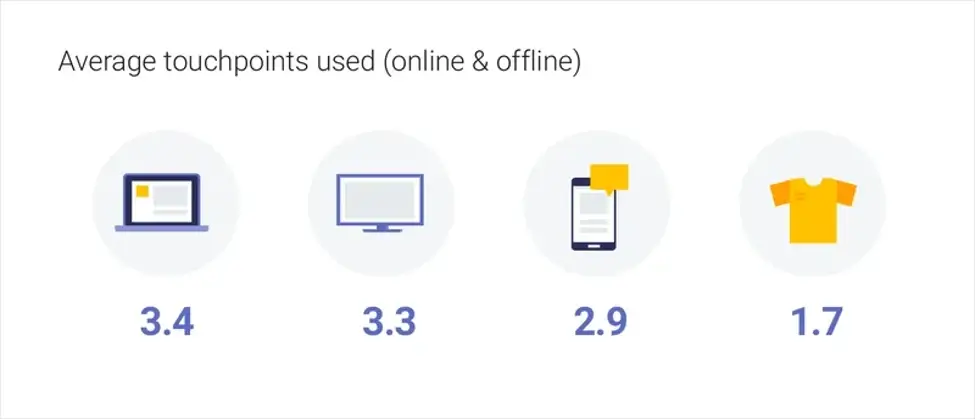 Audience demographics also impact preferences for communication, purchases and more. For example, younger shoppers are 2 to 3 times as likely to have shopped using emerging media (such as social media, virtual try-on services and live streams online).
Without omnichannel analytics, you won't be able to track your customers' behavior across online and offline channels, and will lose out on useful data that can help you convert new and current customers in future. Meeting your customers where they are is vital to keep up with new customer behavior and providing experiences that they expect and make them return for more.
You can more efficiently spot and fix customer pain points and resolve issues 
Broken customer touchpoints or disrupted journeys across multiple channels can become a thing of the past with omnichannel analytics. With a view over the entire customer journey laid out in one platform, you can easily find and fix broken experiences, which frequently start upstream from the affected channel. Getting to the root cause of the issue, this type of data analytics allows you to break down data silos, identify inefficiencies and deliver great experiences at scale, consistently.
You can offer a more seamless, personalized experience that drives retention and improves revenue
With businesses using at least three channels in their retail approach enjoying a 287% higher purchase rate than single-channel brands, providing a seamless omnichannel experience can build increased revenue. However, customer journeys that are plagued with friction and frustration can impact experiences and cause higher rates of customer churn.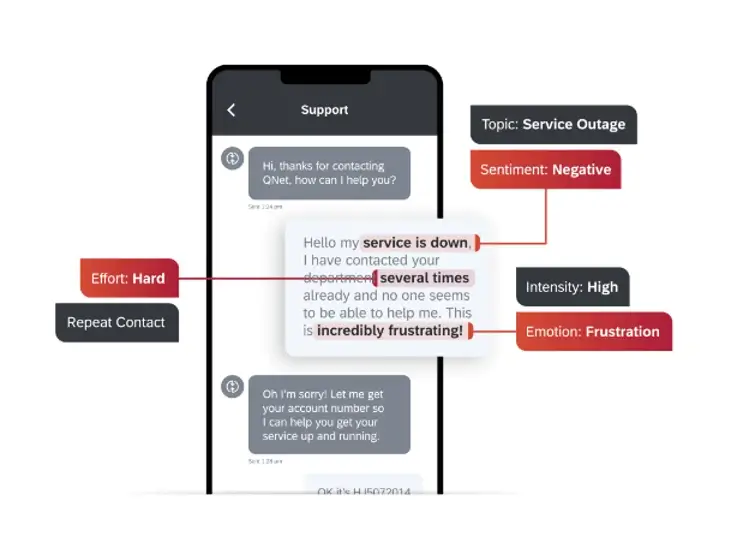 Reducing this effort at scale becomes simpler with game changing insights into effort, sentiment, and emotional intensity, which can be discovered through omnichannel analytics. You can take action to prevent customers from switching channels to avoid confusion or effort, or even worse, churn and leave for a competitor. Churn reduction in the moment or through your customer care team can be enabled through tools such as Natural Language Understanding (NLU) that detects emotion, effort and more and makes suggestions for remedial action.
Better still, you can deliver personalized customer experiences that match each customers' specific needs, but at massive scale. With better, more individual experiences, customer satisfaction and customer loyalty can be increased across the board.
You can save your team money, effort and time
Using comprehensive omnichannel analytics software can take the legwork out of the equation for your teams, who often work in silos that allow issues to go undetected. Giving all your team members a singular source of truth, with all data housed in one platform, can help to improve business efficiency. With role-based dashboards for each team, including your frontline staff in customer care, in physical locations or across your digital channels, you're able to save time and effort for your team and improve communication. Your teams' efforts can be refocused on more complex and more important issues.
AI and omnichannel analytics
Omnichannel analytics allows you to leverage artificial intelligence for a deeper understanding of your customer journeys. It's AI-powered analysis that is ushering in a new era of customer experience, creating memorable and replicable purchase experiences customers return to time and again. Because you can now understand a customer's intent, sentiment, effort and emotional intensity by inferring it from their language or behavioral signals, you can easily deliver digital experiences that exceed expectations.
With omnichannel-focused businesses seeing a 7.5% yearly decrease in cost per contact, it's not only easier to convert consumers, but more cost-effective with an omnichannel approach powered by AI.
How to implement omnichannel analytics
Implementing omnichannel analytics solutions is a large-scale digital transformation – but it doesn't have to be complicated with the right technology.
Here's our guide on how to successfully actualize your omnichannel analytics solution:
Select your omnichannel analytics software and collect your customer data
Your omnichannel analytics solution should be able to take information from various data sources and transform it into actionable insights. Your analytics solution should be able to deliver observations in near real-time to your teams, taking customer data and transforming it into useful journey insights
Your omnichannel analytics software should be able to:
Find customer information on multiple channels, from calls, chats, social media mentions, third party review sites and more, collating it into detailed customer profiles
Automatically understand customer intent, customer emotion, customer effort, sentiment and more using tools such as Natural Language Understanding (NLU) and add this data to information you already have on customer satisfaction metrics and more
Identify opportunities to improve operational efficiencies
Be equipped with predictive analytics to help you plan for future marketing efforts and more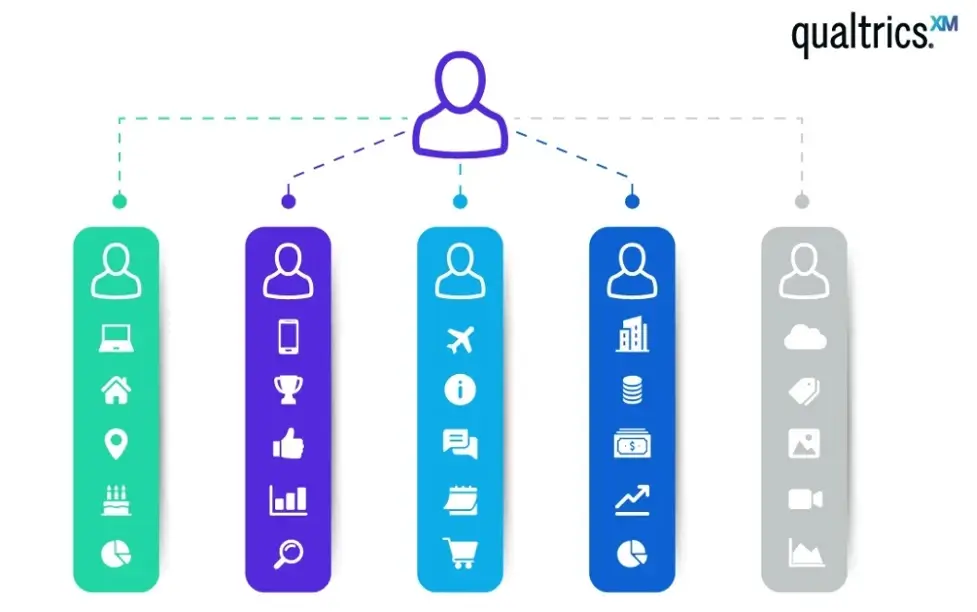 Ideally, your omnichannel analytics solution can integrate successfully with various tools in your company's tech stack to cause minimal disruption to your teams.
Map your customer journeys
Great omnichannel analytics solutions will help you to build a deep understanding of customer journeys. Mapping these out will help you to understand which channels inspire the greatest conversions and why, and how to encourage potential customers to follow ideal journeys.
You should be able to answer queries such as:
Which channels do our customers prefer?
Are there typical cross-channel journeys that lead to conversions?
Where do customer journeys break down?
What actions could fix these broken journeys?
Evaluate and take action in real-time
Evaluating your insights and taking steps to improve is key for omnichannel analytics to deliver ROI. Your data shouldn't sit in your software – the metrics you track should help to inform you of where you can make changes for better customer experiences. Real-time or near real-time evaluation of customer conversations and feedback can help you to stay on top of what's happening in the moment, and automated flow technology – such as xFlow – allows you to notify teams, create tickets and close informational gaps by automatically triggering actions based on customers' behavior and more.
Challenges for implementing omnichannel analytics
There are several challenges that can derail the implementation of omnichannel analytics in your business. These can include:
Lack of direction: What does omnichannel mean? Who is driving the brand toward omnichannel analytics? Without management and teams being supportive of a cross-department, de-siloed approach and without a defined view on what "omnichannel" means, a digital transformation can quickly become ineffective.
Regulatory considerations: Regulations can hamper progress, as considerations for data need to be taken into account before omnichannel listening can be implemented.
Complexity within customer journeys: Customer journeys aren't always simple, with three channels or more, or perhaps with a blend of offline and online interactions. This can make taking an omnichannel approach more difficult or more time-consuming to analyze.
Inefficient technology: Without the right omnichannel analytics solution in place – and without the right integrations – implementing a new approach can quickly become untenable. Finding consistency and a system that successfully connects with existing technologies is vital.
You can tackle these potential roadblocks by:
Getting top-down support for the process: Leadership needs to drive any organizational change for success to happen. Training for all teams and a thorough understanding of the goals of your omnichannel analytics implementation is key.
Doing your research: What could potentially impact your system? Make sure you consider any privacy or regulatory factors before building your omnichannel system.
Establishing an integrated system: Your omnichannel analytics solutions should integrate seamlessly with the tools you already find useful. With the right technological ecosystem in place, it becomes much easier to listen, evaluate and take action on customer data insights.
Choosing omnichannel analytics software
Your omnichannel analytics solution should be able to provide you with complex journey insights and a customer 360 view. It should enable you to provide great support experiences, predict future customer behavior, and improve customer retention.
Features to consider include:
Tracking capabilities across all customer channels
Customer journeys take place across multiple channels, and your omnichannel analytics should be able to draw all your customer data into one platform. This can mean monitoring mobile apps, websites, self-service options, phone calls, chat interactions, social media, ratings and reviews on third party sites, surveys and messaging – essentially all digital interactions.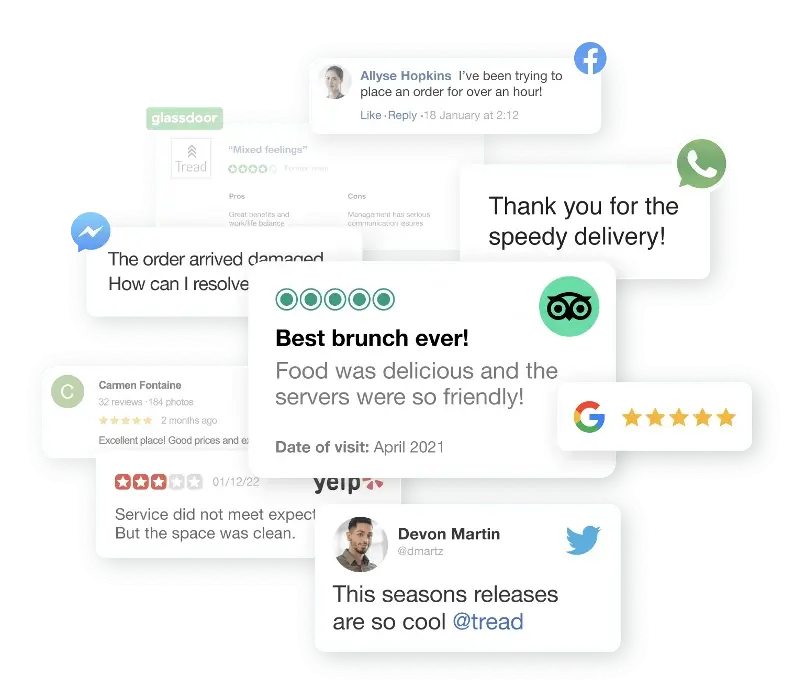 A formidable speech and text analytics engine
Your omnichannel analytics software should be equipped with Natural Language Understanding (NLU) technology that can help you deliver near real-time insights to your teams. Features such as Agent Assist can analyze messaging and offer your contact center teams a keen understanding of what each customer is going through. Not only that, it can suggest how to help.
In-depth customer profiling
Customer profiles that are rich with data on behavior, preferences, activity and more can be so much more useful than just demographic data. Adding operating data to customer data in a comprehensive profile will make your omnichannel analytics insights more effective.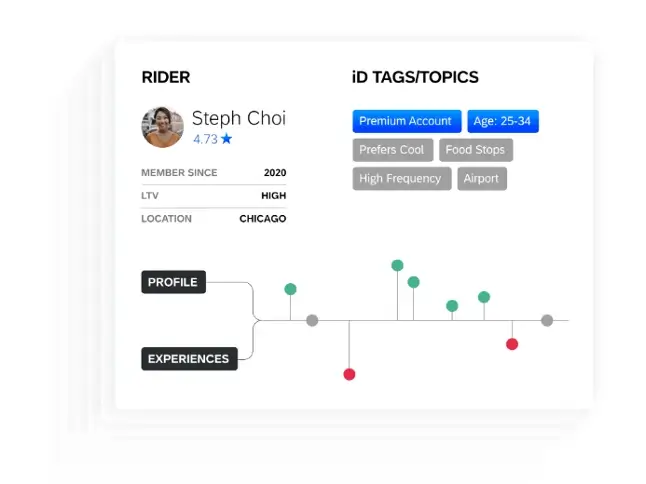 Integration with existing tech stack
Your omnichannel analytics solution should be able to slot easily into your existing tech ecosystem, helping your team to onboard without difficulty and with minimal disruption.
Omnichannel customer analytics insights from Qualtrics
The Qualtrics™ XM for Customer Frontlines solution can help propel you to the head of the pack when it comes to meeting future expectations of customer experience. Learn more in our latest publication on the future of customer experience, now available with the latest insights on omnichannel analytics.