---
In 2023, we're experiencing one of the most significant talent shortages ever. From the effects of the pandemic and rapid digitalisation to new ways of working and changes in employee attitudes, so many variables have come together to create the perfect storm of recruitment and talent retention challenges.
Today, the war for talent has never been fiercer — estimates suggest that the global talent shortage could reach 85 million people by 2030 and, if left unchecked, result in a revenue loss of about $8.5 trillion each year in 2030.
Of course, avoiding unwanted attrition is a difficult task in and of itself — over the past few years, every single one of us has had the opportunity to rethink and restructure our relationship with work. The shift to digital and implementation of hybrid and remote working policies en masse revealed new and more flexible ways to operate, while giving employees the time they needed to reflect on what they want from their jobs.
Indeed, in 2022, we had the Great Resignation — more than 50 million workers quit their jobs according to federal data as competition spurred employers to raise wages, while remote work expanded opportunities. But as many organizations return to pre-Covid operations, it's becoming harder to keep and attract new people.
In this article, we're going to look at how your organization can avoid attrition and, specifically, the various ways you can use employee feedback to uncover trends and opportunities to keep your people engaged and intent to stay high.
Take Action On Your Employee Attrition Rate With XM For People Teams
Why is it so important to retain talent, especially today?
Your talented employees are the people who make your business successful and drive growth.
They are key to its performance, innovation, customer experience, culture, and reputation — and it's never been harder to replace them.
At every opportunity, you want to keep your talent, because:
They're expensive to replace – the cost of replacing a single employee can range from one half to twice that employee's annual salary
Morale is kept high – teams with low attrition feel more secure, happy and less overworked
Institutional knowledge, experience, skills, expertise, and intellectual capital stay in your company rather than moving to your competitors – giving you the edge
They're innovative – high-performing employees bring new ideas, solutions, and perspectives to your organization, helping it adapt to fluctuating market conditions, technological advances and customer demands
They keep your customers happy – Excellent frontline employees interact with your customers to give great service, building loyalty, and increasing brand equity.
Let's get into the basics of attrition and explore what you can do to prevent it.
Understanding employee attrition
Put simply: employee attrition is the shrinkage of your workforce. It happens as your people retire, resign, or are laid off, and you don't replace them. Of course employees don't stay with you forever: their time with you is called the 'employee lifecycle' for a reason.
Voluntary attrition occurs when an employee wants to leave, or reaches the end of their working life.
Involuntary attrition is when the employee doesn't want to leave. The organization has made the decision to part company with them.
Employee attrition becomes a business headache when it's 'unwanted attrition' rather than involuntary attrition: you're losing talented, high-performing, high value employees for reasons that could have been prevented.
And often, simply working out what employees want (or what their challenges are) and resolving them is enough to help them stay.
Regardless, attrition is (for the most part) an expected part of business, but there are limits; you don't want everyone leaving, do you? With this in mind, it's important to set a baseline for attrition rate so you can measure how well (or badly) you're doing.
What is the employee attrition rate?
The employee attrition rate measures the number of employees who've left your organization within a set period of time. In the same way you measure engagement, intent to stay, well-being, inclusion — it gives you an idea of how you're performing.
How to calculate attrition rate

You calculate it using a simple attrition rate formula:
Take the number of employees who've left your workforce in a given time period (definitely an annual attrition rate and maybe more often, depending on size), divide it by the average number of employees, then multiply by 100.
Here's a video that explains everything succinctly:

Too much effort? We've made it easy for you. Discover your attrition rate with our calculator below: 
Attrition Rate Calculator
Attrition Rate Calculator
What is an acceptable level of attrition?
Acceptable attrition rates vary by role and by industry, market competition, the skills in demand, talent mobility, business size and other factors.
For example, fast-moving sectors such as tech and consulting may have a higher acceptable attrition rate than more stable sectors, such as government or healthcare. In the tech sector, employees often leave due to high-demand for their talent elsewhere — along with better compensation according to this article.
Also, larger organizations generally have more resources to be able to handle employee attrition better than smaller organizations, which need a lower rate for stability and continuity.
Economic conditions and local job markets can also affect employee attrition rates. Attrition may be higher in a highly competitive job market with plenty of opportunities, whereas areas with talent shortages or limited job opportunities may see lower rates and higher employee retention.
Furthermore, attrition rates often change when disruption occurs — we may see people staying put and 'weathering the storm' for a while in times of instability and uncertainty. This can, though, lead to complacency and boredom, which causes disengagement and lower motivation, leading to wanted and unwanted attrition.
But even when attrition is low, it doesn't mean that everyone is happy and working to the best of their ability. You need to ensure your organization is doing everything it can to not only understand how employees are feeling (and what matters to them so you can help them stay), but also to maintain a good employee experience. After all, when organizations invest in the employee experience and focus on what their employees need, those employees are much more likely to stay.
What causes people to leave?
Some of the reasons for unwanted employee attrition include:
Lack of opportunity to grow and achieve professional goals
Inability to get work done efficiently
Pay not reasonable
Lack of recognition for work
Lack of support, not being valued, feeling disrespected
Low employee satisfaction
Employee values don't chime with company values
Workload too heavy to be able to achieve work life balance
Experiences don't meet expectations
These are all typically things that build up over time, but the trigger to leave can occur at any stage in an employee's lifecycle.
To reduce your unwanted attrition rate, you need to understand the what, the why and the how:
What has caused it?
Why has it happened?
How can we prevent it happening to our other high-performing employees?
(For more on what causes people to leave, don't forget to check out the section on exit interviews).
This brings us to our next point — retaining top talent (and therefore reducing attrition).
Retaining top talent
As we've explored above, your top talent are those able people who have the requisite skills, experience, training for their job, and knowledge of your organization's functions and culture.
Unfortunately, they're also the people who are most likely to jump ship to a competitor with a better offer — if you don't satisfy and engage them.
Obviously, keeping pay and benefits competitive with the rest of the market helps, but when you consider 1 in 3 professionals cite boredom as the main reason for leaving, you have to take a more holistic approach that considers everything you can do to help your people stay.
In the following sections, we'll highlight some of things you can do — or strategies you can deploy — to improve your overall employee experience, as well as how you can tie employee listening into each aspect to get a better handle on what your people need, and want.
Understand your employee value proposition (EVP)
Your employee value proposition (EVP) is a statement that clearly communicates all the benefits, development and experience people can expect from your company, so that potential candidates and existing employees will see if they align, and know it's the right place for them.
When you have an employee value proposition that's compelling and honest, you'll attract great people who are the 'right fit' for your business. They'll enjoy what they do, and stay longer.
According to Gartner, businesses that deliver effectively what they say in their employee value proposition can decrease annual employee turnover by a massive 69%.
You can use our EX25 methodology in conjunction with our Experience Optimizer to measure beyond employee engagement — highlighting what your people want — and then develop an action plan to deliver. This ensures you have the insights you need to attract and retain the right people.
Foster a great company culture
Linked closely with your EVP is your company culture. Increasingly, younger employees joining the workforce want to work with organizations that are environmentally and socially responsible.
In short, ones that share their values.
This is important because 'living the values' (e.g. organizations demonstrating their commitment to what they believe in) emerged as a top driver for employees' intent to stay according to our 2023 Employee Experience Trends report.
So, foster a sense of belonging and value alignment among your employees, and they will:
Feel like a valued member of the team
Feel supported in adapting to organizational change
Believe that they can be themselves at work
Believe that their company is one where everyone can succeed to their full potential, no matter who they are
Stay or stay for longer
Now, most organizations have an employee experience survey program in place — either running quarterly or bi-annually — but you should look to supplement those programs with routine Qualtrics Pulse Surveys.
The reason for this is so that you can start to capture feedback during the moments between moments. A quarter is a long time to wait — and in that time, things can drastically change, influencing your organization's culture and the overall employee experience.
Pulsing enables you to get fast, actionable insights and trends on how your workforce feels without burning them out. With tools like frequent employee feedback, you can get to the heart of challenges, issues, successes and opportunities right when you need to. Plus, with its adaptive capabilities, you can stand up new programs without overhauling or impeding your existing feedback cycles.
Find out how you can tap into the moments that matter and overhaul your employee experiences
Offer the best possible employee experience
When your people love working for you, why would they go anywhere else? Your employee experience needs to start the moment a candidate looks at your job ad until they hand their key in on their last day, then even beyond that with an alumni program.
A great employee experience takes into account:
Work-life balance – to prevent burnout
Wellbeing – physical, mental and financial
Belonging – feeling part of the organization
Purpose – doing meaningful work
Happiness – enjoying your work
Vigor – feeling energized and enthusiastic at work
Set up employee journey analytics so that you can capture everything from work anniversaries to role transitions, to analyze and understand what's working well, what isn't, and how to improve those areas.
Again, Pulse surveys are your friends here. Shorter and more frequent than an annual engagement survey, you can deploy pulses at significant touchpoints of the employee journey to gather the most insightful feedback about your workforce's experience — so you can improve it.
Find out more about designing a world-class EX program that retains talent.
Create learning and development (L&D) programs
Create a win-win situation for both you as an employer and your employees by implementing L&D programs. Today's employees are demanding from their employers more opportunities for professional development, and it's more cost effective to train and upskill current employees than recruit new ones. Employees who receive regular L&D opportunities are more likely to remain with an organization that's committed to developing their career.
To remain competitive, feedback is critical for both individual success and professional development. It's essential to know that the L&D opportunities you offer are fit for purpose and are good enough to keep your people.
You can use an assessment tool such as Qualtrics Learning Experience Assessment  to understand from your employees:
How accessible are the organization's learning opportunities?
What is the quality of training currently being offered?
Are the skills learned in training being transferred to the workplace and sustained over time?
The tool captures feedback from both learners and their managers to assess the quality of learning programs and how much the learning has positively impacted the workplace.
You can also make development personal. With our 360 Development solution, actionable feedback and insights are personalized to each employee, helping your talented people build on their skills, understand their individual challenges, and take the right actions that will ultimately boost business impact.
You'll be able to:
Empower employees to own their development and learning, giving open and honest feedback anonymously
Deliver personalized reports for each employee, which include comprehensive feedback that's most relevant to their role and development plan
Easily identify development gaps across your organization
Connect employee development outcomes with critical business metrics to prove ROI and development impact
Pinpoint why employees leave – with exit interviews
Painful as it may be, the most revealing, honest feedback for your company's attrition rate comes when an employee leaves — provided you have an exit solution in place.
An exit solution gathers feedback not only from employees who are leaving and from those who have already left, it also creates alerts for at-risk employees who look as if they are on the verge of handing in their notice. You can learn lessons from those departing, closing the experience gaps you uncover, and rapidly put interventions in place to dissuade the at-risk from going.
Through our research into employee turnover or unwanted attrition, we've identified four KPIs that are important to measure using our Experience Management (EXM) exit model.
These KPIs empower organizations to understand the extent to which the person leaving the organization has had a positive or negative experience, as well as whether they leave as an advocate or a critic.
In addition to this, we also identify six dimensions known to drive a positive employee experience, underpinned by a manager effectiveness index.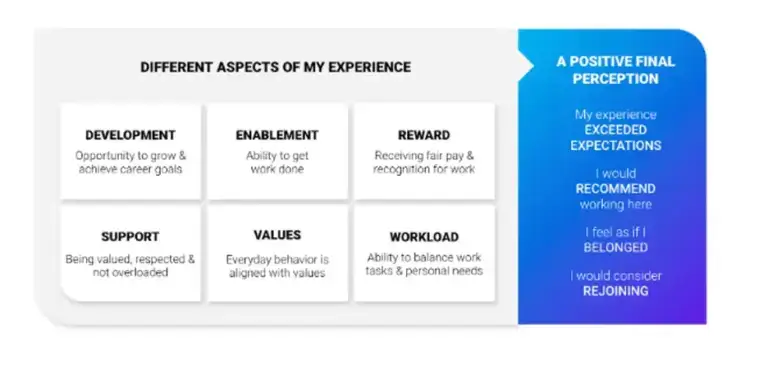 Check out our Exit Solution and find out how you can improve your exit program (and identify what's causing attrition and where to act).
How Qualtrics can help
Our XM for People Teams software will help you build engaged and high-performing teams, improve manager and individual effectiveness, and make informed and timely business decisions.
But as importantly; these capabilities ensure you can deliver the best possible employee experiences, making it easier for your people to stay.
For example, with People Engage, you'll be able confidently to set goals and empower managers to take the right actions with a holistic understanding of your employees that goes
beyond traditional engagement. This includes devising new strategies to improve team productivity, identifying where they need to improve as a manager, and focusing on what their direct reports need to grow and be satisfied.
People Lifecycle helps you to reduce attrition by delivering the right experiences in
the moments that matter most across the employee journey—from candidate, to onboarding, to development, to exit. At every stage, you can zoom in on the challenges your employees are experiencing, and then come up with actionable strategies to solve them.
And, with AI-powered People Analytics, you can surface recommendations and insights to the right people to help you get the big calls right when it comes to your workforce. For example, you can use continuous listening to tap into employee feedback and commentary across channels to see how they feel and address issues in real time.
You've also got access to Employee Journey Analytics, a powerful program that brings together all of your employee listening initiatives to map out the end-to-end employee journey, providing you with clear indicators of where to step in to prevent attrition.