---
What Are Employee Benefits Surveys?
Employee benefits surveys are questionnaires sent to employees on an annual basis to gauge which benefits are most important to employees. They ask questions about the quality of specific benefits, how they compare to other companies, and any additional benefits employees would like to see in the future. This can relate to PTO, health insurance, parental leave, retirement, stock options, free meals, etc.
How Employee Benefits Research Can Help Your Company
Benefits play a large role in employee experience and satisfaction with your organization and employee benefit surveys are an important part of understanding the needs of your employees. Some employees may not be aware of all the benefits you offer, so these surveys also keep your employees up-to-date with the benefits your organization provides.
Employee satisfaction surveys that include a benefit assessment component provide much-needed information to your organization. You can compare your organization with national baseline data through the Bureau of Labor Statistics' National Compensation Survey (NCS). You can also compare the incidence and detailed provisions of selected employee benefit plans in small private establishments, medium and large private establishments, and state and local governments.
What to Include in the Benefits Survey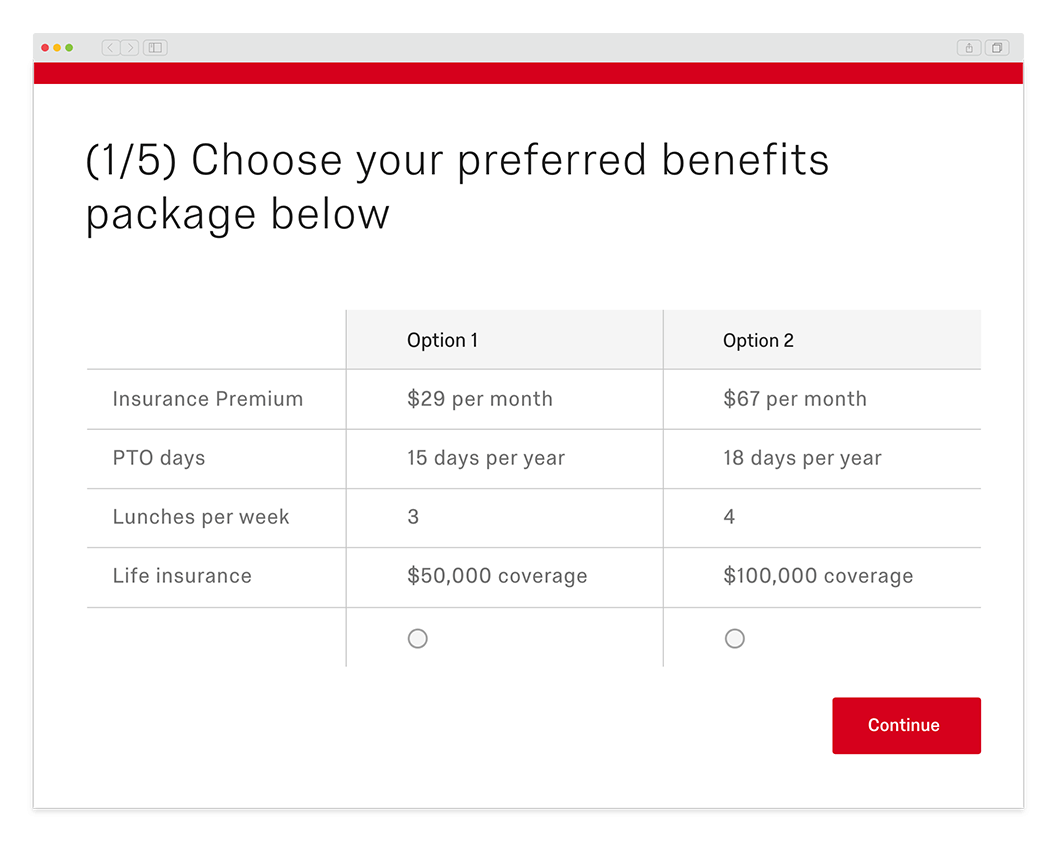 How do your employee benefits compare with other companies in your industry? You should know where you stand in all benefits areas so you can adapt your policies to meet your employee's needs and stay relevant among the competition.
Benefits Areas
When asking questions about new different benefit areas, it's helpful to explain how the benefit works so the employee can determine if the benefit would be beneficial to them. For instance, if you're considering offering a public transportation benefit, explain which types of transportation it can be used for and how it can benefit employees.
You can also give descriptions of the current benefits you're offering, just in case employees don't understand the benefit. Depending on the benefits you currently offer or are considering, you might want to ask about these areas:
Health insurance
Retirement (both defined benefit and defined contribution components)
Stock options and equity
Child care resource and referral services
Parental leave

Maternity leave
Paternity leave

Food services and snacks
Time off
Tuition reimbursement
Learning allowances
Other health benefits such as gym reimbursements
Segmentation
It's important to segment your results into different cohorts, as it will help you understand how certain groups of your company value different benefit types. Keep in mind that you will have a lot of this data in your HCMS already, so avoid asking questions you already have answers to.
Age
Department
Office location
Country
Gender
Full and part-time workers
Seniority
Parental status
Comparisons
For comparisons with national data, benefits data should also be qualified by establishment and employee characteristics such as:
Establishment size
Industry group
Profit vs. non-profit status
Time vs. incentive status+
Once you've completed your survey, it's important to analyze the results and see which benefits you need to add or make changes to. The goal is to put your money into benefits that are the most valuable for your employees. Benefits should be evaluated annually so you can understand if the needs of your workforce are changing.
Are you ready to find out what benefits matter to your employees? Our new employee Benefits Optimizer tool lets you run employee benefits research in minutes! With a guided configuration wizard, predesigned survey and a package simulator that lets you see which combination of benefits is preferred by your employees.