---
Every product, service, or solution starts with the same, simple process: idea generation (or concept development), but just as important is the process that follows: idea screening.
For every business, idea screening ensures that the product development process meets business objectives and customer expectations.
Without idea screening, new product concepts will often miss the mark, fail to gain traction, or even penetrate the market effectively. But by evaluating ideas before they go to market, you can reduce the risks associated with the new product development process and maximize your chances of achieving a positive ROI. 
In this article, we're going to explore idea screening, including what it is, how it works, its benefits, examples of screening, and more.
Free Tool: Your guide to idea screening and product concept testing
What is idea screening?
Idea screening is a core part of any new product development process. It helps you to vet and evaluate potential ideas using set criteria, data (such as market research) or scoring models.
For example, with new ideas you may want to assess them against relevance, constraints, budgets, value, risks, and/or feasibility. This is by no means an exhaustive list, but it should provide you with some context of how to approach idea screening.
As well as the above, you can use existing market research or customer data/feedback to ascertain the validity and value of a new idea. For instance, how receptive are your customers to new products, services, and/or solutions? Is there a gap in the market for your product ideas? How do your current buyers feel about your current offerings?
Lastly, is the idea abstract or complex? One of the most prevalent challenges for product developers and marketing teams is making sense of new product ideas that the C-Suite comes up with.
Idea screening steps
Now that you know what idea screening is, where do you start? Here are the most important steps to take to you sort the good ideas from the bad.
1) Brainstorm ideas
It all starts with your ideas. The best product ideas incorporate perspectives from multiple stakeholders and teams, as well as market and customer research (where possible). 
Focus on customer problems that you can potentially resolve through a new product, service, and/or solution. After, think about how urgent their needs are (is your solution highly demanded by your target market?) and whether those needs are underserved (are there no available products to address their concerns?). Finally, is the idea unavoidable? Do you have to create it regardless of what's happening in the market?
It's also worth reviewing customer complaint records. If your past customers have provided negative feedback — in any form — regarding your other products (if you have them), assess those complaints against your new product idea. Does it address any of those complaints? Does it meet new needs?
Come up with as many ideas as possible and then work to eliminate product concepts that don't align with your overall business objectives using idea screening criteria.
2) Evaluate ideas against specific criteria
For your product, service, or solution to be successful, it needs to be graded against a list of needs specific to your company and target audience. For each of these needs, you should develop questions to ask about your products to see if they meet your standards. Some common criteria are:
Product benefits/value: How many ways can your customer benefit from this product and what are those benefits? If the benefits are minimal or non-existent, it's less likely that your new product idea will be successful.
Audience: What is the growth potential of your target audience and will developing new offerings bring you new audiences? What are the needs and expectations of your audience(s) and does your offering meet them?
Simplicity/complexity: Will it be easy to manufacture/develop the product, service, or solution? Can it be reasonably priced or will it be too expensive for the average customer due to manufacturing costs?
Profitability: How much money needs to be invested to successfully develop the product, solution, or service? How much profit can you make once it hits the market?
Market saturation: Is there an abundance of similar products, services, or solutions? Is there a clear need for your idea or a gap in the market? How many competitors will you have?
This is by no means an exhaustive list, but by looking at a few of these criteria, you can quickly ascertain your priority ideas and create a shortlist. You can also look to your competitors and customers to see what's working well or could work well.
For example, both Slack and Zoom are communication and collaboration tools, but one is geared more to team-wide collaboration and file sharing, whereas the other is more for video conferencing, webinars, and other forms of online events. In this case, both ideas are competitive as they address needs in the market that were (until their arrival) unfulfilled or not fulfilled entirely.
Another good example would be Uber. Uber didn't revolutionize ride-sharing, but they did come into existence at the right time: when people wanted a seamless way to book a taxi without waiting 30 minutes.
As well as doing the above, you'll want to:
Get stakeholders on board
One of the easiest ways to get stakeholder buy-in is to create a comparison chart between existing competitor products (and potentially your own, should your new idea be an add-on feature) and customer pain points. Tick the pain points the solutions solve. Ideally, your new idea should address the existing pain points and any new ones that you might have uncovered thanks to market research.
For an existing product, service, or solution that you have an idea for, consider a repositioning or rebranding strategy to demonstrate how that idea can help with specific issues. It could be that customers are exhibiting an appetite for a new feature, or that your offering is better tailored to a specific need or market.
Speak to your experts
Getting your product idea (or product ideas) past stakeholders and management is one thing; but what about your experts and other business partners?
Any new development idea needs to be put on the table for internal review, i.e. your experts and specialists (those creating and implementing the idea) should have a chance to input. This is, in essence, a proof of concept (POC).
The point here is that it's completely pointless to invest heavily in an idea that's not technically feasible. But as you've come to your development team with a shortlist, it should be far easier for them to strike off ideas (or for you to revise them).
3) Carry out qualitative and quantitative research
Having criteria to contrast your product concept against is a great way to successfully conduct idea screening. However, you may not have the necessary data to answer the questions posed by each type of criteria.
This is where qualitative and quantitative research comes in. A qualitative research study (such as a focus group or survey) could reveal how your target market feels about your new product idea. Quantitative research, on the other hand, will give you the statistics and hard facts to support any conclusions you come to.
4) Concept Development & Testing
Having compiled your ideas and researched the market, the next step is to refine your ideas into actual concepts that can be scrutinized and tested by your target buyers. This stage is different from detailed design engineering as it's more about outlining the technical aspects and marketing considerations for your product, service, or solution.
Here you'll want to visualize your concepts so that they can be understood by your stakeholders and teams. Consider using CAD, photorealistic rendering, simulations, animation, sketches, and drawings. If possible, try to produce physical mock-ups so people can get a better feel for your product.
After putting together your concept, set up sessions with stakeholders and participating teams to test it. Also, it's worth using focus groups from your target market, or a small selection of loyal customers to get rounded feedback and possibly new product ideas.
Related: Check out our concept testing tool and validate your best product ideas before you squander valuable R&D efforts.
These sessions should include a thorough evaluation, along with questions about every aspect of the new concept. You should appoint a facilitator to manage the process and document the discussion. Alternatively, you can use customer surveys and one-to-one interviews to gauge opinions.
Finally, include some sort of approval process to ensure the project progresses to the next stage.
Transform your idea screening
With the tips outlined in this guide, you can take your idea generation and screening process to the next level and come up with ideas that truly resonate with your audience.
But to help you further, why not use our Idea Screening (XM) solution?
With our Idea Screening (XM) solution, you can evaluate ideas and discover which ones resonate most with your respondents. This solution targets early-stage innovation efforts to help you identify. the product lines with the most potential before investing in their development.
The idea screening setup asks for a high-level description to provide context around your set of ideas, then asks for a simple text description of each idea. You can then create idea screening surveys from within the platform.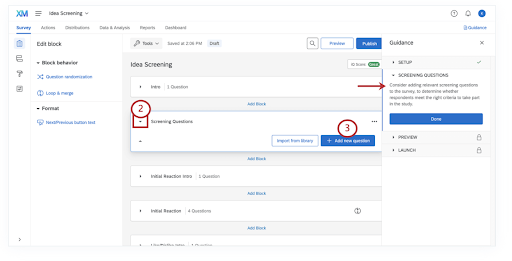 Once you have created your survey and put together a contact list, you can easily distribute it to the channels most important to your audiences: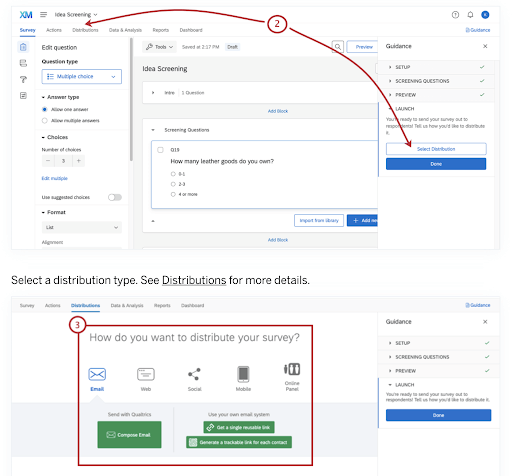 The solution also has a special dashboard with built-in pages to give you an overview of your results: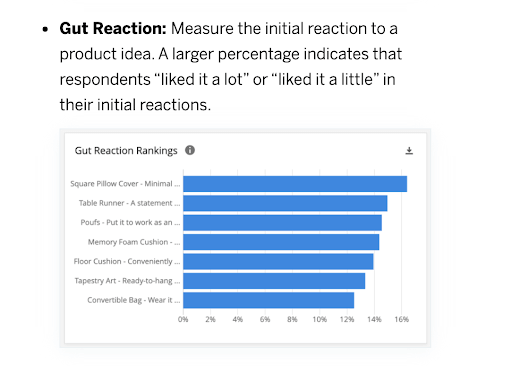 With our Idea Screening (XM) Solution, you have everything you need to assess your ideas: sophisticated surveys, distribution methods, results in dashboards, and much more.