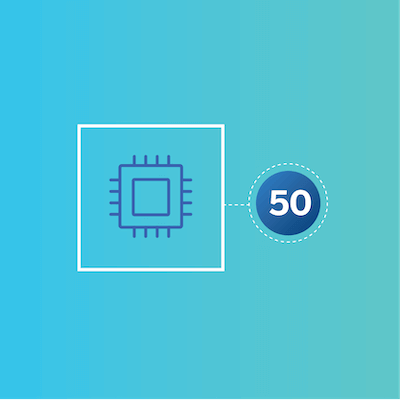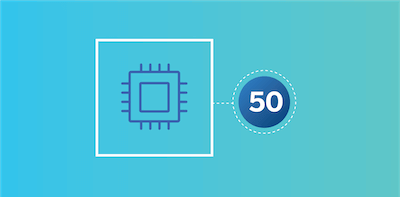 XM Solution Guided Program
XM Institute Customer Ratings - Digital CX Benchmarks
Compare the performance of your Digital Customer Experience program against industry peers and best-in-class organizations delivering superior digital customer experiences.
Core Experience
Customer Experience
Created By
Qualtrics XM Institute
COST
Included with License
Methodology
Composite measure of CSAT, Likelihood to Return, and Ease of Use Scores
Measuring your digital customer experience over time provides a valuable insight into performance trends.  But comparing your results against those of your peers provides even deeper insights into how well your organization is meeting the expectations of customers across the market. 
Customer Ratings – Digital from the XM Institute help you clearly understand the leaders delivering the best customer experiences in each industry and identify how your organization compares.  These results can be included within your Qualtrics CX dashboards to provide an ongoing comparison, and to help prioritize customer experience activities and investments.
With Digital Customer Experience Benchmarks you'll be able to:
See how your Digital Customer Experience program compares to industry peers and the market overall
Identify the best-performing industries and see which companies are providing the best experiences in each sector
Set your own program's goals based on industry and total market benchmarks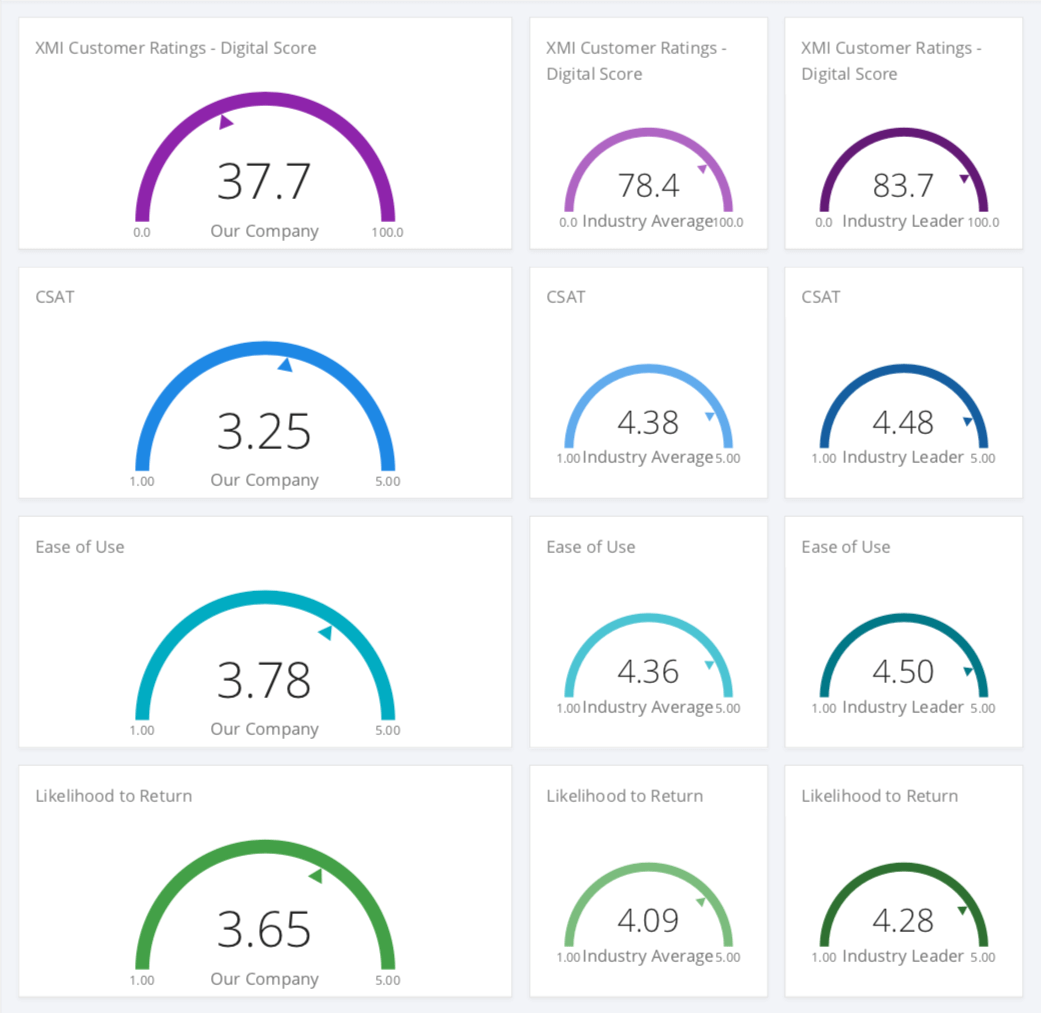 Outcomes Delivered
Identify opportunities to differentiate from your competitors
Prioritize your investments in the digital experience
Compare your Digital CX program to other organizations within your industry
Category Tags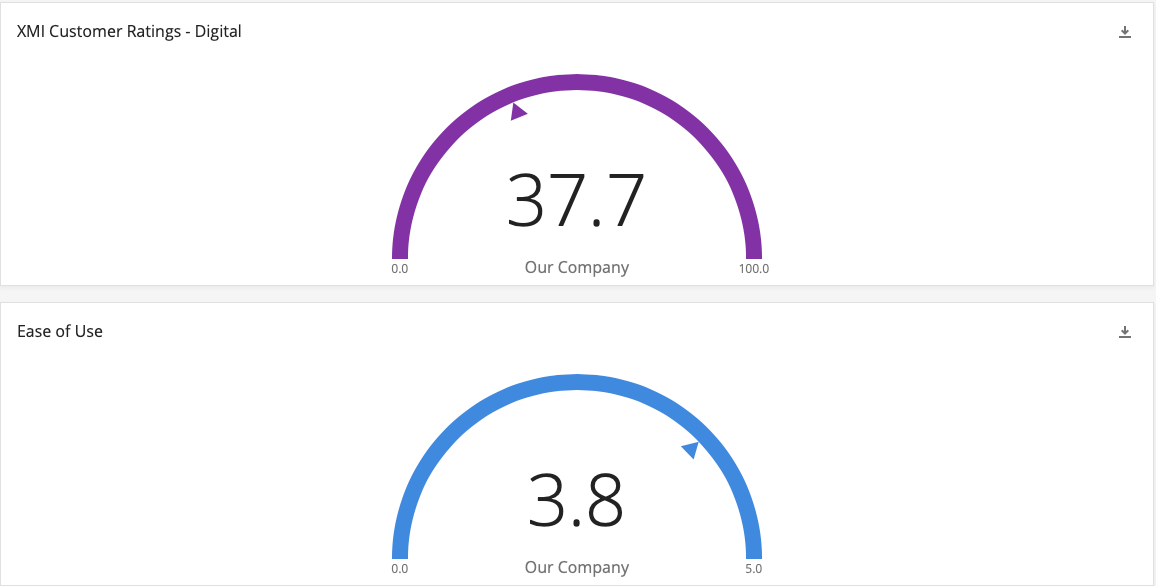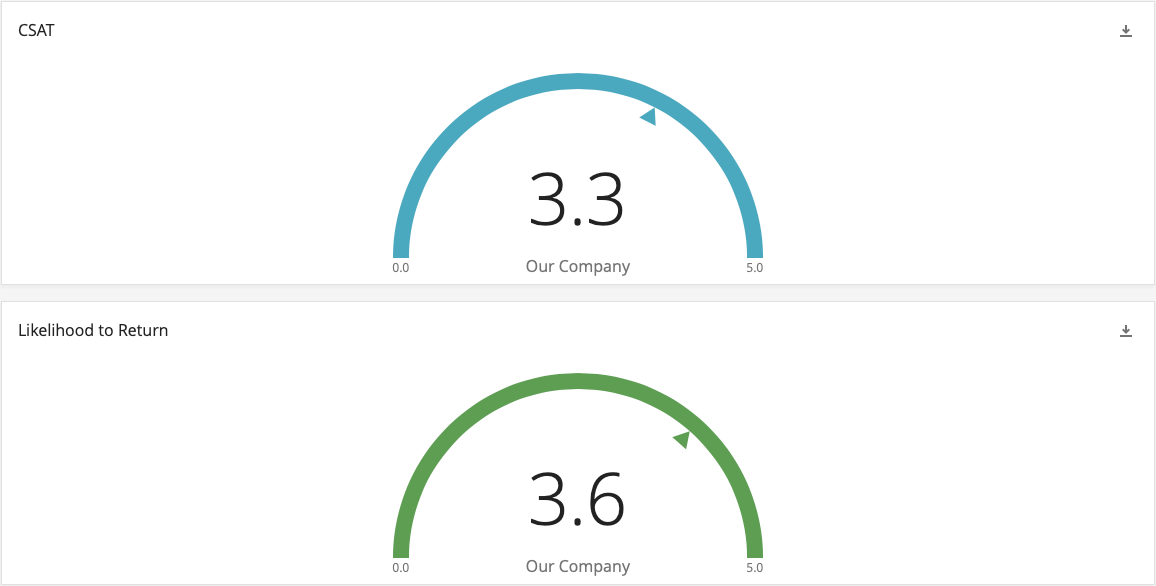 What You Get
Access to a collection of benchmark reports and the corresponding data used to measure the digital customer experience.
Customer Ratings – Digital — is a measure of the overall digital experience that is calculated with the creation of a composite metric focused on CSAT, Likelihood to Return, and Ease of Use Scores across 180 brands based on responses from >13,000 customers across 17 industries:
Airlines
Apparel (Retail)
Auto Dealers
Banks
Big Box Retailers
Credit Cards
Grocery
Health Plans
Home Retailers
Hotels & Rooms
Investment Firms
Personal Care Retailers
Rental Cars & Transport
Specialty Retailers
Streaming Media
Technology
TV/ Internet Service
INCORPORATE INTO YOUR QUALTRICS DASHBOARDS
Include XM Institute digital customer experience ratings in your existing Customer Experience dashboards to serve as a reference point for digital customer experience program performance.  Further, the XM Institute Customer Ratings (Digital) map directly to the measurements of digital customer experience that are provided within the Digital Customer Experience XM Solution.
SERVICE AND IMPLEMENTATION
The inclusion of the XM Institute Ratings – Digital can be included within the initial delivery of Qualtrics CX report views, or can be easily added at a later time.
Additional Resources
XM Institute Customer Benchmarks implementation documentation from Qualtrics Support Center
NPS Benchmarks from XM Institute
Solution Details
Required License: Customer Experience 1
Languages
English
Category Tags
Not a Qualtrics XM Customer?
Qualtrics Experience Management Platform™ is used by the world's most iconic brands to
optimize the four core experiences of business.