From the Q-mmunity
Environmental Sustainability at Qualtrics with the Green Team in Dublin
The "Green Team" was founded in Dublin in June of 2018 to promote sustainability at Qualtrics by encouraging and guiding corporate responsibility. Our vision is to empower Qualtrics employees to make greener decisions, both in the office and at home.
---
The Green Team was started by Klara Condac (Research Services Project Manager), Joanne Dufficy (Research Services Project Manager), and Kanzi Kamel (Office Manager) in the Dublin office. We have grown to a team of 14 that encompasses members from nearly every department in Qualtrics.
The idea for the Green Team sparked after witnessing high levels of waste and poor recycling habits. Our office used to use single-use cups, plates, bowls, and cutlery for breakfast and lunch EVERY day. With nearly 300 employees here in EMEA, this was a lot of waste! We worked to create a Greener Qualtrics to help reduce overall waste levels and bring our footprint to neutral, while also promoting greener habits both in the office and at home.
Why is this initiative important to people here? Why is it important to Qualtrics?
With the climate crisis becoming a real threat to our future, we know that now is the time to act. Climate Change has become a hot topic with governments around the world finally taking steps to join the fight against climate change. We wanted Qualtrics to join them!
We have already seen such a positive impact locally, in Dublin, and we're beginning to see this impact being made on Qualtrics as a whole. With such a fast-growing environment, we need to make sure that our sustainability and environmental awareness and impact grow with us.
We provide all new hires with reusable cups and water bottles. During onboarding, we inform them about our initiatives so they can get involved from the get-go.
How does the Green Team fit into the story of Qualtrics?
The Green Team works to create and develop an "All In, One Team" approach towards a more sustainable workplace. Qualtrics provided us with the support and resources to empower and influence our colleagues to make small day to day changes that result in a huge difference. Having the buy-in and encouragement from senior-level staff to do so is what makes this a great place to work.
We are proud to have joined SAP, who are championing CSR and Sustainability. Therefore, we want to ensure that Qualtrics not only aligns with SAP's environmental policies but also proves to be a leader and an example to be followed.
Break it down for us a bit. How does a team like this work?
Our dynamic team is made up of people from all different backgrounds and departments across EMEA resulting in some really cool and original ideas.
We have a set monthly meeting to discuss new initiatives and ideas and to check in on current projects and their progress. All members are encouraged to attend. We also hold brainstorming sessions every quarter to focus on Objectives and Key Results that align with our mission and vision, and Qualtrics' as a whole.
We have also created a Green Team Slack channel where regular updates, ideas, and media are shared by the members. Recently, we have joined the Global Sustainability Slack channel to engage with global teams.
One main area of focus was onboarding the Leadership team in Dublin into sustainable ideas to encourage a top-down environmental responsibility approach.
We have held numerous EMEA all-hands presentations where we shared relevant information and upcoming events. The EMEA newsletter, as well as update emails, are shared with EMEA/Dublin office quarterly to ensure that our objectives are constantly communicated to the wider team.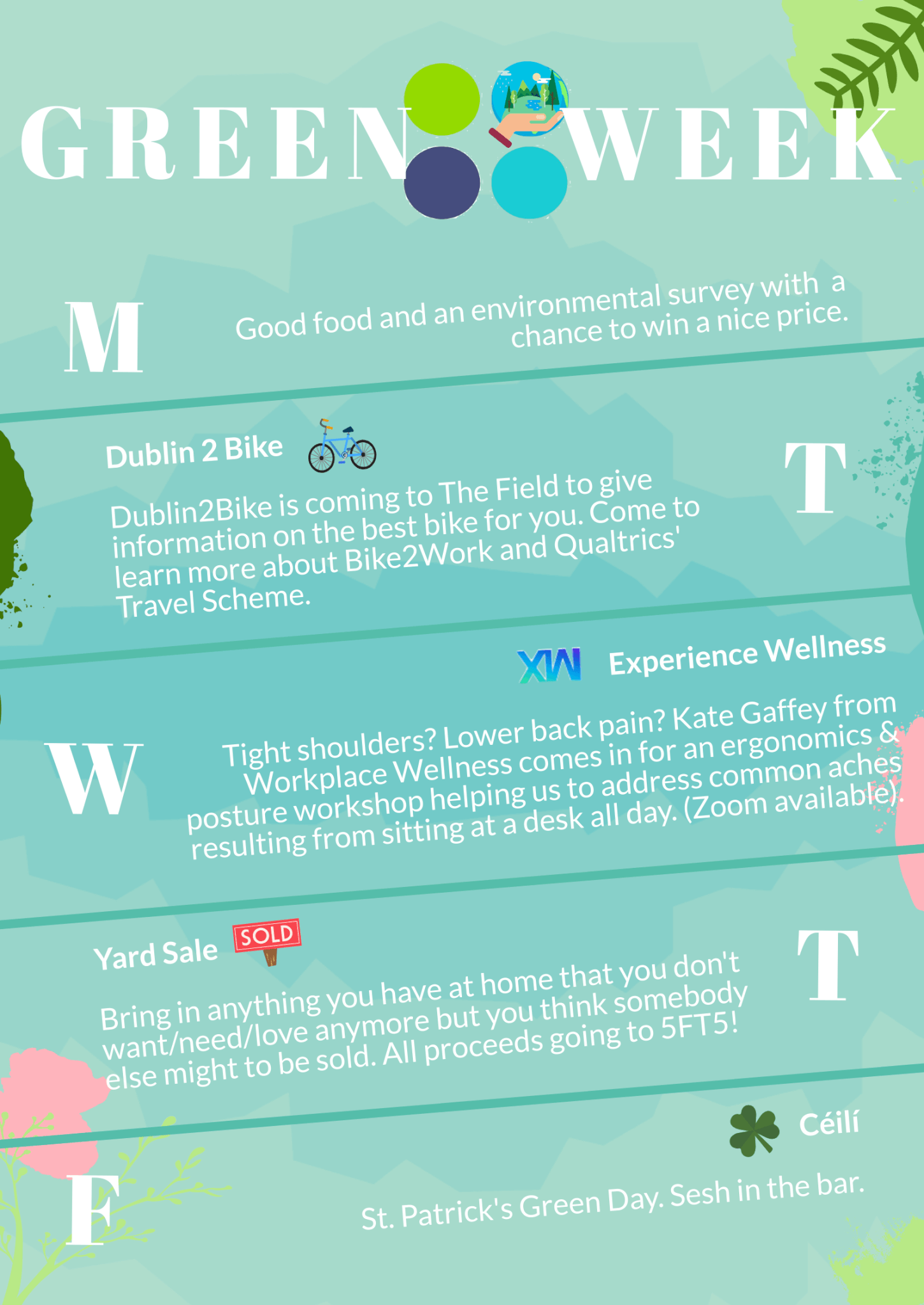 We're sure there were plenty of ideas for what to address first. Tell us about some of them.
What: Energy providers
Why: Reduce our carbon emissions. Ireland is working hard towards building a sustainable energy future. We changed our building's energy provider, reducing our carbon footprint and that of the retail shops around us - a small win!
What: Waste disposal/reduction - waste provider; recycling; composting; crockery; keep cups; food composting
Why: Every little bit helps. We brought in compostable and recycling bins to promote proper waste disposal habits across the office. Changing to reusable plates, cutlery and glasses have significantly reduced the waste output here in Dublin.
What: Education on small ways to help
Why: We aimed to disrupt the way we think and empower and motivate those we work with to take action. A major issue is not that people don't want to recycle, but that they simply don't know how to. Green Week was a great time for us to promote and educate through quizzes, emails, and talks in The Field.
What: Sustainable new building
Why: With our new building currently under construction, we are ensuring that it will be sustainable and environmentally friendly.
What: Food sources in the office - packaging; sourcing; environmental impact
Why: Take a new approach and think about what we buy. Positive choices about where we buy things from and how they are packaged in an effort to prevent excess waste.
So, which problem did you decide to start with? What have the noticeable impacts been?
Our main priority was to tackle the single-use problem. We put a business case together to introduce a system where we could use real crockery, cutlery, and mugs. While that was under development, we transitioned our existing materials with compostable ones. Making this one change reduced our waste by 40%. Kanzi took the lead and worked tirelessly to coordinate dishwashers, new cleaning processes, and equipment to help implement this initiative. We are proud to be 100% single-use crockery free since the beginning of May 2019.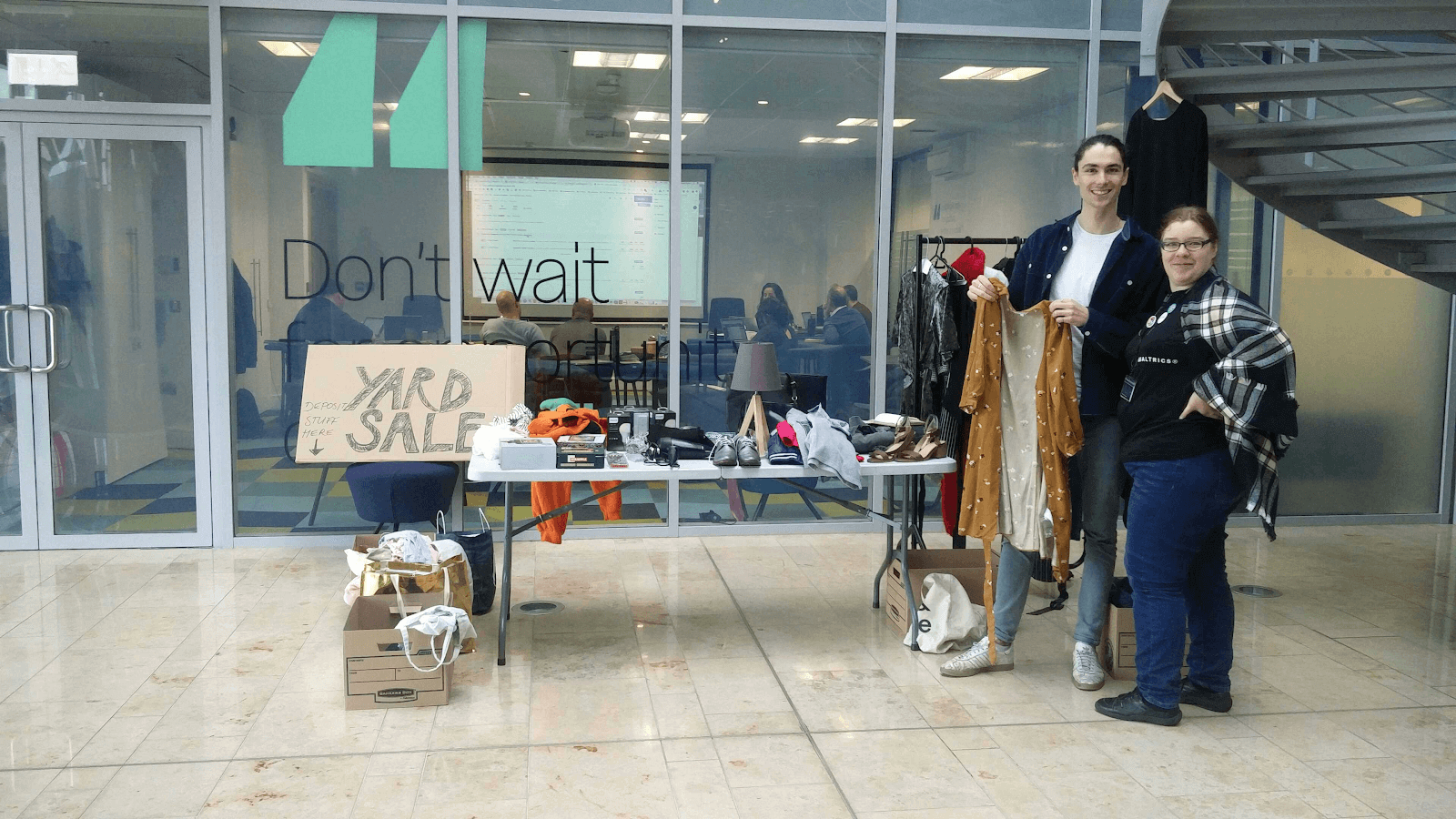 We have transitioned the whole building to a 100% renewable energy provider. This not only means clean energy for Qualtrics, but also the other businesses hosted in our building.
Green week - this first annual Green Week took place this March to highlight and educate on the importance of living in a sustainable world and what small steps, we at Qualtrics, can take to make a difference. Below are some highlights:
Bike 2 Work - increased scheme memberships
Qualtrics Yard Sale - raised over €500.00 for 5FTF
Meatless Mondays - who knew Mondays could get any better?
Green Week Quiz - know your impact and recycling practices
What has the reaction been to the solution?
Despite the growing pains associated with any significant change, we have received really positive feedback on the changes implemented here in EMEA.
Thankfully, our team here has been really supportive and receptive; they are supportive of our initiatives and get involved where needed.
Most importantly, the Green Team goes Global! Following in EMEA's footsteps, Sydney and Provo are joining forces to create a more sustainable Qualtrics. Thanks to our wonderful colleagues for continuing to make small changes that make a big difference!
We are proud to have received the EMEA Impact Award at the BizOps Quarterly Business Review 2018.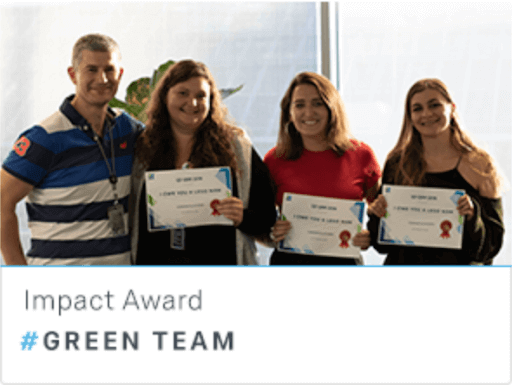 What's next?
We will continue on our mission to make the Dublin office carbon neutral by 2025. We will join forces across all offices and integrate into SAP's environmentally conscious approach.
Qualtrics is proud of the communities that grow and prosper amongst our teams. The dedication of our communities to creating a positive impact on people around them - from co-workers to our customers - is key to our culture. Stay tuned for further stories from the rest of the global "Green Team." A huge thank you to everyone in the Dublin Green Team who contributed to the creation of this story!
Inspired? Our community at Qualtrics is always growing, and the start of your journey with us as a part of the team, or with us as your strategic partner is only a click away. Be a part of the Experience.
Want to chat? You can get in touch by checking out Qualtrics Life on Twitter, Facebook, and Instagram.
Related Articles