From the Q-mmunity
Humans of Qualtrics: Stephanie
MosaiQ is highlighting the diverse stories of its members throughout May for Asian American Pacific Islander Heritage Month with the Humans of Qualtrics project. Stephanie shared her story with us.
---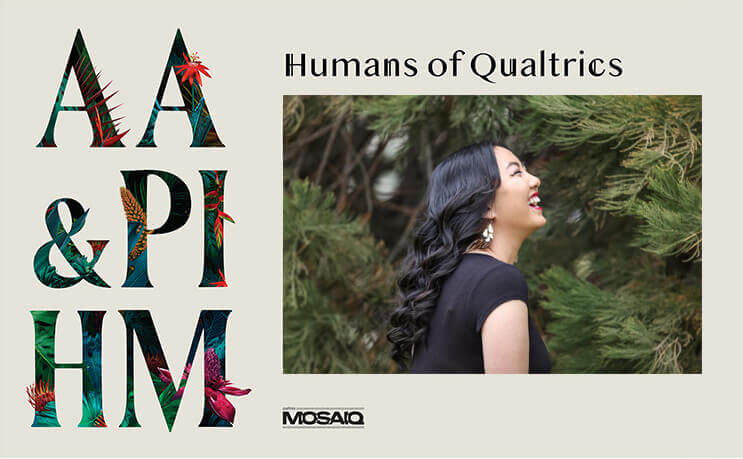 "The saddest moment of my life was when I was a little 3rd grader. The story goes…my best friend and I were heading out to recess. He learned a new rhyme and wanted to teach it to me. He recites, "Chinese, Japanese, Dirty Knees, Look at These" while using fingers to simulate slanted eyes that supposedly differentiated Chinese and Japanese people. My mouth dropped. "Isn't that cool?" He says. I thought to myself "Is he mocking me because I'm Chinese?" Before I could even answer, he says, "When you sing it, you don't even need to pull on your eyes." That hurt… I let out a "heh, heh, heh" fake laugh and walked away. The rhyme echoed throughout the playground for nearly a whole school year. At the time, I didn't think too much about it. I figured it'll all pass. I was too young and naive to identify why it hurt so bad. He was my best friend and he had no intention of bringing me down, but the impact was harsh. It was racist. From that day on, I realized that the world is sometimes cruel. I couldn't control what others thought or think of me. The only thing I can control is myself. I turned my sadness into anger, then my anger fueled the fire that pushed me to be better. A better version of myself. I know I couldn't change my looks or my identity. (And why would I?) But what I could and can change is my knowledge and ability. I pushed myself to learn, develop, and grow each and every single day to become the best version of myself. Today, I'm that person. Next day, even better"
---
Make sure to check back for more highlights from the Qualtrics team and MosaiQ members.
| | |
| --- | --- |
| | Stephanie is an alumnus of the University Utah and is part of building Qualtrics on our Talent Team as a Recruiter. She is based out of our Provo, Utah headquarters. You can find her "Why Qualtrics" story here. |
Related Articles