XM for Customer Frontlines

Digital

Root out friction in every digital experience, super-charge conversion rates, and optimize digital self-service

Care

Uncover insights from any interaction, deliver AI-powered agent coaching, and reduce cost to serve

Locations

Increase revenue and loyalty with real-time insights and recommendations delivered straight to teams on the ground

XM for People Teams

Engage

Know exactly how your people feel and empower managers to improve employee engagement, productivity, and retention

Lifecycle

Take action in the moments that matter most along the employee journey and drive bottom line growth

Analytics

Whatever they're are saying, wherever they're saying it, know exactly what's going on with your people

XM for Strategy & Research

Research

Get faster, richer insights with qual and quant tools that make powerful market research available to everyone

User Experience

Run concept tests, pricing studies, prototyping + more with fast, powerful studies designed by UX research experts

Brand

Track your brand performance 24/7 and act quickly to respond to opportunities and challenges in your market

XM Platform

Explore the platform powering Experience Management

Teams

For Digital

For Customer Care

For Human Resources

For Researchers

All Teams

Industries

Healthcare

Education

Financial Services

Government

All Industries

Customer Experience

Employee Experience

Employee Exit Interviews

Net Promoter Score

Voice of Customer

Customer Success Hub

Product Documentation

Training & Certification

Community

XM Institute

About Us

Careers

Partnerships

Marketplace

X4 Summit

The annual gathering of the experience leaders at the world's iconic brands building breakthrough business results, live in Salt Lake City.
Awards and Events
Profile of a People Leader: Austin Nilsson
This interview took place shortly after we announced our 2020 People Leader of the Year awards. Austin won the award as a Senior Manager, CX Technology Consulting, and was one of eight recipients of the award. If you'd like to read more about the awards and find the other recipients' interviews, you can head over to this story.
We had the opportunity to get to know Austin better and discuss his leadership philosophy, how he measures success as a leader, and get some fun insights into the things that drove him to become a leader.
Qualtrics Life (QL): Tell me a little about your career journey, how you ended up here at Qualtrics as a leader.
Austin Nilsson (AN): I have been at Qualtrics for 13 years. At the time I joined, I was making $8.15/hr at the mall and Qualtrics was paying $10 so needless to say, I often joke that I came for the money - but in reality, I stayed for other reasons. From there, I actually got into leadership fairly quickly. By my 3rd year at Qualtrics, I was co-leading our Product Specialist team and I helped grow that team from 15 to 50 people. It was there where I got exposure to things like hiring and performance reviews, and I have been in mostly leadership roles for the 10 years since then. After managing the Product Specialist team, they asked me to break off a team and create our first implementation team. I did spend about 2 years as an individual contributor in our Product team, and then went back to Delivery where I have been for the last 5 ½ years. There, I got back into a leadership role - first in the EX business & now in CX. So, I have gotten to do a lot of things at Qualtrics and was able to go from an individual contributor, to a manager of a team, to where I am now - leading a function and managing managers.
QL: When did you know you wanted to be a people leader?
AN: Honestly, the topic of leadership has been really interesting to me since I was probably 13 years old. It was something that always really intrigued me. As a teenager, I liked to read leadership books. By 16, I knew I wanted to study Organizational Behavior in college. While most people with that major go down the HR path, I really wanted to study the leadership aspect: the science, effective methods of leadership, what to avoid, and so on. I never intended on having an HR career coming out of that program, I just found the subject matter fascinating and felt it could be applicable if I were to end up in a leadership role one day.
QL: Why did you choose Qualtrics to be part of your journey as a people leader?
AN: I joked about the money before, but when I first joined Qualtrics, it was a really fun opportunity. When the people leadership opportunity came up, I was really excited because I got to learn directly from Jared Smith. Jared was a brilliant, experienced leader, and spent a lot of time mentoring me along the way. Getting to work with Jared was a main driver for why I stayed at Qualtrics back then. It was a really unique opportunity that I wasn't going to get anywhere else. From there, I think I've just been fortunate that I have been able to grow and develop as Qualtrics has grown. And as new opportunities have come up, I've been really fortunate to have other leaders that have opened doors and set me up to be successful.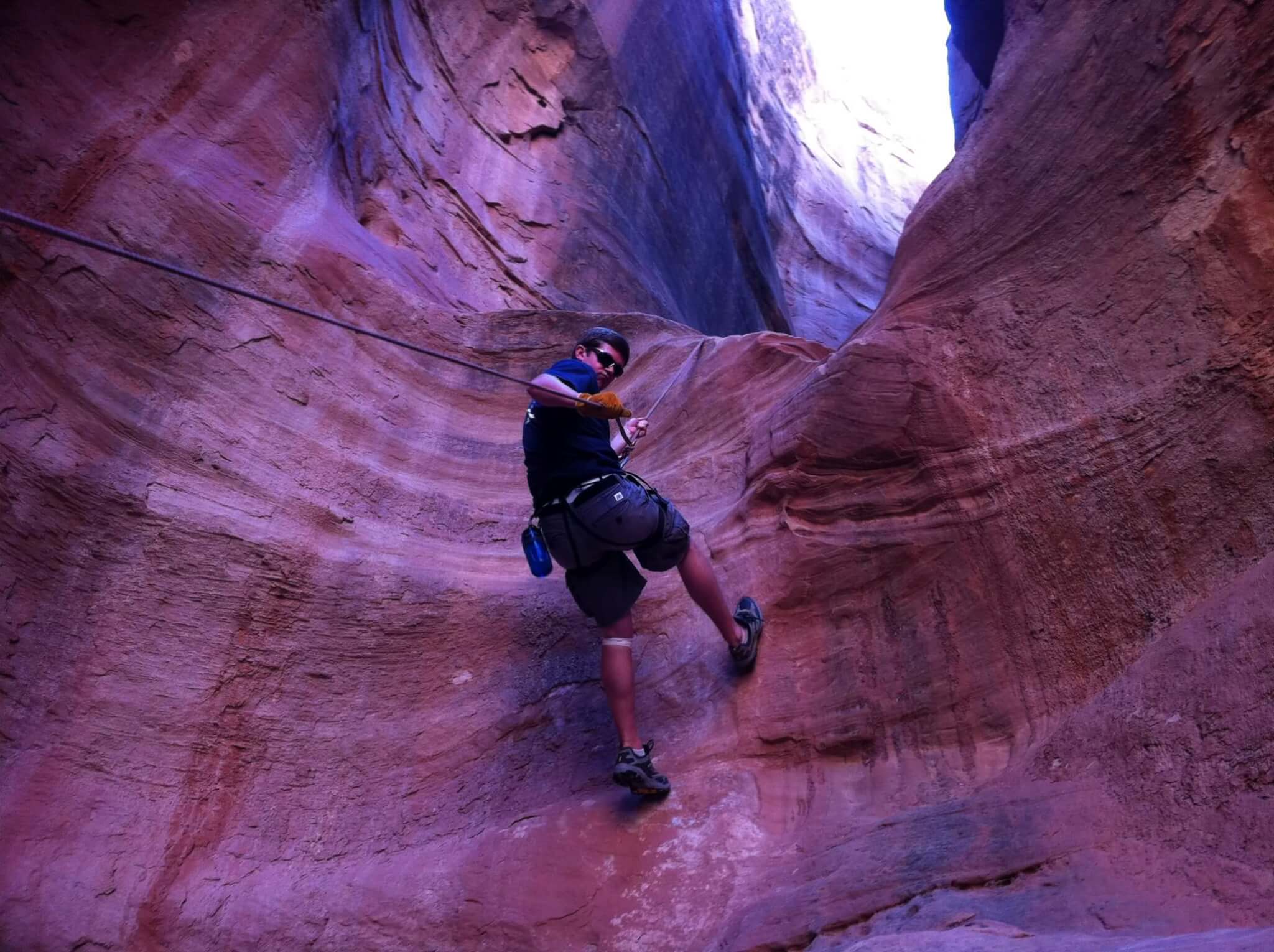 QL: What's your personal leadership philosophy or style?
AN: I'm not sure I have a philosophy or style that I have tried to articulate before. I have been fortunate to have really great leaders who have helped me grow and be successful, and so I try to put the growth and development of people on my teams first. And I've learned at Qualtrics that the best way to get that growth and development is by achieving great results, so I try to cultivate a results-focused mindset with the teams I work with. I also try to stay positive and optimistic in the face of challenges. I've spent most of my career in support or delivery, and those can be really challenging roles. But they can also be very rewarding, so I try to help the team be in a position to take advantage of what the roles have to offer. But in the end, I really just want everyone to have a good experience here and know that I care about them, and so I hope that is something that comes through.
QL: How do you measure your success as a leader?
AN: I think I measure success as a leader in a few ways. Probably not in any particular order, just trying to keep a few things in balance. First, my results as a leader are the results of the team. It's as simple as are we hitting our key performance indicators or not? If we are hitting the KPIs as a team, then the individuals are, and if they are, they can be rewarded for that and continue to grow and develop. I do look closely at our manager effectiveness behaviors. They resonate with me and my style, and even less than the score itself, I make sure that those behaviors are happening within the team. This forms a good foundation for us to work from. Lastly, I really care that the other managers are developing trusting relationships with their people. I think everyone should have someone they are working with in their career that they trust and they feel comfortable with.
QL: Are there any highlights or memories from your time as a leader last year that stick out to you?
AN: I went out on parental leave for all of July, so I missed all the activities we normally do to kick off a quarter. I knew that my leave was coming up so I had started setting up the transition plan before I left, but the baby came a little early and I just wasn't able to get everything done in time. When I came back, I found that the EX Delivery managers had gone ahead and gotten everything taken care of. The OKRs were launched, recruiting was happening, data hygiene was in great shape. They had just gone ahead with their typical rhythm and didn't miss a beat with me not being there. This was a highlight for me because it showed how much the other managers had grown and developed to the point that they could keep a successful team running. I was so excited to see that we got to a point where I wasn't a critical dependency.
QL: What does this award mean to you?
AN: Honestly, it was a surprise. I didn't know that I was even being considered. As I've reflected on it, I think what meant the most to me, was that it seemed to be a signal that people in our teams are having a good experience. Hopefully it means that people feel that our Delivery org is a great place to learn, produce results, and progress your career. It hopefully is a signal that we're achieving some of those things that I really care about.
QL: What would most people be surprised to learn about you?
AN: Most people are shocked to find out that my favorite hobby is riding motorcycles. I love to ride my Harley, but most people don't picture me as a motorcycle person.
Qualtrics is growing, and if you're ready to find your "why" at a place like this, you can explore our open opportunities at any time by visiting our career page or by joining our talent community.
See more of the Qualtrics Life on Facebook, Instagram, and Twitter.
Related Articles