Awards and Events
Qualtrics has been recognized in Rover's Top 100 Best Dog-Friendly Companies of 2019!
A legacy from the early days of Qualtrics and Barnaby himself, Qualtrics is a dog-friendly company. On any given day you will meet a variety of pups at the Provo HQ, from noble companions to incredible service pups. In June, in celebration this recognition and of International Bring Your Dog to Work Day, we hosted a party for our working pups.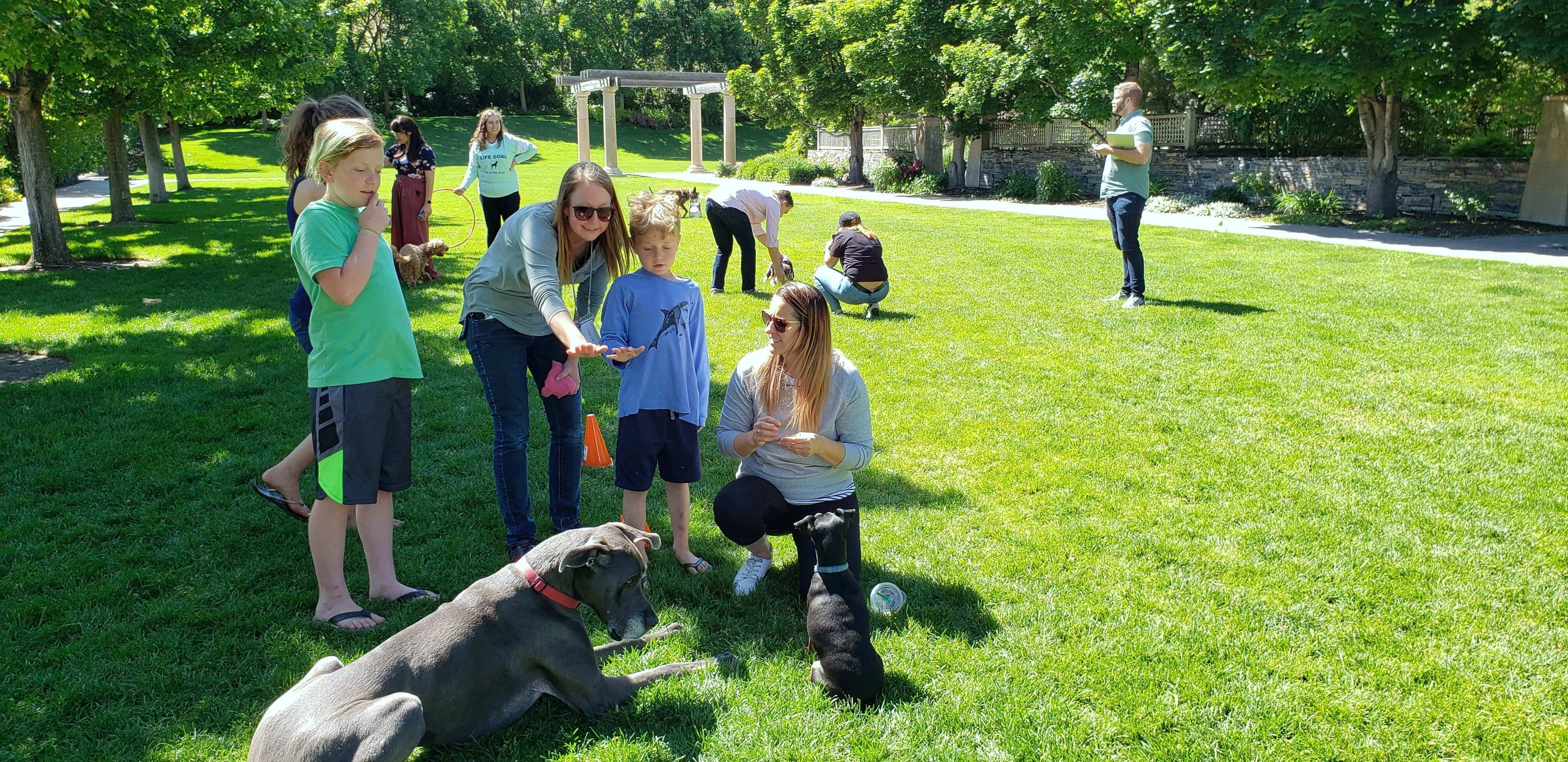 We asked for some of the team to share a bit about their pups, and why working in a dog-friendly environment is so important to them.
Jamie Parks | Global Enablement 
Jamie has been with Qualtrics for a year! Her Border Collie, Noca, has just celebrated her 1st birthday. Her best trick is providing the best kisses.
When we asked Jamie how she's benefitted from having the option to bring her dog into the office she told us, "She helps me get up and outside. At work - we tend to hover over our computers, but not increase in productivity. When she comes to work with me, I get more done in a shorter amount of time. Additionally, she is a great way to start a conversation with a co-worker that I have yet to meet!"
Her advice for other dog owners who want to bring their dogs into an office? "Make sure they are trained! I check my calendar before deciding to bring her into the office, I don't want to disrupt my coworkers' day. Make sure you have enough time during the day to build in breaks to go play outside."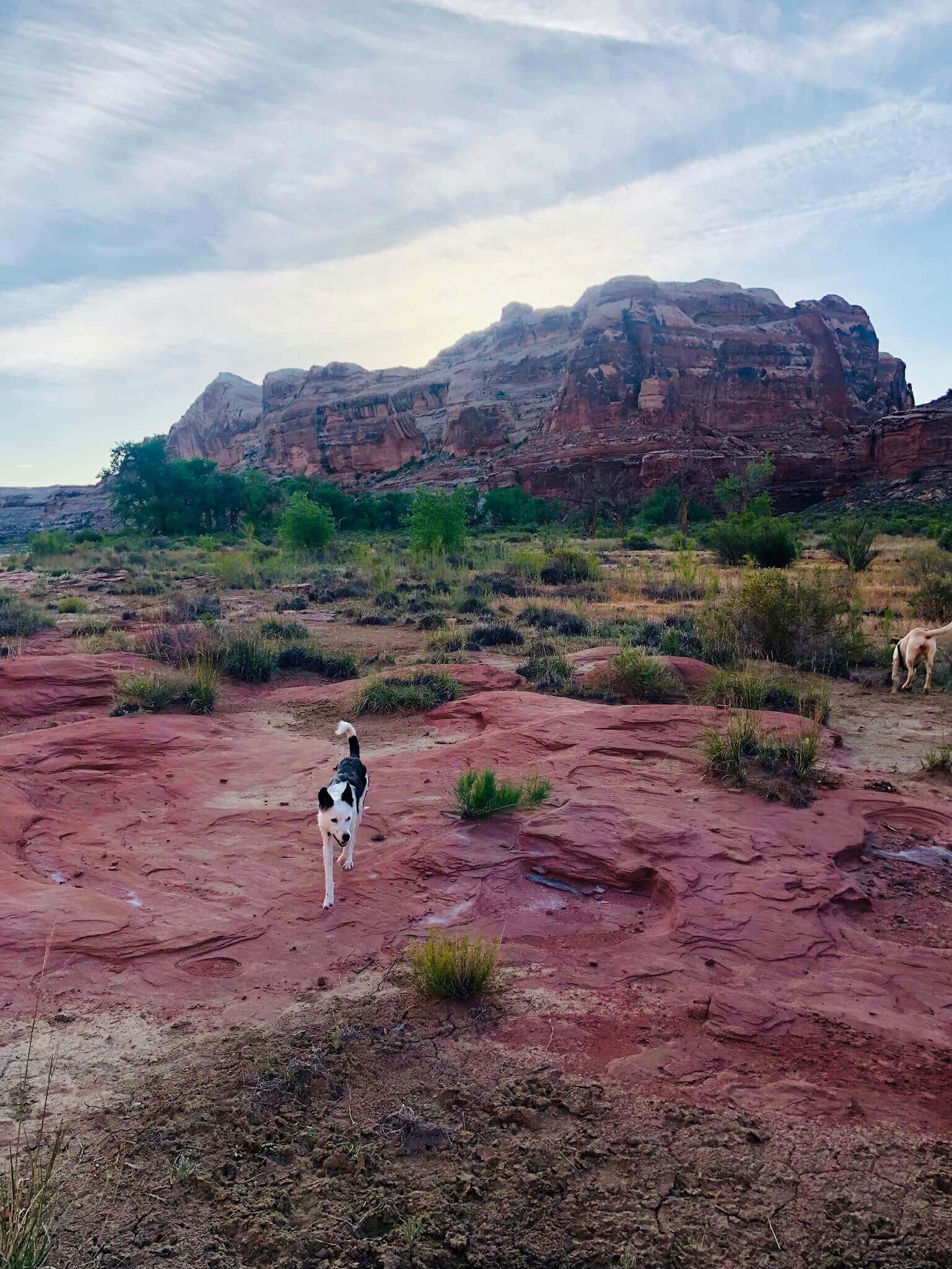 Ashley Urbano | Sales
Ashley joined us almost 6 months ago and brought along her wonder-pup, Ellie, an 8-year-old pit/lab mix. Ellie shared her "Why Qualtrics" doggy story with us earlier this year, but Ashley gave us a few more details on working in a dog-friendly environment.
We asked Ashley why it's important for her to be able to bring her dog to work. She shared, "Being a single dog mom, I hate leaving my dog home alone. Bringing her to work allows me to make sure she isn't spending too much time alone, while also allowing her to interact with other dogs on a regular basis, get her exercises, and snooze when we get home all day."
Ashley told us that the most interesting thing that's happened to her at work, due to have Ellie join her, has been that, "I've met so many amazing people because Ellie has wanted to stop and get pets from them. Due to all the opportunities to chat with new people, I met the Qualtrics Life team who asked me to take over the Dogs of Qualtrics Instagram. It's been such a great hobby. I love taking pictures, I love dogs, and I'm active with social media...so perfect fit!"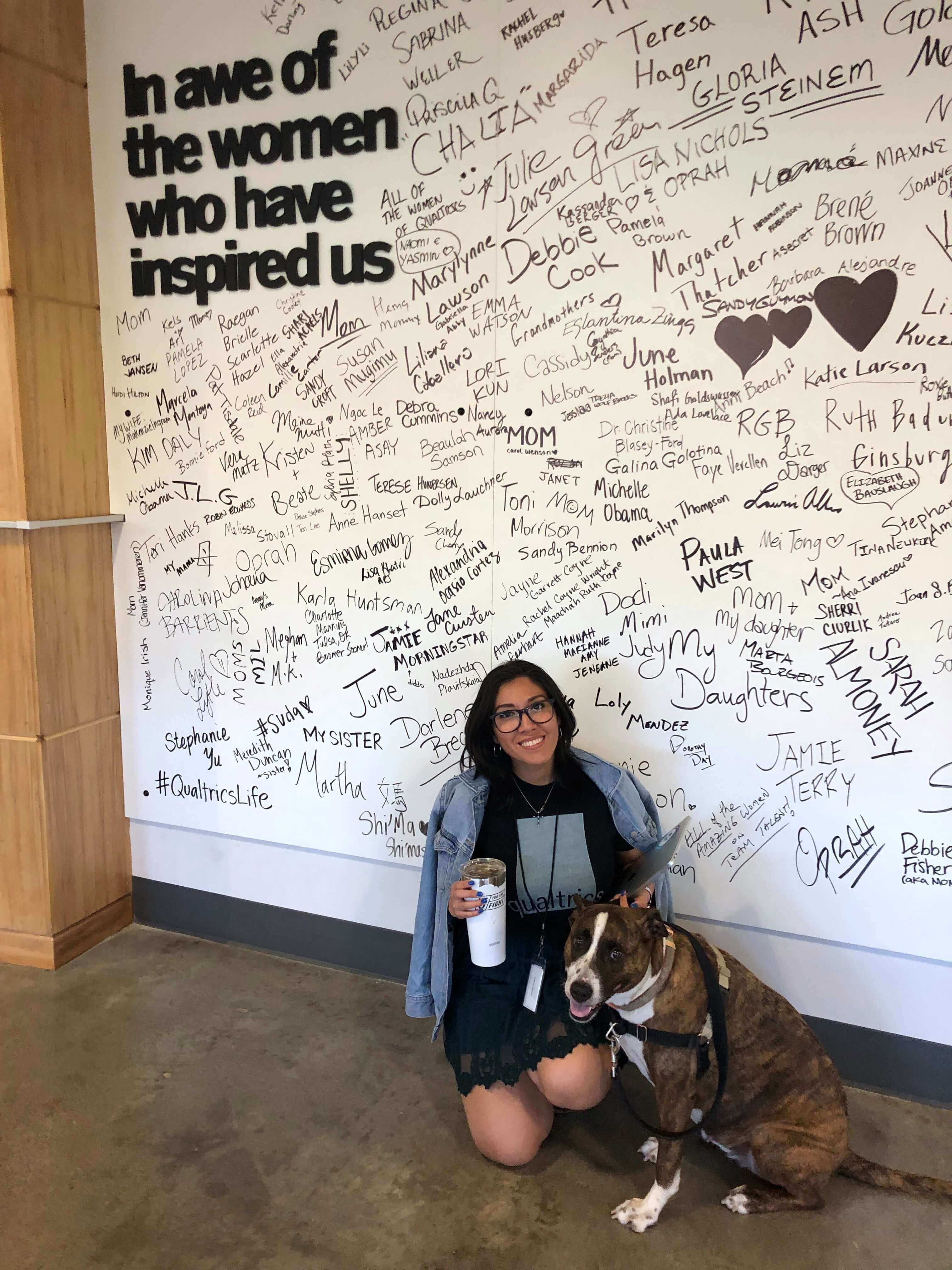 Abby Schaeffer | Implementation 
Abby has been with Qualtrics for over a year-and-a-half now and has been joined by her labradoodle, Zoe, for much of that time. Zoe was born just after Abby joined Qualtrics! She also can speak on command and has perfected her begging face.
We asked Abby about how she's benefitted from having the option to bring Zoe into the office, and she shared, "Zoe keeps me active in the office. Sometimes I forget to move around when I'm based at a desk, but she definitely reminds me when it's time to get up and walk around." She also shared her thoughts on why it's important to be able to bring her pup to work, "Dogs are essential to keep things lighthearted throughout the day. I think we'd all benefit from trying to be more like dogs -- happy, social, stress-free, hyper-focused when it comes to the task at hand (like working for a treat)."
Abby says the coolest thing that happened to her because of having her dog at the office has been that "Zoe has been the great connector between departments for me. She loves anyone and everyone. I've gotten to know many people at Qualtrics through her - people I would have never met otherwise. I've met some of my closest friends in Utah just from letting her out to play in the Qualtrics gardens."
She shares her advice for making sure your pup is office-ready: "Before you come in together, make sure your dog is fantastic at recall. And if not, having a training collar with a vibration setting combined with treats is instrumental. We're here to work and be respectful of our coworkers, so training is key."
Taylor Evans | Research Services
Taylor, a Qualtrician with over 3.5 years under her belt, has recently been joined by Aussiedoodle Rudy, a 14-month-old pup with the absolute bestpuppy-dog-eyes we've ever seen.
Why is it important for Taylor to be able to bring Rudy to work? "We have a condo and no fenced in yard, so if Qualtrics didn't offer this service, we would likely not have a dog. That would be horrible, I call Rudy my 'dog-ter' like 'daughter.' Yeah I know...dog mom to the max."
She tells us that the most interesting thing that's happened to her due to having Rudy at work has been the connections she's made: "The dog chat: we let each other know when we are headed outside and try to go at the same time as others so the dogs can play and let loose some energy."
"Honestly, work can be stressful and sometimes you just need to take a 60-second break to sit on the floor and pet a dog. It's a huge stress relief. I also love that there is a little dog community here. I have met a lot of my friends through the dog chat. I don't think I would have met some of them otherwise," Taylor shares about how she's benefitted from bringing her dog to work.
With over 80 dogs registered to visit the Provo HQ, it's not often that you don't see a dog here at the office. Understanding, however, that not all people are dog people, Qualtrics has clear guidelines around having a pup on-site, including rules around leashes, dog food, and supervision of our four-legged friends as well establishing that any dogs must be over 9 months old to join their human at work. The objective is to create an environment where everyone is able to bring their best self to work, and having a dog-friendly office is just one way this is achieved.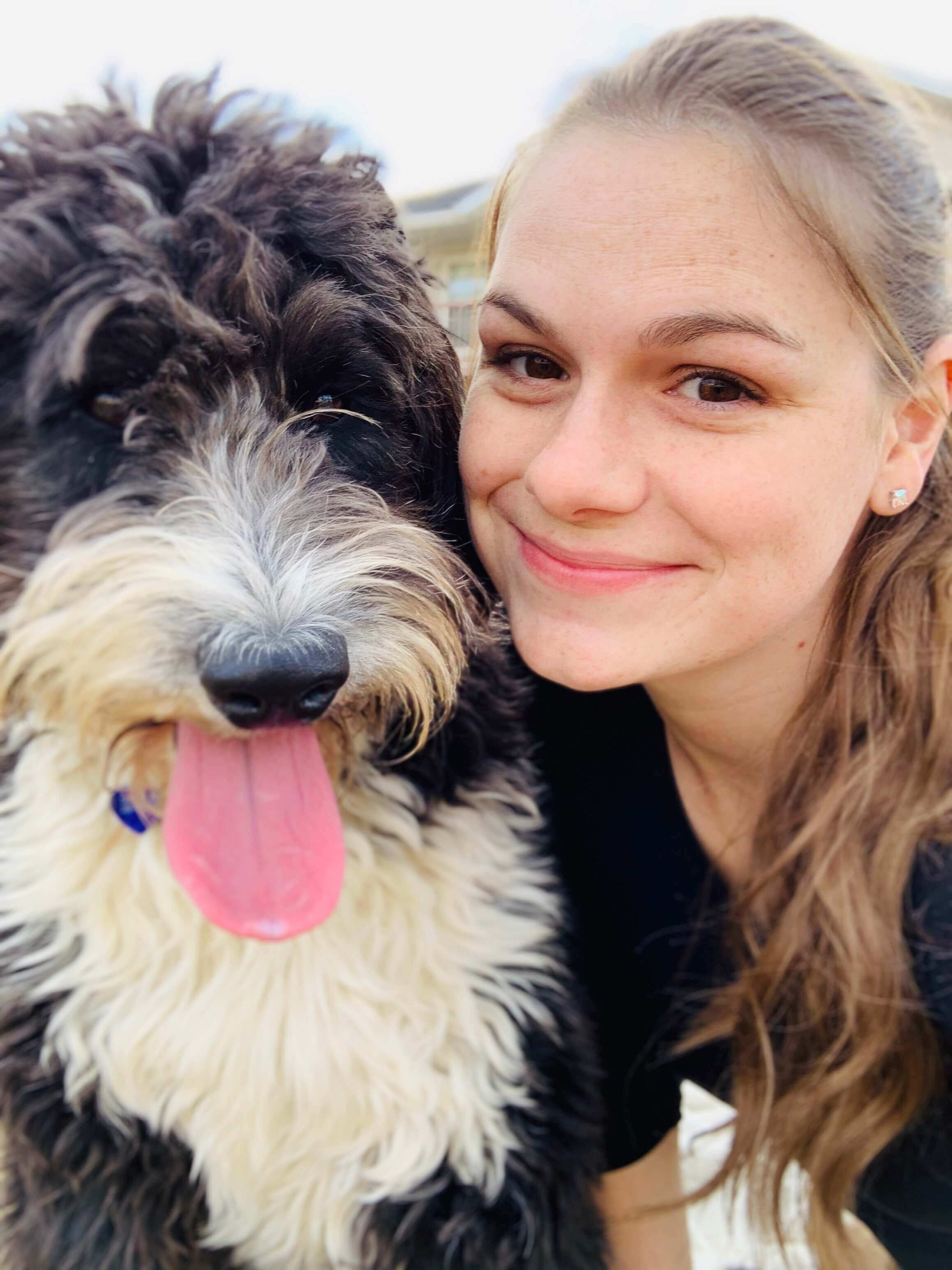 Qualtrics is growing, and if you're ready to find your "why" at a place like this, you can explore our open opportunities at any time by visiting our career page. Looking to discover more reasons "Why Qualtrics"? You can find the whole series here.
Want to chat? You can get in touch by checking out Qualtrics Life on Twitter, Facebook, and Instagram.
Related Articles