Employee Experience
The top employee experience trends in 2023
We spoke to more than 28,000 employees around the world to track how their experiences at work have changed and what they want from the organizations they work for. Here's what they had to say — and what you need to do next.
With the volatility of world markets a major concern, and the disruptions of the past few years still fresh in memory, employees across the globe are pressing pause to reconsider the importance and role of work in their lives.
From work-life balance and pay and benefits, to job security and value alignment, employees are questioning the fundamentals of the organizations they work for.
And they've come to one simple conclusion: it's time to restructure their relationship with work, and develop more human-centric practices that enable them to not only survive, but thrive, in today's world of work.
In our 2023 Employee Experience Trends report, we asked nearly 30,000 full and part-time workers across 27 countries and 28 industries how they feel about their experiences at work — and more importantly, how those experiences affect them.
As we continue into a new decade, the world of work is changing at an unprecedented rate — and it's never been more important to understand just what employees want and need.
Here, we take a brief look at the top employee experience trends for 2023.
You can access the full report here.
Trend 1: Confidence and business success are critical to employees
With the cost of living at an all-time high and organizations and economic markets in disarray, job and financial security have — unsurprisingly — shot up to the top of the employee priority list.
More than anything else, people want reassurance and certainty. They want to know that:
1) Their job is safe
2) Their organization will continue to be successful
3) They're paid fairly for the work they do
According to our research, Pay and Benefits is one of the top drivers of Intent to Stay. Employees want and expect fair compensation for the work they do — and that it's reflective of their performance.
But worryingly, just over half (57%) are actually satisfied with their pay and benefits: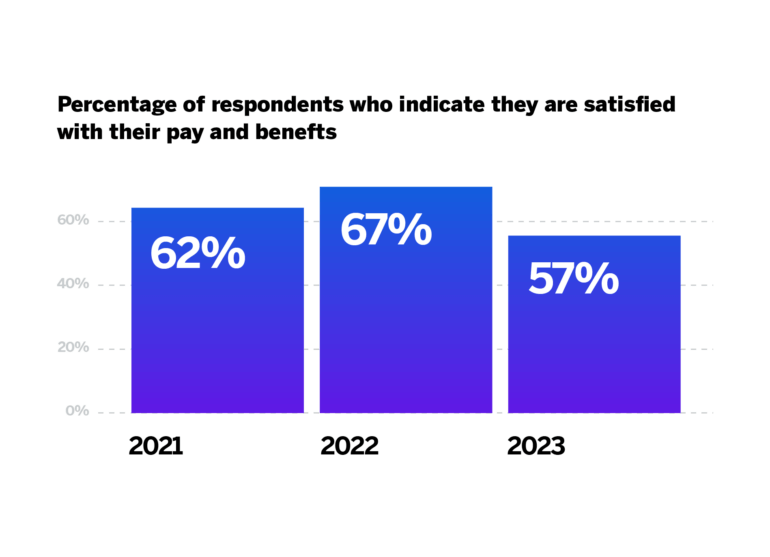 Undoubtedly, the road forward involves organizations reevaluating how they compensate employees for the work they do. This includes providing more competitive salaries and benefits packages so that employees can afford to stay in their roles.
Trend 2: Employees have been operating at surge levels for years and need to recharge
The events of the last few years have presented difficult challenges to organizations, leaders and employees alike.
Organizations were forced to adapt on a dime — from changing infrastructure and policies overnight, to developing new ways of working — all to ensure business continuity and resilience.
As for employees, they have been operating at surge capacity to deliver amazing results, going above and beyond expectations. In doing so, they've ensured that their organizations and communities continue to thrive.
But now, employees need to recharge — and with organizations lagging , many are resetting boundaries and rethinking the role that work plays in their lives. Employees want balance, and they're doing it for themselves.
As it stands, overall satisfaction with work-life balance has decreased by 2 points year-on-year, from 73% in 2022 to 71% in 2023.
This isn't a huge drop, but it does highlight the underlying sentiment that even with some of the disruption (hopefully) behind us, organizations aren't re-adjusting their expectations of employees.
However, when organizations support healthy work-life balance and flexibility, employees are more willing and capable of going above and beyond:
Globally, 63% of those who rate their work-life balance highly are also willing to go above and beyond for their organizations
What's clear now is that organizations need to spend time determining employees' scope of work and avoid "job creep."
Trend 3: Bad processes and inefficient systems are fueling employee burnout
Legacy systems and outdated processes are two elements of infrastructure that have plagued organizations for decades.
And as many have moved into the digital-first, cloud-based world of today — these glaring inadequacies have not only become apparent, but also affected the performance of employees, as almost 4 in 10 feel burnt out.
Leaders are feeling the strain too, possibly as their people come to expect them to deliver better processes and systems to drive productivity. As it stands, almost half (46%) of C-suite executives say they are burnt out.
What we're most likely seeing is the result of the continuous pressure organizations and employees have been under for the past few years, stretched to the limit with what they already had.
Trend 4: Being employed isn't just about having a job — it's a core part of a person's value system
Climate change, sustainability, social responsibility — employees today want to work for organizations that not only reflect the values they believe in, but actively demonstrate them too.
Our research has found that employees are putting greater emphasis on values. They don't just see shared values as a nice-to-have in employment, it's now business critical.
In our research, employees who feel their organizations are Living the Values are:
31% more likely to have their expectations exceeded at work
27% more likely to have higher engagement scores
23% more likely to work with their current organization for more than 3 years
17% less likely to be at risk of burnout
As employees continue to restructure their relationship with their organizations and the work they do, leaders must reassess what their people value and determine how best to address those needs more holistically.
Dive deeper into the top employee experience trends of 2023
 This is just the surface.
In our 2023 Employee Experience Trends report, we delve even deeper to highlight and analyze the most pertinent employee experience issues — and successes — across the globe, providing you with the insight you need to make meaningful, lasting changes.
Download your copy of the 2023 EX Trends Report