Employee Experience
Gender equality in the workplace
When your business achieves equity in the workplace, all your employees - whatever their background - thrive on a level playing field. And when you promote equity you reap the proven benefits of a workforce with diverse talent and a company culture of belonging.
What do equality and equity in the workplace mean?
The concept of workplace equality – where all employees have access to the same money, resources, and opportunities – sounds noble. But in practice, 'equal opportunities' can marginalize some employees.
Equality
For example, giving every employee a free local gym subscription sounds great – except for wheelchair user Georgie whose needs that gym cannot accommodate, and she cannot use that benefit. Georgie has workplace equality, but she doesn't have workplace equity.
Free eBook: How to apply DEI to your employee experience program
Equity
If the company wellness scheme, however, pays for Georgie to attend an accessible fitness center, Georgie now has workplace equity. She has a company fitness benefit like everyone else, but it's tailored to her specific needs.
Equity is more complicated to demonstrate in an inclusive workforce than equality. What constitutes 'fair and equitable treatment' can be subjective, and different for every employee and their unique experience.
The first step to achieving workplace equity is acknowledging this subjectivity. Then, to create an equitable working environment, the next step is to cultivate an understanding company culture of belonging - where everyone feels safe and empowered enough to speak openly about their needs.
Why does equity in the workplace matter?
The chances are, Georgie feels that she matters to the company, that she belongs there. She's happy, does her best work, and doesn't want to leave.
Good equity practices impact every employee's work-life quality and happiness, making them more engaged at work – and productive. And enlightened companies can see the far-reaching benefits of equity in the workplace. They'll:
Hire on the basis of skills and ability rather than solely qualifications
Make job descriptions accessible for all, through various online and offline media
Provide suitable resources and training with equal opportunity for all
Ensure equitable access, such as wheelchair-friendly conference rooms, and subtitles on video presentations
Offer equitable benefits, like Georgie's fitness center membership, and spousal medical insurance for same-sex partnerships
Incentivize equitably – not all employees want their work recognized at a drinks party
Empower employees to feel comfortable and safe taking up all available resources, schemes and opportunities open to them
Revisit equity policies often in line with employee experience data so that they can move with current issues and catch problems before they escalate.
Gender equity
Gender equity is demonstrating fairness to both women and men. Historically, women have experienced social disadvantages that have prevented them from working on a level playing field with men, even in the same jobs. Thus, strategies and measures need to be put in place to compensate for these disadvantages - equity. And from equity comes gender equality.
Gender equality in the workplace does not mean that men and women become the same; rather, the access to opportunities, promotion, salary, and benefits doesn't depend on, or is constrained by, their sex or sexual orientation.
And research shows that companies that have the most women represented in executive positions compete and perform better than those which don't. Businesses that make gender equality a priority find it easier to recruit top talent, and, more critically, retain their female employees.
So how can you prioritize gender equity in the workplace?
Prioritizing gender equity requires a vision for an equitable future, willingness to take risks, and determination to change. It's risky to publish gender diversity figures, in case your company is found to be lacking around equal opportunities, yet this lack can be used to wise up and drive change. And once one company acknowledges it needs to do better in the arena of diversity, equity and inclusion, and belonging, others naturally follow suit, and change happens.
Your employee lifecycle is your friend when it comes to prioritizing gender equity, at the following four touchpoints:
1. The candidate experience
Many companies are employing diverse talent to help address equitable representation. Understanding the candidate experience during the hiring process - for both your successful and unsuccessful candidates - is essential to this DEI talent strategy, and will guide changes you need to make to your programs and practices. Gather voluntary data at this stage about how candidates self-identify.
Collect feedback on your candidate experience with a free Qualtrics survey template
2. Onboarding
This is a crucial time to set up new hires for success in their roles. For minority employees who come from different backgrounds that may be underrepresented or marginalized, the onboarding experience can shape how they feel about their job. It's essential to understand how to onboard different people into the organization and make sure everyone is given equal opportunity and fair treatment to thrive. Questions that help measure this include:
I feel as if I belong at this company
I can be my true self at work
I believe everyone can succeed to their full potential at this company, no matter who they are (all genders, races, cultural backgrounds, etc.)
3. Employee engagement or pulse survey
This company-wide dive into the business's practices and behaviors will give you insights into how things are working, and how your employees feel about their experience. Using data to understand the experiences and perspectives of underrepresented employees will reveal the insights you need to take action to develop a more equitable workplace. Add diversity questions to your engagement survey by including personal identity factors.
4. Exit surveys
Attrition is something that many organizations struggle with. Exit surveys can reveal why some people may leave quicker or at higher rates than others. See if there are recurring themes in the feedback for different groups of employees.
Three businesses that have got workplace equity right
1. General Motors
General Motors understands that the world is evolving, and their company must evolve too towards a future that is more equitable. It goes beyond merely producing motor vehicles, into the realms of standing up for human dignity, inclusion, justice, and tolerance. Initiatives have included:
Publicly condemning police brutality, racism, bigotry, discrimination, intolerance, and intimidation.
Declaring uncompromising support for equal justice for every American at Detroit City Hall
Pledged $10 million to support organizations promoting racial justice and inclusion
Commissioned an Inclusion Advisory Board, bringing both internal and external leaders together to address the systemic barriers hindering inclusivity
Identified the resources and funds General Motors will donate to fighting social injustice
Observed 8 minutes and 46 seconds of silence to honor George Floyd's memory, as well as other Black Americans who lost their lives for nothing more than the color of their skin.
GM employees say. "The leadership at General Motors both locally and company-wide are very progressive, supportive, and proactive. Benefits are great and the company is true to their values in every way."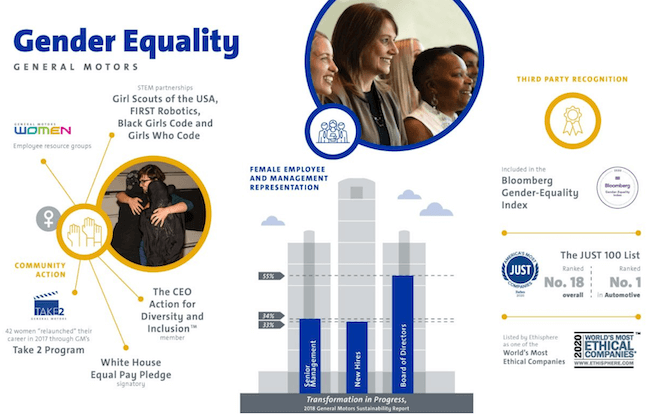 2. Albertsons

The American grocery company believes in "a diverse and inclusive workplace that fosters personal growth, develops talent, and harnesses the power of different and unique perspectives."  Jonathan Mayes, Senior Vice President, Chief Diversity & Inclusion Officer
Albertsons makes sure their management is representative of the diverse employees and communities that they serve, by:
Fostering a workplace culture of inclusion and belonging for all employees
Choosing diverse interview panels for hiring management roles, and ensuring a bigger pool of qualified diverse candidates for promotions
Supplying additional resources and opportunities for the talent development of people of color and women
Engaging as a community with local groups committed to challenging an unfair status quo and advancing racial/social justice, equality, and economic opportunities
Using metrics to track progress in hiring and promoting women and people of color, and setting targets for representation
Announcing a $5 million commitment to social justice organizations and those on the front line of the fight for equality
Forming a Racial Justice & Equity Advisory Group to help determine how best to invest in organizations working to support local communities
Gather real employee feedback with our free Qualtrics survey template
3. Citi

Citi knows that actively seeking out diverse perspectives at every level of the organization will boost innovation, and improve performance and engagement. They have homed in on race, gender, and wage equity, with transparency that nurtures accountability and credibility, creating change. Initiatives include:
Pay Equity: Citi disclosed that, on an adjusted basis, women globally are paid on average more than 99% of what men are paid at Citi. In addressing pay equity, Citi made appropriate pay adjustments as part of its annual compensation cycle.
Promotions: Career development is a priority, and Citi promotes from within wherever possible – 38% of open positions were filled internally (2019). More than 28% of Citi's country business heads are women, with the ultimate goal of increasing this to 50%.
Disability Inclusion: Citi's CEO signed on to The Valuable 500, a global movement to put disability on the business leadership agenda. Disability inclusion is central to building a workplace where all colleagues feel welcome and able to reach their full potential.
Employees say, "Citi is an incredible place to grow your career. You will learn from some of the best in the business. In addition, you will be presented with challenging opportunities to push yourself to the next level."
Using Qualtrics technology to measure equity in the workplace
At Qualtrics, we believe that it is possible to accurately measure diversity, workplace equity and inclusion, so we developed a DEI solution as part of our EmployeeXM platform.
Our solution, designed by industrial and organizational (I-O) psychologists, measures the experience of belonging between majority and underrepresented groups. It analyzes both the employees' operational data (e.g. demographics) and experience data (e.g. feelings and sentiment) to provide insights into the sense of belonging across different intersectional groups. It's an essential tool when you want to promote equity in the workplace.
This information provides managers and senior leaders with insights into the key drivers of improving the belonging experience in their teams and creating an equitable workplace. In this way, we ensure that DEI is an accountability shared by everyone and is embedded into the employee experience.
Improve your Diversity, Equity, & Inclusion with our Ultimate Guide to DEI