Employee Experience
IDC names Qualtrics a leader in employee experience
The results of IDC MarketScape: Worldwide Employee Experience 2023 Vendor Assessment are in, and Qualtrics have been named a 'Leader' in this year's report. See why they named us a Leader and learn more about the key innovations that are helping move businesses forward.
________________________________________________________________________________________
In June 2023, the inaugural IDC MarketScape Worldwide Employee Experience 2023 Vendor Assessment was released. It is a comprehensive, in-depth quantitative and qualitative technology market assessment of EX vendors across a wide range of technology markets.
Download the MarketScape Worldwide Employee Experience 2023 Vendor Assessment report
The report evaluated  11 organizations that offer digital engagement and connection (E&C) tools, resources and adjoining services, providing an unbiased evaluation of their strengths and weaknesses as guidance for technology buyers.
And of those 11, Qualtrics has been named a Leader.
This now marks the second occasion in just three years that a leading advisory body has recognized Qualtrics as a Leader in the market. In 2020, Forrester Research released its Forrester New Wave: EX Management Platforms for Large Enterprises report. We believe with IDC MarketScape's recognition of Qualtrics as a Leader in the Employee Experience (EX) category in 2023, Qualtrics continues to cement its position as the go-to for analysts and enterprises that want to make their businesses not just successful — but more human.
Focusing on your people has never been more important
Capturing employee experience insights has never been more critical, especially since the functions of HR and people teams have evolved considerably.
Today, HR is not only responsible for DEI, inclusion and well-being, but also strategic people and technology initiatives that help their organization to scale and unlock new, untapped avenues of growth.
 But while advancing EX is on every organization's priority list — with 47% of organizations planning to increase their budgets, according to Gartner — the market for HR technology focused on improving employee experience is both larger and more confusing than ever.
What organizations need are full-stack solutions that seamlessly integrate with existing operations — all while protecting data privacy — and provide the depth and breadth necessary to transform EX and deliver clear, quantifiable ROI.
Qualtrics: A Leader
Of the 11 vendors evaluated by the IDC MarketScape, Qualtrics was positioned as a Leader in EX.
The IDC MarketScape report specifically looks at combined, deep capabilities in Voice of the Employee (VOE), including employee sentiment and workforce data collection and analysis.
Qualtrics' XM for People Teams delivers a range of functionalities that empower users to maximize insights collected from feedback to uncover critical insights and prioritize which actions to take based on predicted outcomes. This includes (but is not limited to):
Holistic analysis of structured and unstructured data at every employee touchpoint to understand how customer experience metrics like CSAT are affected by changes in employee engagement and satisfaction.
A full range of both pre-built and fully customizable solicited feedback programs complete with best practice recommendations (i.e. survey methodology and questions) to understand employee challenges, needs and drivers.
AI-powered predictive analytics that not only help CHROs better manage their workforce and business, but also empower managers to recognize where they need to improve and the precise actions to take to support their teams.
Comparative benchmarking and reporting for HR, senior leaders and managers to understand how EX scores rank within and across their organization — or industry peers.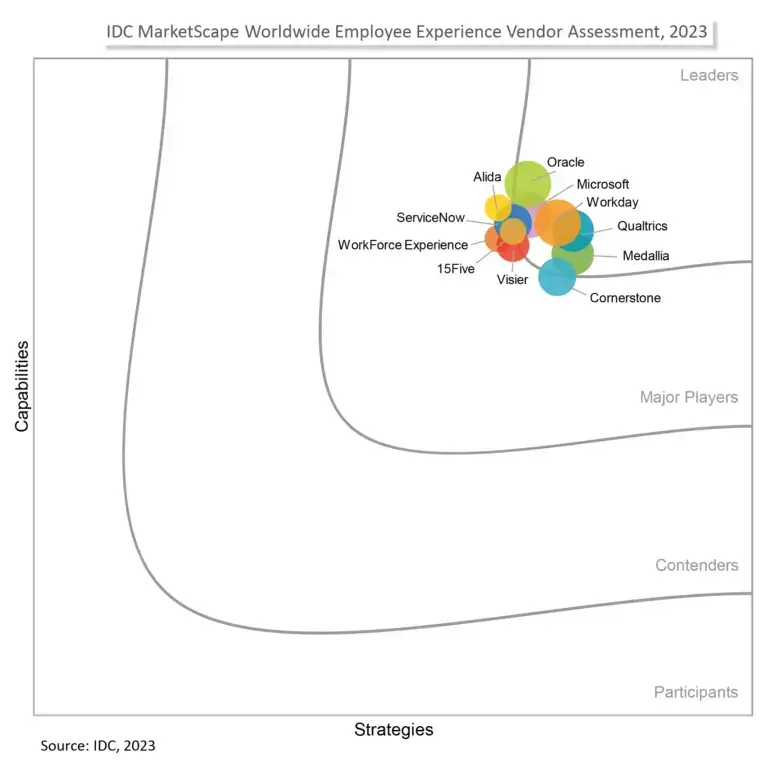 IDC MarketScape criteria selection, weightings, and vendor scores represent well-researched IDC judgment about the market and specific vendors. IDC analysts tailor the range of standard characteristics by which vendors are measured through structured discussions, surveys, and interviews with market leaders, participants and end users. Market weightings are based on user interviews, buyer surveys, and the input of IDC experts in each market. IDC analysts base individual vendor scores, and ultimately vendor positions on the IDC MarketScape, on detailed surveys and interviews with the vendors, publicly available information, and end-user experiences in an effort to provide an accurate and consistent assessment of each vendor's characteristics, behavior, and capability.
Qualtrics is also leading the way on the next major technological shift for XM through support for AI including neural networks, proprietary large language models (LLM) and generative AI.
Particular praise was given to Qualtrics' multichannel, real-time VOE resources that: "solicit feedback and sentiment data, aggregate it, and deliver AI-based insights on it, which are integrated with performance data pulled in from HRIS and performance systems."
In July, we announced XM/os2 — the next generation of the Qualtrics platform, fully infused with AI.
New AI capabilities embedded across XM for People Teams will transform how CHROs manage their business and empower every manager to scale engagement and drive business outcomes through their team.
CHROs will be able to:
Make critical decisions around talent management and attrition using AI-driven, predictive analytics
Quickly understand which regions, departments, and even teams have the highest flight risk and at what cost to the organization
Uncover the most likely reasons employees leave so they can take the right actions to avoid regrettable attrition — with over 90% accuracy — and improve intent to stay
Qualtrics will also help create best-in-class people managers by giving every manager an AI-powered coach who will provide personalized and holistic insights unique to them and their team.
Managers often struggle to understand their engagement results and what to do next. Their AI coach will help managers immediately understand their feedback through real-time natural language processing, and provide AI-driven recommendations to address critical issues such as well-being or burnout.
The coach will then help each manager know and prioritize which actions to take based on expected outcomes, as well as track impact to KPIs in real time without waiting for the next engagement survey. Finally the coach can proactive flag trending areas of concern before an individual manager may even be aware of the potential impact to key KPIs.
Let's dive into why Qualtrics was named a Leader.
1. Trustworthiness and security
Most enterprises struggle to scale their programs, while staying compliant with internal data policies and external regulations. And once employee trust is gone, it's hard to get back.
Organizations ultimately need to ensure that they can't attribute the process of listening or analyzing survey responses to individual employees. And with XM for People Teams' embedded data privacy controls and governance tools, organizations can be confident in growing agile listening programs, while mitigating any data risk.
XM for People Teams is also backed by I/O psychologists who build statistically proven listening methodologies and best practices into nearly every solution we offer to ensure customers are well equipped, such as our out-of-the-box approach for measuring more than Engagement.
Paired together, XM for People Teams enables customers to maintain both security and trustworthiness at the individual level, while still extracting the most value from feedback.
"Qualtrics' overall practices are designed to build and facilitate trust with the end-user respondent toward improving VOE participation while enabling strong insights for individuals, managers, and leaders." — IDC MarketScape
2. Usability and actionability — with tailored guidance for managers
Capturing high-quality insights is crucial — but as important is the ability to take action on them, right when you need to.
Qualtrics customers in the IDC MarketScape praised the product's intuition and "exceptional user experience". As a full suite of HR solutions for every employee — from frontline to manager to leader — it ensures people are able to take action, right when they need to.
"In general, clients averaged end-user engagement rates above 85%, partly owing to what they describe as an exceptional user experience." — IDC MarketScape
As those closest to frontline employees, managers play an important role in keeping teams engaged and satisfied, but often they lack the tools and insights necessary to take the right actions for their teams.
Unlike other solutions, XM for People Teams differentiates between HR, senior leader, and manager experiences, giving all users purpose-built tools to drive improvement and take action. Manager Assist, for example, is a personalized dashboard experience that shows frontline managers where they should take action to improve specific outcomes, such as team engagement, or their own skill set.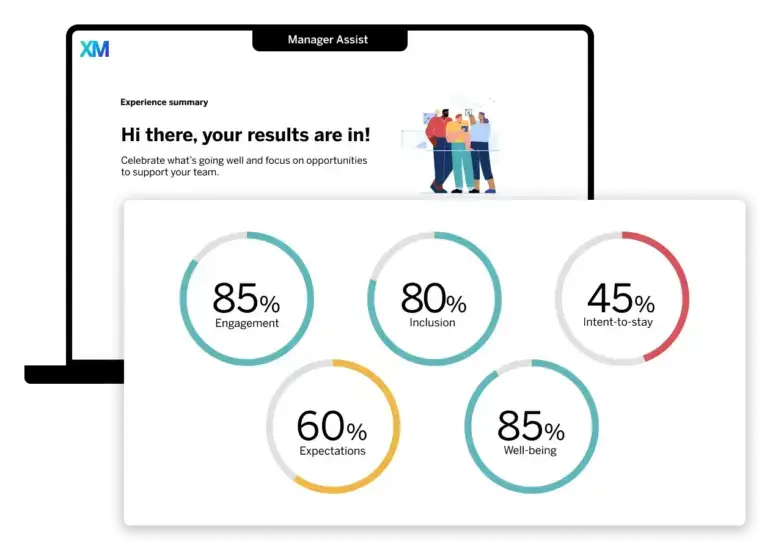 "Qualtrics XM for People Teams leverages VOE and engagement data across employee teams and groups to build behavioral profiles that update in real time within manager dashboards. Qualtrics has expanded the diversity of KPIs that VOE insights and behavioral models can be programmed against to ensure that managers, people analysts, and CHROs can better understand how successes in certain drivers of employee performance correlate to failures in others." — IDC MarketScape
3. Return on investment for EX programs
In the past, demonstrating the impact of employee experience on the bottom line was an incredibly challenging, time-consuming and costly process. Organizations would have to enlist the help of several parties to capture, combine and analyze experience data (from both employees and customers) to try and understand the links.
However, through CrossXM, organizations can bring together all their data — from employee engagement results, brand tracking, CSAT and everything in between — to quickly uncover the most important drivers of EX and CX success through powerful automation and intelligence.
By understanding the direct connections between things like employee engagement, customer satisfaction and bottom-line results, organizations can hone in on the right EX drivers to pull to deliver maximum impact.
"Beyond VOE, integrated performance impact analytics, insights for action, and accounting for differentiated manager experience management, Qualtrics also links employee experience data with customer experience data to establish a circular value proposition between the impact of one on the other and vice versa. Qualtrics' integration between EX and CX enables organizations to better establish a direct impact assessment for EX on business outcomes." — IDC MarketScape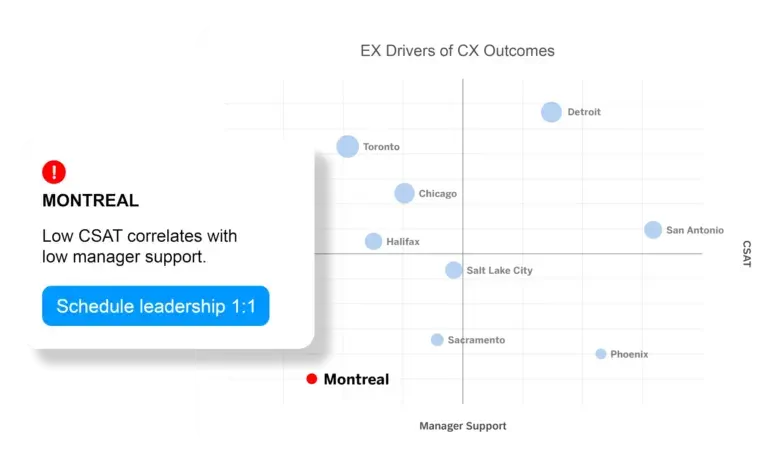 What's more, organizations can use XM Benchmarks (powered by organic feedback from nearly 17,000 Qualtrics customers) to see where they score against industry or competitor benchmarks for things like work-life balance and psychological safety.
4. Insights beyond surveys
With Qualtrics' strength in VOE and sentiment discovery, organizations can make better decisions about "where to start on micro- and macro-transformations to meet or exceed employee needs, goals, and wants," says the IDC MarketScape. This includes using Qualtrics data to create actionable insights and guidance off the back of completed surveys or pulses.
With this kind of feedback flowing into the organization, XM for People Teams helps organizations to tap into continuous insights across the entire employee lifecycle. Ultimately, managers can readily implement new plans based on where the challenges are, and leaders can make strategic changes to match the expectations of the workforce. 
"Qualtrics' early use case for behavioral analytics also helps organizations develop a continuous insights cycle across the employee life cycle, enabling managers and leaders to engineer adaptable resource management strategies to enhance moments of success and navigate or resolve moments of difficulty." — IDC MarketScape
Into the future
XM for People Teams is just one suite of applications on the Qualtrics Experience Management Platform, and is designed to work in unison with XM for Customer Frontlines and XM for Strategy & Research.
Every experience is interlinked. We all know that to be true. When employees are engaged and satisfied, that leads to better outcomes for customers and our bottom line, which in turn affects brand sentiment, loyalty and recall. As organizations begin to build their experience management capabilities, it's absolutely essential that they incorporate the appropriate tools to capture actionable insights at every stage of every experience.
Learn more about XM for People Teams