Market Research
People are happy to take part in market research during coronavirus – here's why you shouldn't put your plans on hold
April 28, 2020 // 16min read
Updated September 22, 2021
Even though an overwhelming majority of researchers believing now is an appropriate time to move forward with some type of research, more than two-thirds of companies are canceling or postponing their research in light of the COVID-19 pandemic.
That's despite approximately 86% of US, UK, and Australian consumers saying they feel it's appropriate for companies to still carry out research.

The findings come from our latest study into research under uncertainty. We fielded two studies in the US (April 2020), the UK (April 2020), and Australia (May 2020) to understand how COVID-19 is impacting researchers and their organization — one to professionals who conduct market research or UX research for their own organization's use1, and the other to general population samples2.
What's driving companies' concerns over research?
We took a closer look at market researchers' biggest concerns when it comes to fielding research, to see how these align with consumers' openness to participating in research at this time.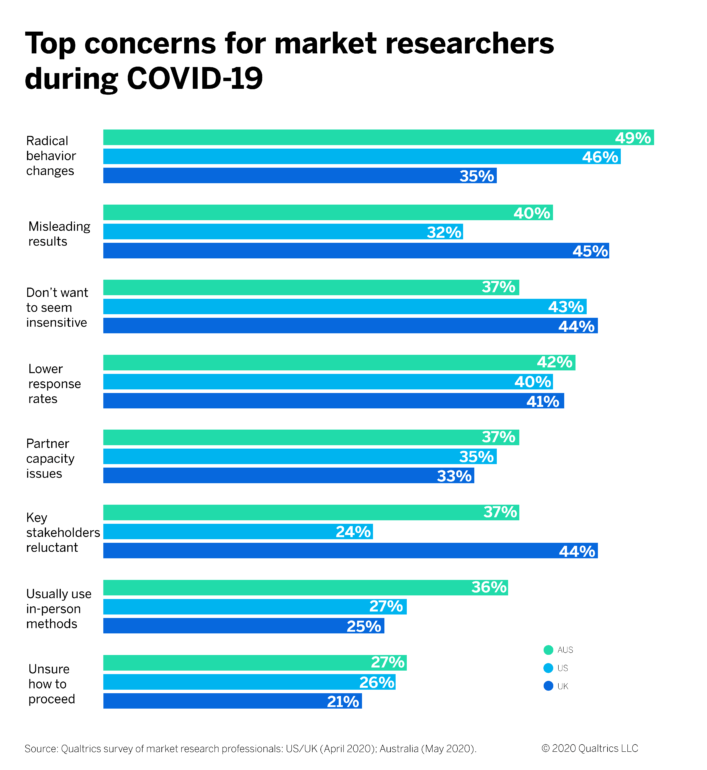 Concern 1: Data collected now may not be reflective of the landscape beyond COVID-19
Roughly half of market research professionals in the US (51%), UK (51%), and Australia (49%) believe that behavior related to specific industries or categories will radically change once the COVID-19 pandemic is over. In all three markets, this led to concerns that data collected now may not adequately describe the landscape beyond COVID-19. In the US and Australia, this concern manifested specifically as a concern about consumer behavior radically changing; in the UK, as concern about misleading results.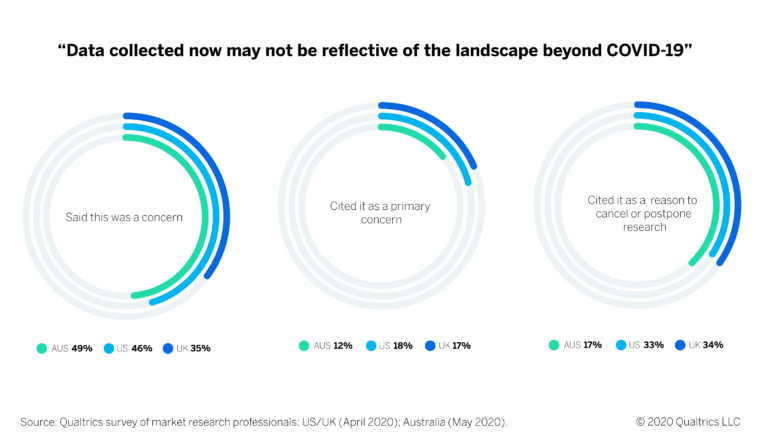 While it's impossible to predict what the "new normal" will look like once economies and markets reopen, it's prudent to continue to measure changes as they are happening so you can:
make the right short-term decisions for your business
position your organization as favorably as possible for a post-COVID landscape
Measuring current sentiments and behavioral changes through focused attitudes & usage studies can help you navigate the current market climate and make the right marketing decisions in the short and longer term.
Given that the virus' presence is expected to ebb and flow over the next 18 months, brands should understand if and how behaviors and sentiments are shifting over this time, rather than waiting for the crisis to pass.
For those who are concerned with data quality issues contributing to misleading results, continue to focus on survey quality control measures like using double opt-in panels, checking for speeders and straight liners, removing respondents who provide nonsensical or gibberish responses, checking every IP address, or using digital fingerprinting technology to retain the integrity of survey data. These are sound practices to follow, pandemic or not.
Concern 2: You don't want to seem insensitive
Many organizations have paused other activities such as advertising campaigns and promotions for fear of being seen as insensitive in the current climate — and it's a similar story for market research. This was cited as the second most pressing concern in both the US and UK studies and the fourth most pressing concern in Australia.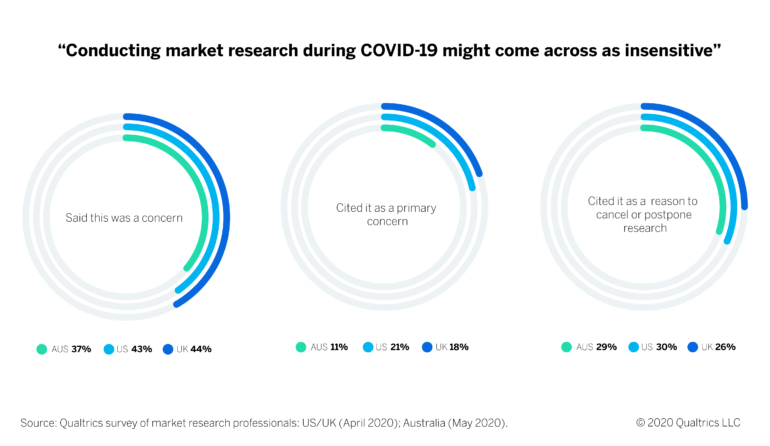 Admittedly, there may be some categories that pose challenges, but our study found that 85% of Australian consumers, 86% of consumers in the US, and 87% in the UK feel it's appropriate for companies to conduct research at this time. While most types of studies were viewed positively by consumers, the ones they considered most appropriate included general and product-specific attitude and usage studies, and Customer Experience studies.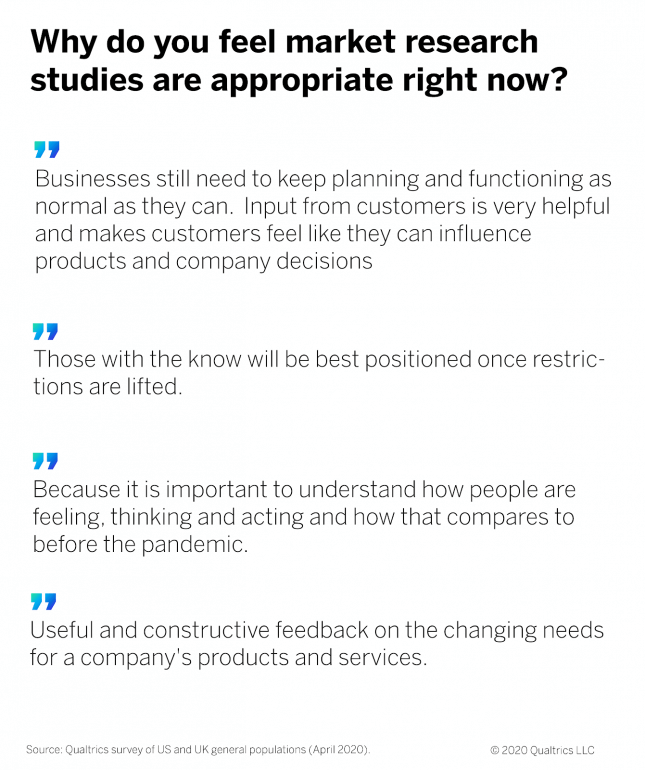 Based on our studies, it's clear research can and should continue, but screening criteria and/or behavioral questions may need to be altered. Also, you should review questionnaires for general appropriateness. For particularly sensitive topics, you may also consider more aggressive measures to ensure your study won't reflect poorly on your brand — this could include securing an objective, third-party review of your research plan and questionnaire, or even conducting survey pre-testing among a limited number of respondents before launching in full, to ensure it's appropriate.
Concern 3: Response rates may be lower than typical / target audience not available
An inevitable knock-on effect of fears over a consumer backlash, combined with worries that illness or lockdown restrictions might make a target audience unavailable to participate, is that COVID-19 has impacted response rates. This was the second-ranked concern in Australia and the third-ranked concern among both US and UK respondents.
This fear isn't backed up by our study where just 3% of US and Australian consumers and 1% of UK consumers said they were less likely to respond to a market research study, compared to before the pandemic. And, as of the beginning of May, none of our panel partners had seen any meaningful difference in response rates since the onset of social distancing and stay at home restrictions.
Granted, every situation may have its unique challenges. If you do have concerns about response rates, continue to focus on best practices, such as ensuring short surveys that are mobile-enabled (ideally less than 9 min, particularly for mobile-enabled surveys), reviewing incentives for appropriateness and practicality, and having questionnaires and sample plans reviewed by a third party for COVID-19 sensitivities.
Concern 4: You or your research partners currently don't have the capacity to conduct or analyze research
It's not just the availability of respondents that's worrying market researchers, but also the ability of their own and their partners' ability to cope. US respondents ranked this concern at #4, while Australian respondents ranked it at #4 (tied with don't want to be insensitive and stakeholders reluctant to proceed), and UK respondents ranked it at #6.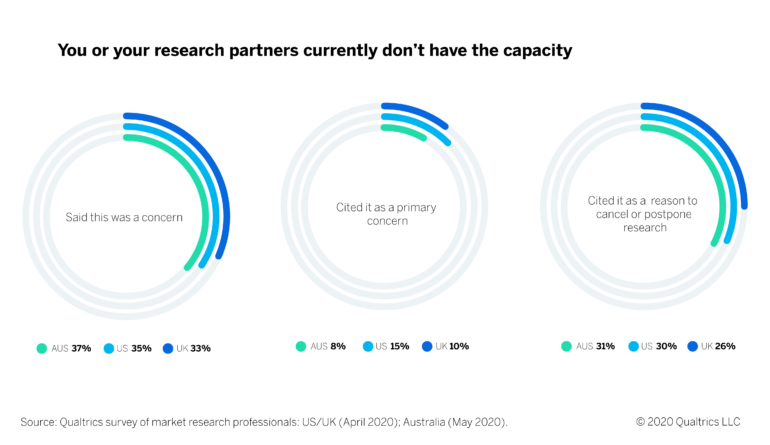 With so many companies not at full capacity, due to furloughs or challenges of sheltering in place, it can be very challenging to continue to conduct bespoke research. Fortunately, agile research approaches can help you economically continue to listen to your customers and consumers, to keep a pulse on how your category and brand are evolving.
For example, you can use more tech-enabled platforms that use AI to automate not just the research fielding, but also to do some of the heavy lifting for analysis. You could also look for specialized partners, such as incentives management partners, to outsource parts of projects and find cost or time efficiencies.
Concern 5: Key stakeholders are reluctant to proceed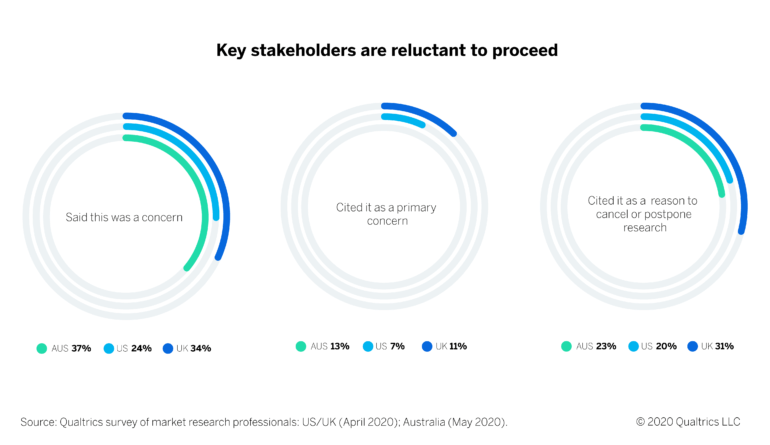 Marketers and other key stakeholders are understandably nervous about making decisions based on data collected during this world event. Australian respondents noted stakeholder reluctance as the 4th most prevalent concern (tied with don't want to be insensitive and capacity concerns), compared with #5 in the UK and #8 in the US.
Stakeholder reluctance is likely driven by several factors: shrinking budgets, changing priorities, concerns about data quality, sensitivities about the propriety of fielding research during the pandemic.
If key stakeholders are reluctant to proceed due to budget issues, think about scaling back questionnaires to include the bare essentials and/or find more cost-effective ways to gather insights (using agile approaches to research applies here, as well).
To assuage concerns about the propriety of fielding research at this time and the resulting data quality, sharing data which highlights that response rates are stable and consumers are open and willing to continue to respond can help. Providing assurances that data quality processes are continuing to be actively employed may also help.
Keep your finger on the pulse during the COVID-19 crisis
At the height of the COVID-19 pandemic, consumer appetite for market research held strong, and while the world remains in uncertain times, the current state of flux is likely to remain as consumer demands and behaviors continue to shift.
As consumers adapt to the new normal, it's vital companies adapt too, listening to customers and responding quickly to ensure they remain relevant.
Our Research Services team is here to help with any questions or concerns about your research plans. You can also find more information on how Qualtrics is helping organizations get back to business.
Upcoming webinar: COVID-19 resilience in market research
Sources
1Qualtrics survey of market research professionals (US: April 2020, n200 | UK: April 2020, n200 | AUS: May 2020, n186)
2Qualtrics general population survey (US: April 2020, n204 | UK: April 2020, n201 | AUS: May 2020, n200)
Related Articles