XM for Customer Frontlines

Digital

Root out friction in every digital experience, super-charge conversion rates, and optimize digital self-service

Care

Uncover insights from any interaction, deliver AI-powered agent coaching, and reduce cost to serve

Locations

Increase revenue and loyalty with real-time insights and recommendations delivered straight to teams on the ground

XM for People Teams

Engage

Know exactly how your people feel and empower managers to improve employee engagement, productivity, and retention

Lifecycle

Take action in the moments that matter most along the employee journey and drive bottom line growth

Analytics

Whatever they're are saying, wherever they're saying it, know exactly what's going on with your people

XM for Strategy & Research

Research

Get faster, richer insights with qual and quant tools that make powerful market research available to everyone

User Experience

Run concept tests, pricing studies, prototyping + more with fast, powerful studies designed by UX research experts

Brand

Track your brand performance 24/7 and act quickly to respond to opportunities and challenges in your market

XM Platform

Explore the platform powering Experience Management

Teams

For Digital

For Customer Care

For Human Resources

For Researchers

All Teams

Industries

Healthcare

Education

Financial Services

Government

All Industries

Customer Experience

Employee Experience

Employee Exit Interviews

Net Promoter Score

Voice of Customer

Customer Success Hub

Product Documentation

Training & Certification

Community

XM Institute

About Us

Careers

Partnerships

Marketplace

X4 Summit

The annual gathering of the experience leaders at the world's iconic brands building breakthrough business results, live in Salt Lake City.
Market Research
Six ways to find more survey participants
Get the right results from your survey by finding the right survey respondents to provide confidence in your data
The challenge of finding survey respondents
Getting the right survey participants is critical to the success of your survey, but it's also hard to do. Minimize the risk of not getting the right participants first time, even though you have a well-designed research project from the start.
Taking the time to gain more and the right survey participants now, can help you in a number of ways later:
The right sample size helps you make generalizations
Too small a sample size means you won't have enough information to identify patterns and spot trends. It's always better to have more information than less, as you can make a more confident hypothesis from the participants surveyed.
Be careful with going too big with your sample size, though – this can also lead to over-complex processes and be time-consuming.
Use our Sample Size calculator to find out the right number of people needed for your research.
The information gained is more applicable to target markets
If you capture more results from target audience participants, you can be sure that any conclusion gained from your research will more likely be correct.
More data on these respondents provides a more accurate picture of how this target demographic segment thinks, acts and responds. This helps provide you with reliable conclusions you can act upon with confidence.
Low survey response rates? Read how to increase them with our Survey Response Rate eBook
When you use your findings in your marketing, larger numbers give you more accurate results
If you had to choose to survey 50 participants or 200 participants on whether they like your brand, a larger response rate is better. It provides more reliable results, as the results are more likely to be valid in larger numbers.
If the majority of feedback is positive, this can be used in your marketing materials to reflect how well your organization is doing.
On the other hand, if a larger number provides uniformly negative feedback, you have clear evidence that something is wrong and you can start an immediate investigation. When you know more, use the insights to improve your experience, and take action to fix the problem.
Read our market research ebook to learn how to determine sample size for more accurate results.
How to find the perfect survey participants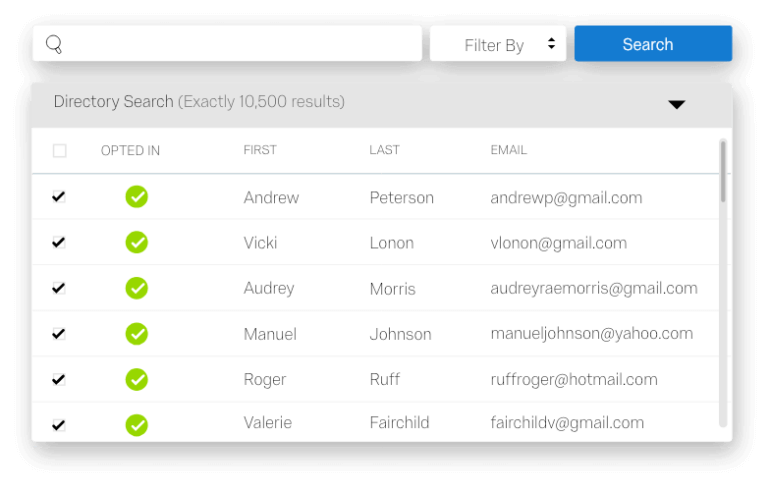 When you or your market researchers need to produce results quickly, but you still want the best respondents for high-quality feedback, try one of these 6 methods to get you going again.
Each of these methods will be useful in some circumstances, so be sure to carefully consider your survey's objective as you explore them.
1. Grow your email marketing list
As you grow as a business, so will your email marketing list. Some initiatives to grow your list are:
Gated content, which requires your customer to submit their details before accessing it
Collecting registration email addresses from conference and events attendees
Offering a visible 'sign-up to receive our newsletter' call to action on your homepage
Consumers signing up to receive the latest product information
You can use these email addresses to get feedback, according to their interests (e.g. new product developments) or by the channel they used (e.g. website notifications while they browse).
Pros
Provides you with a lot of email addresses from different age groups, demographic sectors and people with different levels of enthusiasm. This will give a rich picture of results to draw from.
This is an on-going source of participants that can continue to be drawn from in the future.
Cons
Be careful about complying with GDPR (Europe) and data security regulations when reaching out to past and current participants. You can look forward to a hefty fine if you're found in breach of official rules. Respect the privacy of participants who have indicated that they don't want to be part of future research activities.
With so many sources to draw upon, data management will be key to keep the information clean, accurate and up-to-date.
CX Study: Learn how to increase the ROI of your customer experience
2. Utilize third-party channels and partners
Ask your partners if you can use their network or marketing channels to reach out to more potential survey participants. In addition, resellers and suppliers that you hold a good relationship with will have access to social media accounts and their own marketing systems.
It's worth asking in advance about their interest in this idea, so you can quickly reach out across third-party networks when you have a suitable research opportunity.
Pros
They can be a great source of respondents, across many situations in the sales life-cycle of the product or service.
Lists can be especially helpful if you are surveying employees or current customers.
Cons
Email marketing databases degrade by 22.5% each year, so you'll need to find ways to keep yours current.
Lists are less helpful in determining wider audiences, as each list will focus on pockets of similar participants based on the source's line of work. In these cases, it's helpful to add several source lists together to get a wider picture.
In Europe, the General Data Protection Regulation (GDPR) is in force, so avoid accidentally getting a fine by planning your European communications in line with this law.
3. Purchase panel respondents
A panel is a group of people with relevant backgrounds who have agreed to participate in research on an ongoing basis. There are a number of services that sell responses to surveys and companies can contact them for ready-made or bespoke participant lists.
Pros
You can get a fast, tailored list of participants for your survey when you need them.
These survey participants are already used to answering surveys, so they will complete the surveys in full and provide detailed information.
Cons
Gaining a fast list can be expensive, so shop around to see who has the best results at a price you like.
You can't be 100% sure that the participants are your target audience, or that they would have provided feedback of their own accord, so be prepared for this to impact the validity and accuracy of the data received.
4. Gather website respondents
Much like getting email leads on your website is a good idea, you can also get feedback from visitors to your website
The best way to capture leads is via a landing or squeeze page. Sumo estimates you can gain a 20-40 percent conversion rate on a landing page because the visitor has fewer decisions to make. On the homepage, visitors can click around to a hundred different buttons, videos, or product demos, but a landing page isolates the call to action.
You can make the homepage of your site a landing page with an opt-in. Or, if you would take visitors directly to your natural homepage, you can use the same concept by providing them with a popup content offer.
Pros
A well-marketed call to action can attract new and returning visitors to fill in their details.
You can control the brand messaging, and track data analytics easily with your existing data and website tools. This provides an on-brand user experience.
Cons
This method is not useful for rapid survey participant collection. Email details tend to build up over a longer period of time.
You're limited to attracting people who only visit the website. This can be strengthened by offering pull-based marketing, like Google ads to bring more people to the website.
5. Use social media
Share your survey more widely on social media platforms, to encourage more visibility through social sharing. Think about whether your topic would suit one platform over another - for example, LinkedIn is a social platform dedicated to professional networking and job seekers.
Therefore, creating a LinkedIn post with business-related keywords and relevant hashtags, together with a link to your survey, would be a good way to contact people interested in business performance.
Pros
You can reach people across geographical boundaries easily and communicate in real-time, opening up new international markets.
There is potential for digital 'word of mouth' to help spread the opportunity, as people can easily share the survey onwards.
Cons
Social media messages are time-consuming to update across every social media platform once the survey deadline has passed. Make sure you include an end date in your messaging from the get-go.
If you send out the survey link, there's no guarantee that you will get the in-depth responses you're looking for, or that the link will get to the kind of people you're looking for. Key tip: Using an introductory set of questions can help you filter out participants before they start.
6. Meet your participants where they are e.g. In-person polling
If you have a clear target audience, meet your audience where they are. There are digital options above, but doing so in a physical manner also has benefits - particularly if you're seeking feedback from demographics who are less likely to respond online. For example, the same supermarket, a branded store or a physical location. As you meet people in these places, this is another way to gather insights.
If your audiences gather online, go to the community pages and group sites where your audience communicates. Once you have access, get involved in conversations, introduce your company and explain what you're doing.
Pros
You might get greater detail from people in the right location. For example, it's easier to gain details about a product's performance in a supermarket, where customers are considering the pro's and con's of products as they shop.
You'll gain a better representation of the target audience, by experiencing their real-time behavior and reporting on what they do when faced with two competing products or when provided with evidence.
Cons
The identity of participants may not be reliable online, or people won't want to provide you with their details in-person. Be sure that your survey does not require these answers. If it does, use another method to help you reach people who are more willing to stick around, or leave a poster in the reception area.
People you meet in person will have limited time to carry out your research or stop to talk. Ask your most crucial questions first by prioritizing your question list in advance.
Learn how to write great survey questions with our Survey Question Guide
Need to get survey participants faster?
If you're using Qualtrics, panels can be profiled so you are sure to only get the respondents you want. Click here for a free consultation on panel options that are available to you.
Qualtrics Research Services works exclusively for Qualtrics users and has access to over 4 million respondents from all walks of life.
See how you can use website feedback surveys to find respondents