XM for Customer Frontlines

Digital

Root out friction in every digital experience, super-charge conversion rates, and optimize digital self-service

Care

Uncover insights from any interaction, deliver AI-powered agent coaching, and reduce cost to serve

Locations

Increase revenue and loyalty with real-time insights and recommendations delivered straight to teams on the ground

XM for People Teams

Engage

Know exactly how your people feel and empower managers to improve employee engagement, productivity, and retention

Lifecycle

Take action in the moments that matter most along the employee journey and drive bottom line growth

Analytics

Whatever they're are saying, wherever they're saying it, know exactly what's going on with your people

XM for Strategy & Research

Research

Get faster, richer insights with qual and quant tools that make powerful market research available to everyone

User Experience

Run concept tests, pricing studies, prototyping + more with fast, powerful studies designed by UX research experts

Brand

Track your brand performance 24/7 and act quickly to respond to opportunities and challenges in your market

XM Platform

Explore the platform powering Experience Management

Teams

For Digital

For Customer Care

For Human Resources

For Researchers

All Teams

Industries

Healthcare

Education

Financial Services

Government

All Industries

Customer Experience

Employee Experience

Employee Exit Interviews

Net Promoter Score

Voice of Customer

Customer Success Hub

Product Documentation

Training & Certification

Community

XM Institute

About Us

Careers

Partnerships

Marketplace

X4 Summit

The annual gathering of the experience leaders at the world's iconic brands building breakthrough business results, live in Salt Lake City.
Academic Experience
How to identify and resolve research problems
Scott Smith
// January 14, 2020 // 17min read
Updated July 12, 2023
In this article, we're going to take you through one of the most pertinent parts of conducting research: a research problem (also known as a research problem statement).
When trying to formulate a good research statement, and understand how to solve it for complex projects, it can be difficult to know where to start.
Not only are there multiple perspectives (from stakeholders to project marketers who want answers), you have to consider the particular context of the research topic: is it timely, is it relevant and most importantly of all, is it valuable?
In other words: are you looking at a research worthy problem?
The fact is, a well-defined, precise, and goal-centric research problem will keep your researchers, stakeholders, and business-focused and your results actionable.
And when it works well, it's a powerful tool to identify practical solutions that can drive change and secure buy-in from your workforce.
Free eBook: The ultimate guide to market research
What is a research problem?
In social research methodology and behavioral sciences, a research problem establishes the direction of research, often relating to a specific topic or opportunity for discussion.
For example: climate change and sustainability, analyzing moral dilemmas or wage disparity amongst classes could all be areas that the research problem focuses on.
As well as outlining the topic and/or opportunity, a research problem will explain:
why the area/issue needs to be addressed,
why the area/issue is of importance,
the parameters of the research study
the research objective
the reporting framework for the results and
what the overall benefit of doing so will provide (whether to society as a whole or other researchers and projects).
Having identified the main topic or opportunity for discussion, you can then narrow it down into one or several specific questions that can be scrutinized and answered through the research process.
What are research questions?
Generating research questions underpinning your study usually starts with problems that require further research and understanding while fulfilling the objectives of the study.
A good problem statement begins by asking deeper questions to gain insights about a specific topic.
For example, using the problems above, our questions could be:
"How will climate change policies influence sustainability standards across specific geographies?"
"What measures can be taken to address wage disparity without increasing inflation?"
Developing a research worthy problem is the first step - and one of the most important - in any kind of research.
It's also a task that will come up again and again because any business research process is cyclical. New questions arise as you iterate and progress through discovering, refining, and improving your products and processes. A research question can also be referred to as a "problem statement".
Note: good research supports multiple perspectives through empirical data. It's focused on key concepts rather than a broad area, providing readily actionable insight and areas for further research.
Research question or research problem?
As we've highlighted, the terms "research question" and "research problem" are often used interchangeably, becoming a vague or broad proposition for many.
The term "problem statement" is far more representative, but finds little use among academics.
Instead, some researchers think in terms of a single research problem and several research questions that arise from it.
As mentioned above, the questions are lines of inquiry to explore in trying to solve the overarching research problem.
Ultimately, this provides a more meaningful understanding of a topic area.
It may be useful to think of questions and problems as coming out of your business data – that's the O-data (otherwise known as operational data) like sales figures and website metrics.
What's an example of a research problem?
Your overall research problem could be: "How do we improve sales across EMEA and reduce lost deals?"
This research problem then has a subset of questions, such as:
"Why do sales peak at certain times of the day?"
"Why are customers abandoning their online carts at the point of sale?"
As well as helping you to solve business problems, research problems (and associated questions) help you to think critically about topics and/or issues (business or otherwise). You can also use your old research to aid future research -- a good example is laying the foundation for comparative trend reports or a complex research project.
(Also, if you want to see the bigger picture when it comes to research problems, why not check out our ultimate guide to market research? In it you'll find out: what effective market research looks like, the use cases for market research, carrying out a research study, and how to examine and action research findings).
Free eBook: The ultimate guide to market research
The research process: why are research problems important?
A research problem has two essential roles in setting your research project on a course for success.
1. They set the scope
The research problem defines what problem or opportunity you're looking at and what your research goals are. It stops you from getting side-tracked or allowing the scope of research to creep off-course.
Without a strong research problem or problem statement, your team could end up spending resources unnecessarily, or coming up with results that aren't actionable - or worse, harmful to your business - because the field of study is too broad.
2. They tie your work to business goals and actions
To formulate a research problem in terms of business decisions means you always have clarity on what's needed to make those decisions. You can show the effects of what you've studied using real outcomes.
Then, by focusing your research problem statement on a series of questions tied to business objectives, you can reduce the risk of the research being unactionable or inaccurate.
It's also worth examining research or other scholarly literature (you'll find plenty of similar, pertinent research online) to see how others have explored specific topics and noting implications that could have for your research.
Four steps to defining your research problem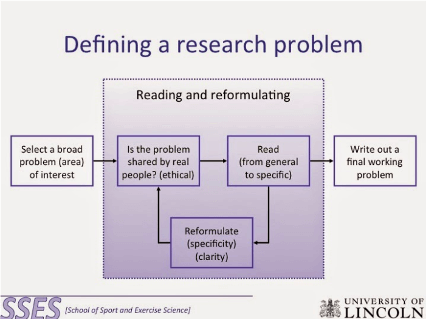 Image credit: http://myfreeschooltanzania.blogspot.com/2014/11/defining-research-problem.html
1. Observe and identify
Businesses today have so much data that it can be difficult to know which problems to address first. Researchers also have business stakeholders who come to them with problems they would like to have explored. A researcher's job is to sift through these inputs and discover exactly what higher-level trends and key concepts are worth investing in.
This often means asking questions and doing some initial investigation to decide which avenues to pursue. This could mean gathering interdisciplinary perspectives identifying additional expertise and contextual information.
Sometimes, a small-scale preliminary study might be worth doing to help get a more comprehensive understanding of the business context and needs, and to make sure your research problem addresses the most critical questions.
This could take the form of qualitative research using a few in-depth interviews, an environmental scan, or reviewing relevant literature.
Example:
The sales manager of a sportswear company has a problem: sales of trail running shoes are down year-on-year and she isn't sure why. She approaches the company's research team for input and they begin asking questions within the company and reviewing their knowledge of the wider market.
2. Review the key factors involved
As a marketing researcher, you must work closely with your team of researchers to define and test the influencing factors and the wider context involved in your study. These might include demographic and economic trends or the business environment affecting the question at hand. This is referred to as a relational research problem.
To do this, you have to identify the factors that will affect the research and begin formulating different methods to control them.
You also need to consider the relationships between factors and the degree of control you have over them. For example, you may be able to control the loading speed of your website but you can't control the fluctuations of the stock market.
Doing this will help you determine whether the findings of your project will produce enough information to be worth the cost.
You need to determine:
which factors affect the solution to the research proposal.
which ones can be controlled and used for the purposes of the company, and to what extent.
the functional relationships between the factors.
which ones are critical to the solution of the research study.
Example:
The research team at the running shoe company is hard at work. They explore the factors involved and the context of why YoY sales are down for trail shoes, including things like what the company's competitors are doing, what the weather has been like – affecting outdoor exercise – and the relative spend on marketing for the brand from year to year.
The final factor is within the company's control, although the first two are not. They check the figures and determine marketing spend has a significant impact on the company.
Free eBook: The ultimate guide to market research
3. Prioritize
Once you and your research team have a few observations, prioritize them based on their business impact and importance. It may be that you can answer more than one question with a single study, but don't do it at the risk of losing focus on your overarching research problem.
Questions to ask:
Who? Who are the people with the problem? Are they end-users, stakeholders, teams within your business? Have you validated the information to see what the scale of the problem is?
What? What is its nature and what is the supporting evidence?
Why? What is the business case for solving the problem? How will it help?
Where? How does the problem manifest and where is it observed?
To help you understand all dimensions, you might want to consider focus groups or preliminary interviews with external (including consumers and existing customers) and internal (salespeople, managers, and other stakeholders) parties to provide what is sometimes much-needed insight into a particular set of questions or problems.
Example:
After observing and investigating, the running shoe researchers come up with a few candidate questions, including:
What is the relationship between US average temperatures and sales of our products year on year?
At present, how does our customer base rank Competitor X and Competitor Y's trail running shoe compared to our brand?
What is the relationship between marketing spend and trail shoe product sales over the last 12 months?
They opt for the final question, because the variables involved are fully within the company's control, and based on their initial research and stakeholder input, seem the most likely cause of the dive in sales. The research question is specific enough to keep the work on course towards an actionable result, but it allows for a few different avenues to be explored, such as the different budget allocations of offline and online marketing and the kinds of messaging used.
4. Align
Get feedback from the key teams within your business to make sure everyone is aligned and has the same understanding of the research problem and questions, and the actions you hope to take based on the results. Now is also a good time to demonstrate the ROI of your research and lay out its potential benefits to your stakeholders.
Different groups may have different goals and perspectives on the issue. This step is vital for getting the necessary buy-in and pushing the project forward.
Example:
The running shoe company researchers now have everything they need to begin. They call a meeting with the sales manager and consult with the product team, marketing team, and C-suite to make sure everyone is aligned and has bought into the direction of the research topic. They identify and agree that the likely course of action will be a rethink of how marketing resources are allocated, and potentially testing out some new channels and messaging strategies.
Can you explore a broad area and is it practical to do so?
A broader research problem or report can be a great way to bring attention to prevalent issues, societal or otherwise, but are often undertaken by those with the resources to do so.
Take a typical government cybersecurity breach survey, for example. Most of these reports raise awareness of cybercrime, from the day-to-day threats businesses face to what security measures some organizations are taking. What these reports don't do, however, is provide actionable advice - mostly because every organization is different.
The point here is that while some researchers will explore a very complex issue in detail, others will provide only a snapshot to maintain interest and encourage further investigation. The "value" of the data is wholly determined by the recipients of it - and what information you choose to include.
To summarize, it can be practical to undertake a broader research problem, certainly, but it may not be possible to cover everything or provide the detail your audience needs. Likewise, a more systematic investigation of an issue or topic will be more valuable, but you may also find that you cover far less ground.
It's important to think about your research objectives and expected findings before going ahead.
Ensuring your research project is a success
A complex research project can be made significantly easier with clear research objectives, a descriptive research problem, and a central focus. All of which we've outlined in this article.
If you have previous research, even better. Use it as a benchmark
Remember: what separates a good research paper from an average one is actually very simple: valuable, empirical data that explores a prevalent societal or business issue and provides actionable insights.
And we can help.
Sophisticated research made simple with Qualtrics
Trusted by the world's best brands, our platform enables researchers from academic to corporate to tackle the hardest challenges and deliver the results that matter.
Our CoreXM platform supports the methods that define superior research and delivers insights in real-time. It's easy to use (thanks to drag-and-drop functionality) and requires no coding, meaning you'll be capturing data and gleaning insights in no time.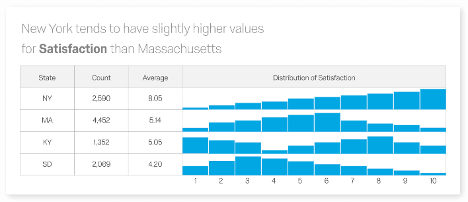 It also excels in flexibility; you can track consumer behavior across segments, benchmark your company versus competitors, carry out complex academic research, and do much more, all from one system.
It's one platform with endless applications, so no matter your research problem, we've got the tools to help you solve it. And if you don't have a team of research experts in-house, our market research team has the practical knowledge and tools to help design the surveys and find the respondents you need.
Of course, you may want to know where to begin with your own market research. If you're struggling, make sure to download our ultimate guide using the link below.
It's got everything you need and there's always information in our research methods knowledge base.
Free eBook: The ultimate guide to market research