XM for Customer Frontlines

Digital

Root out friction in every digital experience, super-charge conversion rates, and optimize digital self-service

Care

Uncover insights from any interaction, deliver AI-powered agent coaching, and reduce cost to serve

Locations

Increase revenue and loyalty with real-time insights and recommendations delivered straight to teams on the ground

XM for People Teams

Engage

Know exactly how your people feel and empower managers to improve employee engagement, productivity, and retention

Lifecycle

Take action in the moments that matter most along the employee journey and drive bottom line growth

Analytics

Whatever they're are saying, wherever they're saying it, know exactly what's going on with your people

XM for Strategy & Research

Research

Get faster, richer insights with qual and quant tools that make powerful market research available to everyone

User Experience

Run concept tests, pricing studies, prototyping + more with fast, powerful studies designed by UX research experts

Brand

Track your brand performance 24/7 and act quickly to respond to opportunities and challenges in your market

XM Platform

Explore the platform powering Experience Management

Teams

For Digital

For Customer Care

For Human Resources

For Researchers

All Teams

Industries

Healthcare

Education

Financial Services

Government

All Industries

Customer Experience

Employee Experience

Employee Exit Interviews

Net Promoter Score

Voice of Customer

Customer Success Hub

Product Documentation

Training & Certification

Community

XM Institute

About Us

Careers

Partnerships

Marketplace

X4 Summit

The annual gathering of the experience leaders at the world's iconic brands building breakthrough business results, live in Salt Lake City.
Academic Experience
Smoothing the transition from school to work with work-based learning
The world of work is rapidly evolving: the rise of remote and hybrid work, the digitization and automation of many jobs, and growing efforts to create greener economies are changing the demand for skills in labor markets around the world. And despite entering the labor market with more years of education and qualifications than previous generations, young people today report feeling unprepared to enter the workforce. Navigating the transition from school to work is a critical event in a young person's life, and requires concerted, future-thinking planning from employers, employees, educational institutions, and governments around the world.
In the fall of 2022, Qualtrics surveyed over 5,000 young people between the ages of 19 and 24, living across six different Organisation for Economic Co-operation and Development (OECD) countries: Australia, Canada, Japan, France, the United Kingdom and the United States, about their perspectives on the transition from school to work. The research was conducted with the OECD in support of its Forum Engagement Group on the Future of Work.
Young people today face challenging economic conditions and immense global uncertainty: according to our research, 50% of young people surveyed think their future employment prospects are the same or worse than their parents' when they were the same age. This lack of optimism, in part fueled by exogenous factors such as Covid-19 and inflation, is worsened by a pervasive feeling of being unprepared for the world of work: only about a third of respondents said their degree made them feel very or extremely prepared for the job market.
FIG 1: Half of respondents say Covid-19 has impacted their employment opportunities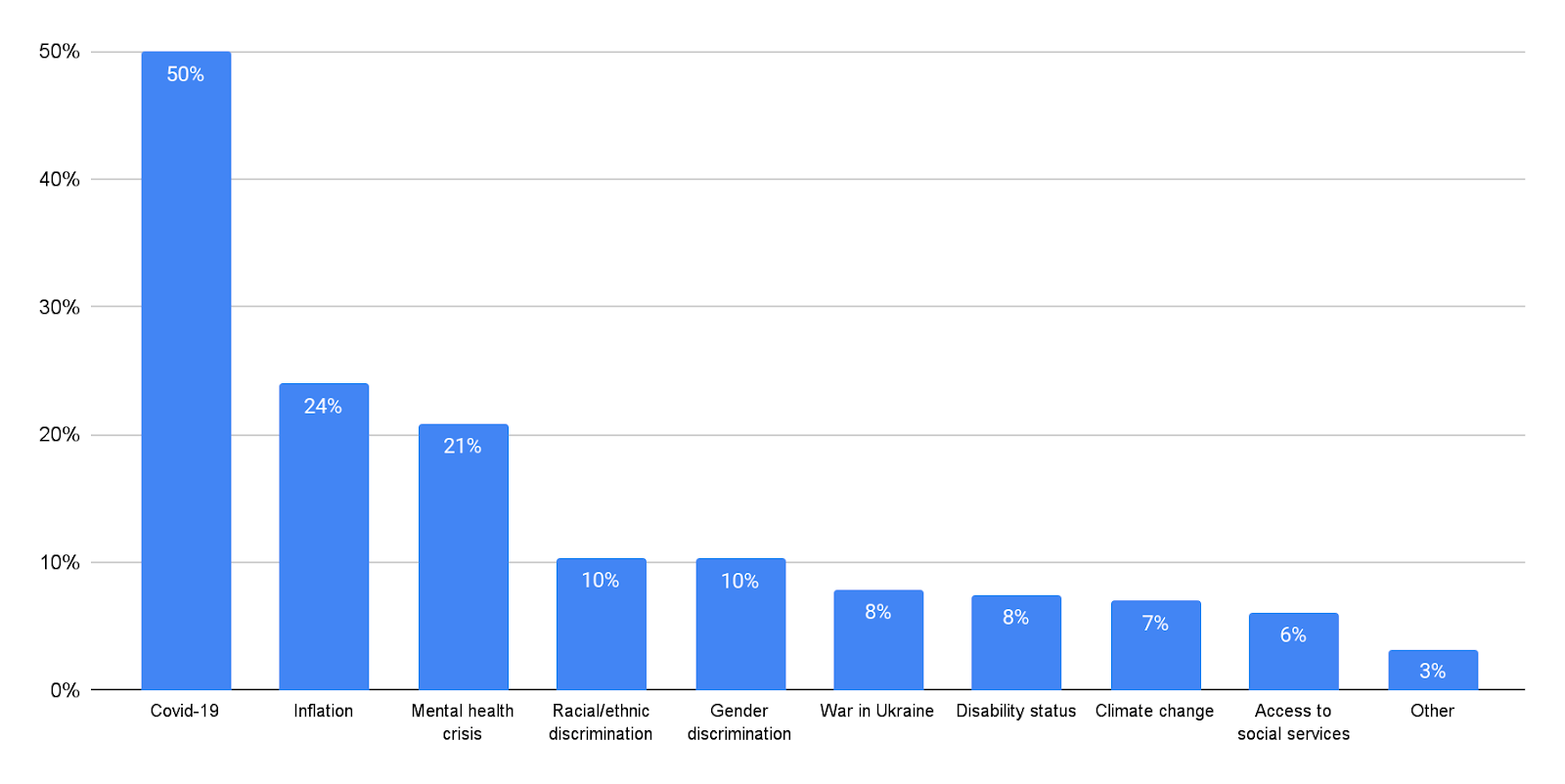 + Note: 23% of respondents said none of these impacted their employment opportunities
Lack of preparation for the world of work – real or felt – is a major barrier impacting young people around the globe. It also echoes recent research from Qualtrics showing that the primary reason young people in the US do not apply to jobs in government is because they feel underqualified.
FIG 2: Education institutions are not preparing students for the transition to work

+ Based on n= 5300  young people living in Australia, Canada, France, Japan, UK, or US, where students said their current/highest degree made them feel very or extremely prepared to enter the job market.
Instilling confidence in young people and designing work training programs that build skills and foster career growth is critical to a more inclusive, equitable, and resilient workforce. We are at a critical inflection point where it is necessary to better align policy and practice to ensure economic, educational, and social benefits to individuals and society. Here are three key ways governments, education institutions, and employers can work to build a capable and confident workforce.
1. Implement work-based learning initiatives that align young peoples' skills with labor market demands.
According to our research, the strongest predictor of perceived job preparedness is participation in an apprenticeship; and yet, apprenticeships are the least-common programs respondents report being offered by their educational institutions.
FIG 3
Top 3 drivers of perceived job preparation:
Apprenticeship
Job-specific training
Internship
Top 3 most-common programs offered by education institution:
Hands-on learning
Technical skills
Internship
Respondents whose programs offered apprenticeships were almost 20 percentage points more likely than those who did not have apprenticeships to report feeling very or extremely prepared to enter the job market (52% vs 33%). In addition, those whose programs had apprenticeship opportunities were more likely to report confidence across discrete stages of entering the labor market, such as looking for a job, competing for a job, and performing in a job.
FIG 4: Work-based learning increases confidence across all aspects of entering the job market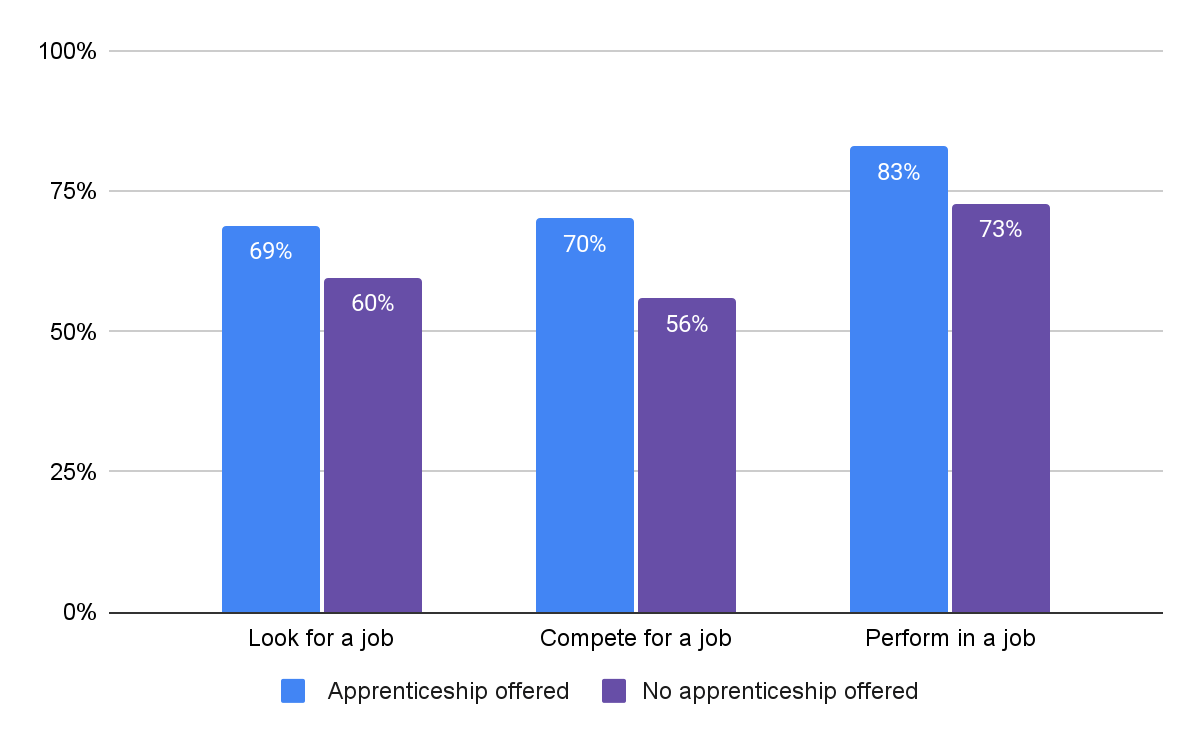 + Based on top-box responses of n= 5300 young people living in Australia, Canada, France, Japan, UK, or US, where respondents were asked how prepared they felt to look for a job, compete for a job, and perform in a job
Despite their efficacy in building skills and confidence among young people, many work-based learning initiatives have been disrupted due the residual effects of the Covid-19 pandemic, including a shift to remote work and digitalization of many jobs, leaving "lasting effects" on young peoples' mental health, future careers, and earning potential.
2. Understand and address the drivers of perceived underemployment among young people.
Mega-trends, such as the Covid-19 pandemic, the mental health crisis, and global inflation, have radically changed the character and demand for work, increasing risks of joblessness and precarious employment. The 2022 OECD Employment Outlook finds that the average employment rate for young people was still lower than before the pandemic in more than half of all OECD countries.
However the unemployment rate alone does not capture the extent of the problem, especially among early career entrants. Underemployment, or the phenomenon of working part-time and wanting to work full-time; or working in a temporary position but wanting to work in a permanent position, is increasingly a problem as skills gaps widen.
According to Qualtrics research, reported underemployment affects a third of young people in the workforce today (33%), and respondents who identify as a member of a minority group were 8 percentage points more likely to report being underemployed (40% vs. 32%).
FIG 5: Young people with graduate degrees are more likely to have full-time work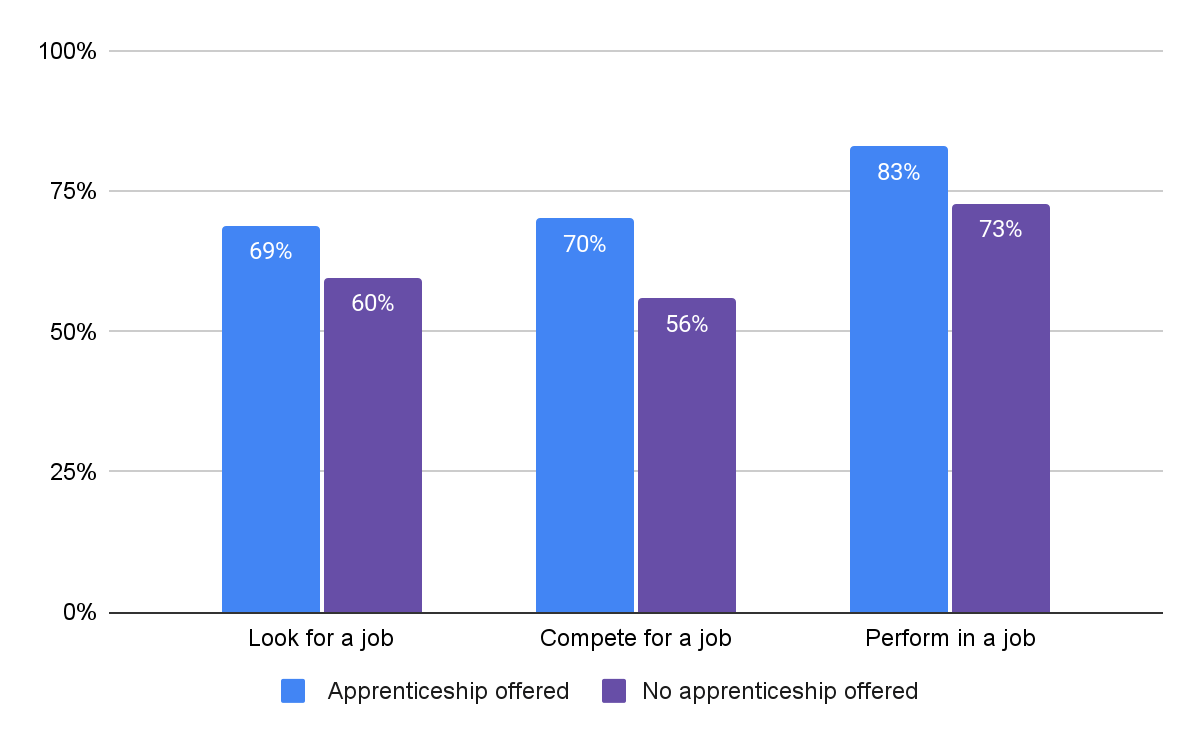 Employers, too, report that they struggle to recruit talent with the skills required to meet the current demands of the labor market. However, when hiring managers look to replace departing talent with equally experienced people, those with potential are left behind – particularly students, recent graduates, and those early in their career. Creating career ladder positions that focus on individuals' development and growth can help close immediate skills gaps and build a pipeline for future experienced talent.
In addition to designing career ladder positions that capture potential and enable learning on the job, governments around the world must design social policies to help students address barriers to their employment prospects, including transportation, housing, and local economic development. Access to transportation and affordable housing as well as proximity to familial and social networks were among the factors with the biggest impact on young people's choice of employment.
FIG 6: Employment choice is shaped by social systems.
+ Abbreviated items: Transparency on employer's diversity, equity and inclusion policies
Governments must design social policies to help students address barriers to their employment prospects, like investing in local and social infrastructure, and encouraging transparency on employers' sustainability policies, pay equity, and efforts on diversity, equity, and inclusion (DEI).
FIG 7: Students rely on their educational institutions for information and advice, and expect their governments to provide resources for education and training
3. Confidence, resiliency, and agility matter for national competitiveness. Help students develop an optimistic outlook for short- and longer-term employment prospects.
Lastly, confidence breeds competence. Overall, around 62% of respondents said they were optimistic about their future employment opportunities, with notable variation by degree level. Respondents who have not completed any postsecondary education were the least likely to be confident in future employment opportunities whereas those who completed graduate degrees reported the most confidence.
FIG 8: Optimism about future employment increases with higher levels of education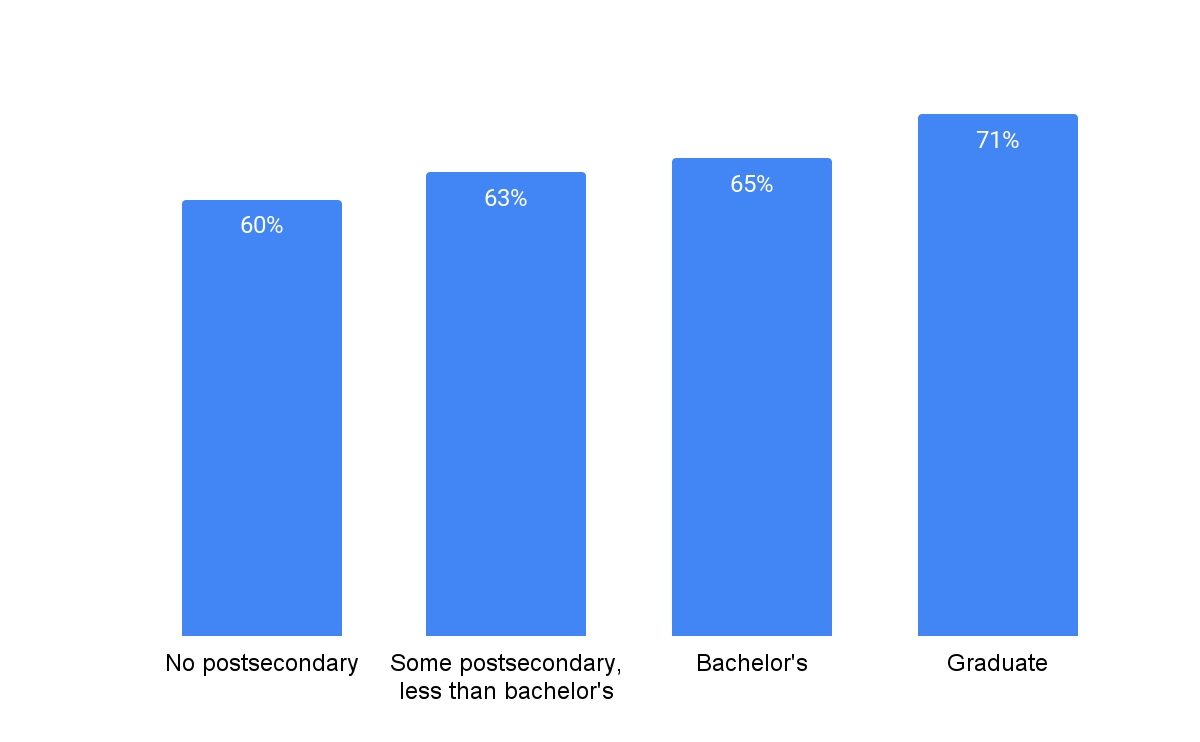 + Based on top-box responses of n= 5300 young people living in Australia, Canada, France, Japan, UK, or US, where respondents were asked how optimistic they were about future employment opportunities.
Respondents overall are more confident in near-term future (1-3 years) employment prospects than long-term (3-5 years) or short-term (5-12 months).
Additionally, people now stay in education and training longer than ever before. More than half (53%) of respondents report wanting to pursue future education or training. The most common reason for anticipating future education or training is personal interest; the second is a belief that it is required to progress in one's current field.
FIG 9: Students are intrinsically motivated to pursue future education and training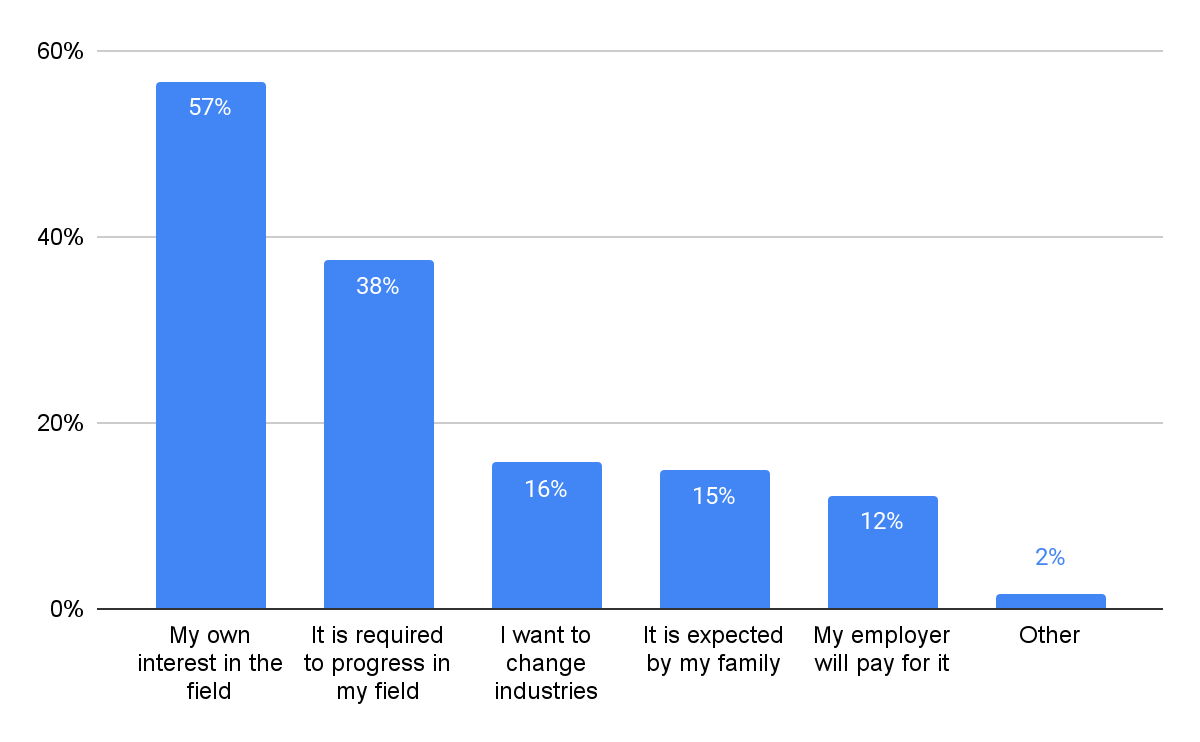 Governments and employers must tap into students' desire to learn and work to convert higher educational achievement and career ambition into better jobs. Promoting work-based learning initiatives, understanding and addressing the drivers of underemployment, and promoting confidence and optimism among young people are critical steps in smoothing transitions of young people as they make choices about education, training, and mobility in the labor market.
Related Articles