Employee Experience
HR and people teams trends in 2023
We asked almost 1,000 HR leaders to share their insights, experiences, challenges and priorities for the year ahead. Here's what they had to say — and what HR trends organizations should focus on.
From technological advancements and globalization to the overhaul of the traditional 9-5 office job and the rise of the gig economy, the employee experience we have today bears little resemblance to that which we had before.
But just as the employee experience has evolved irrevocably for the better — HR leaders have worked tirelessly behind the scenes to move mountains to make these changes possible.
Download the 2023 State of HR Report
Indeed, in the past few years alone, HR leaders and people teams have become strategic growth partners to their C-Suite peers. They're devising new ways of working to empower their people, implementing robust listening programs to understand nuances of employee engagement, and connecting their employee experience efforts to business outcomes.
To determine what lies ahead, we asked 1,000 HR leaders worldwide to share their priorities, areas of focus, and obstacles heading into 2023. All so you can stay ahead of the competition.
Below, you'll find a quick breakdown of what we found:
Trend 1: The CHRO is the newest business growth executive
In today's world, HR leaders are increasingly involved in their organization's strategic initiatives, much more so than pre-pandemic — that's according to nearly three-quarters (74%) of the HR leaders we spoke to.
Without a doubt, organizations are recognizing the strategic value HR departments have to offer and are bringing them into the fold when it comes to topics like growth,  innovation, and operational efficiency.
For example, one area where HR and people teams are leading the charge is connecting employee experience (EX) data (e.g. engagement, intent to stay, well-being) to business outcomes. After all, we know that when employees feel engaged and empowered in their jobs, they'll deliver a better service to customers who in turn have a better customer experience (CX).
By tapping into these kinds of capabilities at scale, organizations can streamline their operations to maximize efficiencies and returns.
And to further accentuate this point, 81% of the HR leaders we spoke to said understanding the connection between EX and CX would be valuable or extremely valuable.
Trend 2: Upskilling to meet the moment is HR's top focus area
One of the biggest challenges for HR leaders right now is responding and adapting to unexpected events — and a key technology in making that much easier to manage is experience management.
Almost 9 in 10 (85%) HR leaders say experience management is an important capability for their organization in the future.

After all: experience management helps organizations to not only improve the four key experiences — product, brand, customer, employee — but also close gaps across every aspect of them. In doing so, they can work much more proactively and start to anticipate issues before they happen.
The result? Less unexpected events and more curated experiences.
But to make experience management work, you need the right capabilities.
Indeed — almost 9 in 10 (87%) HR leaders believe it's important to have the right skills, competencies, and vision to help their people — and other leaders — navigate through uncertainty.
This isn't just about upskilling the workforce — it's upskilling for HR leaders, too. They want to lead by example.
At the same time, they report that employee training and development, as well as talent attraction and hiring, are their top focus areas for the year ahead.
Trend 3: The future of EX management lies in listening, not just surveying
Organizations are capturing employee feedback at scale more than ever before — and that's a good thing.
According to HR leaders, 57% reported that they're running employee feedback surveys every quarter at a minimum.
And of course, with more employee feedback at hand, leaders can make more strategic, agile and data-driven decisions more frequently.
When we asked HR leaders about increasing employee listening over the next three years, 82% said it's important or very important to do so.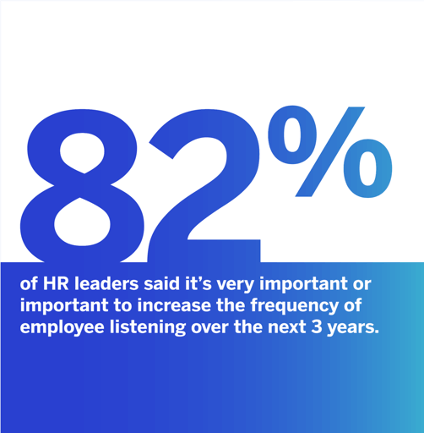 However, there comes a point of diminishing returns with surveys. The challenge for organizations right now is that by adding more surveys, they run the risk of survey fatigue. They simply can't ask employees to submit more feedback.
So if we can't do more surveys, what we can do is 1) tap into other feedback sources, 2) ensure employees know that we're listening and 3) demonstrate the return on their efforts.
Overall, a more holistic and valuable approach is to first let employees drive the conversation, and also implement technologies that effectively capture feedback in the moments between moments, e.g. between pulses.
For example, they can capture information on employees' mental health after a return to office policy — or how those changes affect their work-life balance.
Ultimately, by tuning into the feedback that employees are already sharing HR leaders get far deeper context that helps to elucidate the reasoning behind why employees feel the way that they do. And that kind of insight is game changing.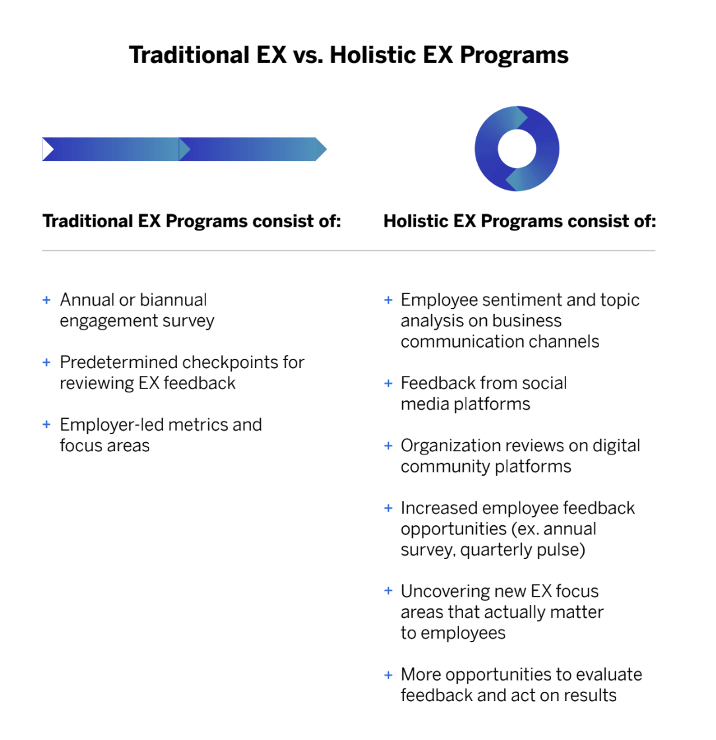 Trend 4: A lack of organization-wide strategy is putting EX programs at risk
If we think about just how critical experience management and EX are for HR leaders in 2023, having a strategy in place to ensure any effort is successful is essential.
Unfortunately, for 30% of HR leaders, the most frequently cited obstacle to EX management efforts is a lack of clear strategy.
In many respects, a great deal of HR leaders are falling at the first hurdle — and without a way to clearly delineate experience management and EX plans, how can they secure organization-wide buy-in and establish experience-centric cultures?
At the same time, leaders also cite misaligned incentives and rewards (27%) and a lack of critical skills (25%) as two major issues.
Clearly, upskilling to meet the moment — e.g. acquiring the skills, strategies and vision to ensure business and EX success — is one of the main objectives for HR leaders in 2023.
But it's not just about acquiring the right talent and skills — it's also about leadership maximizing their ability to deliver. For example, from a strategy perspective, leaders have to think about how they establish cross-collaboration with other leaders and departments.
By working in tandem with the CIO, for instance, HR leaders can drastically improve their ability to drive tangible business outcomes and get partners behind EX strategies. At the same time, HR leaders have to find out how they can demonstrate the value of EX by translating people issues (and opportunities) into business outcomes and benefits.
This sort of approach helps HR leaders to build a narrative with their peers and get executive buy-in before aligning the rest of the organization.
Download the complete report
This is just a glimpse into the top-level findings from our 2023 State of HR report. In the full report, we delve deeper than ever before to uncover the changes, challenges and opportunities for HR leaders in 2023.
Also, throughout the report, we provide clear, actionable steps and recommendations to help HR leaders solve all these challenges — and capitalize on the trends. This includes how leaders can identify which employee experience drivers influence customer experience outcomes.
Download your copy of the 2023 State of HR Report