XM for Customer Frontlines

Digital

Root out friction in every digital experience, super-charge conversion rates, and optimize digital self-service

Care

Uncover insights from any interaction, deliver AI-powered agent coaching, and reduce cost to serve

Locations

Increase revenue and loyalty with real-time insights and recommendations delivered straight to teams on the ground

XM for People Teams

Engage

Know exactly how your people feel and empower managers to improve employee engagement, productivity, and retention

Lifecycle

Take action in the moments that matter most along the employee journey and drive bottom line growth

Analytics

Whatever they're are saying, wherever they're saying it, know exactly what's going on with your people

XM for Strategy & Research

Research

Get faster, richer insights with qual and quant tools that make powerful market research available to everyone

User Experience

Run concept tests, pricing studies, prototyping + more with fast, powerful studies designed by UX research experts

Brand

Track your brand performance 24/7 and act quickly to respond to opportunities and challenges in your market

XM Platform

Explore the platform powering Experience Management

Teams

For Digital

For Customer Care

For Human Resources

For Researchers

All Teams

Industries

Healthcare

Education

Financial Services

Government

All Industries

Customer Experience

Employee Experience

Employee Exit Interviews

Net Promoter Score

Voice of Customer

Customer Success Hub

Product Documentation

Training & Certification

Community

XM Institute

About Us

Careers

Partnerships

Marketplace

X4 Summit

The annual gathering of the experience leaders at the world's iconic brands building breakthrough business results, live in Salt Lake City.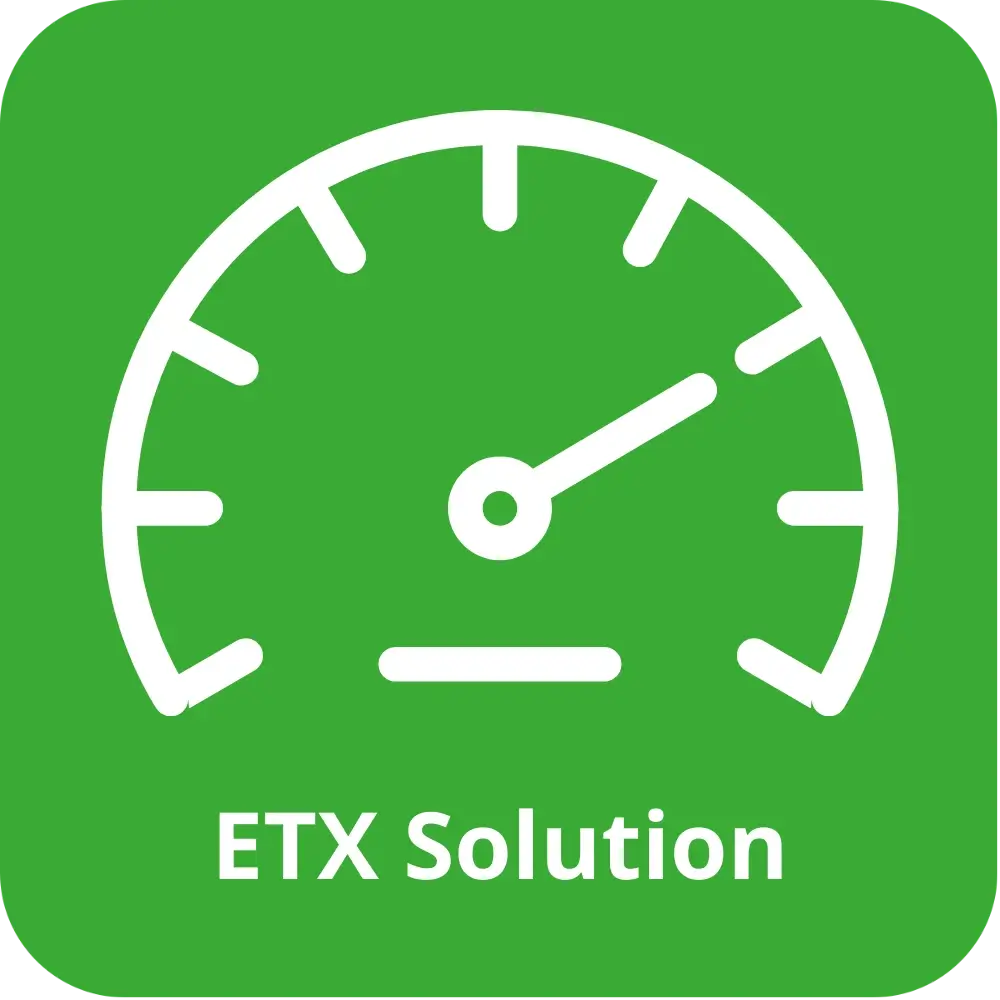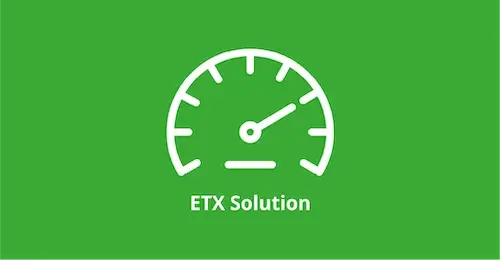 Integration
ETX for RISE with SAP
Provide early warning of critical issues and track meaningful change. A holistic solution to capture critical feedback from key stakeholders.
Core Experience
Employee Experience
Too many transformation projects are doomed from the start. Projects rely on critical support from a wide range of stakeholders – sponsors, management, project team, IT, and end-users – but often struggle to find it. Projects frequently suffer from requirements that don't align with expectations. The larger, more complex, and cost-intensive a project is, the more likely it becomes "too big to fail". When projects do finally make it to implementation, they may still never reach user acceptance.
Companies must ensure their stakeholders are sufficiently motivated, enabled, and can see their needs are taken into consideration. sovanta's ETX for RISE with SAP Solution ensures all phases of an S/4 project are fully informed by stakeholder feedback, increasing communication, transparency, and alignment while decreasing scope creep and inefficient spending. Our solution keeps your project on track with early warning of potential weak user adoption, project delays, cost-overruns, and team burnout. Throughout all project phases and at each important moment of your transformation project, ETX for RISE with SAP allow you to identify and act upon the concerns and issues that really matter.
Ensure the success of your Transformation Project
Working within the RISE with SAP Adoption Framework and using the SAP Activate methodology, our solution includes the tools to collect, synthesize, interpret and analyze your experience and operational data.
Aggregate information with intuitive dashboards aligned with project touchpoints; allow decision-makers to evaluate the actual situation, take appropriate action, and measure the effects of the actions taken.
Our solution also includes best practices for meaningful two-way communication with stakeholders.
Gain immediate insights, with solution activation and enablement in days, not weeks or months.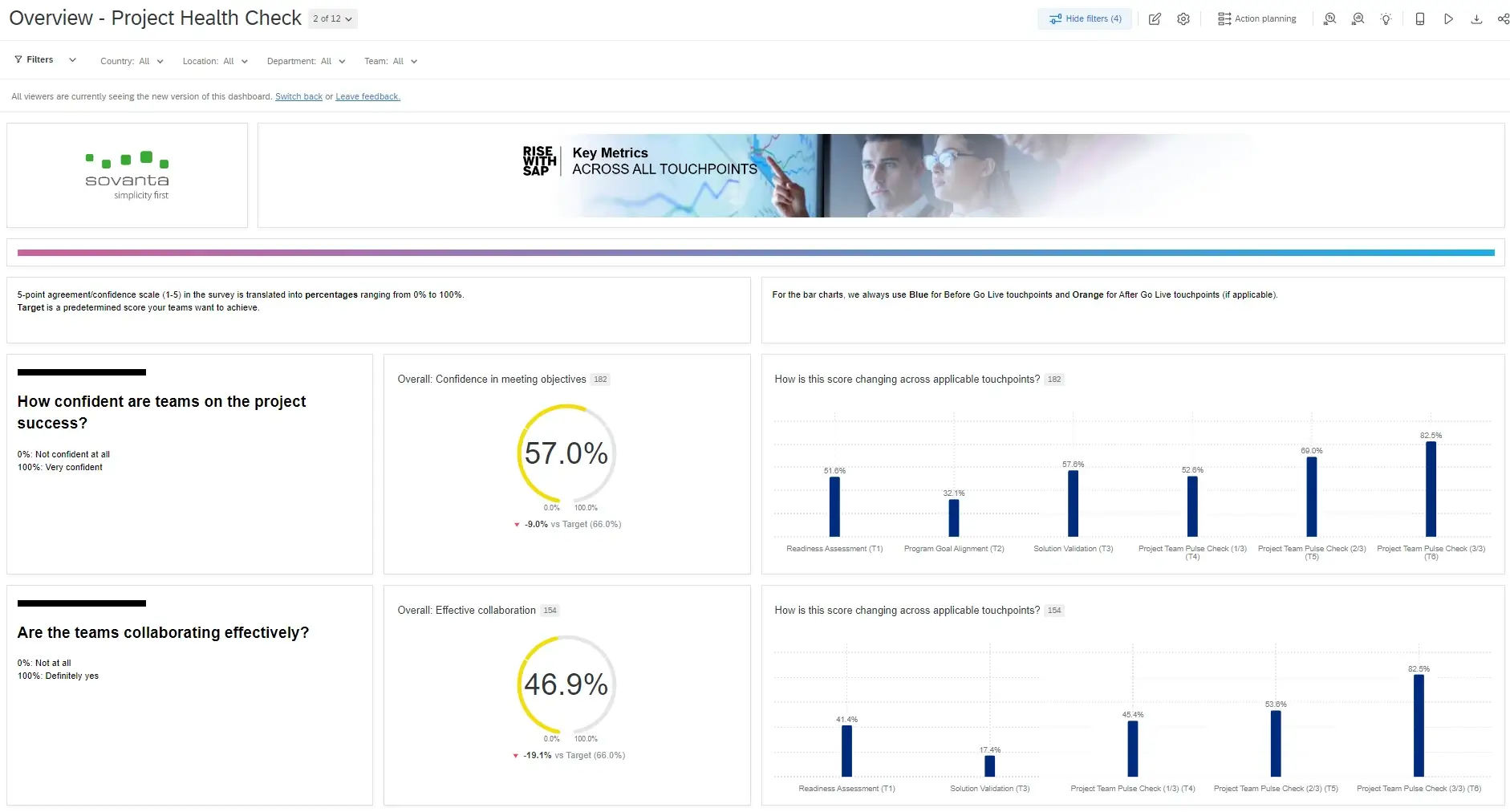 Outcomes Delivered
Ensure your transformation is successful and accepted
Capture critical stakeholder feedback and evaluate it within established, evidence-based KPIs
Identify risk early to give decision-makers the information and time they need to react
Category Tags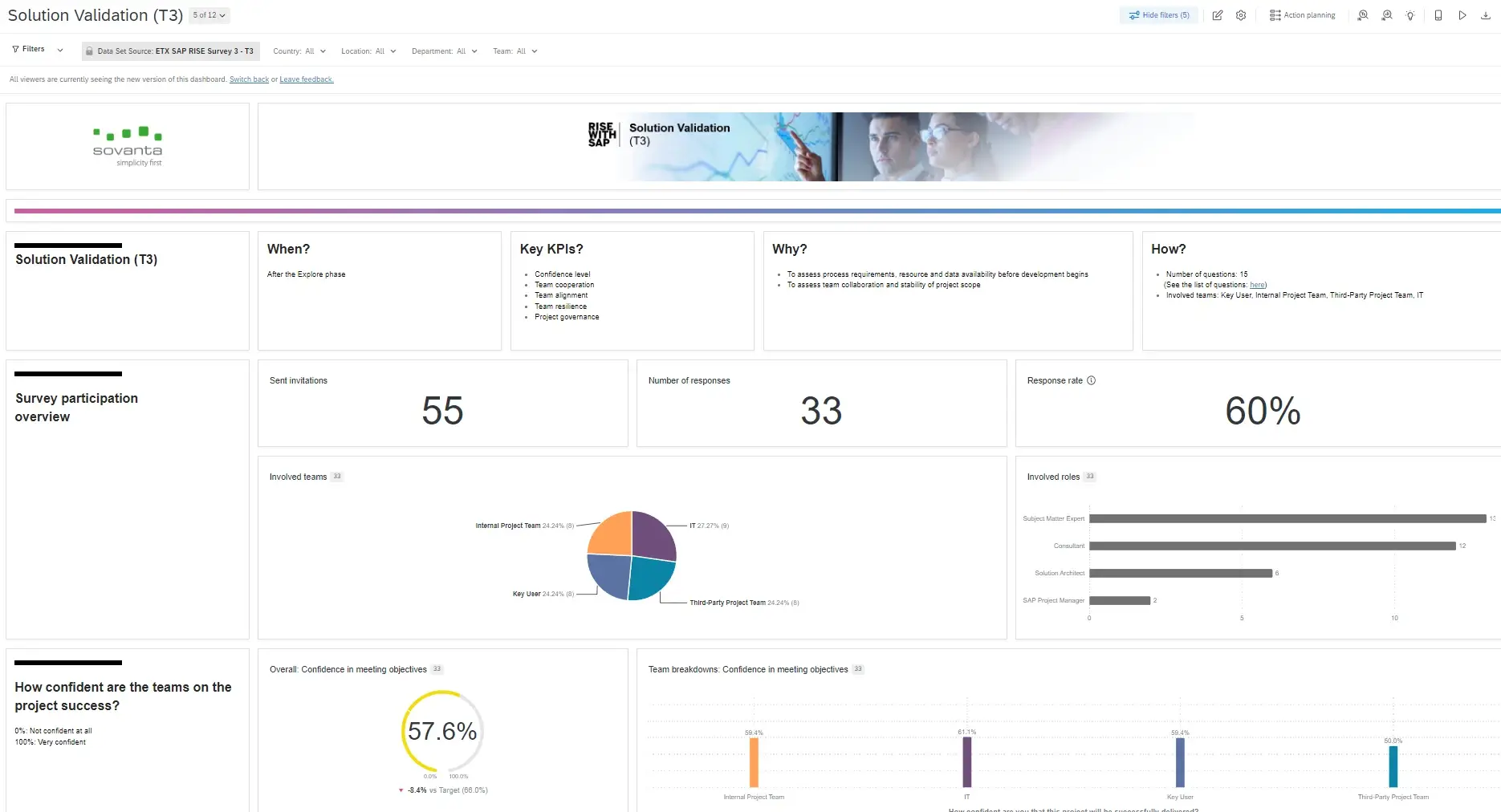 Early Warning System
Is your project within time, scope, and budget? Is it headed in the right direction? Will your users adopt it? How will you answer these questions in time to act on them?
Typical project management KPIs focus soley on project status, effectively deaf to your organizational experience, existing pain points, and your transformation's underlying vision. ETX for Rise with SAP supports your decision-making with critical signals and insights from your own team, the people who best know your transformation and your larger organization.
All Feedback Included
Don't risk misinterpretation of data through the hierarchical chain. ETX for Rise with SAP allows you to evaluate all stakeholder feedback in its original form so you can act from a holistic understanding of your project and team.
What You Get
You receive:
An out of the box solution
Pre-configured, role-specific surveys
Intuitive dashboards
Communication package with best practices for addressing stakeholders
An out-of-the-box solution
Our ETX for SAP RISE standard solution is built according to the Accelerate Project Methodology, a part of the RISE Adoption Framework, and runs within your Qualtrics XM instance. We support solution enablement and configuration (UI look & feel, templated stakeholder data upload), getting you running in days.
Pre-configured surveys and intuitive dashboards
Pre-configured, role-specific surveys for each key touchpoint across all phases of the transformation project. Intuitive dashboards that bring all necessary information together, which allow decision makers to act with all relevant information at hand.
Additional Resources
Solution Details
ETX for SAP RISE by sovanta requires purchase of a Qualtrics ETX license. You receive the standard out-of-the-box ETX for SAP solution, and three days of configuration support for the price of 35,000 EUR per transformation project. If customers would like to use our solution for additional projects, our licensing model will scale. Additional services such as full-service support, data analysis, and further customization are available on request.
sovanta will provide three days of configuration support to enable the customer to deliver project success. Further support from sovanta is available via our support email at xm-support@sovanta.com. Any Qualtrics support issues can be directed to https://www.qualtrics.com/support/ 24 hours a day, 7 days a week.
Languages
English
Category Tags
Not a Qualtrics XM Customer?
Qualtrics Experience Management Platform™ is used by the world's most iconic brands to
optimize the four core experiences of business.