XM for Customer Frontlines

Digital

Root out friction in every digital experience, super-charge conversion rates, and optimize digital self-service

Care

Uncover insights from any interaction, deliver AI-powered agent coaching, and reduce cost to serve

Locations

Increase revenue and loyalty with real-time insights and recommendations delivered straight to teams on the ground

XM for People Teams

Engage

Know exactly how your people feel and empower managers to improve employee engagement, productivity, and retention

Lifecycle

Take action in the moments that matter most along the employee journey and drive bottom line growth

Analytics

Whatever they're are saying, wherever they're saying it, know exactly what's going on with your people

XM for Strategy & Research

Research

Get faster, richer insights with qual and quant tools that make powerful market research available to everyone

User Experience

Run concept tests, pricing studies, prototyping + more with fast, powerful studies designed by UX research experts

Brand

Track your brand performance 24/7 and act quickly to respond to opportunities and challenges in your market

XM Platform

Explore the platform powering Experience Management

Teams

For Digital

For Customer Care

For Human Resources

For Researchers

All Teams

Industries

Healthcare

Education

Financial Services

Government

All Industries

Customer Experience

Employee Experience

Employee Exit Interviews

Net Promoter Score

Voice of Customer

Customer Success Hub

Product Documentation

Training & Certification

Community

XM Institute

About Us

Careers

Partnerships

Marketplace

X4 Summit

The annual gathering of the experience leaders at the world's iconic brands building breakthrough business results, live in Salt Lake City.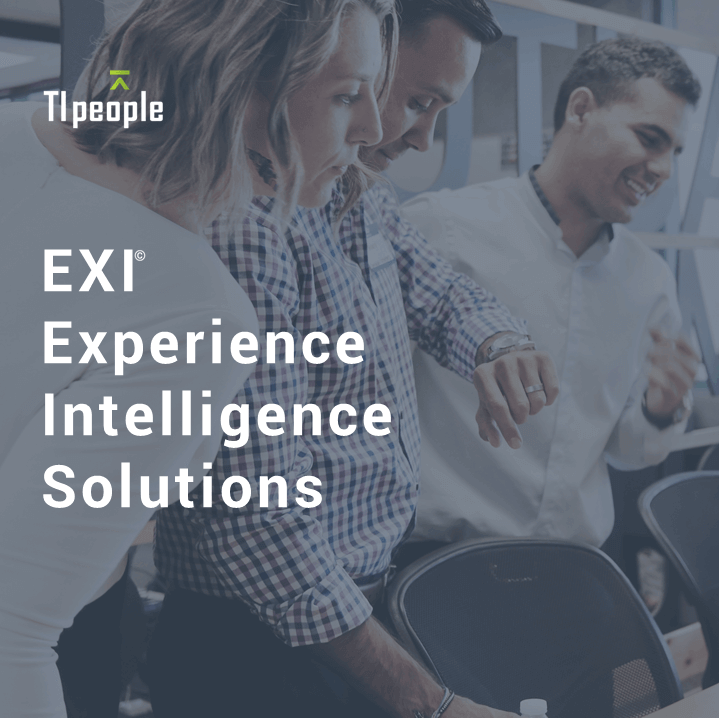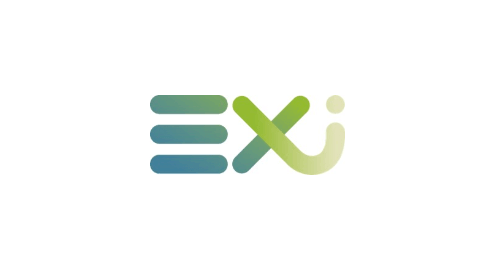 XM Solution Automated Project
TI People EXI Experience Intelligence Solutions
Revolutionize your understanding of your employees' day to day experiences of work
Core Experience
Employee Experience
The EXI (Employee Experience Intelligence) is a powerful solution that can revolutionize your understanding of your employees' day to day experiences of work.

Using TI People's proprietary experience centric framework, employees are surveyed about key interactions in their experience, from their perspective.

The results are then available in an intuitive dashboard, allowing you to find, prioritize, and act on first-hand experience data in order to improve experience at your organization.
Understand the experience across all segments and across the end-to-end lifecycle 

Flexible measurement of sub-sets of experiences within a consistent framework

Deep-dive into the specific experience of frontline managers 

Uncover areas of friction (interactions with processes, tools, leaders, etc)

Measure experience improvement over time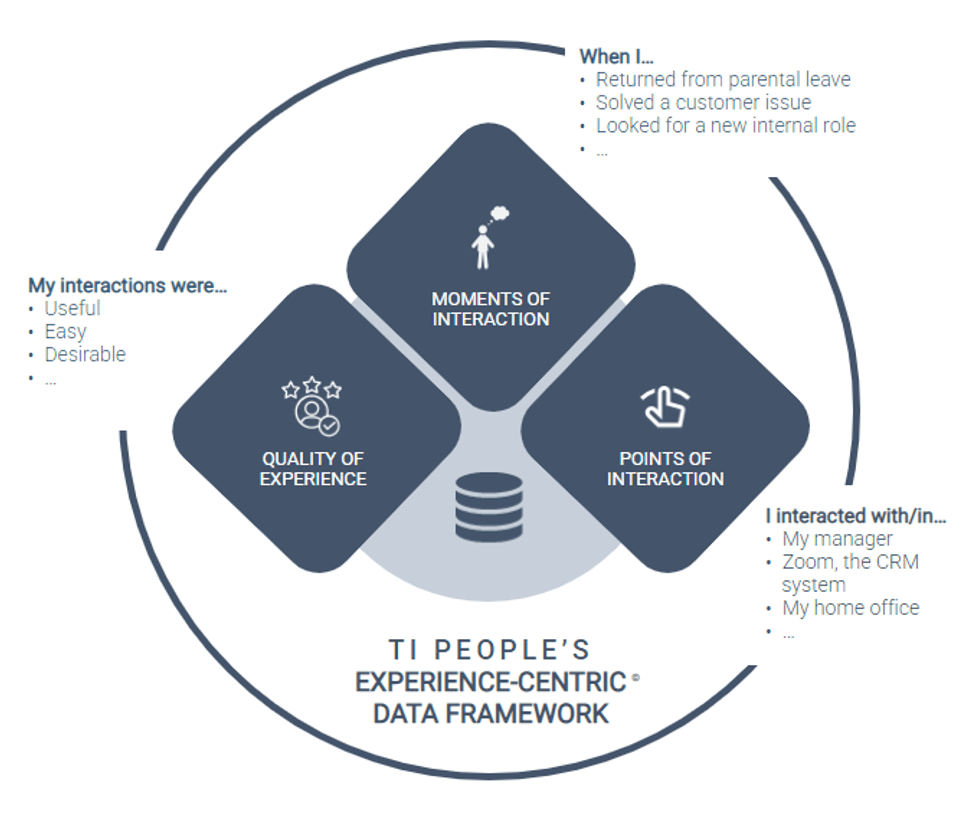 Outcomes Delivered
EX Framework: Helps you assess the ecosystem of interactions your employees have across human, digital and physical touchpoints

EX Measurement Logic: Customizable survey item library with triggering, branching & scoping

EX Dashboard: Visualize, prioritize, benchmark and justify investments 

EX Analysis & Benchmarking: Automated analysis encompassing internal and external benchmarking with weighted index scores, driver analysis etc

EX Support: the EXI portal provides training, communication tools, the survey and measurement tool and a dedicated client success director to support you in running the EXI effectively
Category Tags
EXI Navigator
EXI Navigator's proprietary experience framework helps you capture the most relevant experience data. Identify underperforming moments and those with highest impact on the overall experience. Pinpoint the performance of human, digital, or physical points of interaction that make or break experiences.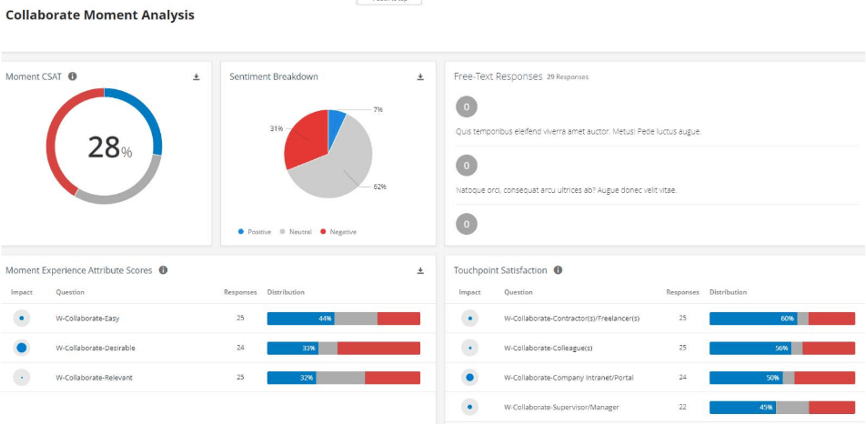 The dashboard reveals experience performance at the overall, stage and moment levels. Built-in analysis with external and internal benchmarking scores, weighted index scores, and driver analysis informs prioritization. Drill-down capability provides additional information including experience attributes, touchpoint performance, and sentiment analysis.
To ensure your critical talent enjoys the best experiences in the marketplace, the EXI Navigator compares your experience performance at specific moments, touchpoints and journey stages to competitors by region, industry and/or talent segment. It also enables you to measure performance over time to track EX improvement efforts.
EXI Frontline Manager
Frontline managers have exponential power when it comes to influencing experiences. They oversee the delivery of customer experiences and shape how team members experience work every day. Yet organizations often overlook the frontline manager's own experience as the key driver of EX and CX. 
EXI Frontline Manager helps you identify and eliminate the obstacles impairing frontline managers from performing their job – the most influential factor to a person's overall experience of work.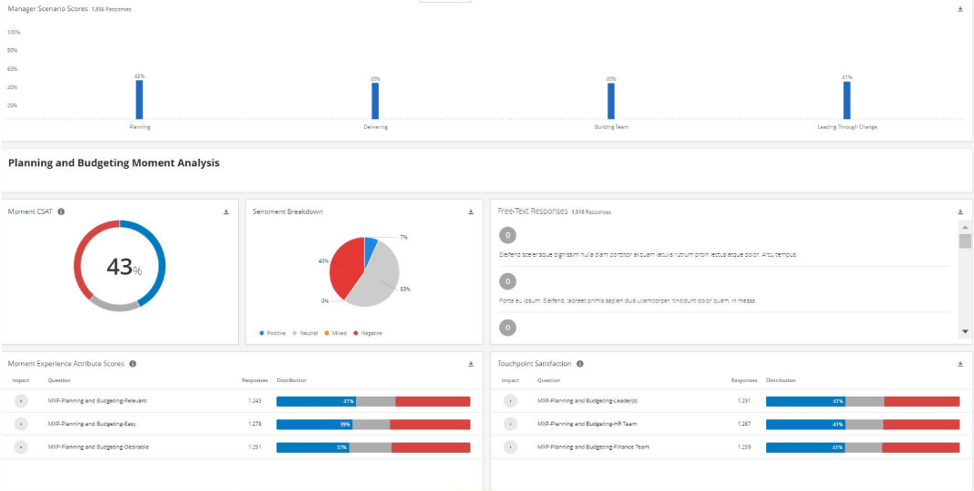 TI People's EXI Frontline Manager uncovers what gets in the way of your frontline managers and what keeps them from delivering great experiences to team members and customers. It captures contextualized, interaction level data showing experience gaps across 4 key work scenarios: Planning, Delivering Results, Building Team and Enacting Change.
With EXI Frontline Manager:
Visualize the most significant obstacles in frontline managers' day to day experiences

Guide senior business leaders to remove specific obstacles from frontline managers' workflow

Engage business leaders in business conversation around improving customer loyalty, growth and productivity

Benchmark experience performance and measure improvement over time
Solution Details
Holistic, consistent EX framework and a regularly updated survey item library

Pre-built surveys with an advanced measurement logic (sampling, branching, triggering, scoping)

Pre-built dashboards with built-in analysis (benchmarking comparison, weighted index scores, driver analysis, sentiment analysis of free text comments)
Languages
English
Category Tags
Not a Qualtrics XM Customer?
Qualtrics Experience Management Platform™ is used by the world's most iconic brands to
optimize the four core experiences of business.