Belong
5K For The Fight Challenge 2022
May is 5 For The Fight month and we are excited to announce the events that are taking place around the globe. The 5K For The Fight Challenge is open to all – so take a look at our events below and join our 5K For The Fight Challenge! 
5 For The Fight has raised nearly $30 million, helped hire 30 research fellows, and made grants to 13 cancer research centers. But in May of each year, when people are running and riding and getting active all over the world, you really get a sense of just how global it is.
Join us to raise funds for cancer research by registering for the May 2022 5K For The Fight Challenge here. Everyone is welcome!
What is 5 For The Fight?
5 For The Fight is a cancer crowdfunding nonprofit founded by Qualtrics to increase the number of scientists working in cancer research. It started as a movement inviting everyone to give $5 for the fight against cancer and has grown to a non-profit that engages the community through payroll giving, events, and cause marketing campaigns.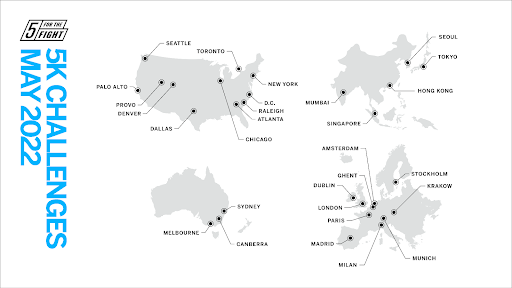 What is the 5K For The Fight Challenge?
May is the 5th month of the year and has been named 5 For The Fight month. This month, people around the world come together to raise funds for cancer research – each person completing a physical challenge. 
In 2022, this can mean running 5 kilometers together in one of our 29 global group run locations – from Seattle to Singapore and Melbourne to Munich – or it means hopping on a Peloton with Ally Love or running around a park with family in the middle of a city or along country roads. 
5K For The Fight Challenge is a choose-your-own-adventure-style event. In May, you can join the 5K For The Fight Challenge in the following ways. 
5K (5 kilometers, 3.1 miles)


May 19-21




The Virtual, Global 5K For The Fight




Running, hiking, wheelchair, walking

Peloton Ride


May 22,  Ride with Ally Love 




Peloton Ride




60-minute class

The Do 5 Challenge


Choose your own adventure event in May




Get creative with anything you can think of




5, 50, or 500 of them
Here are some of the stories behind those participating this year. Who is your 5 for?
---
Cindy Tan, Seattle Washington
Event: Walking a 5K from the Q Tower to the Sculpture Park
My 5 is For: My mom and myselfWhy I support 5 For The Fight: My mom and I were diagnosed with breast cancer at the start of the pandemic. Our doctors informed us if this was 20 years ago, it would have been a death sentence but because of cancer research and the advancements in technology, we both survived. Cancer research truly saves lives!
Fiona McUtchen, Melbourne, Victoria, Australia
Event: Walking/running 5KM with my Melbourne team!
My 5 is For:

My amazing sister Gretel

Why I support 5 For The Fight: The day I found out my younger sister was diagnosed with metastatic neuroendocrine cancer of the pancreas, it shook me to the core. The news crippled our family. She was only 31 – she was young, healthy, and full of life. She was a talented Vet in northern Queensland, a mum of a number of "fur babies," and due to get married to her long-term love later that year. But after her diagnosis, she was told she shouldn't really 'make plans' – that it could be a matter of months and that there was little that could be done. We got her into a progressive cancer treatment down here in Melbourne and, fast forward 6 years, she continues to have an outstanding response to treatment – stable and without tumor growth for a number of years. Six years ago, she was told she should let go of what she dreamed for her life - marriage, children, career, and ultimately a life beyond cancer. Instead of accepting that, she turned up for her intensive and invasive treatments every single time, scared and unsure, but courageous and hopeful. And guess what? She did get married and she did have a baby (a few months ago in fact) through a pandemic. My little nephew was born through a surrogacy with my sister Gretel and my sister-in-law, Ros – the most amazing gift of life. I thank god every day for the advancements in cancer research and I will never accept that "little can be done" after seeing what my sister has achieved. 

 
Jurriaan Persyn, Ghent, Flemish Region, Belgium

Event: I am co-organizing a cycle on bergs & cobbles in the Belgian & Flemish Ardennes: www.toonhoogte.be 

My 5 is For: Toon 

Why I support 5 For The Fight: Last December we suddenly lost our friend and colleague to a very aggressive colon cancer. With our event, Toonhoogte, we're keeping his pay-it-forward spirit alive with a fundraising weekend that revolves around two of his passions: cycling and music.
Aaron Lewis, Orem, Utah

Event: I am organizing a Pickleball Tournament at Qualtrics Provo co-headquarters 

My 5 is For: Kevin Pinegar

Why I support 5 For The Fight: I've had many people in my family suffer through cancer. Some have made it to the other side, but the majority have not been so fortunate. Most recently, my wife's dad won his battle with cancer and that gives me hope that causes like 5 For The Fight are having an impact! I will always support the battle against cancer and hope other people will join me in doing so! 
Noel Buck Liotta, Raleigh, North Carolina

Event: Peloton 5!
My 5 is For: My best friend and my dad
Why I support 5 For The Fight: I've watched my dad conquer cancer twice now - and I'm so proud of how he's handled all that life has thrown at him. When I was in college, my best friend wasn't so lucky to make it out the other side and his impact on my life (and the lives of so many of our friends) have been forever changed because of the imprint he left on us. I support 5 For The Fight so that we can have more stories of conquering cancer and fewer stories of loss. 
Laura Russell

, Oklahoma

Event: Peloton 5K in May!

My 5 is For: Adam Darrow & my mom 

Why I support 5 For The Fight: I raise money every year for cancer research so that no one that I love ever has to go up against cancer again. My mom was fortunate enough to become a cancer survivor, but many others, including my friend and colleague Adam, didn't face the same outcome. I'm ready to finally kick cancer's *** once and for all! 
Peter McGreevy, Dublin, Ireland
Event:

Toonhoogte

(Belgian Cycle)

My 5 is For: B MAC (aka my Mom) & ToonWhy I support 5 For The Fight: I support 5 For The Fight in honor of My Mom & Toon. I love how 5 For The Fight focuses on creating better outcomes for future generations and ambitiously sets out to make more cancer survivors. 

In my eyes, 5 For The Fight does more than just raise funds, it allows us to come together to be grateful for what we have and to support those who come next.
Jensen Leung, Hong Kong

Event: 5K I'll be joining my colleagues in Hong Kong to run the Bowen Road Fitness Trail
My 5 is For: My Uncle Mike
Why I support 5 For The Fight: To raise funds and awareness for cancer research. 
Matt Chong

, Washington, DC

Event: 5K in Washington DC

My 5 is For: My Grandparents

Why I support 5 for the Fight: In November 2021, I fought in my first amateur boxing fight to raise money and awareness for cancer. I was able to raise more than $6,000 for 5 For The Fight. My grandma passed away when I was eight years old due to pancreatic cancer. She was very special to me and I remember she did everything she could to help raise my brother and me. It was a confusing time but even harder seeing the effect on my mom who lost her mother at only 55 years old. It was one of those life-changing moments where you realize life can be short, even at a young age. My grandpa just recently passed from lung cancer. Unfortunately, this provided me the perspective of how devastating cancer can be to yourself and your family, both young and old. That is why this cause and something like 5 For The Fight is so important to me.
Juan Pablo Rodríguez

, Bogotá, D.C., Colombia.

Event: 5 tennis games in May 

My 5 is For: Colombian children without economic resources who were diagnosed with brain tumors. 

Why I support 5 For The Fight: Brain cancer is a catastrophic disease that is growing in recent years. I want to help facilitate the prognosis and treatment of the disease, providing more resources to pediatric oncologists and positively impacting children's survival.
Dario Nabavian,

Paris, France


My 5 is For:

Maman jan


Why I support 5 For The Fight: To beat cancer in honor of our loved ones. 
Seán Mancillas

, San Diego, California


Event: 5k run with colleagues in Palo Alto
My 5 is For: Aunt Aida
Why I support 5 For The Fight: The beauty of 5 For The Fight is its simplicity - providing a truly accessible way for every individual to meaningfully contribute towards cancer research.
Ryn Escarra-Cypher,

Chicago, IL


Event: 5 For the Fight 5K Chicago Office
My 5 is For: My Family (my mom, Betty, Nan, and Seth)
Why I support 5 For The Fight: In 2012, my mom was diagnosed with Pagets, a rare form of breast cancer. Early detection and targeted treatments—made possible by advancements in cancer research—coupled with her unrelenting strength and continuous support from family, friends, and the broader community saved her life. While I celebrate her and her story every day, it hasn't been the same for many loved ones I've lost to this disease. I support 5 For The Fight because I believe in the power of science and collective compassion to change the course and put an end to cancer.
---
5 For The Fight is an essential part of the Qualtrics culture, and getting involved in the 5k For the Fight is just one way that we come together in honor of the things we care for. If you're up for joining the fight, register for the May 2022 5K For The Fight Challenge here.
Related Articles