XM for Customer Frontlines

Digital

Root out friction in every digital experience, super-charge conversion rates, and optimize digital self-service

Care

Uncover insights from any interaction, deliver AI-powered agent coaching, and reduce cost to serve

Locations

Increase revenue and loyalty with real-time insights and recommendations delivered straight to teams on the ground

XM for People Teams

Engage

Know exactly how your people feel and empower managers to improve employee engagement, productivity, and retention

Lifecycle

Take action in the moments that matter most along the employee journey and drive bottom line growth

Analytics

Whatever they're are saying, wherever they're saying it, know exactly what's going on with your people

XM for Strategy & Research

Research

Get faster, richer insights with qual and quant tools that make powerful market research available to everyone

User Experience

Run concept tests, pricing studies, prototyping + more with fast, powerful studies designed by UX research experts

Brand

Track your brand performance 24/7 and act quickly to respond to opportunities and challenges in your market

XM Platform

Explore the platform powering Experience Management

Teams

For Digital

For Customer Care

For Human Resources

For Researchers

All Teams

Industries

Healthcare

Education

Financial Services

Government

All Industries

Customer Experience

Employee Experience

Employee Exit Interviews

Net Promoter Score

Voice of Customer

Customer Success Hub

Product Documentation

Training & Certification

Community

XM Institute

About Us

Careers

Partnerships

Marketplace

X4 Summit

The annual gathering of the experience leaders at the world's iconic brands building breakthrough business results, live in Salt Lake City.
Belong
Breaking Stereotypes, Embracing Diversity
May is a time to celebrate the rich and diverse cultures within the Asian American and Pacific Islander (AAPI) community! AAPI encompasses the wide breadth of East Asian, Southeast Asian, South Asian, and Pacific Islander cultures. This year's theme is all about Breaking Stereotypes and Embracing Diversity. In this blog our AAPI Heritage Month Committee Chairs, Tzong and Vicky, bring to focus the prejudices and issues that the AAPI community face.
"Put your head down and don't make waves. Let your work speak for itself." 
I was given this career advice from an older Korean American when I first started out as an engineer. Basically, he recommended that I play to the "model minority" stereotype.  The term "model minority" was coined by a white sociologist in the 1960s who noted the "success" of Japanese Americans and used it to justify continued racism against African Americans. 
The model minority myth is one of the most harmful stereotypes that the AAPI community has long faced. It is the false narrative that Asian-Americans are quiet (but submissive), hardworking, and successful in the US. Although seemingly positive, the myth imposes stereotypes on the community that cause real harm. And despite its positive overtones, this stereotype is also extremely damaging for Asian Americans too, for several reasons:
1) It implies Asian Americans do not have leadership traits. Impacts of the model minority myth can be felt in the workforce as Asian Americans can unintentionally get excluded from managerial, executive, and C-level roles. While Asian Americans are most likely to be hired as professionals, they are the least likely to advance to managerial and executive positions. The model minority stereotype implies that Asian Americans are hard-working but don't have the skills to manage people or make tough decisions. We must work to dismantle the so-called bamboo ceiling, and encourage engagement and representation in leadership roles for all communities.
---
Want to see how we're celebrating AAPI Heritage Month at Qualtrics? Sign up for our Talent Community!
---
Share of workforce by race or ethnicity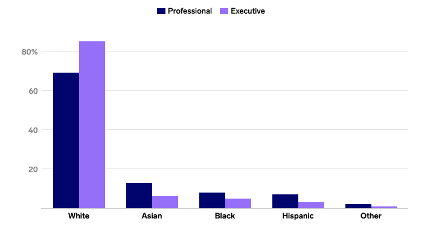 Note: Totals may not add up to 100% because of rounding.
Information source: Ascend Foundation, "Race, Gender & The Double Glass Ceiling: An Analysis of EEOC National Workforce Data"
Chart/Image source: Andy Kiersz/Business Insider: "Asian Americans still aren't reaching the C-suite — and it all comes down to promotions"

2) It portrays Asians as a monolithic group that excels academically and economically, when it can't be further from the truth. While some Asian ethnicities excel and far exceed the average American income, several ethnicities are far below the American average (especially those from refugee countries):
Disparities among different Asian American communities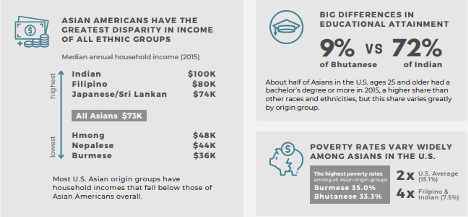 Information source: Pew Research Center analysis of 2013-2015 American Community Survey (IPUMS)
Image source: "Model Minority Myth & the Double-Edged Sword", Ascend: Pan-Asian Leaders
3) This myth not only erases the diversity within the AAPI community, and we're not seen as individuals. This harmful myth affects how others view Asians and also how Asians view themselves, creating a pressure to live up to a perceived expectation of success.It also perpetuates the idea that systemic racism and discrimination do not exist for Asians. We miss out on talent, on the Jeremy Lins, because we don't entertain the possibility that a competitive Asian American athlete can even exist.

"Put your head down and don't make waves." The previous generations' survival strategy is now outdated. You simply cannot stereotype a demographic that encompasses 60% of the world's population.

As we celebrate AAPI Heritage Month this year, we - both the AAPI community and our allies - need to break the stereotypes and embrace the full breadth of diversity in our communities.  This means uplifting the voices of those who have been historically marginalized, advocating for policies that address the root causes of discrimination and racism, and supporting AAPI-led organizations and businesses.
We've got a lot of exciting things planned for the month, and we can't wait to share them with you! We'll be sharing stories and resources to help educate and engage the Qualtrics community in these important conversations. Let's use this month as an opportunity to celebrate the richness of the AAPI community while also taking action to dismantle harmful stereotypes and work towards a more just and equitable society for all. 
Along with different events in each of our offices, here are some things we are doing to honor AAPI Heritage Month:
A panel with Fairygodboss featuring how AAPI women leaders at Qualtrics have navigated their careers.

A special keynote speaker focusing on embracing diversity.

Sharing stories from our Qualtrics AAPI community.

Encourage our employees to complete inclusive leadership and anti-racism training. 

Encourage participation with the many activities being planned by our Employee Resource Groups.
Recommended further reading on the Model Minority:
Related Articles