Belong
Latinx Heritage Month 2022
In 1968, President Lyndon B Johnson declared the week of September 15th National Hispanic Heritage Week. Today, we celebrate Latinx Heritage Month annually from September 15 to October 15. The reason for these dates is that they overlap with the independence anniversaries of 30% of Latin American countries.
Latin American country independence dates
Sept 15 - Costa Rica, El Salvador, Guatemala, Honduras, and Nicaragua

Sept 16 - Mexico

Sept 18 - Chile

Sept 21 - Belize

Puerto Rico - We inaccurately stated that Puerto Rico gained its independence on September 23rd. Puerto Rico has been a territory of the United States since 1898 and there continue to be debates around the island's status to this day. We encourage you to learn more about the debate here.
During this time we recognize the culture and contributions of Americans whose ancestry traces back to Latin American countries - including Mexico, Central and South America, and the Caribbean. Each country is unique and special in their own way. Colombia is known for its arepa and specialty coffee, Costa Rica is known for its lush rainforests, Bolivia is known for its salt flats and Andes mountains, and so much more. These countries are rich in history and have all contributed to what we see and celebrate as the Latinx community. Without each of these places - and their people - the experiences of people across the globe would be less rich. It's part of why we recognize this month as Latinx Heritage Month.

Qualtrics' theme for this year's Latinx Heritage Month is Triunfando Juntos, which translates to "Succeeding Together". This theme was chosen as a reminder that we are here to lift each other up and that we can succeed far more together than by ourselves. In an industry that was not created with our community in mind, this is an opportunity for us to come together and provide tools to empower ourselves in the workplace and combat mental health stigma. Our goal is to  remind ourselves that we do belong and our voices are valuable in the tech industry.
I've always found hearing other people's stories inspiring, but it hits me harder when it comes from others in the Latinx community. In fact, when I moved to Seattle last summer, I made a conscious effort to surround myself with people from my community that felt like family back in Chicago. 
I joined the Techqueria and Latinas in Tech online communities to meet other Latinx professionals in the tech space. I joined weekly cafecitos (virtual coffee chats) where we talked about what Netflix show we've been binging, mental health stigma, and the best Salvadorean pupusas in town. I helped coordinate a picnic for this community and their families to gather and connect with one another. Within months, I quickly realized that I had made a family away from home. And on my first day at Qualtrics, I celebrated by going to a Rodrigo y Gabriela (Mexican acoustic guitar duo) concert with my newfound Latinx family in Seattle.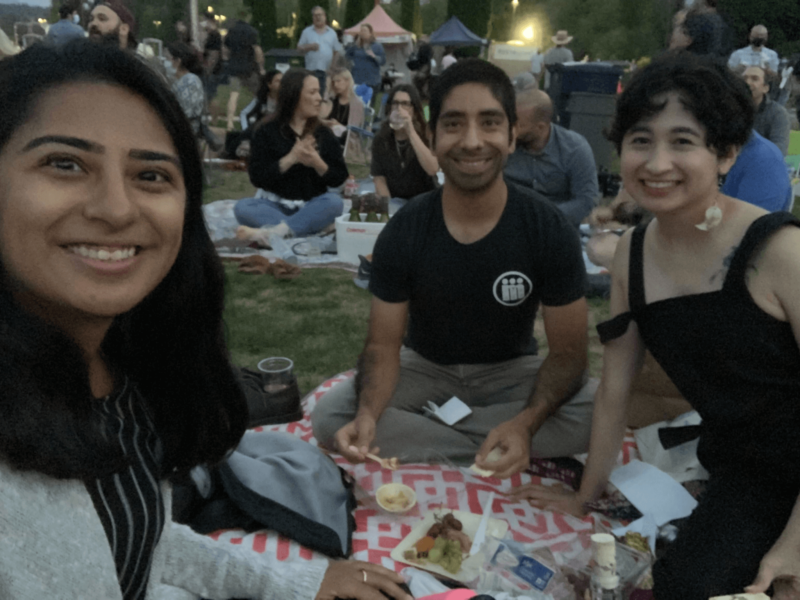 ---
The Qualtrics team is looking forward to spending the next several weeks enriching ourselves through the celebration of the Latinx cultures. The sharing of stories and experiences of our Latinx teammates gives each of us an opportunity to purposefully take part in building the inclusive culture we expect to have at Qualtrics. As major moments this month, our team is providing Qualtrics with: 
Advocating for Mental Wellness on September 23rd

A Keynote address from Elizabeth Camarillo Gutierrez on October 5th

Elevating the Employee Experience for Women in Tech on October 20th
Many thanks to the individuals on our Latinx Heritage Month committee for their time in planning this celebration. We additionally are looking forward to participating in the Latinas in Tech event on October 20th. As partners to the organization, we have an incredible opportunity to ensure that the Latinx community is able to thrive in tech. 
Please join us throughout the month to learn more about the Latinx community at Qualtrics - find new stories each week here.
Related Articles