Belong
3 years of Military Friendly® recognition for the Qualtrics team
For a third year, the Qualtrics team has been recognized by Military Friendly® on their annual list of employers dedicated to serving the military community. Military Friendly® assesses companies in 4 categories: Military Friendly Employers, Military Spouse Friendly Employers, Military Friendly Supplier Diversity Program, and Military Friendly Brand. Within their assessments, they are looking to acknowledge companies' efforts in creating sustainable and meaningful career paths, community outreach, brand enthusiasm, and enduring partnerships with the military community. 
The Qualtrics team is delighted to have been recognized in 3 of 4 categories: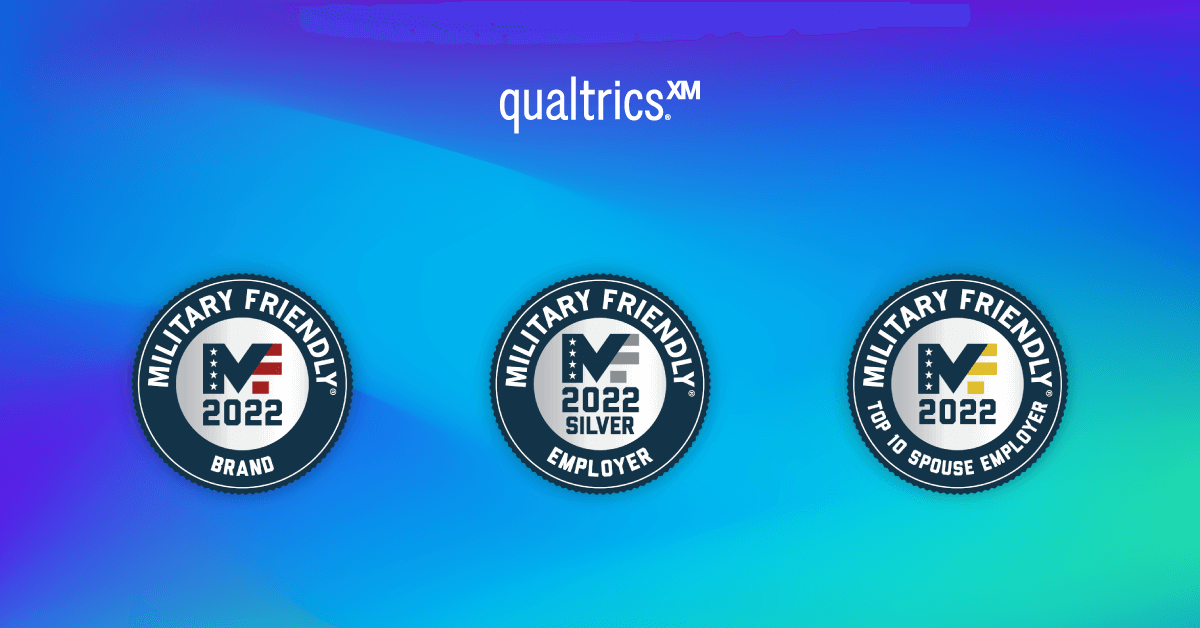 Recognition as a Military Friendly Brand, a Military Friendly Employer, and a Military Spouse Friendly Top 10 Employer means that Qualtrics has hit specific thresholds in how we recruit, develop, and continuously reattract veterans and military spouses to our business. 
Our executive sponsor for the veterans' group, Russ Laraway, shared his reaction to the receipt of the award: "It makes me so happy to be recognized as a Military Friendly Employer. It's no secret that transitioning out of the military can be a real challenge for veterans and their families. To know that we're doing our own small part to help ease that shift for veterans means we're not just paying lip service to ideas like 'Semper Fidelis,' but truly living up to such aspirations. I am so proud to be on this list, and I know we have so much more work to do."
We have seen our support of our veteran community improve year after year. One of the ways we have continuously sought to support our military community is through our military veteran group. The group has established a network of veterans and allies. They gather to not only provide support and camaraderie but also to ensure our military population has a voice in the employee experience at Qualtrics. The group has been there for one another through deployments, returns to work, and as family and friends of our veterans and allies have had their own military experiences. 
Beyond this, the Qualtrics team has developed a range of resources to improve the experiences of our veterans and service members. From building out support documentation to ensure managers are prepared to support their service members to our first hires through the Skillbridge Program in 2021, we've made strides to close the gaps for the members of our team that are on active duty. For our veterans and the rest of the Qualtrics team, we've implemented a wellness bonus program that is starting in 2022. This will allow our team to prioritize their wellbeing in a variety of ways - from gym memberships to mental health support. 
We consider this work to all be part of the kind of necessary and expected evolution that comes with bettering an employee experience. There will always be progress that needs to be made, but as we hold ourselves accountable to the feedback of the Qualtrics team we know each time we iterate on our programs that we will have done what our team needed, and that's what counts.
To learn more about our military veteran community, you can visit their profile and read stories from its members.
Qualtrics is growing, and if you're ready to find your "why" at a place like this, you can explore our open opportunities at any time by visiting our career page or by joining our talent community.
Related Articles