Grow
Seeking career challenges: Melissa, Sales Manager
I like to be challenged in my career. I want a career where I'm constantly learning and where there is no ceiling for growth and advancement – and I want that with a company that I want to grow with and be with for many years in my career. Qualtrics gives me that. Qualtrics challenges me, in the best way, every day. I'm always learning, always growing, I've had 5 promotions in my 6 years (moving from an AE to a Sales Manager) and there are many more paths upward for me. I also love winning and Qualtrics gives me the support, training, and resources to ensure that I am set up for success and to win – both as an individual and with my sales team!
Why is it still Qualtrics for you? How has Qualtrics lived up to your expectations? How has it been different?
I came to Qualtrics in 2014, because I wanted a challenge. My previous job had started to become mundane for me, I wasn't learning and growing anymore. I came to Qualtrics to learn SaaS and try something new. I started as an AE3 – and I struggled at first. I questioned my desire for a challenge. Qualtrics is hard. But if you put in the work, Qualtrics doesn't give up on you. My team rallied around me and gave me the support/resources/training that I needed to be successful. I found a new gear and a new confidence in my sales craft – and I started to succeed. At Qualtrics, when you hit your goals (that are clear and attainable) you can continue to promote – there is no ceiling.
I promoted 2x as an AE until I was asked to consider Management. I had always envisioned myself going the Enterprise Sales route, but I was intrigued about management at Qualtrics. I wasn't interested in management at my previous company, because I didn't see a future for myself at that company. But I believed in Qualtrics, I saw a future for myself at Qualtrics, and I was excited at the opportunity to help grow the sales organization. And I'm so glad I did. I love being a Sales Manager at Qualtrics. Since entering management I've been promoted 2x, which I share simply as a reminder of the fact that there is no ceiling for promotion and success at Qualtrics. Being a Sales Manager has given me even more new challenges and areas for growth that I'm incredibly grateful for.
Qualtrics has lived up to my expectations in every way. I continue to be challenged, I continue to grow, I continue to succeed, and I'm more excited every day at the prospect of what is next for me at Qualtrics.
Plus, it's fun! Great team activities, team trips, Q clubs (i.e. Bora Bora!), and sales contests, and more.
What is your favorite part of your role?
My favorite part of being a Sales Manager is being in a position to help others succeed, win, and grow – while doing the same for myself. I love still being able to be part of the sales process and assisting my AEs on deals. But I also love helping the AEs on my team succeed and hit their goals (quotas, promotions, etc.). I'm also in a position to have an impact on the larger organization by helping with internal sales operations and processes. It's extremely rewarding to be able to have an impact on the success of the AEs on my team, of Qualtrics, and of my own career.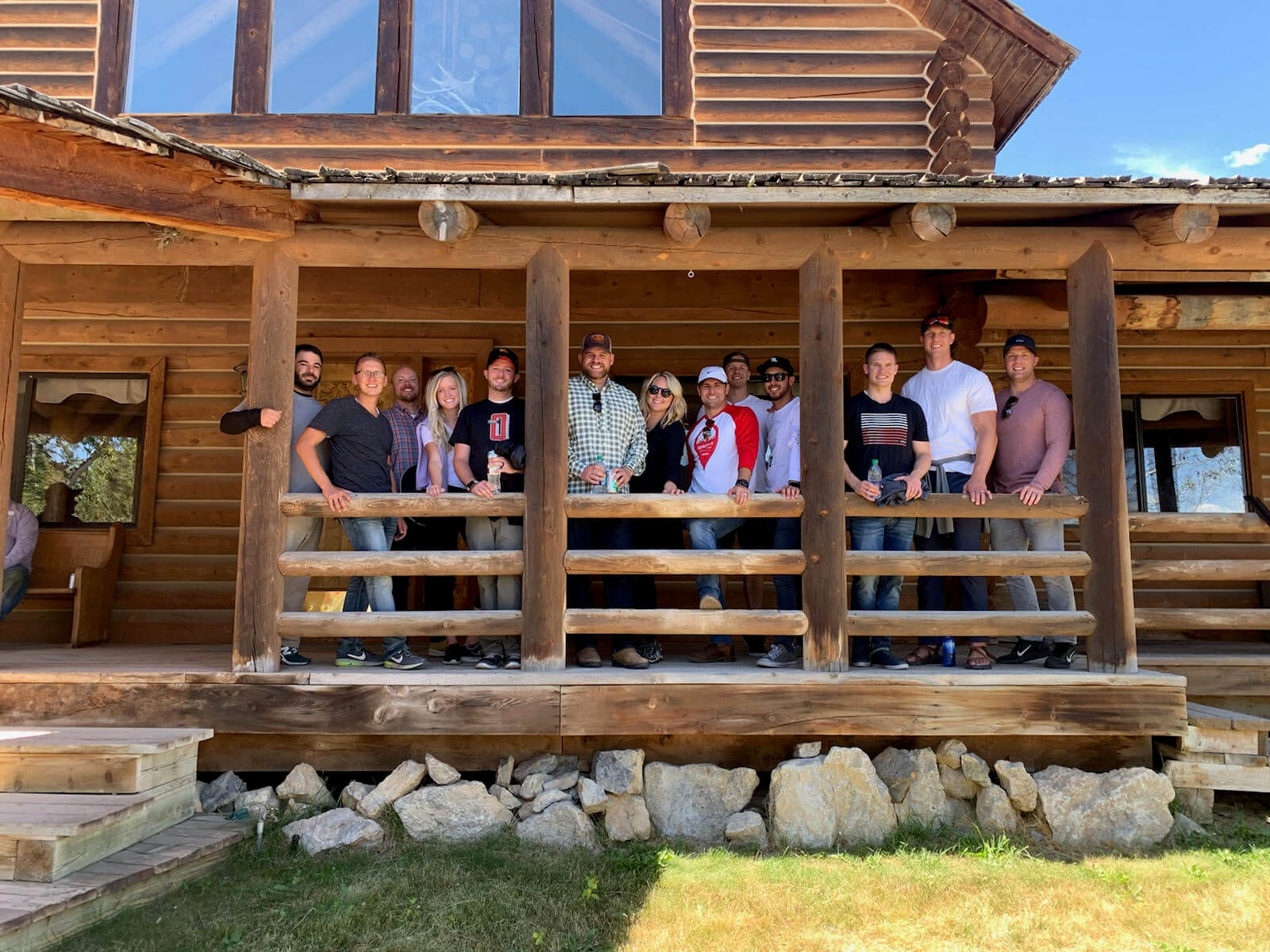 Any tips for someone who is considering a role at Qualtrics?
Sales at Qualtrics is hard. I tell all new hires this. If you want a challenge, and you are willing to work hard and stick it out, it's extremely rewarding. Qualtrics is an amazing company to have a career.
But, for almost every colleague I've talked to, or new hire I've spoken to, the first 6 months to a year is hard. For me, it was not grasping all the knowledge that I needed to have quick enough. There's a lot to learn, and I wasn't learning it as quickly as I wanted to/expected to. Most people told me – "it takes 2 years for most AEs to feel truly confident on all aspects of the Qualtrics sale." But I thought I'd be much quicker and kind of brushed it off.
At 6 months, I was panicked that I made the wrong choice in moving my family across the country for a job that I may not be cut out for. But, with the support from my manager and team – I took a new look at my own expectations in myself. I focused on what I could control - winning every day, in every small way. I built a great internal brand by doing this. Even when I wasn't hitting quota, people thought of me as successful, because I was winning at every other aspect of my job – stepping stones to consistently hitting quota.
I say all of this not to scare new hires/potential candidates, but to be honest. It may be hard at first, it may be hard to see the light at the end of the tunnel – but if you can take a step back, focus on the day to day expectations and winning at every single one of those, focus on learning a little more every day, and utilize the people and training resources we have...you will be successful. And it will be rewarding, and the most fun you've had in sales/in a job.
Qualtrics is fun, Qualtrics is rewarding, and the Qualtrics sales team is the best of the best. Bottom line. The skills you learn at Qualtrics will set you up to be whatever you want to be – whether at Qualtrics or somewhere else in the future. You will be/are working with the best, and it pays off.
We understand you moved to Utah to work with Qualtrics - what was that like?
In October 2014, I moved to Utah from SC (where my whole family also lived). I moved to Utah for Qualtrics, 1 year after getting married – and my husband and I had to live apart for 2 years while he was able to get his job in a position where he could work remotely. During those 2 years, my dad started working with Qualtrics (about 6 months after me) – so then my dad, mom, and 2 sisters moved to Utah too. I never knew that choosing Qualtrics, and choosing to move across the country, would end up being the best decision for me and my whole family (including my now 4-year-old daughter). None of us can imagine living anywhere else now, we love it!
How have you become involved in community at Qualtrics? What has that meant to you?
Early on I was part of the Women Leadership Development (WLD) discussion groups. These groups were not only a great way to meet new people (men and women) from all across the company but also to have really great conversations about how to continue to improve Qualtrics as a place for all individuals regardless of their gender, race, background, etc. These WLD discussion groups were the start of what is now QGroups.
I joined the Working Mom Mentor Program shortly after coming back from maternity leave, and together we helped reshape the maternity leave policies, and working parent resources (i.e. the new Qualtrics daycare), but we also would pair new moms, or expecting moms, with another working mom at Qualtrics in order to help them through the process!
I was also part of the group of women who started SWLD or Sales Women Leadership Development. This program paired women and men together as mentors and mentees, to ensure that more women had mentors at Qualtrics to help with career advancement, etc. It was actually through my mentor pairing that my mentor helped convince me that I should take a serious look at going into management. It changed my life, and I learned so much. I was also a mentor, and the relationship with my mentee is so much fun and so rewarding.
It's been really great to see these resources and mission-driven groups grow into what they are – and to see the impact that they have had on so many people and on the company as a whole.
Qualtrics is growing, and if you're ready to find your "why" at a place like this, you can explore our open opportunities at any time by visiting our career page or by joining our talent community.
| | |
| --- | --- |
| | Melissa Nock is an alumnus of the University of South Carolina and started her career at Gannett//The Greenville News. |
See more of the Qualtrics Life on Facebook, Instagram, and Twitter.
Related Articles