Customer Experience
4 must-read books in customer experience
Harry Truman famously said, "Not all readers are leaders, but all leaders are readers." If that's the case, we could all probably do more reading.
As the customer experience (CX) profession has matured over the last decade, more and more experts have come to the fore to offer their opinions, advice, and anecdotes to serve as a guide for others. These authors have been in the industry for years, and base their advice off research, case studies, and their experience working with the biggest brands in the world.
While it may seem daunting to know where to start, we've trawled through hundreds of books to find the best ones you should read right now. Whether you're looking for CX inspiration or practical tools you can implement today, we've got you covered.
Oh, and if you're too busy to read (like many of us!), each one is available on Audiobook through Amazon, so you can listen on your way to work, or during your lunch break.
So let's get crackin' and look at our list of the 4 best reads to help you stay at the top of your game:
1) "The Effortless Experience: Conquering the New Battleground for Customer Loyalty"
by Matthew Dixon, Nick Toman and Rick DeLisi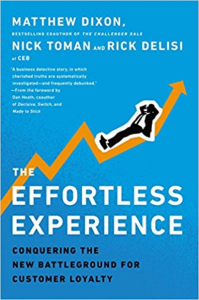 It is often said that the customer is always right. Turns out the customer doesn't want to be right as much as they want smooth service. Dixon and his colleagues at CEB challenge customer service norms and claim that loyalty is creating by proving consistent service, day-in, and day-out. In addition, they provide tools and templates to decrease churn, improve service, and reduce costs, so you can start implementing these principles into your business right away.
Purchase on Amazon here.
2) "Would You Do That to Your Mother?: The 'Make Mom Proud' Standard for How to Treat Your Customers"
by Jeanne Bliss

With 32 case studies and examples from more than 85 companies this book shows why "Make Mom Proud" companies outperform their competition, and how to make this possible. A new book from Bliss, it provides a five-step guide to customer experience and culture transformation.  Using comics and a "make-mom-proud-ometer" quiz this book is as accessible as it is informative.
Purchase on Amazon here.
3) "Hug Your Haters: How to Embrace Complaints and Keep Your Customers"
by Jay Baer
Jay Baer is a CX and content marketing expert, who made the revolutionary statement, "Haters are not your problem. . . . Ignoring them is." This book teaches you about the two types of complainers, offstage haters and onstage haters, and how to deal with each group and turn bad news into good outcomes. Every solution is based on case studies from businesses of all sizes, and comes with a complete playbook of how to respond to customers. Plus, Baer's hilarious writing style and stories will keep you entertained and informed.
Purchase on Amazon here.
4) "The Wallet Allocation Rule"
by Timothy Keiningham, Lerzan Aksoy and Luke Williams
Co-authored by none other than Qualtrics' Principal, CX Strategy and Thought Leadership, Luke Williams, this book quickly became a New York Times Bestseller thanks to its revolutionary approach for linking brand perception and share of wallet. It addresses the fact that traditional metrics like NPS and CSAT have been hard to correlate with share of wallet and sets out a new approach that allows organizations to calculate the precise impact of brand positioning on the metric that matters most – how much consumers spend with your brand.
Purchase on Amazon here.
You can see Luke Williams speak at some of our events as well as view his webinars on demand – see all our upcoming events.
Want even more inspiration to add to your customer experience reads?
Qualtrics compiled a reading list based on recommendations from CX leaders like the authors above, you can download that here.
10 books every CX leader should read in 2020
This post was originally published August 9, 2018, and updated May 29, 2019. 
Related Articles