Customer Experience
User feedback: How and why to ask your users for reviews
The dreaded f-word – feedback. Why does it carry such a negative connotation?
When it comes to your product or service, it's seen as a make or break moment. But the truth is, even if the feedback is negative, it can still be a win. There is something to be gained from each review, whether it be niche consumer insight or product-changing action items.
On the flip side, potential buyers love to read customer reviews before buying. A recent G2 study found 92% of B2B buyers are more likely to purchase after reading a trusted review.
There are many internal and external benefits to collecting user feedback. Let's take a look at what user feedback can look like and how we can use it to improve our customer experience.
What is user feedback?
User feedback is information collected from your customers on a specific product or service they use. This insight can speak to overall satisfaction with the product, a specific update or problem, future features and tools, your customer service team, etc.
Consistency is the key to getting the most actionable customer reviews. Creating an environment for your customers to share opinions freely builds a solid foundation for a better system.
Your customers are sitting on a wealth of knowledge that can help propel your product and team forward. For example, a creative new use case could build an entirely new user persona for you to market to. Not encouraging those reviews may mean that those great new ideas are never heard.
Positive feedback is the goal of any company; you want your users to love you and your product. You can use positive customer reviews to motivate your team and in some cases, even use them in your marketing materials. Positive user feedback is essential to your vision and should convey you're on the right path forward.
Negative feedback is a little bit harder to swallow, but in many instances even more important than glowing reviews. This is where the work comes in – what you do with negative feedback is key to growth. Use negative feedback to look into the problem and pinpoint a solution. Chances are there are other customers facing similar issues as the one that the negative feedback is reporting. This could be a product issue or even a break down in your customer success process.
Positive feedback is good reinforcement, but negative feedback is a necessary evil for your success. Without it, how are you going to get a real pulse on what your customers need?
Why is user feedback important?
User feedback encourages a better overall customer experience as it opens the lines of communication between your brand and your customers. It shows your users that you truly value their insight.
Keep in mind that customer experience is the total perception of your brand – not just the product or service you offer. It's a collection of every interaction a user has with your business, from initial research to customer support. Think about how in an ideal world the sales process runs parallel to the customer journey. User feedback can be helpful throughout this journey to make sure you are offering the best possible experience.
1. Honest feedback builds better products (and teams)
Your user feedback could contain insight that may very well lead to your next big product update. How will you know what your customers want if you don't ask them? Sometimes you can get valuable feedback early on when you're building out the product. But, more often than not, you will get that insight on how to evolve the product and where to take it next.
Building a superior product is one thing, but constructive feedback can also help you build better teams. Your best employees will want the product to work for your customers – or find new ways to make it work even better. Real innovation and problem-solving are spurred by concrete customer relationships.
2. Asking for feedback shows your customers you value them
People want to be heard and feel like they're doing something impactful. It's only natural to want to complain after having a bad experience. If there's no way for the customer to share their experiences they may resolve to a potentially damaging social media post.
Gathering user feedback also creates satisfaction and trust among customers, because seeing an improvement in your product after a complaint will establish more trust in your company.
There's nothing better than feeling like your message is received. Creating this two-way channel helps companies determine what they're doing right, and what might need some fine-tuning.
Simply asking for customer reviews shows your users that you're genuinely interested in what they have to say. You will begin to see patterns in their responses and start to prioritize the learnings from there.
The way you and your team use the feedback you receive, whether that's through email, testimonials, video calls, NPS, or more, is critical to your customer experience. It's a delicate balance of what will work for your customers and for you. Stick to your brand and know which feedback is actually feasible and make a plan of attack. If a specific part of the feedback feels confusing, don't be afraid to ask more questions. Your customers like to know that you care.
3. Customer reviews create more touchpoints
User feedback opens up a conversation between you and your customers. It's a window into their processes and use cases. Allow your team to expand that conversation and forge strong relationships with your customers.
"Customers will feel valued when you ask for user feedback and at the end of the day, that's what matters most," says G2's Jamie Yates. "Reviews give you the opportunity to hear directly from your champions as well as your critics."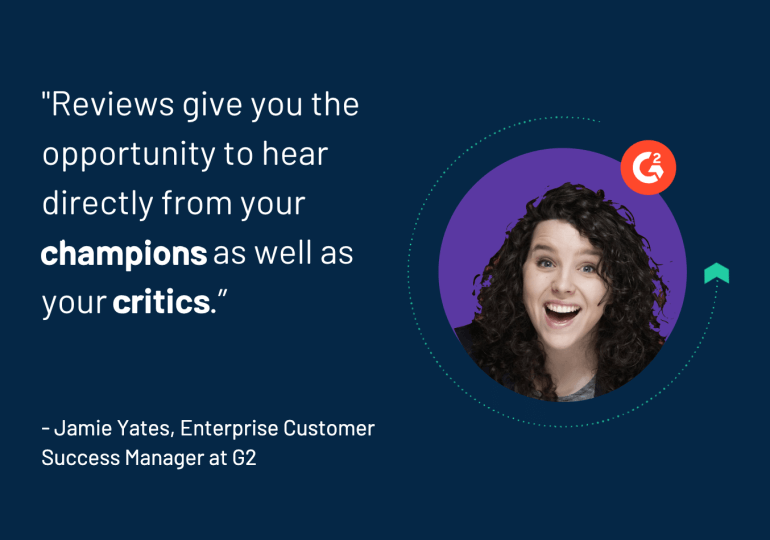 Your company will be seen as truly customer-first and stand out in the marketplace because of it, and reputation goes a long way in these increasingly crowded spaces. From sales to marketing and research to product, your customers have the ability to help each and every department.
4. User feedback improves customer retention
When you show your customers you want to actively work with them, it keeps them coming back for more. With every update and new feature, customers will be more willing to jump on a call with you because you've created a rapport from past conversations and interactions.
At the end of the day, we're humans selling to humans. The best customers will challenge you to be better and hold you accountable. A strong track record says a lot about your brand and can lead to increased customer retention.
5. Peer-to-peer feedback is reputable and trustworthy
Let's face it: consumers don't trust marketing and sales teams. Let the user feedback speak for itself. Authentic customer reviews can help other buyers make purchasing decisions. Potential customers are using review and research sites to compare solutions and find the best fit.
Customers look for similar use cases and pain points in other user feedback in order to decide which product to move ahead with. On top of that, customer reviews can speak to the company's culture and its people. It all rolls into the complete customer experience.
Asking for help is a sign of strength
Your customers are your best friends when it comes to feedback no matter if you're a SaaS business, e-commerce, or a local restaurant. Coupled with internal feedback and product innovation, customer reviews can unearth nuggets of information that make your next big thing a whole lot bigger.
User feedback comes in all shapes and sizes, but all user feedback matters. Learn more about when you should be collecting customer feedback.
How to collect user feedback
There are many ways to collect user feedback. You can collect it on a website with small widgets, your chatbots can collect user feedback, or you can send out an email asking for user feedback. Overall, 84% of communications with customers is visual, so your website design is important to gather feedback.
Using enterprise feedback management software for larger organizations and survey software for SMBs is always a good idea because it allows you to solicit and manage the feedback and data in one place. This allows for easy accessibility for people across the team so that everyone can integrate the user feedback into their specific department.
What to do with the feedback
User feedback should ultimately improve the customer experience. Leveraging your feedback in social media posts and social proof can be effective — and increase customer loyalty. There are some companies that created social media with just their customers in mind.
Related Articles