XM for Customer Frontlines

Digital

Root out friction in every digital experience, super-charge conversion rates, and optimize digital self-service

Care

Uncover insights from any interaction, deliver AI-powered agent coaching, and reduce cost to serve

Locations

Increase revenue and loyalty with real-time insights and recommendations delivered straight to teams on the ground

XM for People Teams

Engage

Know exactly how your people feel and empower managers to improve employee engagement, productivity, and retention

Lifecycle

Take action in the moments that matter most along the employee journey and drive bottom line growth

Analytics

Whatever they're are saying, wherever they're saying it, know exactly what's going on with your people

XM for Strategy & Research

Research

Get faster, richer insights with qual and quant tools that make powerful market research available to everyone

User Experience

Run concept tests, pricing studies, prototyping + more with fast, powerful studies designed by UX research experts

Brand

Track your brand performance 24/7 and act quickly to respond to opportunities and challenges in your market

XM Platform

Explore the platform powering Experience Management

Teams

For Digital

For Customer Care

For Human Resources

For Researchers

All Teams

Industries

Healthcare

Education

Financial Services

Government

All Industries

Customer Experience

Employee Experience

Employee Exit Interviews

Net Promoter Score

Voice of Customer

Customer Success Hub

Product Documentation

Training & Certification

Community

XM Institute

About Us

Careers

Partnerships

Marketplace

X4 Summit

The annual gathering of the experience leaders at the world's iconic brands building breakthrough business results, live in Salt Lake City.
Customer Experience
Collect feedback and connect with customers through mobile app surveys
Diana Kaemingk
// November 6, 2020 // 15min read
Many companies with a mobile app are missing out on valuable customer feedback. Find out how you can take advantage and connect with customers using a mobile app survey.
As the customer journey becomes more and more digitized, your mobile app should be a vital channel that supports your business goals. This way you can easily reach your customers and gather valuable insights about their experience. As a result, improve conversion, increase spend and foster greater loyalty.
In turn, you get direct financial benefit to your bottom line - In 2020 alone, mobile apps are expected to generate $189 billion in revenue.
But staying on top is harder than it sounds:
25% of the mobile apps downloaded worldwide in 2019 were used only once.
If your app is downloaded, it joins on average 80 apps on a user's phone, and is in competition with the 9 apps used on a daily basis.
And the mobile app market is expanding - 258.2 billion apps will be downloaded in 2022.
The next challenge is to make the app work for you, by understanding the minds of your customers - and one way to do that is by asking for feedback.
What are mobile app surveys?
A mobile app survey is a tool to collect feedback through a set of questions, which help you understand what your users opinions of your app, your service or your brand.
You can use a mobile app survey to evaluate features or the customer's user journey. It gives you information on what works and what doesn't, leading you to new updates or versions - and ultimately a better experience.
For a company, a mobile app survey gives you the peace of mind of knowing how your channel is coming across to the customer. This gives you in-depth research to make your decision-making easier.
Why get survey feedback through your mobile app?
While you can use an email or online survey to investigate the app's performance, it would be beneficial to use the app itself to conduct the research. That way you're meeting the user where they are.
1) It's easier to connect with your customers on mobile
Whilst mobile internet usage is rising, desktop internet usage continues to fall. Since many of your customers are using mobiles as their preferred method for accessing the internet, use your mobile app to channel the requests for feedback. This way, you'll meet your customers where they spend their time meaning response rates will be higher.
2) You get real-time feedback and can measure the app's performance
90% of the total user's mobile time is spent on apps. In fact, Americans check their phones every 12 minutes. This means that you won't need to wait long to see real-time results rolling in from your mobile app surveys.
Keep your customers on your app by making sure that customer feedback is taken on board. If customers see that their action within your mobile app has improved their customer experience, this will help create experiences that keep customers engaged. With more user data to draw from the app activity, you can also use information to monitor app key performance indicators (KPIs) to see if it's performing well.
3) App personalization
Your customers are the only ones who can tell you which features they want in the app, and how you can improve the experience. By asking for feedback, you can add or change features based on what users really want, instead of making educated guesses.Customizing the app for the individual user will make them feel valued as well, and a better experience means they'll spend more time on app.
Additionally, you can use what you know about the customer from their past activity or complete profile information to personalize your survey request. Personalizing messages boost purchases, app opens and other conversions by 27.5 percent.
4) Let your customers know that you are listening to build up trust and customer loyalty
If customers feel like you're taking their feedback seriously, it builds a stronger relationship of trust. As a result, customers feel more confident giving you feedback, knowing that it will make a tangible impact. It can also go a long way toward helping customers feel more connected to the app's brand.
How can you capture and capitalize on customer insights? Learn more and Download our eBook
Organizations that have mastered customer experience grow 4-8% faster than the market.
What types of insights can you gather?
There are two main benefits from creating a mobile app survey:
1. You can gather feedback about the app experience
If you're not gathering feedback through the app, you could be missing out on these customer vital insights on its performance. Monitor and improve the app by asking these questions:
Does the app do what you want it to?
If a customer has a certain expectation, but it's not being fulfilled by the current version of the app, it's important to know about this before it's too late. That way, you can take steps to ensure amendments are made in the next app version.
Does your app do what it says it will?
Asking for feedback on the app itself seems like an obvious question to ask, but many companies don't. If you do, you can possibly prevent customer churn by making sure the app is meeting customer expectations. If it isn't, use the feedback gained to continuously improve your offering and stay competitive.
How can we improve the app?
This question looks for feedback on areas that need fixing. As mobile apps are released, bugs often exist (even if the most seasoned UI/UX team reviews the app).
Your customers may be the first to find those bugs, so giving customers a way to feedback this information means you get to fix issues sooner. Ask users to attach screenshots too, so you know exactly where the user is experiencing the issue.
(It's important to only send this question to customers who achieve a certain milestone in the app, like completing 10 sessions in a row. This avoids asking customers who are new to the app, who may not have had a lot of time to explore the app fully.)
Do you like our app?
You can ask for feedback through completing a product or service app review. While consumers are using the app, you can ask them if they recommend your app. If they say "yes," you can follow-up and ask for a review in the app store. If they rate your app highly, this will increase app downloads and draw attention to your brand and wider services.
2. You can gather feedback through the app to understand the wider customer experience
Use your mobile app along with your other platform channels to understand how your customer is reacting to your brand, and the total customer experience. Take stock of your customers' experience levels by asking these questions:
Would you recommend [insert brand/product/service] to a friend?
Using the popular Net Promoter Score (NPS) question "how likely is it you would recommend our product/service to a friend or colleague?" can determine how much customer loyalty you have.
You can ask this NPS question as a pop-up survey within the app, after a customer has used the product. This immediate automated process can encourage a higher response rate, as customer's experiences are freshest in their minds right after using the app.
BONUS: Download our free Net Promoter Score Survey Template
How satisfied were you with [insert brand/product/service]?
Businesses want to know that their customers are satisfied with what they're producing, and it doesn't hurt to check-in across all your available channels. It might be that customers are happier to feedback using the mobile app over other platforms. Knowing how they like the business will feed into other product development, business planning and decision-making.
You can also focus on some parts of your product or service, especially if that's a main selling point, or if it is what the customer would primarily experience. For example, customers can rate Deliveroo drivers by answering questions via the online mobile experience – such as 'How was your delivery?', 'Did we turn up on time?' or 'How would you rate our service today?'
What was your experience of the event's [insert event feature]?
Where your app and other marketing channels are used to support a wider company event or a similar occasion, you can use the mobile channel to gain feedback on how it went overall. For example, a football game may have some feedback questions on the entire event experience, like:
How easy was it to enter the stadium?
How satisfied were you with the selection of food and drink?
What would you improve about today's event?
You may also want to know how much the mobile app experience added to the overall event enjoyment. If your customers enjoyed using the mobile app over other channels, this could be bolstered and nurtured to support future events as part of your marketing strategy.
How are you finding your new phone?
Learn more about your customer's overall experience with this question, to see if the mobile app environment is optimal and performing well.
This feedback could help you understand how their device is used, and what impact the phone performance has on the utilization of your mobile app channel. This could help you plan the integration of your mobile app and how it fits within a target audience's overall mobile user experience.
3 ways to collect feedback within the mobile app experience
1. Feedback survey links in app settings
Feedback surveys can be placed in the settings or menu of the app. This can be especially helpful for user research about app concepts and new features.
Example: How the Utah Jazz use app feedback
Instead of asking for general feedback, the Utah Jazz asked a specific question about the customer's seat. By doing this, they generated enough responses to answer their question without burdening their customers with a lengthy survey during the game.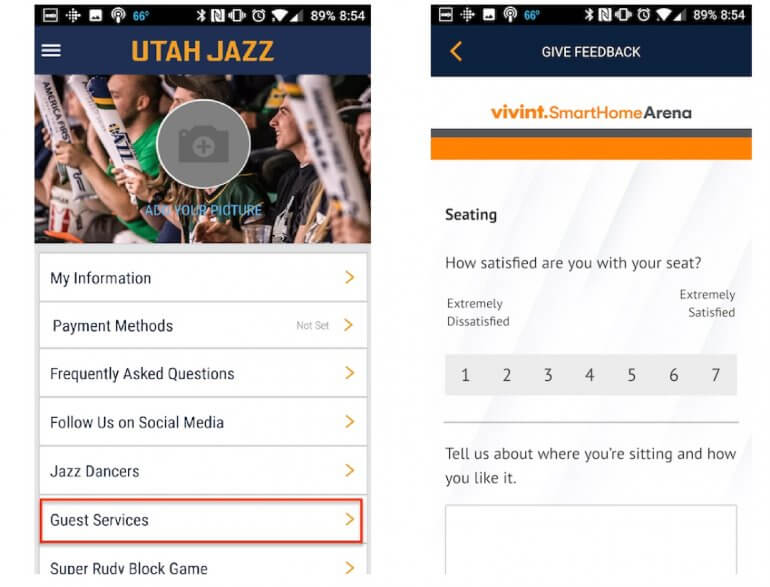 You also can get creative with where you place the link such as slide outs, pop ups, and menu links to surveys. Additionally, you can email a survey or prompt people in-app and rank order what features they find most important and what they can live without.
2. Post-purchase feedback
Gathering feedback from an individual customer at the time a product or service is delivered, or shortly afterward, is helpful to increase the lifetime value of your customer and generate more product reviews. The conversation shouldn't stop because they've made a purchase.
Ensuring that they're satisfied with their purchase leads to higher customer loyalty. In the app, you can send an in-app notification asking if they're satisfied. It's important to make sure a customer service representative follows up with the customer if they're unsatisfied and closes the loop.
Timing is also crucial, as you don't want to detract customers from making a purchase or important transaction. To avoid asking at the wrong time, you can ask users to rate you in the settings or menu button like Zomato does.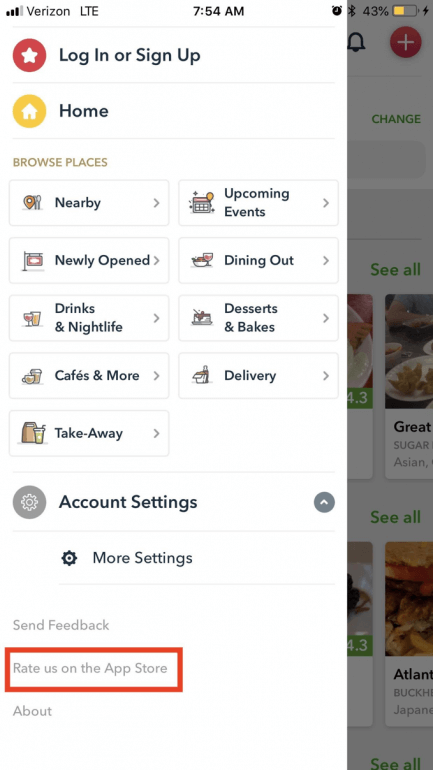 3. Customer support chat in-app
In-app chat is easy for people to give feedback or get their question answered because they can do it from anywhere. It's also quicker and easier than picking up the phone or sending an email and waiting for a response.
Example: How Zillow uses in-app chat
Zillow does a great job of in-app chat and allows their users to provide feedback in the app. After the chat, close with a CSAT survey and ask customers how satisfied they are with their experience.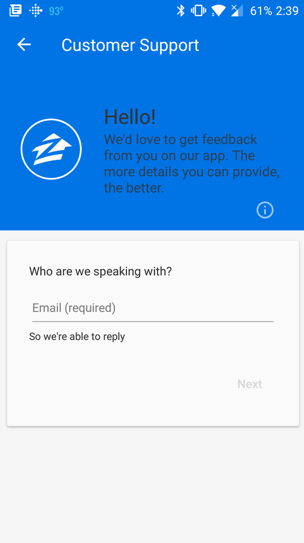 Take action on the insights you learn
It's not enough to collect the feedback from your app channel. You need to take action to get the results you want to see: greater customer loyalty, increased usage, better download rates from great customer reviews, etc.
Here are some ideas on what you can do with what you learn:
After you have completed the data collection, analyze the survey results and start gathering customer insights.
Vary your marketing surrounding the surveys to see whether different call-to-actions or surrounding text makes a bigger impact on open and completion rates.
Compare your insights from the app channel against other marketing channels to see how your customers use your channels, and how you can optimize each channel to engage with the customer better.
Use other survey methods and channels to supplement the in-app mobile surveys to get a rounded view and see if the results match across different survey methodologies.
What can you do to enable mobile app surveys?
Have you ever wanted to include a pop-up asking for feedback in your app, but weren't sure how?
For today's constantly connected consumer, an engaged and meaningful experience is not only coveted, it is expected.
Qualtrics now has a mobile software development kit (SDK) which lets customers collect feedback directly in their apps without having users leave to use the mobile browser.
You can:
Quickly and easily build branded customer feedback experiences that originate directly from the brand's own mobile app.
Design the feedback's experience, and update the look and feel.
Take dynamic control of numerous targeting triggers.
Download the Digital Experience Playbook