XM for Customer Frontlines

Digital

Root out friction in every digital experience, super-charge conversion rates, and optimize digital self-service

Care

Uncover insights from any interaction, deliver AI-powered agent coaching, and reduce cost to serve

Locations

Increase revenue and loyalty with real-time insights and recommendations delivered straight to teams on the ground

XM for People Teams

Engage

Know exactly how your people feel and empower managers to improve employee engagement, productivity, and retention

Lifecycle

Take action in the moments that matter most along the employee journey and drive bottom line growth

Analytics

Whatever they're are saying, wherever they're saying it, know exactly what's going on with your people

XM for Strategy & Research

Research

Get faster, richer insights with qual and quant tools that make powerful market research available to everyone

User Experience

Run concept tests, pricing studies, prototyping + more with fast, powerful studies designed by UX research experts

Brand

Track your brand performance 24/7 and act quickly to respond to opportunities and challenges in your market

XM Platform

Explore the platform powering Experience Management

Teams

For Digital

For Customer Care

For Human Resources

For Researchers

All Teams

Industries

Healthcare

Education

Financial Services

Government

All Industries

Customer Experience

Employee Experience

Employee Exit Interviews

Net Promoter Score

Voice of Customer

Customer Success Hub

Product Documentation

Training & Certification

Community

XM Institute

About Us

Careers

Partnerships

Marketplace

X4 Summit

The annual gathering of the experience leaders at the world's iconic brands building breakthrough business results, live in Salt Lake City.
Market Research
17 Market research tools you should be using
From trawling the mighty US Census, to calculating percent change in an instant, there's a whole lot of research tools out there to help you do your job as a market researcher.
When you're conducting market research, the obvious tool you need is a world-class research platform. But let's look at some other tools to help you create the best possible experience for your customers and employees.
Here are 17 of the best.
(Free)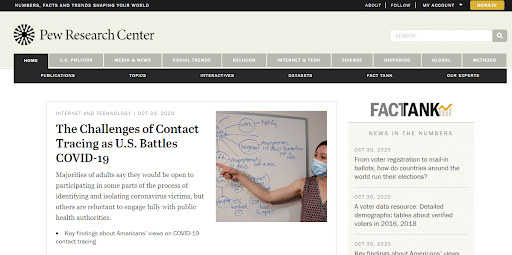 Insightful, rigorous and transparent data. This is what you can expect from The Pew Research Center, a non-profit organization that conducts research and analysis across a diverse range of areas. These include:
US politics and policy
Public opinion polling
Social and demographic trends
News and media
Science
Religion
Technology and the internet
Hispanic interest
Global interest
More specific topics of interest and research include:
Social media
Online privacy
Broadband access
IoT (the internet of things)
(Free Trial)
The quickest and easiest way to perform market research has to be GrowthBar. The tool allows you to do market research on the fly -- instantly unlocking critical data points about your competitors or any website and the growth channels and keywords that are working for them. This data will help you identify what others in your space are doing as well as identify which marketing channels may work to grow your own business.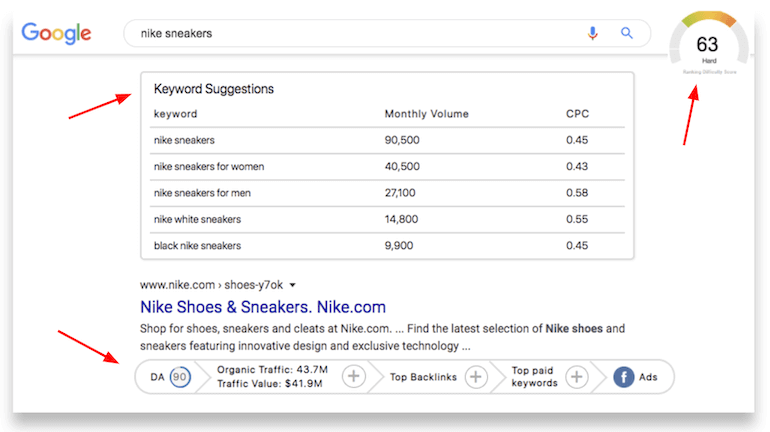 See the following data for any website:
Domain Authority
Organic Traffic
Top Organic Keywords
Top Paid Keywords
Top Backlinks
Suggested Keywords
Keyword Search Volume
Take actionable next steps to compete with the market by creating content that ranks fast, utilizing their powerful Open AI technology. Enter any keyword and instantly get a content outline that tells you exactly what to write to optimize for SEO. You can also pair this tool up with Sitechecker Link Extractor that helps you extract all the links from your target website to see who they're linking to.
(Free)
Described as the Pew Research Center's sister site, and created by The Pew Charitable Trusts, Living Facts has the simple strapline, 'about Americans today—who we are and how we live. Our goal is to inform and inspire. That's it.'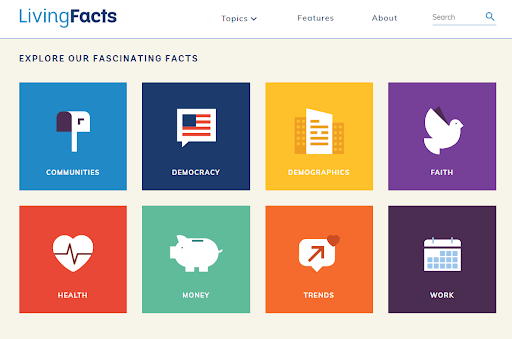 With clean, colorful design and infographics, and chock-full of statistics, educational quizzes and fascinating facts, Living Facts covers:
Communities
Democracy
Demographics
Faith
Health
Money
Trends
Work
(Free)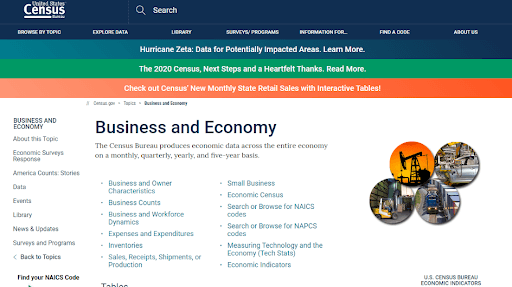 There's nothing to top the data to be found in the US Census when it comes to free market research.
Start with Data Gems, videos that explain how to access census data to inform your business decisions.
Then dive into the data, with useful tools that cover:
(Free)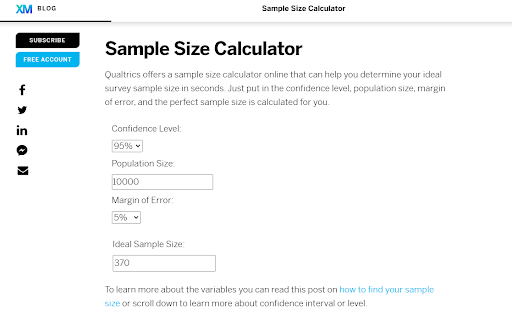 You need to create surveys for a number of people so that they are representative of your target audience, but you don't know how many. What do you do? Use our sample size calculator.
Put in:
confidence level
population size
margin of error
and it'll calculate the sample size you'll need within seconds.
(Free)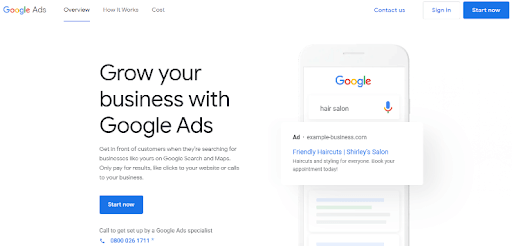 Where eyes are the window to the soul, Google Keywords are the window to the web. Google's keyword tool is very popular as it accesses the best data – Google's.
To start you will need to create a free AdWords account to access all the results.
This Google tool shows you:
the volume of keyword searches
how competitive those keywords are
how keywords are related to each other
You'll also be able to
limit your keyword searches to a language or geographical area
limit searches to only those on mobile devices
filter results by your chosen criteria
(Contact us for a demo and quote)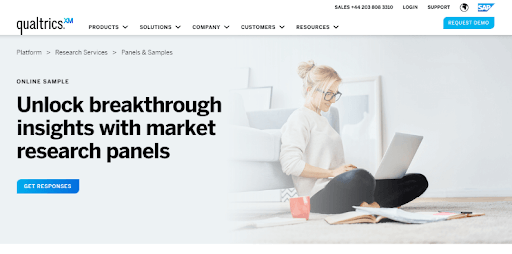 It's hard work finding the right respondents for your surveys, and a survey that no one takes is pretty useless. When you deploy our panel team, you'll get access to hundreds of thousands of opt-in survey respondents, both B2B and B2C, who are already vetted and qualified. When our team handles your research project, you'll be able to:
choose any target audience and access a representative sample
boost the accuracy of your tracking studies sampling that's 47% more consistent than standard sampling methods
get support for your best-in-class study at every stage, from survey launch to results reporting
(Free)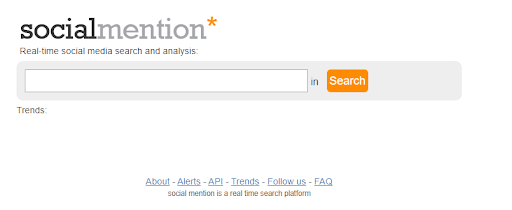 Would you like to know what everyone's saying about your brand? Social Mention scours more than 100 social media sites such as Facebook, Twitter, Google, blogs, videos and images for mentions of your brand, competitors, or any keywords you wish to input. Then, it gives them to you in a single information feed.
You'll get four key metrics:
Strength: How much your keywords crop up on social media.
Sentiment: Positive vs. negative mentions
Passion: How many people are repeatedly talking about your keywords.
Reach: Range of influence, i.e, how many individual users are mentioning your keywords.
(Free)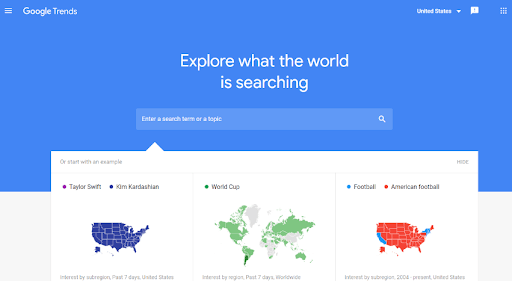 While Google Trends has some crossover with Social Mention, it has the added feature of factoring in data from the Google search engine in addition to social platforms.
Google Trends:
Shows how frequently your search term is entered into Google compared with the site's total search volume over a specific period of time.
Provides keyword-related and geographic data about Google's users.
Can be used for comparative keyword research and to uncover keyword spikes triggered by events.
Gives you a more comprehensive perspective on the news, opinions, posts and perceptions affecting your brand.
(Free)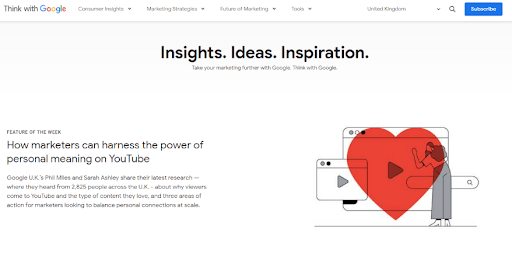 This tool will give you all the information you need for uncovering market trends, understanding consumer behavior and gaining market insights, ready for your product launch. You'll find everything from high-level insights to deck-ready statistics and useful marketing tools.
Using fascinating and useful content from Google, using data from their digital searches, Think with Google will inform your marketing campaigns by:
Making sense of the data with articles that explain its implications
Highlighting trends in real time
Showing what other companies have achieved
(Free)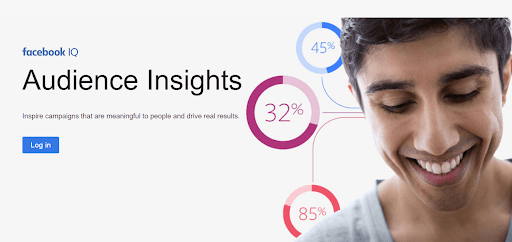 With around 2.45 billion monthly active users, marketers are missing a trick if they don't track social media giant Facebook for marketing purposes. And Facebook Audience Insights will give you information about two groups:
People connected to your Facebook page
People on Facebook generally
These will help you create and target content, and find more people who match your target audience. You'll also be able to extract:
Demographic information: age, gender, job titles education, relationship status
What people like: hobbies, interests, pastimes
Lifestyles: location and relationship status combine to identify the types of people interacting with your business.
(Free)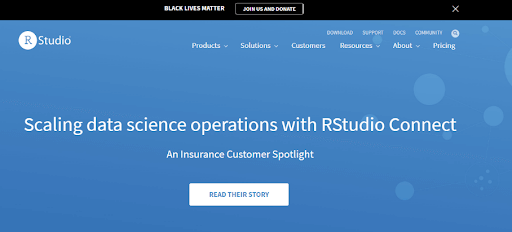 Sometimes it just feels good to get your hands dirty romping through raw data.
R is free language and environment software for stats computing, data manipulation and graphics, and you'll need to install it first.
R Studio gives you a range of statistical analysis tools to use with R. It requires that you know some coding, but it gives you tremendous power to create custom statistical analysis. RStudio is a free, open-source integrated development environment, which means it's constantly being improved by the data-analysis community that uses it.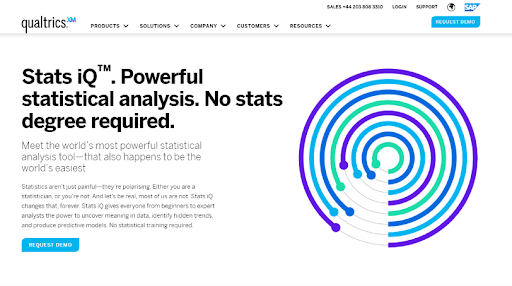 Stats iQ may be the polar opposite to R Studio because you can do hardcore stats analysis without needing to be a hardcore stats wonk. It's the world's most powerful statistical analysis tool, that also happens to be the world's easiest.
Stats iQ automatically:
finds relationships in your data
shows how strong those relationships are
runs the right statistical tests and visualizations
translates your results into simple language that anyone can put into action.
(Free)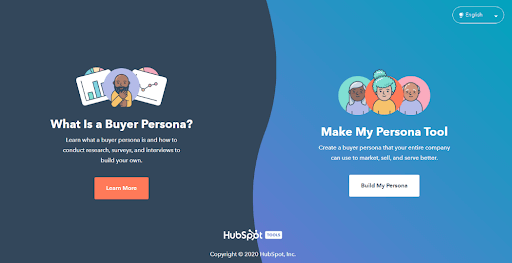 Every marketer knows that buyer personas help your business focus time and resources, and inform product development and marketing. A buyer persona is a model of an ideal customer, created through market research and existing customer data.
Make My Persona helps you create these semi-fictitious characters in seven simple steps that you fill in, including:
Demographics
Industry
Job responsibilities
Reports
Goals or objectives
Preferred method of communication
Biggest challenges
Anything else you want to include
The tool then gives you a profile of your buyer persona that you can share with your whole organization to inform and inspire.
(Free)
You use percent change to track change over time – e.g. the fluctuations of sales, subscriptions, or prices of financial securities.
For example, you sold 15,000 bicycles this year, and 9,000 last year. You want to know the percent change of your sales:
15,000 (new number) – 9,000 (old number) = 6,000
6,000 x 100 = 66.66666
9,000
You've sold 67% more bicycles this year.
But do you want to do this calculation every time? No! Put your two values into a simple percent change calculator and it will do the math for you.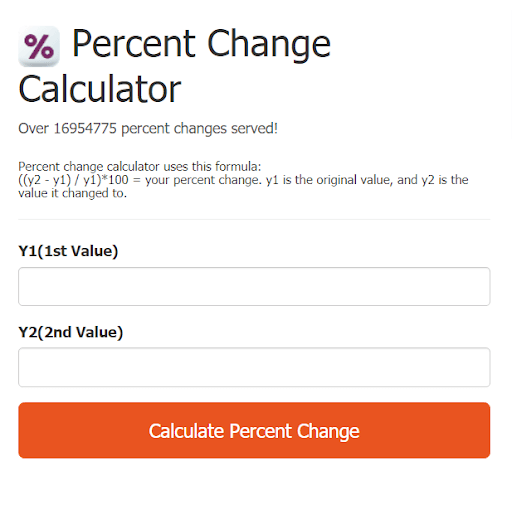 (Free trial. Prices start at $14.99 per month)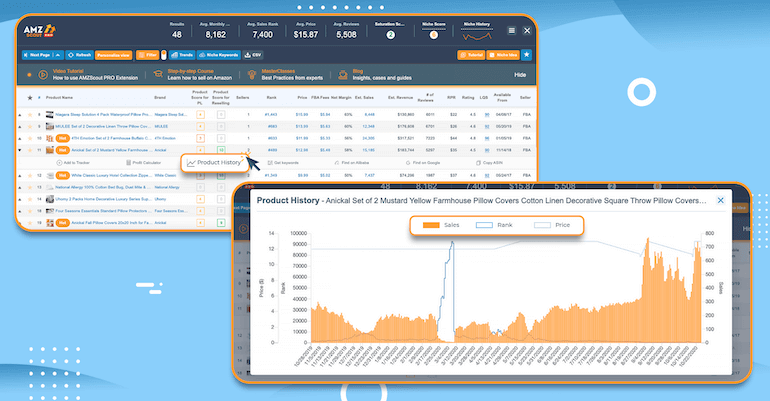 When it comes to understanding what is happening in a market, there is no data more useful than sales numbers. AMZScout is an innovative eCommerce software that provides sellers with the insights they need to identify items that have high profit potential.
With AMZScout you can:
Get stats for every product, including average monthly sales, reviews, sales history, and more.

Review demand and competition levels for both products and niches.

Predict costs and profit margins.

Track seasonal trends and consumer behavior.
This leads to unexpected product discoveries, significant new customer flows, efficient market insights, and long-term revenue growth.
(Prices start at $70 per month for 1 creator, rising to $278 per month for a team.)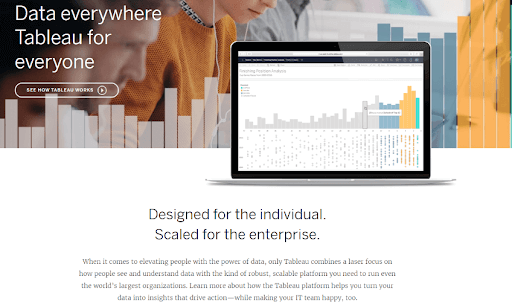 Tableau is a tool for data visualization that needs no programming knowledge. It helps you see and understand your market research data pictorially, using analytics, visualization and business intelligence.
It works like this:
It extracts data from PDFs, Excel, text, R, Hadoop, Python or SAS, to cloud databases.
The Tableau desktop takes the data, analyses it, then presents it as an interactive and shareable dashboard which shows trends and variations with colorful charts and tables.
The data can be published, with features such as collaboration and automation included.
Users can view their visualized data on platforms such as email, mobile and desktop.
Did we miss your favorite market research tool? Let us know by tweeting us @Qualtrics
Use our market research tool for free