Customer Experience
How dynamic journey orchestration helps you personalize at scale – and reap the benefits
Forward-thinking companies of all maturity levels are focused on providing a customer journey that meets expectations, but how do you provide a customer experience that's personalized at scale?
Answer: customer journey orchestration.
What is customer journey orchestration?
Customer journey orchestration by definition is the optimization of your customer journey, utilizing real-time insights into customer behavior to make changes to each individual customer experience. It's intrinsically tied to journey analytics and journey mapping, but goes one step further because it involves taking direct action to personalize journeys as they happen - at scale.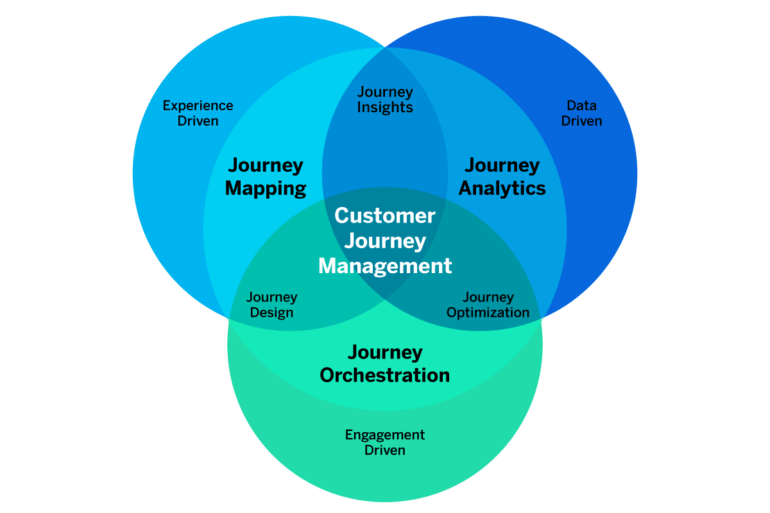 Usually, journey optimization involves a specific goal: to make the journey for individual customers as successful as possible. Whether "success" is measured by reducing the cost to serve, increasing conversions, or reducing effort for the customer, optimization is important for achieving your goals.
Optimizing customer journeys might involve using customer segments or personas to design your customer experience. Though this helps to personalize the journey to some extent, it's not tailored to specific customers and their actions.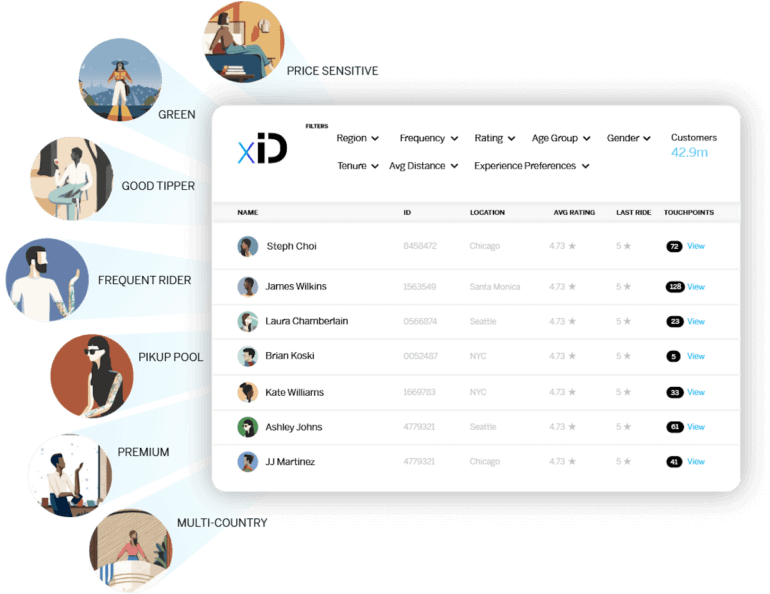 That's where journey orchestration comes in. Orchestrating means taking dynamic action towards optimizing each journey, using real-time customer insights as a guide.
It's a holistic approach to customer journey management, sending actionable data and insights to your whole business rather than just to your marketing or sales departments.
Learn more about ExperienceiD, our new intelligent platform for customer journey orchestration
The benefits of customer journey orchestration
You become more competitive and connected
With so much choice, consumers find it easier than ever to jump from one brand to another. Bad experiences can spell disaster for customer retention -  42% of customers cut their spending with a brand after a bad experience.
Taking a customer-centric approach to the customer experiences you create means that you need to work "outside-in". Rather than assuming what customers will do, or hoping that they act in a way that benefits you, you need to listen to what they say and how they actually act. This customer-centricity helps your audience to feel more connected to your brand.
You can create seamless customer interactions
Obviously, using metrics such as Net Promoter Score (NPS), Customer Satisfaction Score (CSAT), and more can help you to judge how customers feel about the experience you provide. However, taking immediate action based on real-time behavior gives you an advantage you can't replicate with other tools. You're able to judge customer engagement as it happens, developing seamless journey experiences for better customer relationships. Rather than guessing what the customer's intent is, or finding that out once it's too late, you're able to use machine learning to send them on individualized experiences that match their needs.
Your ultimate guide to customer journey mapping
You can work more effectively with your internal teams
It also helps to break down silos within your business that might be hampering your customer experience. Connecting your marketing, sales, customer service, and operational departments helps you to create cohesive, tailored customer experiences. You won't miss crucial contextual information that could affect your interactions' success when all your teams are working together to create customer experiences.
Common journey orchestration use cases
Examples of how customer journey orchestration can work might be:
Resolving purchase hesitation
Your customer wants to buy a product from you, and they've searched through your site and added it into their basket.
However, they're not sure whether to purchase – and you can see this because they're clicking forward and back between the payment page and their basket or adding the product and then removing it.
Rather than losing the customer, a customer journey orchestration tool can present the customer with a discount code for that product type in a pop-up or in an email. By triggering this offer, your customer decides to go ahead with their purchase. Using technology in this way can help with conversions and brand loyalty.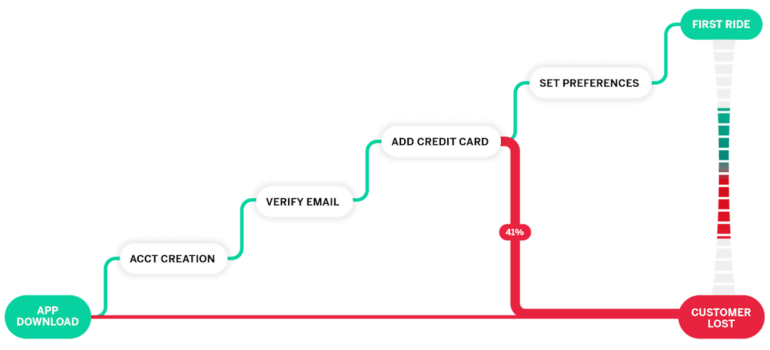 Getting your customer familiar with your product
Rather than letting a new customer click around your website or app unguided, customer journey orchestration tools can identify that this is a new user in real-time. You can then deliver that user pop-up notifications on your website or mobile app to help guide them through using your product. Your journey orchestration helps to guide behavior and nudge your audience through the customer interactions you want them to have.
Sending appropriate marketing
If your customer has contacted your customer service channels and has an open service ticket for a problem, they probably won't appreciate being sent marketing promotions. Journey orchestration will help you to send appropriate messages, such as a feedback survey, by monitoring and sharing data management across your internal teams.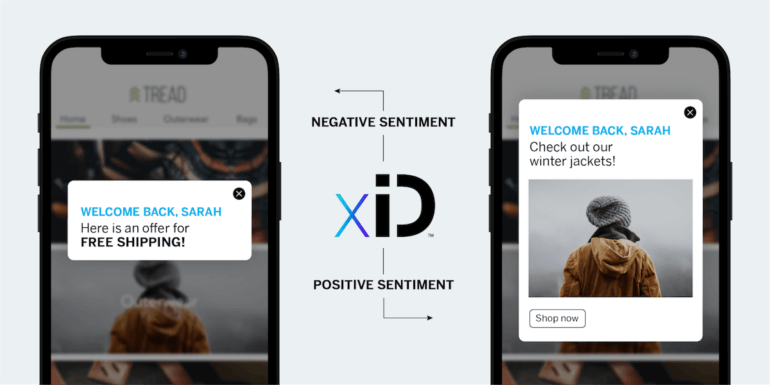 Encouraging a higher spend
Let's say your customer frequently uses your product and has done so for a long time. They're already very familiar with your product and spend a lot of time on your digital platform - but they're on your general customer mailing list. Instead of delivering them entry-level promotional material, you can ensure that customers over a certain threshold of experience are delivered offers that thank them for their customer loyalty. Customer journey orchestration helps you to pick up on customer behavior that you want to replicate and reward.
How do you implement customer journey orchestration?
To properly implement this process, you'll need a next-generation journey transformation platform that can tailor experiences in real-time. Qualtrics has acquired Usermind to offer a platform that can not only automatically deliver orchestration updates, but link contextual data for analysis and action.
The below outlines how to get started with journey orchestration.
Utilize operational and contextual data together
Rather than viewing your operational data and contextual data separately, orchestration brings together all the available information to chart the best course of action.
Data management needs to be cohesive. For example, operational data – such as purchase data – is often held in a separate place or on a different system to contextual customer data, such as where they are in their journey and how they feel about products and services. The latter is what we commonly refer to as "x-data", or experience data.
This siloed approach means that information that might be useful to your marketing team might not be sent by your sales team – and your customer service team doesn't inform either team about issues customers might have flagged. Key insights are lost when both types of data aren't considered together, and the customer experience feels disjointed and distant.

Of course, doing so is much easier when you have a journey orchestration platform that can handle all of this information in a cohesive way. Check out Qualtrics' experience management software to see how to optimize your approach.
Create synchronized experiences across your channels
Often, providing your customers with an omnichannel experience means that you have oversight over numerous touchpoints and channels. Customers will often jump from one channel to another, from one touchpoint to the next – meaning that you need to be able to track them as they travel throughout their customer journey.
The entire lifecycle needs to feel natural and personalized to the customer. Managing and examining data on how your touchpoints are used by each particular customer can help you to rectify any inconsistencies.
The best way to do so is to centralize your approach – and that's how orchestration tools can help to give you an advantage.
Plan and update your customer interactions accordingly
We've already explained customer journey stages in our article on charting and optimizing the B2B customer journey. But journey orchestration involves a more in-depth study of the route your customers take to the end goal. It also means taking action to change it, rather than just making sure it functions.
Check out our ultimate guide to customer journey mapping to understand how to optimize touchpoints generally before taking the next step of orchestration. There's little value in personalizing your customer journey if it's already disjointed for the majority of customers. If you're looking to reduce cost to serve and quickly get your customers from A to B, you'll need your journey to at least be smooth, if not optimized.
Decide what actions will be taken when to shape customer behavior
Once your customer journeys have been outlined and customer data is being gathered on journeys in real-time, you can test what actions will help engage customers along the road to your end goal.
The optimal journey might be the one that many customers take, but for some customers, they might need a more personalized touch to bring them back on the right path.
For example, a customer who's shown interest in your app but stalled at the signup process might need an offer to incentivize them to continue. Customers that have downloaded your app, got through the signup process but haven't confirmed their email address might need a nudge.
At each stage, you can decide which actions need to be taken and implement them through your journey orchestration tool.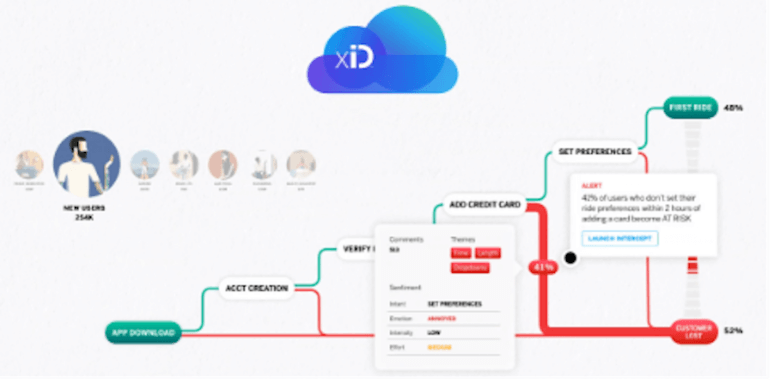 Analyze and update your approach
The key to orchestration is not just to plan out what steps to take – but to constantly adjust your approach based on the information you gather. You can constantly update the data you're working with in real-time to give you more actionable insights when using the right tool.
Customer journey analytics means reviewing ongoing customer feedback, operational data, conversational analytics, and more to ensure that the approach you've taken with your dynamic journey optimization is improving your customer experience. This is where A/B testing can come in handy for seeing which actions taken made the most difference to getting customers to your end goal across your digital channels.
Having a next-generation journey orchestration platform can help you to test your approach in real-time. Learn more about ExperienceiD to see how it can help you.
Improving customer experience with journey orchestration
Customers want to feel as though each journey they take is special to them – and they're happier when their experiences make their lives easier. More than ever, customers want to make connections with businesses that truly demonstrate an understanding of their desires and preferences.
Customer journey optimization helps you to offer this experience at scale, in real-time, for better business outcomes. A highly sophisticated platform allows you to do more than just see snapshots of customer experience and take generic action. That's why we've created ExperienceiD, our new intelligent platform for dynamic customer journey optimization.
With this tool, you can create extraordinary customer experiences, all managed within one platform. Add context to your data and optimize journeys with unique customer profiles. You'll be able to see the emotion, effort, intent of the customer - giving you so much useful insight to give the customer the experience they want and need.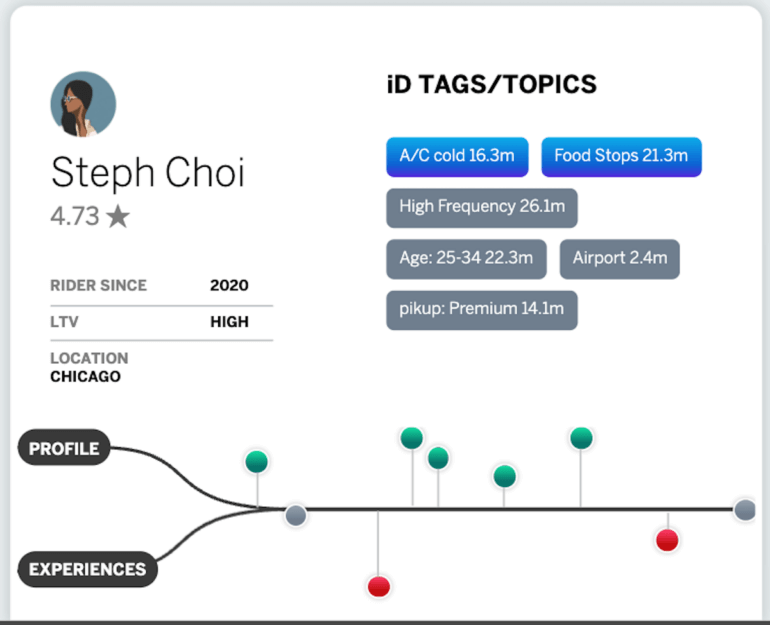 WIth ExperienceiD, businesses can map experiences over time and chart the next best action, orchestrating journeys that meet customer needs to improve satisfaction  and increase revenue, by making it easier for the customer to complete their task wherever they are, on their preferred channels.
Discover ExperienceiD, our new intelligent platform