Employee Experience
What do we mean by people experience?
More than just employee satisfaction or engagement, people experience is all about creating a human, holistic and positive workplace experience that fosters well-being, productivity, and growth. In this article, we'll delve into the basics of people experience — and how you can use it to deliver on employee expectations.
People experience explained
From everyday tasks to extraordinary, once-in-a-lifetime experiences, people have so much more to do than their typical 9-5.
Whether it's looking after family or taking time out to recharge, learning a new skill or going traveling, people prioritize that which matters most to them.
Indeed, jobs are increasingly secondary, especially post pandemic, and more and more of us expect employers to understand our own personal challenges and priorities — within reason, of course.
Organizations around the world are coming to intimately understand this simple yet salient fact: that to build the workforce of the future — one that is more value-driven and flexible than ever — they have to take people's circumstances into consideration.
And it pays off; when organizations take a holistic approach to accommodate a more complex workforce, they can improve talent attraction, employee retention, and overall engagement.
This is people experience. An approach that moves beyond employee experience to not only ensure the workforce is happy and engaged (both at work and home), but also to improve brand perception.
People experience vs employee experience
While people experience and employee experience are similar, they're not identical. The fact is that there's a subtle difference between 'employees' and 'people': it's less about their definitions and more about what they represent and encompass.
For example, 'employees' are defined as people who work for an employer for wages, whose rights and responsibilities are defined by their employment status and contract. But employees aren't just workers — they're people. They have needs such as work-life balance, flexibility, benefits, shared values, and much more.
At the same time, there's now a staggering number of people who work for organizations but are not traditional employees of them. Contractors, gig workers, job candidates, former employees, leased employees. These people also want better treatment and value from those they choose to work with, but fall outside the spectrum of employee experience.
Clearly, today's total workforce is complex, with diverse needs, and the truth is that many organizations are still focused on short-term tactics and have yet to update their employee value proposition (EVP) to account for the new world of work.
By moving from employee experience to people experience, organizations can rapidly adapt to changes in their industries, and deliver unique, beneficial experiences to each and every one of their people. Put simply, people experience is all about understanding the humans on the other end… not just treating them like a resource.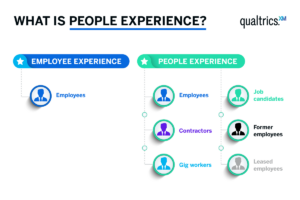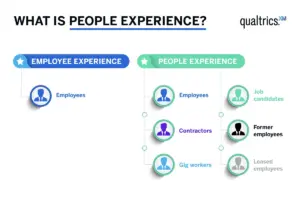 Why is people experience important?
Our 2023 Employee Experience Trends Report found that the relationships between people and work, and what people are increasingly seeking, are changing.
Previously, 'going above and beyond' to do your job had become the expectation rather than the exception, and employees had been working at surge levels for years. Now, they've had enough, and are pushing back to reclaim healthy work-life boundaries.
Now, more than ever, employees want to and expect to be treated like people — and when employers embrace the people experience and help their employees achieve a better work-life balance, they're rewarded: of those employees who feel they have a good work-life balance, almost two-thirds (63%) are then willing to go above and beyond for their organization.
Nowadays, being employed isn't just about having a job, it's a part of a person's value system. People want to work for organizations with integrity and purpose, and at the same time, they want growth and development opportunities that are fulfilling, challenging, and motivating.
Look: when employees feel that their organization embodies these values, they're 27% more likely to have higher engagement scores, and 23% more likely to stay working for more than 3 years.
How to improve the people experience
Having established how critical the people experience is, the next challenge is determining how to improve it. Here are a few things you can do…
1. Listen, understand, act
The first step to creating a better people experience is understanding where the gaps are.
And this means bringing in people analytics.
People analytics is a data-driven and outcome-focused approach (or method) of analyzing all your people-related processes, functions, challenges and opportunities at work. Simply put: it's about analyzing people data to solve business problems
With people analytics, organizations can make smarter, more strategic, data-backed, human decisions throughout the employee lifecycle – from more diverse hiring decisions and better performance management, to improved retention rates.
You'll also want to incorporate real-time listening to capture insights between things like engagement surveys and quarterly pulses. This will help provide a complete picture of the overall experience and what truly matters to your people.
2. Go beyond engagement
Engagement scores have long been a business metric, measuring the involvement and enthusiasm employees have in their work and workplace.
But with this new world of work, we have to look beyond engagement if we want to truly meet the diverse and complex needs of our people. After all, we know that engaged employees can feel like they don't belong, and that high performing employees might be looking to leave.
With frameworks like our EX25 methodology, it becomes much easier to identify and analyze the drivers of engagement at scale. EX25 leverages years of client research and global validation studies to deliver a proven, holistic approach to measuring and optimizing the people experience.
Rather than looking at engagement as a single metric, it adds new dimensions and measurements, such as inclusion and well-being, as well as the 25 most-impactful drivers for these KPIs, which include trust, safety, respect and work-life balance.
3. Customize experiences
The people lifecycle comprises the major stages in your people's experiences that leaders should focus on in your people experience strategy. These stages include key milestones, such as onboarding, training and development, promotions, life events such as parental leave, and ongoing aspects of the people experience, such as performance conversations and surveys.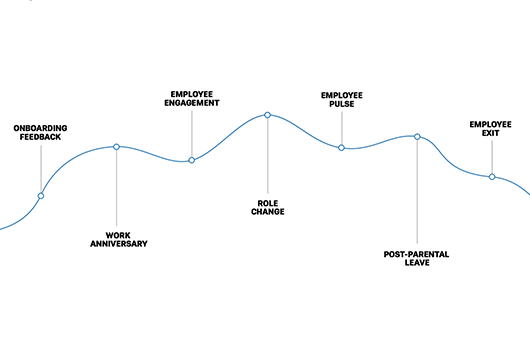 At each stage of the people lifecycle, leaders can introduce interventions, based on feedback, to improve people's experience of their workplace. By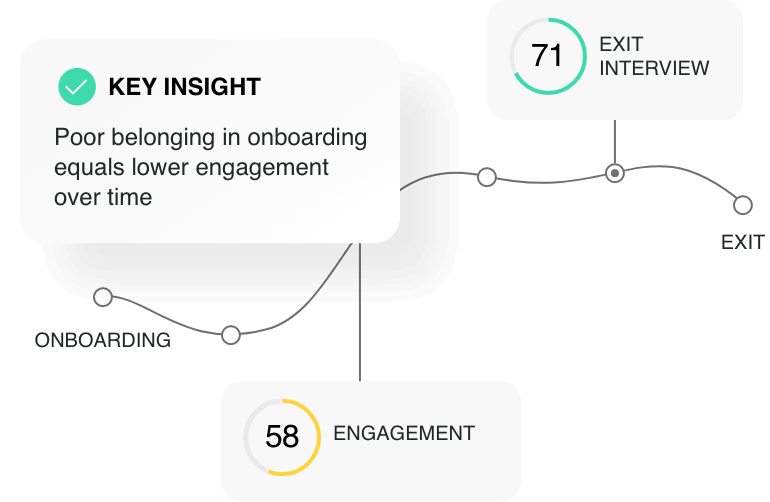 4. Empower your people managers 
Who is best placed to energize your people? Their managers. As those closest to your people, managers hold the keys to unlocking workforce performance and enhancing their team's experience.
But the challenge is ensuring your managers have the right tools and training to take the best actions to help their teams and the organization as a whole. According to research, one in four (26%) managers have never received any kind of management training.
However, with tools like Qualtrics™ Manager Assist, managers can surface the right actions to take to improve their people's experiences. Manager Assist is a brand-new solution designed to help managers listen, understand and act on feedback from their teams in real time. It brings together the components managers need to increase productivity and engagement, reduce attrition, and improve well-being.
How Qualtrics can help with your people experience 
With XM™ for People Teams you can build engaged and high-performing
teams, improve manager and individual effectiveness, and make informed and timely
business decisions, right when you need to. It's a complete suite of solutions (Engage, Lifecycle and Analytics) designed to elevate the experiences you deliver for your people.
With People Engage, you'll be able to confidently set goals for the organization and empower your managers to take the right actions at scale with a holistic understanding of your employees that goes way beyond traditional engagement. This includes automated pulsing to get routine, fresh feedback from employees and Manager Assist, a powerful, all-in-one, purpose-built hub that empowers managers to take the best actions for their people.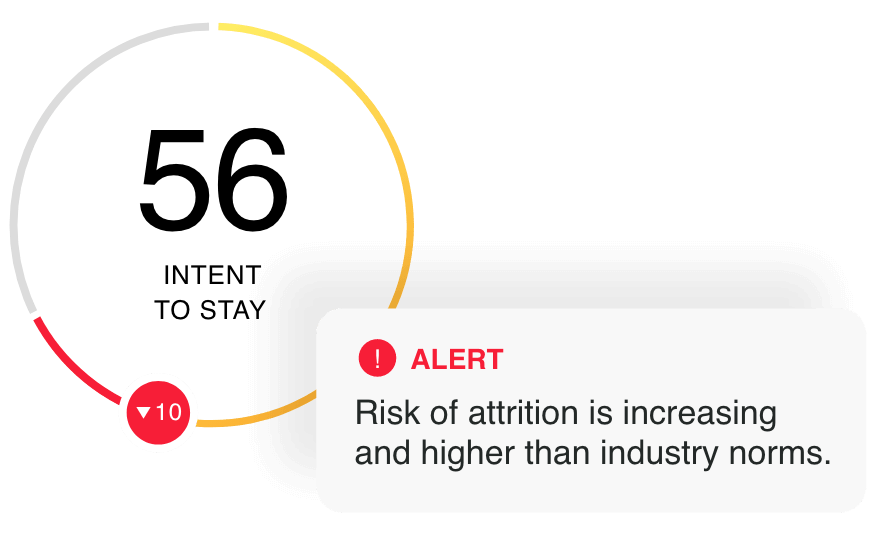 People Lifecycle lets you reduce attrition by delivering the right experiences in the moments that matter most across the employee journey—from candidate, to onboarding, to development, to exit.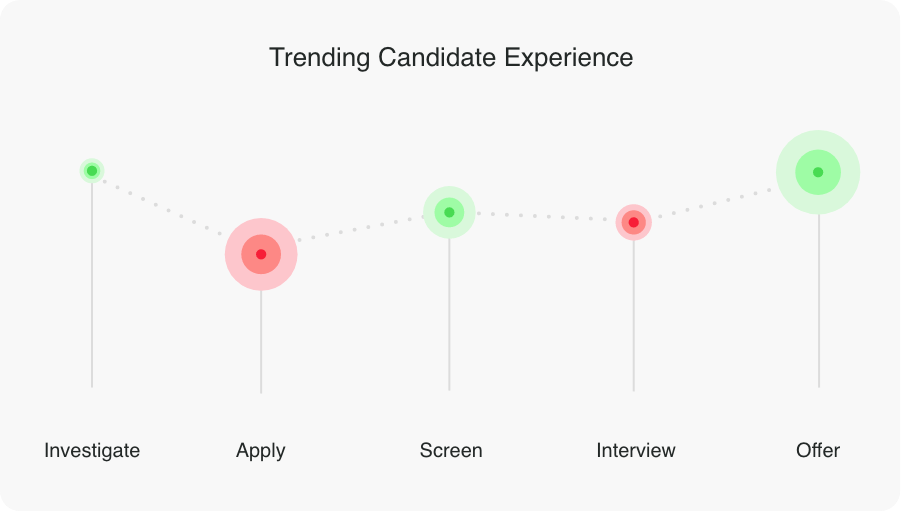 People Analytics features AI-powered solutions that surface recommendations and insights to
the right people to help you get the big calls right when it comes to your workforce. This includes continuous employee listening to understand how your employees feel and address issues in real time, and employee journey analytics to identify where and when you can step in to improve experiences.
But that's not all — with CrossXM, you'll be able to bring your employee experience and business data together to quickly uncover the employee experiences that have the greatest impact on your business. Say goodbye to guesswork.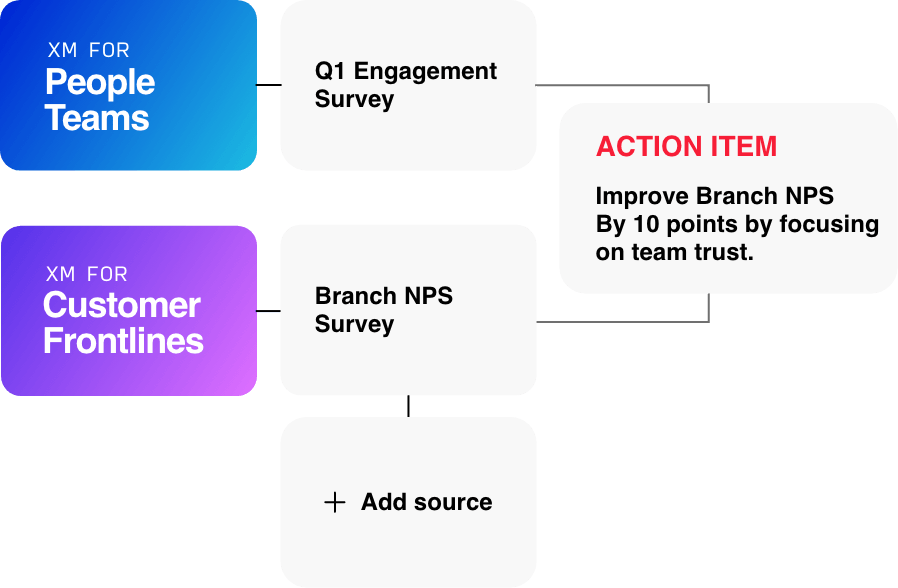 With XM for People Teams you'll be able to give power to your people — at every level of your organization.
Related Articles