Employee Experience
Bringing experience data into Microsoft Viva Connections
Today, nearly half of the U.S. workforce plans to look for a new job in the next 12 months. After a year that has seen a pandemic, unprecedented digital transformation, and employees having more options than ever before, it has become impossible to overstate the importance of delivering an incredible experience for your workforce.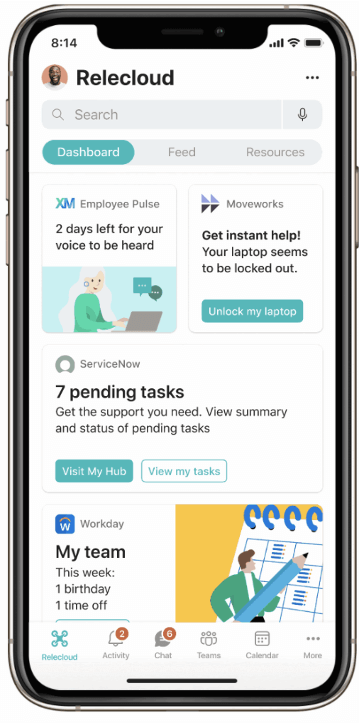 The employee experience has become a massive differentiator for companies that are fiercely competing for the best talent — and critical to helping them engage and retain their best employees. It's never been more valuable to understand how employees are thinking and feeling, take action to design and improve experiences that retain and engage them, and ultimately, empower them to do their best work.
Qualtrics EmployeeXM helps organizations around the world understand employee sentiment and identify which actions leaders and managers can take to improve the everyday experiences of their workforce. Employees who feel engaged and supported deliver up to three times more revenue per employee and 15% greater productivity. 
This is why organizations must continuously listen to employees and respond to their needs, in places where employees are already engaging. That is the spirit of our partnership with Microsoft to bring together EmployeeXM with Viva Connections, an integration that will bring Qualtrics experience data — the beliefs and perceptions of employees — directly into the Viva Connections platform. With Qualtrics, employees will be able to provide insights on their work experiences, all within their personalized Viva Connections experience.
"Understanding what employees are thinking and feeling about their work experiences has never been more critical to business success, and that's why we're excited to partner with Qualtrics," said Seth Patton, General Manager of Microsoft 365 Next Gen Productivity & Employee Experience. "With the integration between Viva Connections and Qualtrics, we're providing a fast and seamless way for employees to share valuable feedback on their work experiences while in the flow of work."
Learn more about the Qualtrics integration to Viva Connections