Customer Experience
6 ways to kick-start your CX program
Implementing a great CX program takes careful planning and intentional design. Check out our top tips, recommendations and insights from Head of the Qualtrics XM Institute Bruce Temkin, all of which should get your CX program off to a superior start...
1. Understand that better CX leads to more loyal customers
Customer experience (CX) programs aren't just a 'nice-to-have,' they deliver actual results and have an impact on your bottom line. But how you communicate internally about your CX program is crucial – it's important that you make its value clear to the rest of your organization. CX is not about just keeping customers happy – it's about delivering clear and measurable ROI.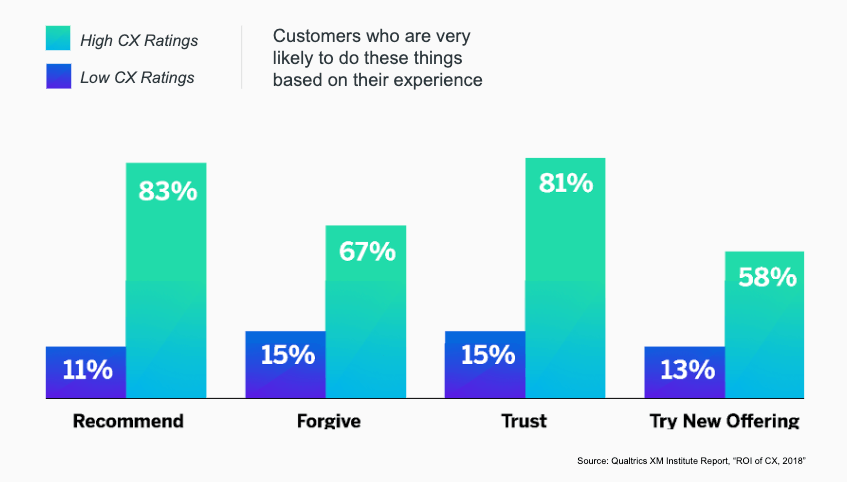 Our data shows that better CX leads to more loyal customers. Customers who have a good experience with a company are far more likely to recommend the company, and far more likely to forgive that company if something goes wrong. Plus, they're also far more likely to try new offerings from that company.
In other words: the delivery of good customer experiences feeds into the results that make your entire company successful.
2. Focus on effort and emotion, not just success
The experience customers have your organization is typically viewed through 3 lenses:
Success: to what degree did the customer achieve their goals?
Effort: how easy or hard was it for them to achieve their goals?
Emotion: how did interacting with your company make them feel?
Companies focus a lot on success, i.e. trying to enable customers to do something. But actually, effort and emotion are even more critical in the lasting memory of your customers.
And when you focus on effort and emotion – as well as success – it really helps you to dive deeper into customer satisfaction. What makes one customer happy in one environment might not make another customer happy in the same environment. So focusing on effort and emotion requires us to add more detailed segmentation, leading to an even more powerful CX program.
3. Implement CX across your organization
CX isn't about a few heroes jumping through hoops to deliver a great experience to your customers. It's about how you establish the competencies and skills needed across the entire company, so that you can consistently deliver the experiences that live up to your customers' expectations and deliver the business results you're looking for. It should be a company-wide mandate.
4. Establish a core relationship metric that tracks a key attitude
Relationship metrics look at attitudes of customers over time. This is different to a transactional metric, which is where we're asking how a customer felt about specific interaction – like a contact-center call or a purchase on the website. Instead, a relationship metric allows you to really step back and understand how your customer's feeling about the company overall, over a longer period – and that's why it tracks attitude. This then helps us to deliver the appropriate experience at the appropriate time.
5. Start small, with a mind towards building scale
Instead of trying to do a lot of things that deliver a small bit of value across your organization, attempt fewer, but do them with the idea that if they work, you'll know how to propel them across the organization.
6. Understand that better EX = better CX
And finally, better employee experience (EX) goes hand-in-hand with better customer experience (CX). A Qualtrics study of more than 1,200 global executives found that every executive who said they had better CX, also said that they had better EX.
The message here is clear: better EX is highly correlated to better CX. This in turn leads to better customer loyalty, and ultimately delivers better business results.
Want to Dive Deeper into Starting Your CX Program? Watch the Full Webinar.
Discover more about CX through our series of Qualtrics Master Sessions. Each session features unique insights and practical tips from experts who have cracked the CX code – including CX pioneer Joe Pine, the Director of Customer Listening at American Express, and bestselling authors Jay Baer and Matt Dixon. As well as our own XM Qualtrics masters.
Related articles