XM for Customer Frontlines

Digital

Root out friction in every digital experience, super-charge conversion rates, and optimize digital self-service

Care

Uncover insights from any interaction, deliver AI-powered agent coaching, and reduce cost to serve

Locations

Increase revenue and loyalty with real-time insights and recommendations delivered straight to teams on the ground

XM for People Teams

Engage

Know exactly how your people feel and empower managers to improve employee engagement, productivity, and retention

Lifecycle

Take action in the moments that matter most along the employee journey and drive bottom line growth

Analytics

Whatever they're are saying, wherever they're saying it, know exactly what's going on with your people

XM for Strategy & Research

Research

Get faster, richer insights with qual and quant tools that make powerful market research available to everyone

User Experience

Run concept tests, pricing studies, prototyping + more with fast, powerful studies designed by UX research experts

Brand

Track your brand performance 24/7 and act quickly to respond to opportunities and challenges in your market

XM Platform

Explore the platform powering Experience Management

Teams

For Digital

For Customer Care

For Human Resources

For Researchers

All Teams

Industries

Healthcare

Education

Financial Services

Government

All Industries

Customer Experience

Employee Experience

Employee Exit Interviews

Net Promoter Score

Voice of Customer

Customer Success Hub

Product Documentation

Training & Certification

Community

XM Institute

About Us

Careers

Partnerships

Marketplace

X4 Summit

The annual gathering of the experience leaders at the world's iconic brands building breakthrough business results, live in Salt Lake City.
Customer Experience
How Tesla Drives Top Customer Experiences
Diana Kaemingk
// August 28, 2018 // 5min read
It's no secret that many consumers dread the car-buying process. The drawn-out negotiations, quota-driven salesmen, and high-pressure buying tactics leave consumers weary and disenchanted. In fact, a study by DrivingSales found that 99% of automotive shoppers begin their purchase journey expecting it to be a "hassle."
This is driven by their personal experiences and the belief that retailers seek to control the buying process to their own objectives. This distrust from the outset puts consumers on alert, and 50% of consumers will walk out of a dealership if the dealer requires a test drive before providing a price, and 43% will walk out if personal information is required upfront.
It's clear that consumers just want an honest and easy car-buying experience. And some have found that through Tesla.
In the midst of traditional wheeling and dealing, Tesla is paving the way for a new customer experience model in the automotive industry. With its sleek showrooms, made-to-order cars, and no-haggle pricing, Tesla is raising the bar for the car-buying process across the board. At Tesla, customer experience has become as important as the product itself. They delight their customers, which is something all car dealers could learn from.
Discover how to maximize your dealership's ROI with customer experience. 
Customer Experience is Important In Car-Buying
According to a study by AutoTrader:
54% of consumers would buy from a dealership that offers their preferred experience, even if it didn't have the lowest price
72% would visit dealerships more often if the buying process was improved
This shows the vast gap between what dealers are offering and what consumers actually want. Many consumers will not buy from the same dealership twice or recommend their buying experience to their friends.
Furthermore, DrivingSales says 56% of shoppers would buy more cars if the process was easier and auto sales could rise about 25% if the retail experience improves. In an age where customer experience is a key differentiator, car dealers must enhance their experience.
Tesla Creates a Great Experience For Customers
From the beginning of the car-buying experience, Tesla rolls out the red carpet. First, unlike traditional dealerships, Tesla sells its cars to consumers directly instead of licensing its cars through independent dealerships. This gives them more control over how they present their vehicles and their sales reps' scripts. Tesla's stores have a minimalistic design philosophy (think Apple), with small luxuries like free international calls, coffee bars, and internet stations. Tesla employees communicate the business model and energy mission, even when someone's not interested in buying a car.
When the customer is ready to purchase, they do so on their in-store digital design center and a salesperson can walk them through the entire process. The customer can also purchase the vehicle from Tesla's website in the comfort of their own home, and the prices are non-negotiable. The car is completely customizable and Tesla has a delivery team responsible for guiding the customer through payment, document signing, and delivery. When the car is ready, the customer can pick it up at a dealership or they will deliver it to a location convenient for the customer.
Even after the customer receives the car, Tesla continues to delight. They say 80% of repairs can be done outside a service center and mobile service repairs are complimentary. They also run software updates overnight and claim their repairs are 4 times faster than the conventional repair shop.
What We Can Learn From Tesla As Experience Providers
Elon Musk truly cares about the customer experience
It's not uncommon for people to tag brands or CEO's in social media posts when they have a bad customer experience. It is uncommon for CEO's to respond directly. Not only did Elon Musk respond to an individual complaint on Twitter, but he sent a reminder to Tesla stores that customer experience is important. This is not an isolated incident. He's known for personally engaging with his customers.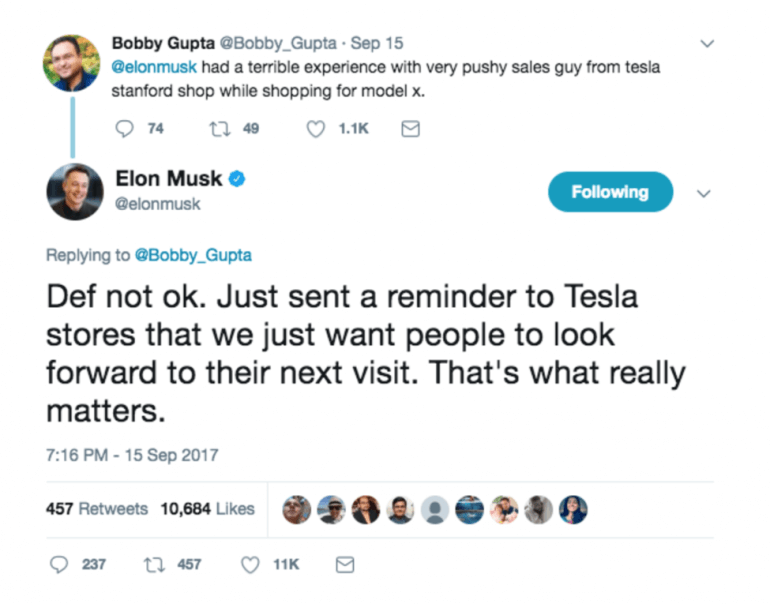 Tesla has a mission that's bigger than just cars
Tesla's mission is to "accelerate the world's transition to sustainable energy." This mission is at the heart of their company and embedded into everything they do. When you talk to a Tesla salesperson, they tell you about their commitment to clean energy and not just sell you a car. Tesla is also investing in electric charging stations throughout the U.S., with an effort to make an impact on the environment. Customers identify with brands with missions and will even pay more for purposeful brands.
An example that goes beyond just automotive
Tesla sets the bar high for not only car sales, but customer experience in general. Tesla is disrupting the automotive retail industry that has been operating the same way for a decade, and consumers are responding positively because the brand has an 90% overall satisfaction rating. Consumers want consistent, high-quality experiences when interacting with brands and that trend is only going to increase.
Related Articles