XM for Customer Frontlines

Digital

Root out friction in every digital experience, super-charge conversion rates, and optimize digital self-service

Care

Uncover insights from any interaction, deliver AI-powered agent coaching, and reduce cost to serve

Locations

Increase revenue and loyalty with real-time insights and recommendations delivered straight to teams on the ground

XM for People Teams

Engage

Know exactly how your people feel and empower managers to improve employee engagement, productivity, and retention

Lifecycle

Take action in the moments that matter most along the employee journey and drive bottom line growth

Analytics

Whatever they're are saying, wherever they're saying it, know exactly what's going on with your people

XM for Strategy & Research

Research

Get faster, richer insights with qual and quant tools that make powerful market research available to everyone

User Experience

Run concept tests, pricing studies, prototyping + more with fast, powerful studies designed by UX research experts

Brand

Track your brand performance 24/7 and act quickly to respond to opportunities and challenges in your market

XM Platform

Explore the platform powering Experience Management

Teams

For Digital

For Customer Care

For Human Resources

For Researchers

All Teams

Industries

Healthcare

Education

Financial Services

Government

All Industries

Customer Experience

Employee Experience

Employee Exit Interviews

Net Promoter Score

Voice of Customer

Customer Success Hub

Product Documentation

Training & Certification

Community

XM Institute

About Us

Careers

Partnerships

Marketplace

X4 Summit

The annual gathering of the experience leaders at the world's iconic brands building breakthrough business results, live in Salt Lake City.
Customer Experience
Top Executives Expect to Spend More to Meet Rising Customer and Employee Demands
In the midst of the pandemic and ongoing labor shortage, C-Suite executives say customers and employees will become more demanding in the coming months, and spending will increase around technology, hiring new workers, and supporting current employees, according to a new study from Qualtrics.
Despite predictions that the pandemic will continue to affect businesses into 2022 and beyond, CEOs and other leaders are optimistic about the future. Seventy-six percent expect their revenue to increase over the next year, and 85% predict moderate to very strong growth.
These predictions come at a time when companies are experiencing transformations across multiple areas. Not only are business leaders looking for creative ways to retain and attract employees during The Great Resignation, but they are also transforming their physical offices to adapt to hybrid work and improving products and technology as customers raise their expectations for virtual services.
In order to adapt to this ever-changing world, the majority of executives expect to see increases in spending around updating technology, training and re-training current employees, hiring new talent, supporting remote work, and providing mental health services. With big changes on the horizon, company leaders will need to continue to adapt, not only to the latest COVID-19 guidance but to current trends in the world of work.
Qualtrics asked over 500 CEOs and other C-Suite executives about their predictions for the future and how their businesses are faring during the pandemic. Here's what they had to say:
Executives predict continued growth over the next year
Most CEOs and other executives report that their organizations actually grew in the past year, and they expect continued growth in the future.
58% say their revenue increased over the past year (26% say it stayed the same)
76% expect their revenue to increase over the next year (21% say it will stay the same)
Overall, 31% say they expect very strong growth over the next year, while 28% expect strong growth, and 26% expect moderate growth
Employees and customers will become more demanding
Despite robust projections for growth, CEOs and other executives believe that customers and employees will become more demanding in the future. Many also believe that COVID has fundamentally changed how they do business.
56% say employees will become more demanding in the next few months
67% say customers will become more demanding in the next few months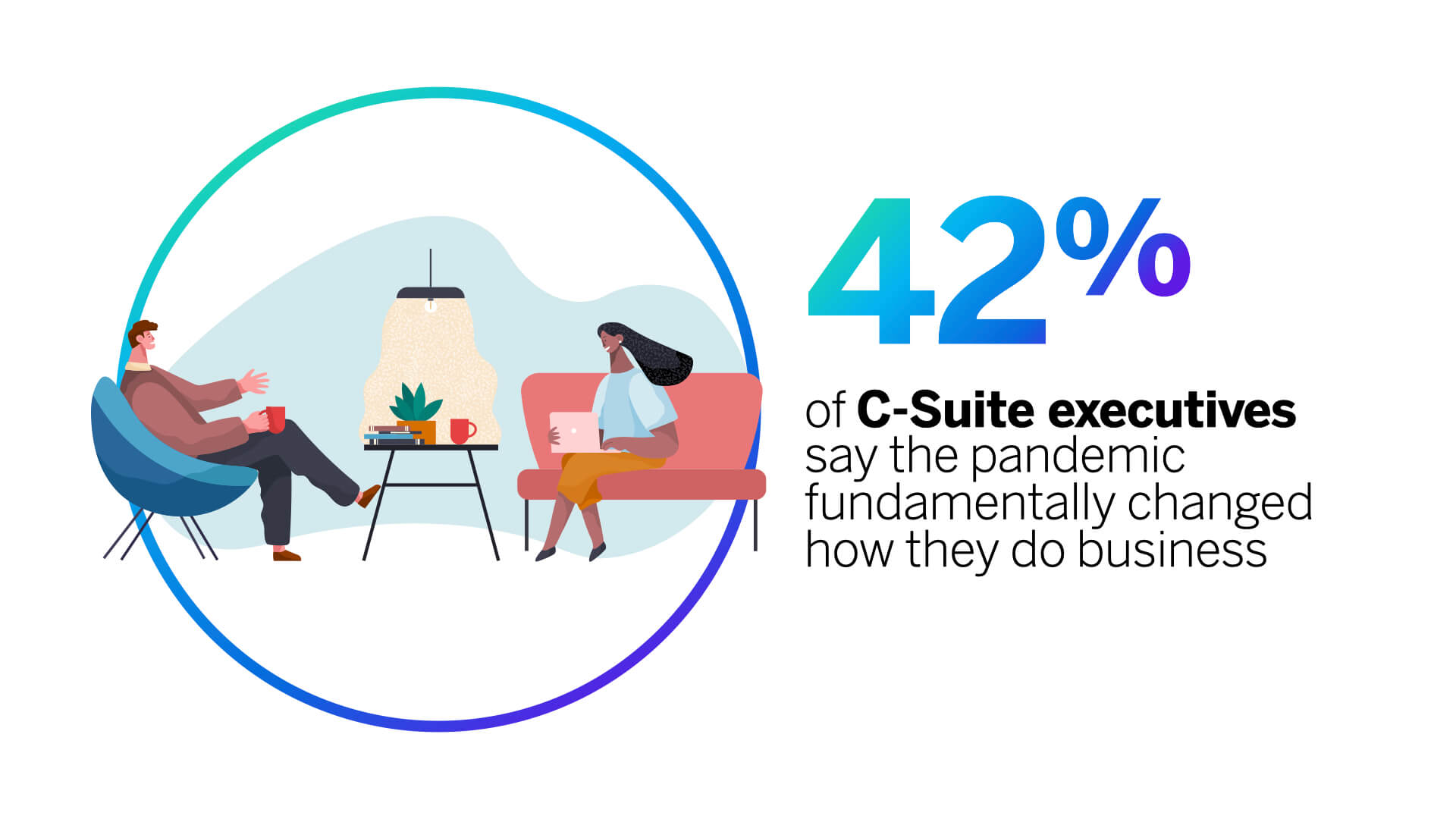 42% say the pandemic fundamentally changed how they will do business going forward

19% say their business will continue to be impacted by the pandemic in 2022
39% believe the effects of the pandemic will largely be over by the end of 2021
Organizations are experiencing transformations across all aspects of business
Most organizations are either experiencing a transformation or preparing to experience one across several areas of work, including talent, real estate, and technology. Some of these transformations are no doubt tied to changes brought about by COVID.
51% of CEOs and C-Suite leaders say their companies are currently experiencing a digital transformation (30% say they are preparing to experience one)
47% are currently experiencing workforce/talent transformation (30% are preparing to experience one).
46% are currently experiencing a financial transformation (31% are preparing to experience one )
40% are currently experiencing a workplace/real estate transformation (29% are preparing to experience one)
33% are currently experiencing a diversity, equity and inclusion (DEI) transformation (32% are preparing to experience one)
Company spending is expected to increase in the next year, especially around technology
Spending is especially likely to increase around technology, with 51% of organizations reporting they are currently experiencing a digital transformation. However, a significant number also say they will be increasing spending around areas to support workers.
72% of C-Suite executives say spending will increase around technology modernization, while 67% foresee an increase in cybersecurity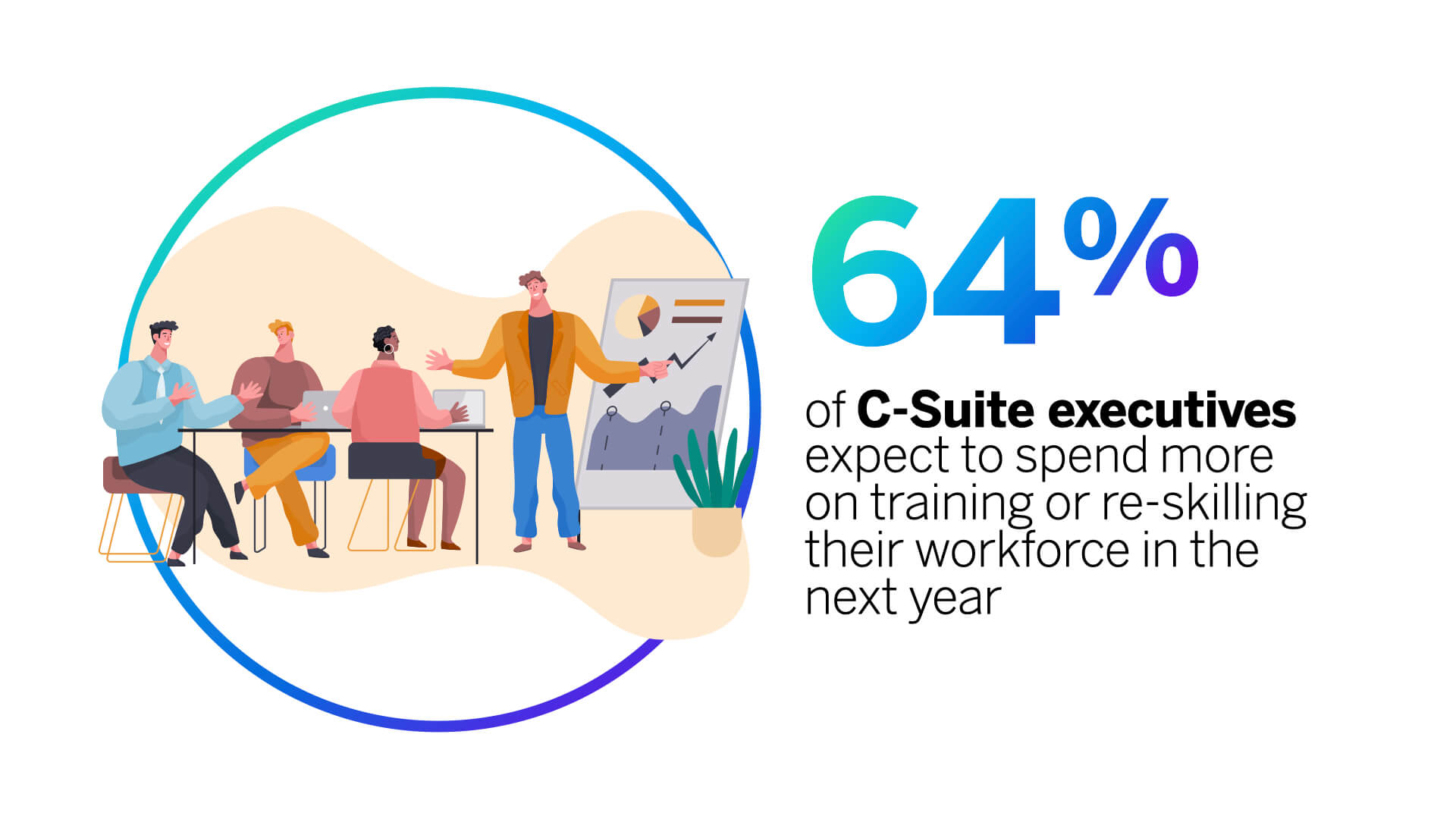 64% say there will be an increase in spending for training/reskilling their workforce and 62% say the same for staffing/retaining a workforce. To support those workers, 60% expect an increase in spending for remote work support and 57% for mental health support.
57% predict an increase in travel spending
New technology and innovation will be key to a company's success
53% of CEOs and other company leaders see new technology as an area with the most impact on their success. 41% answered innovation/new products.
39% see operational efficiencies as key to their success
39% of CEOs say that the increased cost of supplies poses the greatest threat to their success over the next year. 32% see new technology as a threat, and 30% see changing consumer demands as a threat
Cybersecurity tops the agenda for leaders
Cybersecurity, tax policy, social issues, and diversity will be top of mind for business leaders over the next year.
63% say cybersecurity is very important to their agenda, and 37% say it is a 2021 priority
Similarly, 56% say social issues, such as public health, are very important on the agenda, and 35% say they are a priority
55% say tax policy is a very important agenda item, and 36% see it as a 2021 priority
Finally, 46% say diversity, equity, and inclusion (DEI) is a very important agenda item, with 31% saying it's a priority
Related Articles