Customer Experience
How upstream thinking saved Expedia millions
Being proactive is essential for any business looking to achieve success, but one of the greatest challenges is overcoming the cycle of response.
More often than not, businesses spend a considerable amount of time responding to problems, reacting. They adapt to change, they deal with customer complaints, they implement new tools and technologies to empower employees.
But they never really address the core issues that cause these problems in the first place.
When you think about it, many of the problems businesses, employees and customers accept and tolerate are preventable. And ironically, fixing these issues usually only requires one or two simple changes. However, we continue to persist and allow them to exist because they're easier to deal with and manage.
It's time to change that.
Moving 'upstream'
To really illustrate the problem and the opportunity, we'd like to take and talk about an example from Dan Heath's latest book, Upstream: The Quest to Solve Problems Before They Happen.
Upstream explores the psychological forces that push us downstream — including "problem blindness," which can leave us oblivious to serious problems in our midst. In Upstream, Heath introduces us to the thinkers who have overcome these obstacles and scored massive victories by switching to an upstream mindset.
Let's get into Dan's example about Expedia, one of the world's most prominent and popular online travel groups.

Saving millions with just one change
In 2012, Ryan O'Neill, the then head of the customer experience group for Expedia, had been sifting through some data from the company's call center. And you won't believe what he uncovered.
For every 100 customers who booked travel on Expedia, 58 of them placed a call afterward for help.
"The primary appeal of an online travel site, of course" writes Heath, "is self-service. No calls necessary." But when you're automating a process and almost 60% of the time something in that process goes wrong, you're not just frustrating customers — you're losing a lot of money.
"Traditionally, the call center had been managed for efficiency and customer satisfaction," says Heath, "Reps were trained to make the customer happy — as quickly as possible. Short calls minimized expenses."
So with the above in mind, O'Neill shared his findings with his boss, Tucker Moodey, the executive vice president of global customer operations. And the question they asked was simple: "Why are so many customers calling us?"

Getting to the problem
After compiling a list of the top reasons why customers sought support, they found that the number one reason customers called was to get a copy of their itinerary. In 2012, roughly 20 million calls were logged for that purpose.
"At the support cost of roughly 5$ per call," writes Heath, "that's a $100 million problem." They found that customers weren't receiving their itineraries automatically due to mistyped email addresses, spam filters or that they'd accidentally deleted it thinking it was something else.
O'Neill and Moodey took their findings to Dara Khosrowshahi, then the CEO of Expedia. They made it their top priority to not just reduce call volume and implemented solutions for the top drivers of customer calls, one at a time.
For the itinerary requests, they implemented an automated option to the company's voice-response system, changed how emails were sent to avoid spam filters, and created an online tool so that customers could handle the task themselves.
Since 2012, the percentage of Expedia customers who call for support has declined from 58% to roughly 15% — 20 million calls almost gone. A $100 million problem solved with just a few simple fixes.

So, why does this all matter?
It matters because it illustrates the importance of measuring the entire customer experience. If you can see where the problems are and know precisely how to fix them, you can close the gaps and prevent issues from arising in the future.
Here are three key takeaways for those looking to close experience gaps and solve problems upstream:

Listen, listen, listen
It's all about listening to, understanding and acting on customer feedback at scale. By capturing data and feedback at every stage of the customer journey, you can uncover insights and make the necessary adjustments to save money and improve experiences.
Better yet, if you have insights on tap and can build a comprehensive picture of customer engagement, you can start to anticipate and predict what your buyers might want next. Rich, deep customer profiles, for example, empower you to create more personalized experiences — exactly what people want.

Make solving problems everyone's responsibility
As well as listening to and understanding your customers, make it everyone's responsibility to ensure they have an amazing experience. One of the things a lot of organizations overlook is how they measure customer engagement and satisfaction.
Usually, the responsibility of customer satisfaction falls on one team, but if everyone's working together to influence those scores, it becomes easier to spot and rectify problems affecting them.

Improve and iterate
Expedia didn't just identify and tackle one upstream issue, they made a concerted effort to address the other top drivers of customer calls. When you apply upstream thinking, you look at the whole picture and can isolate areas for improvement that you may not have considered for a while.
But don't stop there. Just because something works doesn't mean it can't work better. As you collect data and see how your changes are benefiting customers, look to see what else you can refine to streamline their experience further.
Embracing an upstream mindset
Rather than being consumed by problems that keep you downstream, it's time to tackle issues at their source.
This May and early June, we're excited to announce that we'll be joined by the author of Upstream, Dan Heath for our event: Moving your CX/EX program upstream.
With insights gathered from more than 300 interviews, Dan will explain the upstream methodology and introduce us to some of the thinkers that have used it to solve problems and score massive victories.
You'll also have the chance to hear from some of the world's leading brands on how they are proactively solving problems upstream using experience management.
The event comes in two parts — upstream for CX and EX. This gives you the opportunity to learn how you can improve both customer and employee experiences.
If you're interested, you can tune in wherever you are using the links below.
Region
Session
Date
Time
Europe, Middle East & Africa
CX
May 24th, 2022
3:00 PM CEST
Europe, Middle East & Africa
EX
May 25th, 2022
3:00 PM CEST
Americas
CX
May 24th, 2022
10:00 AM PT
1:00 PM ET
Americas
EX
May 25th, 2022
10:00 AM PT
1:00 PM ET
Asia Pacific and Japan
EX
May 31st, 2022
2:00 PM AEST
4:00 PM NZST
12:00 PM SGT
9:30 AM IST
Asia Pacific and Japan
CX
June 1st, 2022
2:00 PM AEST
4:00 PM NZST
12:00 PM SGT
9:30 AM IST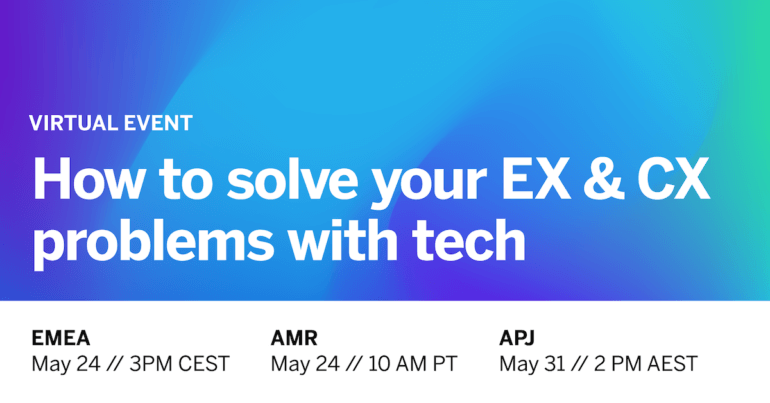 Related Articles