Customer Experience
Seats upright, trays stowed: Virgin Australia takes off with customer-led innovation
Virgin Australia had been a fierce competitor in the Australian aviation landscape for more than 20 years when the global pandemic rocked the world. Here's how the airline doubled down on customer-centricity and made insight-led decisions to set it on a path to soar through the skies.
It's been a bit of a rocky road (or skies, for that matter) for the airline industry. Far from the glamour of 60s - 80s, air travel became increasingly commoditised as new entrants differentiated through other functional and value-based aspects.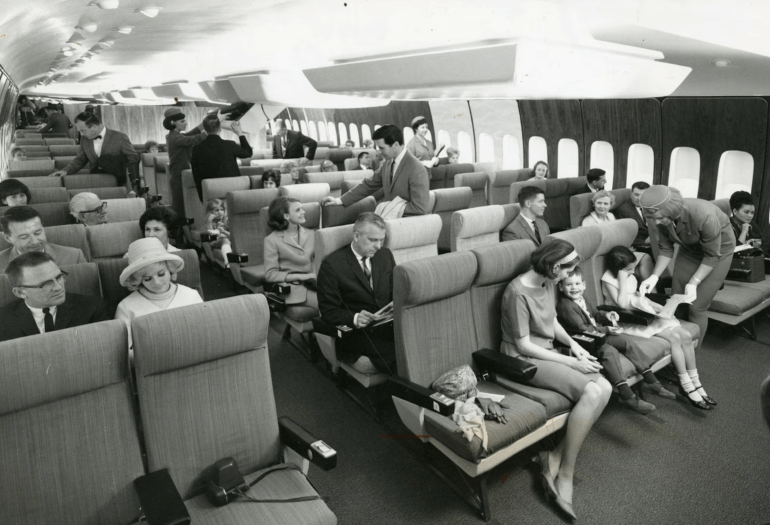 Golden age of commercial travel. Image source:
Boston Globe
Good ol' digitalisation then blew the market right open, further increasing competition throughout the entire air travel journey beyond just the customer's time in the plane.
Then of course, 2020 - aka Covid-19 - rolled along, significantly changing customer expectations and behaviours on air travel. Why send an executive to travel halfway across the globe when a Zoom meeting would do?
The opportunities in headwinds
Despite the challenges associated with a global pandemic for airlines around the world, Virgin Australia emerged a stronger, more disciplined and resilient airline.
For a brand that has always embodied a challenger mentality predicated on delivering great experiences through innovation, it was an opportunity to reset and rebuild, taking the airline in a new direction.
Instead of going head-to-head with full service or low-cost carriers, Virgin Australia went after the mid-market heartland for guests who want a more premium experience at an affordable and competitive price. A key pillar of the strategy was to invest significantly in technology to understand what customers value and enhance and improve their experience.
But what DO customers value?
Through Qualtrics, Virgin Australia implemented an extensive Voice of Customer (VoC) program that captures feedback across key stages of the customer journey.
A core pillar of the program is of course the post-flight experience feedback.
But knowing that in the long term it needed to rely less on customer response via emails, and to also make it easier for customers to provide their feedback at every touchpoint, Virgin Australia broadened and deepened its listening channels to include:
Digital and website channels: Capturing the booking, check-in, booking management, plus other in-flight and post-flight interactions.
The Virgin Australia app: Capture feedback from customers who use the app to manage their trips pre-flight, manage their bookings (e.g. changing seats) and get them to 'Rate my flight' post flight.
At-location feedback during key moments (e.g. lounges)
Contact centre: Post call interactions with details down to the agent level.
"Qualtrics enables us to have a more rigorous customer lens to really know what matters to customers so that we can invest in the right things that would move the needle."
- Nick Hill, Manager - Customer Insights, Virgin Australia
The combination of these channels, and the integration of Qualtrics experience data alongside operational data (including from its regular customer pulse of Velocity's 11.5m members) gave Virgin Australia deeper layers of insights into what customers want and how their expectations are being met across the entire travel journey.
"We're often discussing where to prioritise our investments. Whether that's in upgrading a lounge, or investing it in digital channels. Having the data allows us to understand which parts of our experience are 'table stakes' that we simply cannot get wrong, and where we could truly differentiate and create memorable brand experiences," added Nick.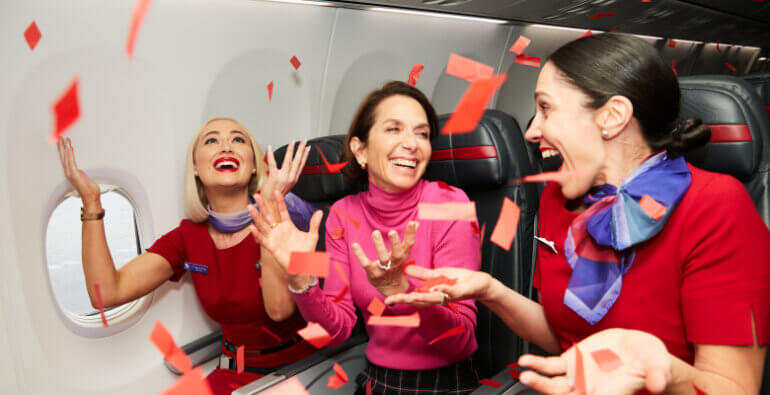 Insights into what matters to customers has seen Virgin Australia innovating new, memorable brand experiences like its world-first Middle Seat Lottery competition. It turned a usual travel bugbear (the middle seat) into a powerful, positive experience. Image source:
Virgin Australia
. 
Empowering cabin crew with real-time insights
With the VoC program in place, more than 500 users across Virgin Australia are able to tap into various metrics to monitor and act on customer feedback. This included teams that create their own dashboards to monitor anything from cleanliness, in-flight entertainment, F&B and more. But one team that Virgin Australia did not forget are those at the frontline – their cabin crew.
"More than 50% of positive feedback we get from customers mention the crew as the reason why they had great experiences with us. We had everything to gain by investing in enabling these frontliners to build on our service reputation."
Nick Hill, Manager - Customer Insights, Virgin Australia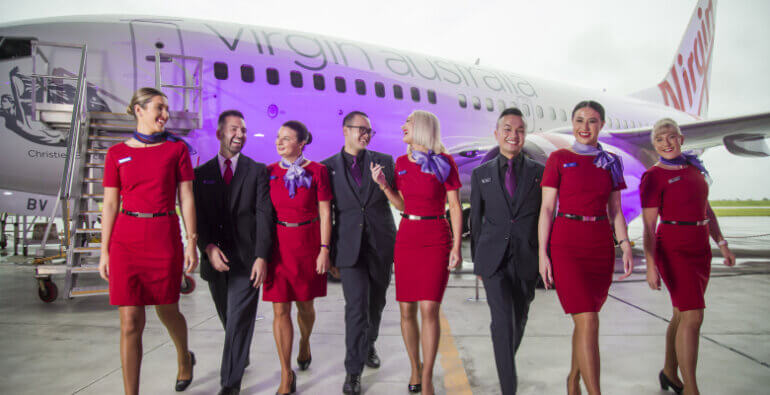 Virgin Australia's cabin crew has consistently won Best Cabin Crew awards through the years. Image source:
Virgin Australia
Virgin Australia enabled around 500 cabin managers to use the Cabin Manager Dashboard (on the Qualtrics platform) on in-flight iPads. The dashboard presents insights against Operational data like the route, customer seat, cabin class, and more.
"Because of the insights captured we're able to take action on what truly matters to our customers. It's also helping empower our cabin crew to deliver a differentiated and memorable inflight experience, and because of the positive impact it has made we have plans to scale this to our airport team too."
Nick Hill, Manager - Customer Insights, Virgin Australia
The ability to look at different dimensions of the data, personalised for the cabin manager, enables them to address feedback in the moment and provides a consistent tool to coach cabin crew to close experience gaps.
Elevating the Virgin Australia experience
With a laser focus on elevating every part of the journey, Virgin Australia continues to drive new customer-centric programs that differentiate the brand in the market. This includes expanding its accepted payment options, bag tracking services, and more.
So far, Virgin Australia has:
More than doubled the proportion of customers / members providing feedback.
Created memorable, differentiated experiences that deliver positive customer outcomes.
Significantly improved app ratings (from 2.8 to 4.7 out of 5) by responding to guest pain points.
"When we embarked on this CX journey with Qualtrics we had ambitious goals. I'm pleased to say that we are already exceeding what we set out to achieve."
Nick Hill, Manager - Customer Insights, Virgin Australia
Learn how Qualtrics XM for Customer Frontlines can help you surface customer friction and guide frontline teams in the moment to better serve clients. Watch a demo today.
Related Articles