---
Ever wondered what your audience is thinking? From their views on a new product or service to why they left negative feedback? With polling software, you no longer need to guess.
Designed to pinpoint customer or audience opinion with a set of questions around a specific topic, polling software gives insight into customer behavior and why they make the choices they make. These questions can measure customer satisfaction, their likelihood to recommend your brand, customer effort, and much more.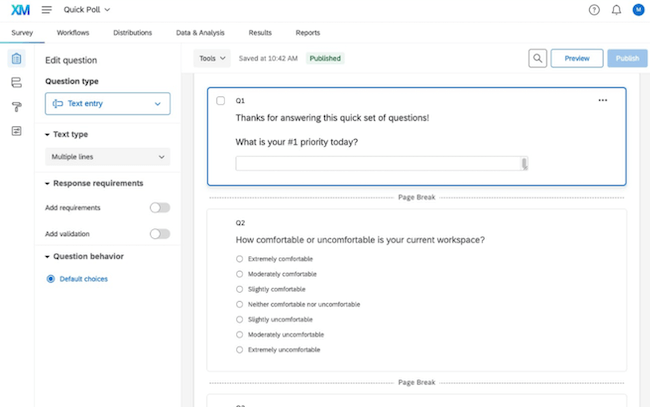 Create your first online poll with our free quick poll survey template
What is polling software used for?
Polling software has several benefits that can be used across your business, the main one being that it can improve the experiences you offer to your customers.
Get consensus, no matter the location or topic
Wherever your audience is based or what platform they prefer, you can get their feedback. From opinion polls on the latest colorway for a product to community feedback in local political constituencies, you can get an informative consensus using effective polls. With the right polling software and panel management tools, you can embed and send your polls across the globe for maximum audience engagement.
Capture all opinions
There are times when you need to get as much data as possible to make logical decisions for your business. For example, you might want to gather market research on new product lines or see how your customer service team approach has been working for customers. By gathering data at scale over time, you can pinpoint trends, understand patterns and predict future behavior.
Save time when discussing polarized topics
Rather than gathering your audience separately to discuss polarizing topics, you can ask them in private polls. Getting a quick view of the topics your audience feels strongly about can help you make faster decisions on what actions to take. For example, getting employee feedback on what sparks their productivity can help you to quickly implement changes — such as building a more vibrant work environment or providing employees with the right resources.
What should your polling software include?
Professional survey software should offer you a variety of tools to make sure that it can integrate smoothly with your audience engagement platform.
Options for tailoring your polls
To collect useful feedback, you'll need to have polling software that can be tailored to your requirements. Whether it's branded polls, the ability to integrate them into interactive presentations, embed them on your website or more, your polling software should be highly flexible to best capture your audience's attention.
A sophisticated dashboard
Your polling software should display collected data in a way that allows you to gather intelligent insights from your polling results. Ideally, your polling platform is part of a more comprehensive tool — one that enables you to see how your responses to CSAT, NPS polls, for example, relate to your business as a whole. In just a few clicks, you should be able to see clearly how your audiences' views affect your wider business.
Real-time polling with instant results
Sometimes you need on-demand polls to gather feedback from participants during meetings, presentations, or events. And with live polls, you can.
At a glance, you can see audience responses via visual, real-time results. You can also use quizzes and word clouds to create great-looking surveys and response visuals that engage your audience during online meetings or virtual events.
How to use polling software to get feedback fast
It can be tempting to put a poll everywhere to get feedback instantly but to set yourself up for success, it's better to focus on audience engagement first.
Here are some ways to effectively — but quickly — get feedback.
Create poll templates
Save yourself time and effort by using and creating poll templates. Not only will it help you to replicate results, but it will also speed up the process of generating polls and create a consistent look and feel for your audience. Make sure you create mobile-friendly templates, given that there are predicted to be 6,648 billion mobile users in 2022.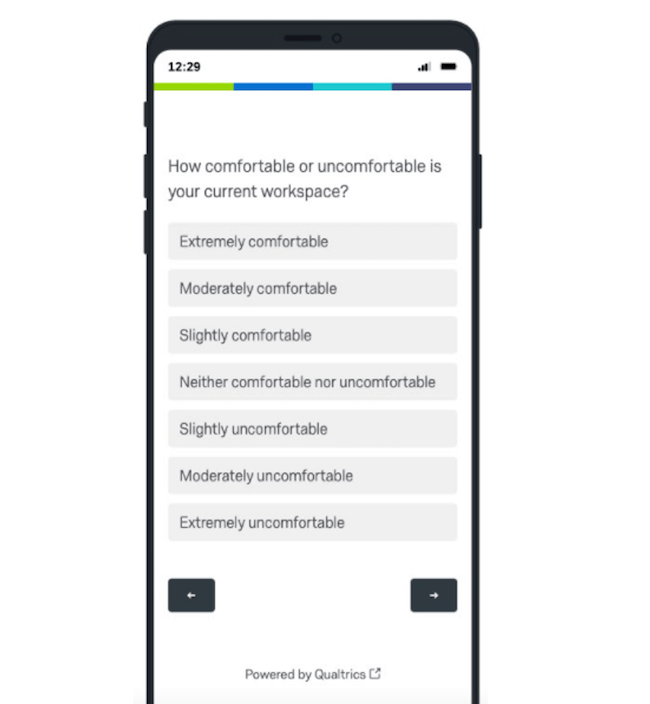 Choose your online distribution channels
Selecting your online distribution channels for polls is important for getting the responses you need. Timing your polls, and deciding where they should appear in the customer journey, is key.
Options you can choose from include:
Your website: use a link, a pop-up, or embed the poll in a webpage, either after an action has been taken or in general
Email: send an email with a personalized message and a link to your survey, usually sent after a specific action such as a purchase or a delivery has been made
Text: send your customers an SMS with a survey link
Push or rich message on your app: an app can push links to take polls at strategic points in the customer journey
Social media: ask your social media followers for their opinion with a link to a poll or embed a poll in a social post
It's important to get consent for the channels that use private data, such as email addresses and telephone numbers. This helps you not only to avoid legal issues, but also means you're targeting people who are likely already customers or who are interested in providing feedback.
Incentivizing polls
Polls are inherently more useful to you than they might be to their intended recipient. The data you gather might help you to improve experiences, but at the time of taking it, the poll isn't directly useful to the customer. This is where incentives can be handy to encourage uptake.
Incentives for taking the poll might include:
A financial reward or discount (but exercise discretion as repeated incentives may result in participants rushing polls for the reward)
A download of an asset that's useful to the customer, such as a free eBook
A sweepstake entry
Sometimes the results themselves are the incentive. If you're using real-time polling at remote events, for example, the incentive might be sharing instant insights with your team.
Create your first online poll with our free quick poll survey template
How to improve your online polls
Getting the best response and finding the truth to your customer experience means constantly improving your online polls — and there are several ways to do so:
Keep your rating scale consistent
Keep your rating scale consistent across answers or themes to avoid confusion. For example, using a 1-10 scoring scale on your first few questions and then switching to a scoring scale of 1-5 midway can be confusing and lead customers to answer incorrectly on the later questions. Confusion can also stop a customer from completing a survey — so make sure you keep things cohesive.
Make your online surveys engaging
Engagement is everything, so make sure you keep your polls short and simple. You can add functionality to catch your audience's attention — for example, using a ranking system that customers can adjust.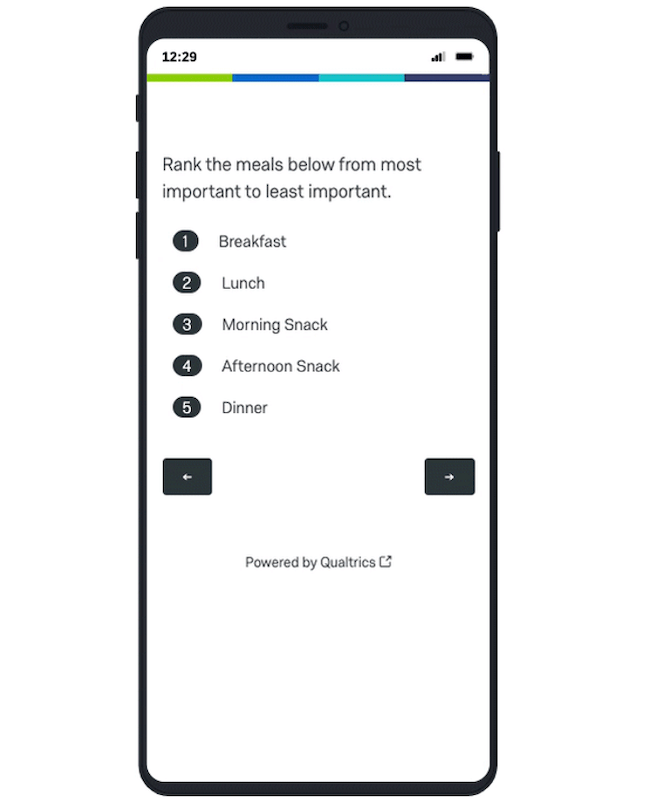 Ask for feedback to understand context
Though getting a score is useful for understanding your customers and their intent, getting context is also vital. Keep your audience engaged not only in your poll but over time by asking for their opinion after their score. Qualitative data, e.g. why they gave you three stars out of five, can help you to make changes based on this context to improve scores in the future.
Value your audience and their time
Your audience is taking time out of their day to give you valuable information, so don't take up more time than is necessary. Get to the point, and thank them for their engagement.
Why you should focus your efforts on polling
Community experience management is incredibly important for meeting and exceeding expectations and driving your bottom line. Polling can be an effective way of gathering data and understanding sentiment and experience, which is useful in myriad ways.
Not getting customer insights costs you money
For example, for market researchers, community managers, and anyone that leverages data for insight, It's never been more important to understand the needs and expectations of consumers.
In our latest global consumer trends report, we found that 8 in 10 respondents thought customer experience needed to be improved and that two-thirds of consumers thought companies needed to be better at listening to feedback. With up to 9.5% of your revenue at risk from customers who leave after a bad experience, you can't afford to ignore customer views.
You know what you're doing right (and can keep doing it)
Polls help academics, community leaders and businesses ascertain just what they can or should be doing, from enhancing their offerings to how people feel about their sustainability initiatives.
By taking the pulse on your audience, you can make strategic changes and take action to combat negative sentiment and improve customer experience. You can repeat what's working, and change what isn't — on a scale as large as an international website, as specific as a regional real-world store, or down to single customer interaction.
Qualtrics CoreXM: more than simple polls
Polls empower companies to connect directly with their customers' opinions and to ask them how they really feel. That's why Qualtrics puts so much emphasis on creating the right questions to find out the truth of your customer experience.
Powering more than 1 billion surveys every year and used by over 13,000 brands, Qualtrics CoreXM is much more than just polling software. This suite of research tools can help you complete advanced market research and product concept testing and take insightful action, all within one platform.

This centralized solution allows you to view data at scale and understand your polling results in the context of your other collated business data. From relational to transactional NPS, event feedback, product satisfaction, brand awareness, ad research, and more, this is your full-service, enterprise-grade tool for deeply understanding your customers.
You can:
Reach respondents wherever they are with surveys on mobile devices, apps, websites, chatbots, and more
Create and test surveys and polls in real-time and collaborate effortlessly
Uncover new insights with predictive analytics and intelligence built-in
Launch your surveys and polls with confidence, and improve their quality
Integrate your research with existing systems
Better yet, Qualtrics provides you with free poll templates and free polling software to get you started. What are you waiting for?