Belong
Kiani, People Brand Specialist: On a rich and heartbreaking history
May is Asian American Pacific Islander Heritage Month – a month in which we celebrate the kaleidoscope of cultures within the Asian American and Pacific Islander community. During AAPI month we will be sharing stories from some of our AAPI team members to help people understand our history and culture and learn about ways to give back to the AAPI community. We're putting together a resource page on how to get involved in your local community and will be sharing stories from some of our AAPI team. Discover Kiani's story. 
What aspects of your ethnicity/culture do you wish more people knew?
I wish more people would take the time to learn about the rich, beautiful, and honestly heartbreaking history of the Hawaiian people. The Hawai'i economy thrives on tourism, but I wonder how many of those tourists know the background stories of the places they visit. 
In a nutshell, some history I wish people knew is that the Hawai'i islands started out individually governed, so each island was ruled by its own chief. King Kamehameha led an army of warriors to fight and battle each island in order to unite the Hawai'i islands into the "Kingdom of Hawai'i." From there, Hawai'i turned into a monarchy led by kings, queens, princes, and princesses. Sadly, after nearly 100 years of the monarchy, the Kingdom of Hawai'i was overthrown by the United States. We became a territory of the US, and then around 60 years later, the 50th state. This is a small fraction of the history of Hawai'i, but I grew up learning more about the history of Hawai'i than the history of America, and I wish more people knew about it. I think people would enjoy and appreciate their travels to Hawai'i more if they took the time to understand the history.
What about your ethnicity/culture brings you the most pride?
How big respect is in Hawaiian culture. We respect our ancestors, our kupuna (elders), the land, and basically everything/everyone we interact with. There's also a huge emphasis on family in Hawaiian and Polynesian cultures. We treat each other with such high respect and love because we see each other as family.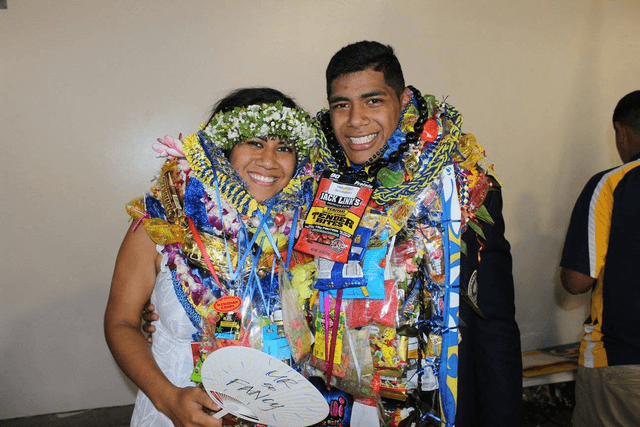 What cultural celebrations or traditions do you enjoy?
So many! I love how we greet each other with a honi (cheek-to-cheek kiss) or a ha (nose-to-nose inhale together). It breaks the ice and I feel immediately bonded/connected to the other person, even if we've never met before. I love that we celebrate/honor people with a lei (flower necklace). Nothing makes me feel more special than when I have a lei on. Lastly, I love that everything we do is centered around food. Every gathering, whether it's a wedding or a small get-together at a friend's house, has to be accompanied by a full meal.
What's a food that is unique to your ethnicity/culture and what do you love most about it?
Poke (cubed raw fish) is my favorite food and it originates from Hawai'i. You could eat it on its own, over warm rice, or with poi (pounded/mixed taro). Nowadays, I see some restaurants include a lot of add-ons in their poke bowls but I'll always prefer a more simple approach. I love poke because it reminds me of my home, friends, and family.
How has being a part of the AAPI community at Qualtrics positively impacted you?
I've loved being a part of the AAPIHM committee and getting to know and work with other AAPI individuals at Qualtrics. Although I mostly identify as Polynesian (Hawaiian and Samoan), I am also part Chinese and grew up in Hawai'i which is heavily influenced by Asian culture, so connecting with folks in the community has given me a sense of belonging and a home away from home. 
Related Articles