XM for Customer Frontlines

Digital

Root out friction in every digital experience, super-charge conversion rates, and optimize digital self-service

Care

Uncover insights from any interaction, deliver AI-powered agent coaching, and reduce cost to serve

Locations

Increase revenue and loyalty with real-time insights and recommendations delivered straight to teams on the ground

XM for People Teams

Engage

Know exactly how your people feel and empower managers to improve employee engagement, productivity, and retention

Lifecycle

Take action in the moments that matter most along the employee journey and drive bottom line growth

Analytics

Whatever they're are saying, wherever they're saying it, know exactly what's going on with your people

XM for Strategy & Research

Research

Get faster, richer insights with qual and quant tools that make powerful market research available to everyone

User Experience

Run concept tests, pricing studies, prototyping + more with fast, powerful studies designed by UX research experts

Brand

Track your brand performance 24/7 and act quickly to respond to opportunities and challenges in your market

XM Platform

Explore the platform powering Experience Management

Teams

For Digital

For Customer Care

For Human Resources

For Researchers

All Teams

Industries

Healthcare

Education

Financial Services

Government

All Industries

Customer Experience

Employee Experience

Employee Exit Interviews

Net Promoter Score

Voice of Customer

Customer Success Hub

Product Documentation

Training & Certification

Community

XM Institute

About Us

Careers

Partnerships

Marketplace

X4 Summit

The annual gathering of the experience leaders at the world's iconic brands building breakthrough business results, live in Salt Lake City.
Belong
International Day of Persons with Disabilities
We are proud to celebrate International Day of Persons with Disabilities. Our celebrations are led by Q&Able, one of Qualtrics' 6 mission-driven employee resource groups. Q&Able is a community of problem solvers who work together to enable everyone — regardless of ability — to do more. We support and advocate for employees with disabilities and raise awareness amongst others. Q&Able makes it a priority to commemorate and celebrate International Day of Persons with Disabilities each year in order to spread awareness and empathy for this community, both within Qualtrics and across the globe. 
"If you can't stand up, stand out." 
This year, we chose to focus on the lived experience of individuals with disabilities. It was important to us from the beginning to have our keynote address be given by someone who could speak to this theme, and we were honored to have Mike Schlappi, Paralympic gold medalist and founder of the Utah Wheelin' Jazz, as our keynote speaker.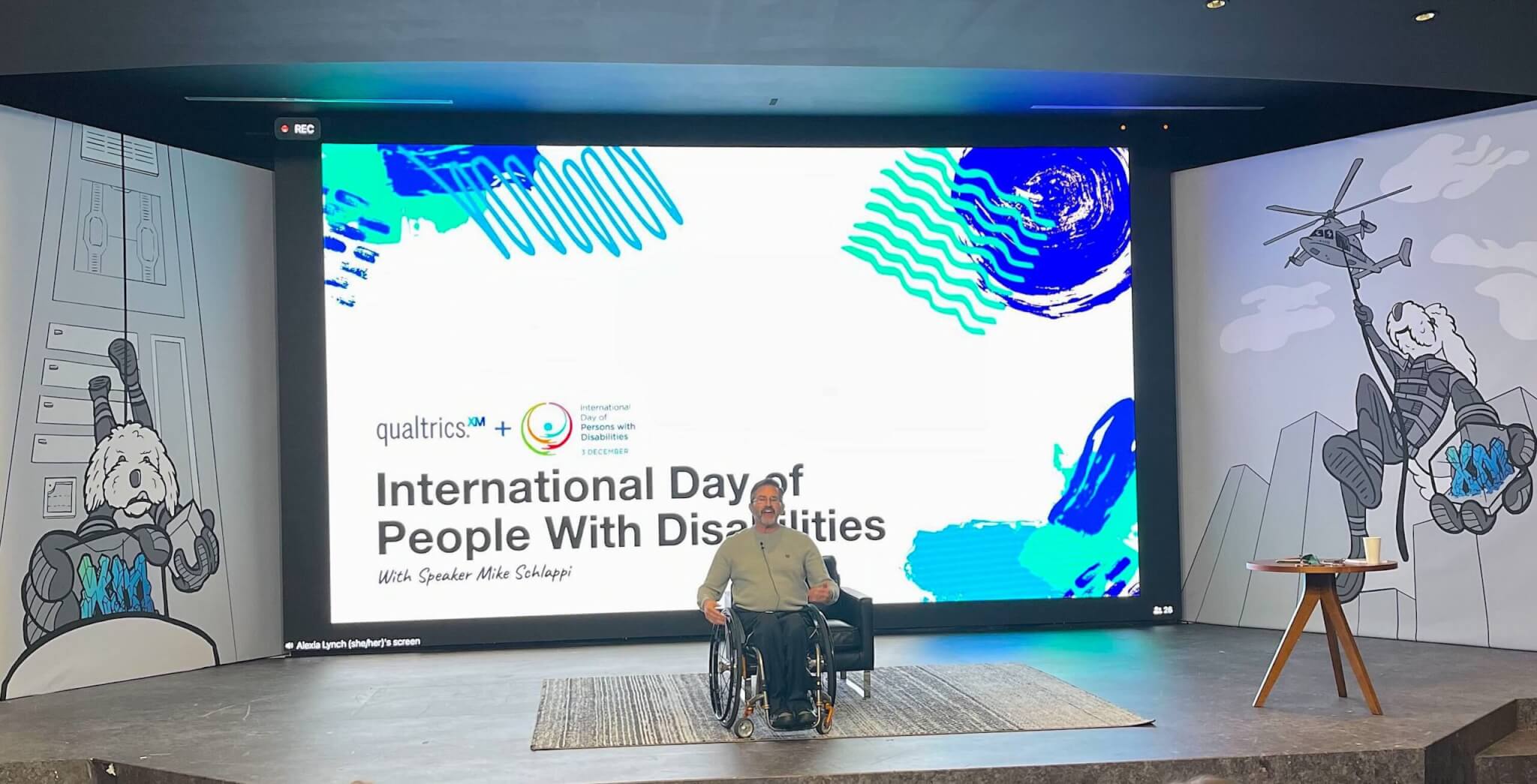 Mike told the story of how he became disabled due to a gunshot wound at age 14. Mike has experienced life both with and without a disability, and we wanted Qualtricians to learn about his perspective. He shared some of the lessons he's learned in his life, like the importance of doing things that take you out of your comfort zone and not letting fear stop you from doing the things you really want to do. He told us the secret to getting through pain is to attach a purpose — attach meaning to your pain and it will help you push through. 
"I got shot. What's your problem? What stops you? What paralyzes you? Find your bullet. Find what stops you, what challenges you. My bullet closed some doors but it opened a lot of doors too."
Qualtrics is committed to being a force for good as we push for progress and accessibility. We do our best to create inclusion for everyone, including people with disabilities. We want all our members to feel empowered and be able to participate fully at Qualtrics. 
Mike's International Day of People with Disabilities keynote nicely concluded a great year for the disabled community at Qualtrics. Qualtrics was recognized as a 2022 Best Place to Work for Disability Inclusion through the Disability Equality Index (DEI). The results of this award recognize Qualtrics' inclusive product, company, and community while providing us with feedback to improve accessibility at Qualtrics. 
We are all continuously learning and growing — here are some things we can all do to be allies and help improve accessibility at Qualtrics both in and out of the office:
Make sure

captions are enabled

on zoom meetings you host.

When in the office:

Keep chairs, bags, and other belongings out of walkways

Keep your calls, music, etc. at a reasonable volume, preferably on headphones

Do not use terms for disabilities that you don't have as slang (i.e., "I'm so OCD!")

Familiarize yourself with Qualtrics'

Employee Accessibility Handbook

— a comprehensive resource to help employees quickly find and access resources related to accessibility and disabilities. 

Lean into disability-focused

learning resources

to become a better ally and advocate for individuals with disabilities.
Throughout the month of December, we will be sharing stories from members of Q&Able. We will be highlighting their stories about living with disabilities, taking care of people with disabilities, and being an ally and advocate for people with disabilities. Look out for these stories here on the Qualtrics Life blog.
Related Articles