Academic Experience
4 Key Steps to Recruiting Your Own Research Panel
In a previous Panel Management blog post, we discussed why your organization should have an in-house research panel. With access to your own research panel you can do more research, gain faster insights, increase response rates, and build rich respondent profiles. But before you can benefit from your own panel, you have to build it.
Here are four key steps to recruiting your own panel:
Proven Results: Discover how to increase response rates. 
1. Determine your recruitment channel(s)
There are many different methods and channels you can use to recruit and add respondents to your research panel. Many of our clients successfully use existing email lists, which is the easiest recruitment channel. You may not have a pre-built list of contacts to call on so reaching out to your customers through social media and point-of-sale communication may be more effective. Decide which methods are best for your organization. We recommend the following internal resources because they are typically inexpensive and easy to do.
Email Lists
Website Recruitment
Social Media
Point-of-sale
If you don't have access to any internal methods, like email lists, or you simply want to try a few more recruiting methods, you might consider these external resources:
Buy the rights to panel members from a third-party panel
Lead generation vendors
Affiliate networks
Ad campaigns
2. Make recruitment short and simple
Once your contacts have committed to joining your panel, you'll need to gather some essential information. We recommend creating a short survey to collect the first name, last name, and email address of each respondent. If you try to ask too many questions in the initial recruitment survey, your panel members will be less likely to complete the entire survey and opt in to your panel.
Here's an example of the questions that you should ask in the initial recruitment survey: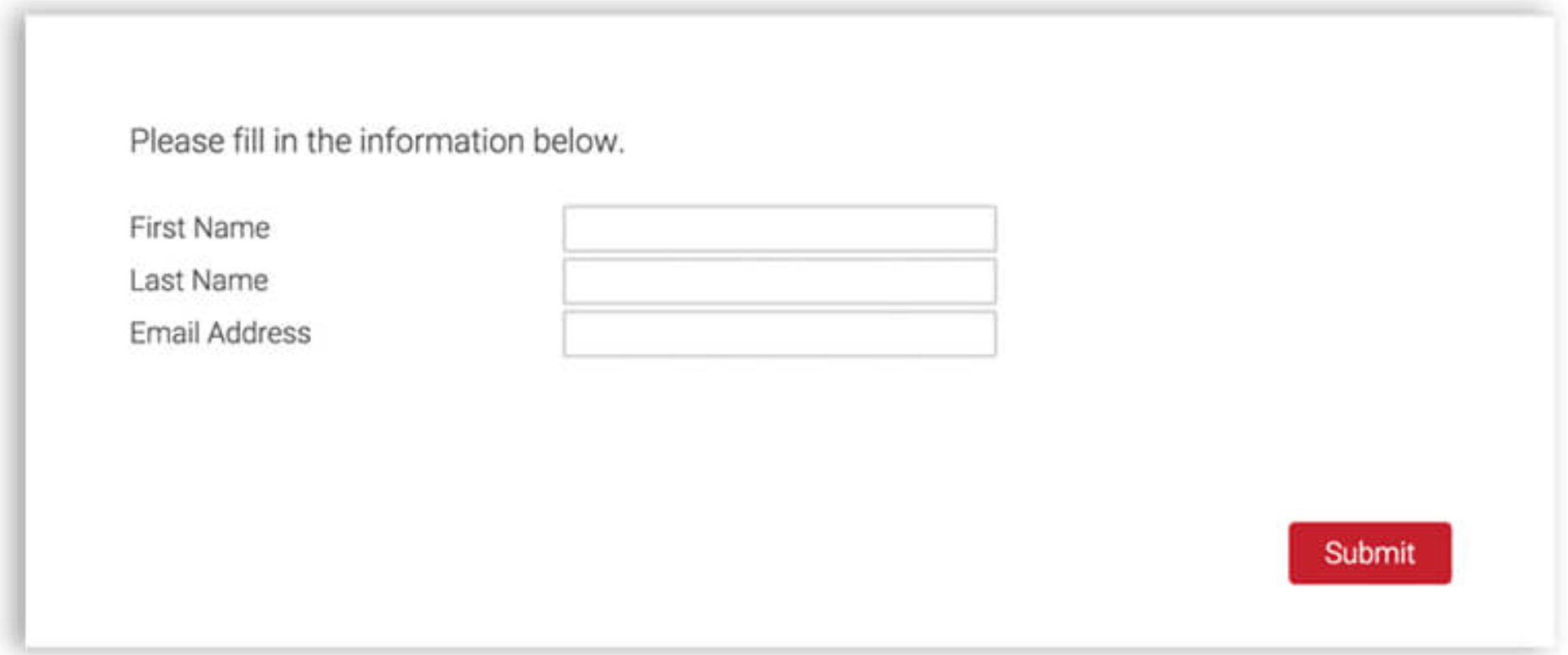 A panel trigger is a key part of your initial survey because it automatically maps questions from your survey and stores respondent responses as part of their individual profile. These panel triggers will also be used in future surveys to gather and store additional fields of information for each individual respondent—making your respondent profiles more and more robust each time you use your panel to do research.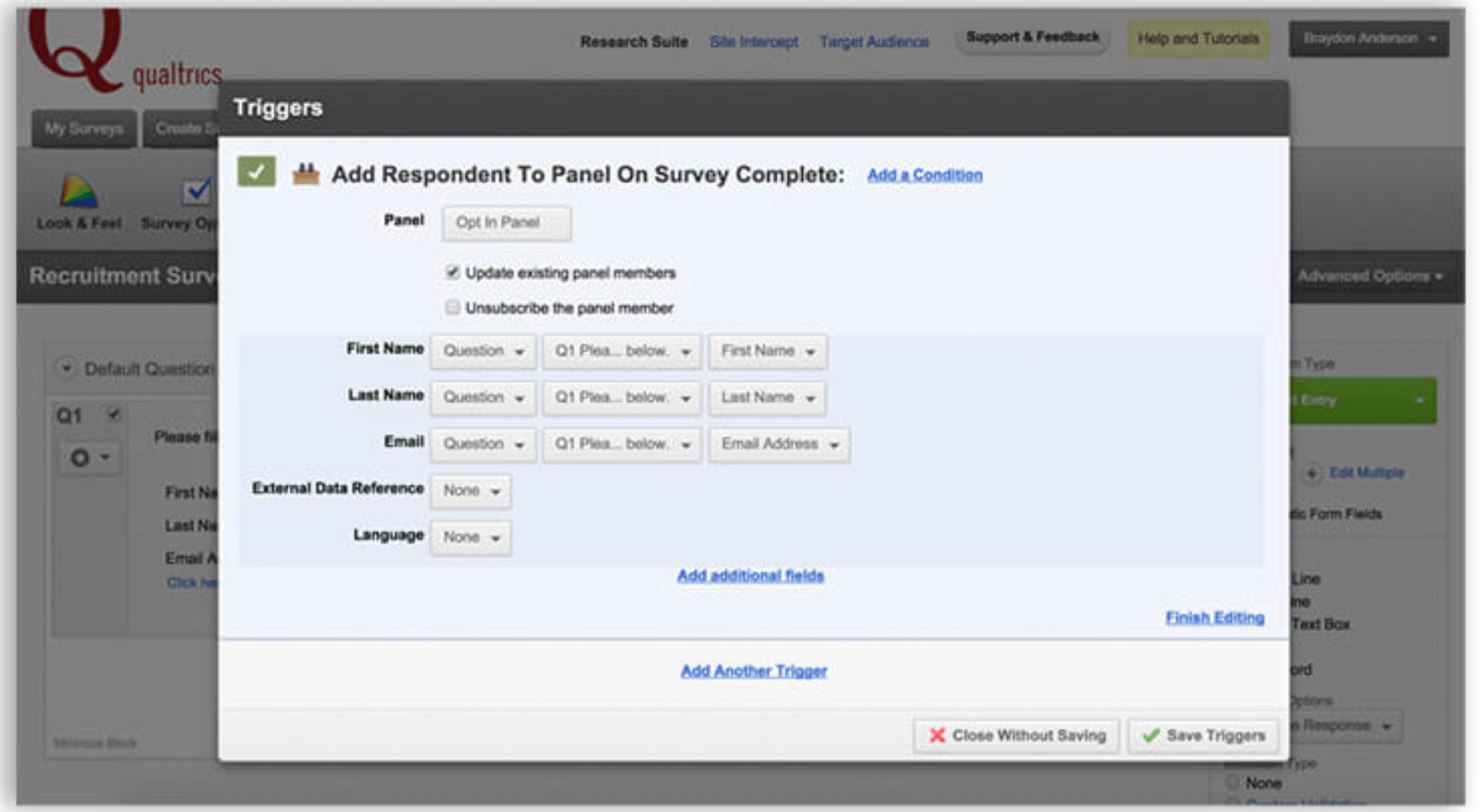 3. Send a profile survey after panel members join the panel
Keeping your initial recruitment survey short allows you to send a follow-up profile survey after your contacts agree to join the panel. This profile survey collects more information about the panel member so you can target and sample as you do research.
Even though your primary objective is to collect demographic information, we recommend asking a few fun questions as well (e.g. Who is Batman's sidekick?). This shows your respondents the human side of your organization and gives them a positive first experience as a panel member.
Qualtrics Target Audience uses mailing list triggers to automate the sending of your profile survey. In other words, the platform automatically sends your survey as soon as a contact is added to the panel. This keeps the whole process simple and easy for your respondents.
4. Send a welcome email
After respondents have joined your panel and taken the profiling survey, make sure you send a welcome email. This email should remind respondents why they joined the panel. Take the time to tell them how they can receive incentives or rewards (if you decide to use incentives for your panel), express the ways their feedback will help your organization, and help them see the benefits that panel membership provides them (i.e., better products and services).
Simplicity and clarity are the most important elements to consider when recruiting your own panel. You are asking these people to take your surveys on an on-going basis so be sure to explain how often you'll be contacting them, and be clear about what it takes to earn an incentive and how they'll receive them – which is something we'll discuss in future blog posts.
As you recruit and develop your panel, be aware of your respondents and make sure their participation is simple and easy. Our panel management blog posts and The Best Practices Panel Management Guide, will help you understand how simple panel management is for you and for those in your panel.
Start Building Your Panel Today