XM for Customer Frontlines

Digital

Root out friction in every digital experience, super-charge conversion rates, and optimize digital self-service

Care

Uncover insights from any interaction, deliver AI-powered agent coaching, and reduce cost to serve

Locations

Increase revenue and loyalty with real-time insights and recommendations delivered straight to teams on the ground

XM for People Teams

Engage

Know exactly how your people feel and empower managers to improve employee engagement, productivity, and retention

Lifecycle

Take action in the moments that matter most along the employee journey and drive bottom line growth

Analytics

Whatever they're are saying, wherever they're saying it, know exactly what's going on with your people

XM for Strategy & Research

Research

Get faster, richer insights with qual and quant tools that make powerful market research available to everyone

User Experience

Run concept tests, pricing studies, prototyping + more with fast, powerful studies designed by UX research experts

Brand

Track your brand performance 24/7 and act quickly to respond to opportunities and challenges in your market

XM Platform

Explore the platform powering Experience Management

Teams

For Digital

For Customer Care

For Human Resources

For Researchers

All Teams

Industries

Healthcare

Education

Financial Services

Government

All Industries

Customer Experience

Employee Experience

Employee Exit Interviews

Net Promoter Score

Voice of Customer

Customer Success Hub

Product Documentation

Training & Certification

Community

XM Institute

About Us

Careers

Partnerships

Marketplace

X4 Summit

The annual gathering of the experience leaders at the world's iconic brands building breakthrough business results, live in Salt Lake City.
Customer Experience
Seamless, simple, scalable: How bolttech is elevating insurance with better CX
Added travel insurance when you bought flight tickets recently? Purchased Samsung Care+ device protection when you upgraded to the latest Samsung Galaxy? Or perhaps you added loan protection with Home Credit? Meet bolttech - the innovative technology platform that sits behind those seamless insurance experiences.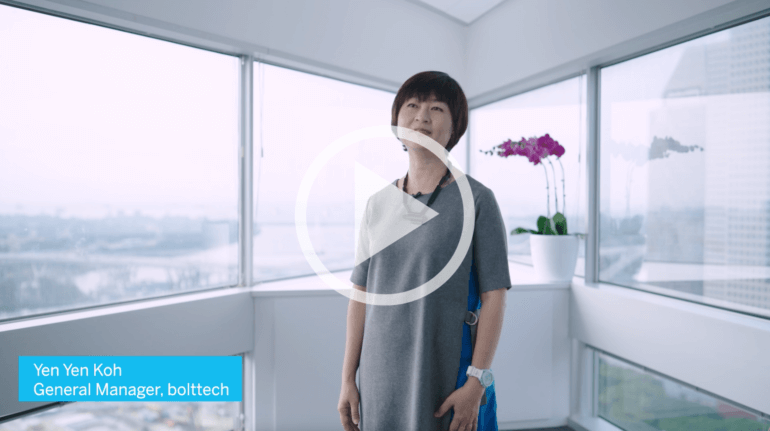 In just three short years (established 2020), bolttech - an insurtech born in Singapore, has today grown to service 35+ markets in the United States, Asia, Europe, and Africa with $50+ billion in quoted premiums every year, 700+ distribution partners and over 6,000 product variations.
For an industry that's traditionally blighted by issues of consumer trust, complex pricing, and tedious claim processes, bolttech's key to success is its unique insurance distribution technology that's built from the ground up with customer experience at its core.
The innovative platform connects insurance providers with businesses that want to offer easily accessible insurance to their customers, without taking on additional insuring risks.
"bolttech's mission is to build the world's leading technology-enabled ecosystem for protection and insurance by powering connections between insurers, distributors, and customers to make it easier and more efficient to buy and sell insurance. The unrivalled scale of our ecoystem provides businesses with everything they need to offer embedded, contextual insurance solutions to meet their customers' evolving protection needs. "
Yen Yen Koh
General Manager
bolttech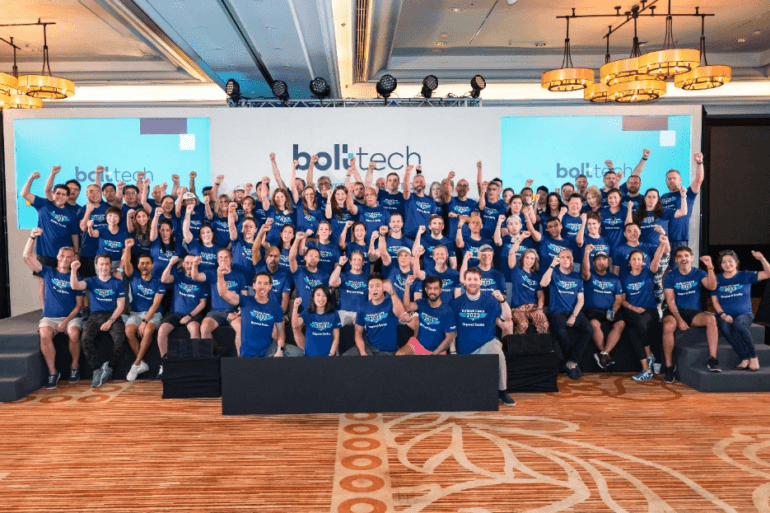 bolttech's team photo - servicing
35+ markets globally. Image source:
bolttech
Winning through better experiences
For a platform that has elevated the experience of purchasing insurance, bolttech is inherently customer obsessed.
To continuously listen to the evolving needs and expectations of its partners, clients and end customers, it leans on Qualtrics XM for the Frontlines.
Through Qualtrics as a single source of truth, bolttech can effectively manage insights at scale to improve customer experience performance. Since 2020, bolttech has implemented more than 50 CX surveys across 12 unique touchpoints, providing a comprehensive 360° view of their B2B2C customer experience.
The unified use of Qualtrics across 35 markets allows bolttech to understand customers from an aggregated level as well as a market-specific level. This helps bolttech understand the similarities and nuances between geography, demography, product, channel and service level.
bolttech can:
Identify pain points and opportunities across the full value chain of its B2B2C business.
Validate assumptions about customer journeys and preferences.
Deliver a consistent experience across the globe and also across the different levels of customers (partners, sales intermediaries, consumers).
Understand how feedback from different customer levels relates to its overarching business objectives.
Empower action from its frontline sales teams and partners based on the insights.
"As a customer-centric organization, it's critical to make customer feedback visible to the organisation. Qualtrics act as our "single source of truth" for CX performance – we can share the same insights widely while giving different stakeholders different angles to the same insights, fulfilling their specific needs."
Andrea Linander
Group Customer Experience Lead
bolttech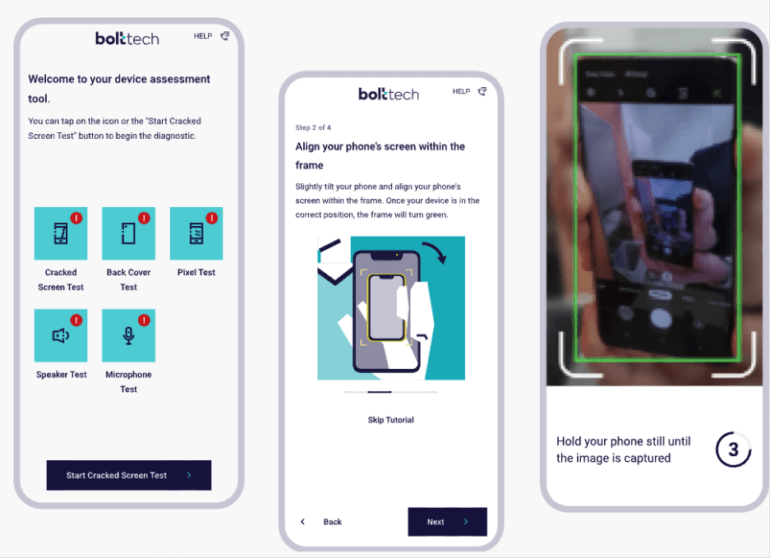 bolttech's customer-centricity is evident in the products it develops, including an AI tool that remotely diagnoses device condition to onboard new customers. Image source: bolttech
Wide participation brings powerful insights
Customer insight and feedback loops are essential to bolttech's success.
Qualtrics XM allows bolttech to embed listening posts in key touchpoints of their customer journeys (e.g. policy purchase, claim submission, customer support etc.) for real-time understanding of how customers perceive their services. By creating engaging, brand-consistent and seamlessly embedded listening posts, bolttech achieves average response rates of 45% (more than double the market average).
"With Qualtrics XM, we have the autonomy and flexibility to create, scale and adapt our CX surveys to maximise insight collection while providing a great experience to our customers. As a young and fast-growing company, the ability to rapidly evolve our solution without external dependencies or additional costs are critical to maintaining our agility and momentum."
Andrea Linander
Group Customer Experience Lead
bolttech
Action-oriented CX, seamless integration
Through a single API integration leveraging Google Apigee with Qualtrics, bolttech can analyse customer feedback and insights in conjunction with customer and operational data from CRM systems, including product, service channel, service levels, and CLTV (Customer Lifetime Value) metrics.
Through cloud-based dashboards and a robust governance model, the insights are available to more than 208 business stakeholders and 73 customer service agents.
This includes C-suite executives who can access real-time NPS for any geography, product, or customer type through a mobile app. Or its agile, cross-functional squads who use those dashboards during their daily morning huddles when discussing specific customer journeys and touchpoints.
By understanding the "how" and "why" behind customer feedback and behaviours, bolttech is able to rapidly take targeted actions to address the right problems and seize opportunities.
"Everyone in the organisation can easily access customisable dashboards that surface the right level of data to make decisions. From our C-suite leaders who access critical customer KPIs to cross-functional squads who rely on very detailed dashboards to prioritise fixes in daily stand-up reviews."
Andrea Linander
Group Customer Experience Lead
bolttech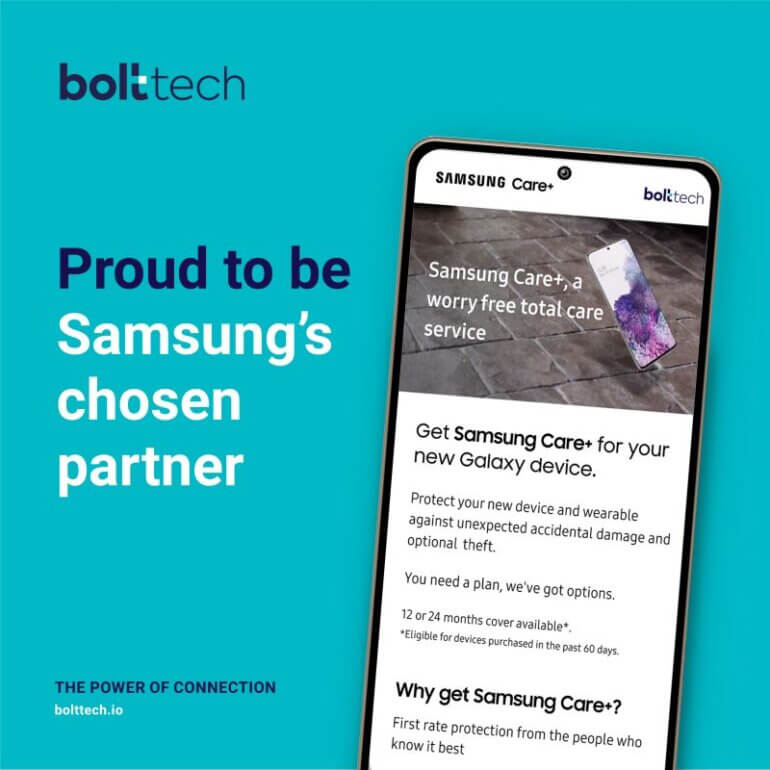 bolttech announcement about its partnership with Samsung. As a behind-the-scenes provider, delivering a seamless experience to its partners and end customers is key to bolttech's success.  Source:

bolttech

 
Insights powered by AI
Through intelligent insight and text analysis features from Qualtrics Text iQ, bolttech can analyse thousands of free text verbatims efficiently.
AI automatically assigns topics to feedback, categorises them into themes, performs sentiment analysis, and reports results through dynamic widgets. This offers bolttech a comprehensive overview of qualitative feedback in less time compared to traditional manual processes.
"The unified use of Qualtrics across our 35+ markets allow us to understand the customers from an aggregated and market-specific level. We can see the similarities and nuances of what makes a great experience based on geography, demography, product, channel and service levels – helping us focus efforts effectively and tailor offerings to meet local needs."
Andrea Linander
Group Customer Experience Lead
bolttech
Turning CX impact into business impact
By strategically integrating the Qualtrics framework throughout the customer journey and engagement cycle, bolttech has achieved significant business outcomes in terms of cost efficiencies and revenue growth - in addition to increasing its Net Promoter Score (NPS) from 65.2 in 2020 to an impressive 76.1 in 2023 YTD.
Having real-time listening has enabled bolttech to iterate at speed to address customer desires and needs, including:
Differentiating its device protection service offering, where in addition to a fast claim service that delivers a new device to customers in six hours, bolttech also offered the choice of when to receive delivery and the option to keep their old devices.
Offering the ability to process claims via social media chat and new payment methods, successfully shifting up to 80% (Philippines) of claim traffic to digital channels. This significantly alleviates the pressure on other more cost-intensive channels like call centres, email and partner retail stores.
Using customer feedback and video testimonials from the Qualtrics platform to build credibility between sales agents and consumers. This drove an increase in attachment rate by 22%.
Since implementing the partnership satisfaction survey in 2021, bolttech reduced detractors from 16% to 5% by promptly sharing feedback across the organisation and taking swift, cross-functional action to address their partners' needs.
Resolving frustrations through closed loop tracking. Implementing customer call back to address negative feedback within the same day.
"With Qualtrics as our ally, we listen, analyse, and act on customer feedback at scale. By refining our offerings and experiences based on customer insights, we have achieved remarkable growth in customer satisfaction, as evidenced by our soaring NPS."
Andrea Linander
Group Customer Experience Lead
bolttech
bolttech's CX programme has helped the team develop a granular understanding of customer pain points, needs, and behaviours to optimise the customer experience and drive revenue while realising cost efficiencies.
"bolttech has always had a strong customer-centric ethos. However, since adopting Qualtrics, we've elevated our customer-centric approach to new heights by harnessing its capabilities across the entire B2B2C business model, encompassing partners, sales intermediaries, and consumers to provide a true 360 degree view of our customer's needs," added Andrea.
Learn how Qualtrics XM for Customer Frontlines can help you surface customer friction and guide frontline teams in the moment to better serve clients. Watch a demo today.
Related Articles