Employee Experience
New research: Three shifts for employee experience success
The concept of employee experience (EX) has evolved from a focus on "satisfaction" to a holistic view across the collection of interactions and experiences that an employee has with an organization and their impact on an employee's daily life. This broad view of EX also considers how the cumulative effect of an employee's experiences shapes their engagement at work.
Engaged employees are a critical ingredient to any organization's success, as they bring a higher level of commitment and contribution to their work. Despite the clear value, companies aren't yet mastering employee experience (EX) management in a way that results in engaged employees. So, what's inhibiting EX excellence? We believe that a significant part of the problem stems from an outdated set of beliefs around what "employee experience" is, which show up in statements like, "Focusing on employee experience is all about conducting employee surveys" and, "Employee engagement is HR's responsibility."
The XM Institute's new report, Three Shifts for Employee Experience Success, explores how companies can overcome employee engagement stagnancy and replace those outdated beliefs by making three shifts in their mindsets and actions:
1. From functional job execution to purpose-led empowerment. Rather than expecting uninspired compliance to narrow job descriptions, leaders must recognize empowered employees as a critical enabler of company strategy and success and invest in strengthening the connection of employees to the mission of the organization.
2. From disinterested surveying to collaborative understanding and action. Companies must shift from periodically measuring and reporting on employee satisfaction or engagement to seeking out candid and actionable insights that enable conversations between managers and people across the moments that matter to them.
3. From HR-driven programs to employee-engaging leaders. The individuals who lead people and teams must recognize the benefits of and be ready to fulfill their personal responsibility to engage employees every day instead of relying on the periodic motions of HR programs.
The report shares over 20 examples of these three shifts in action, including practical checklists managers can use in their day-to-day roles.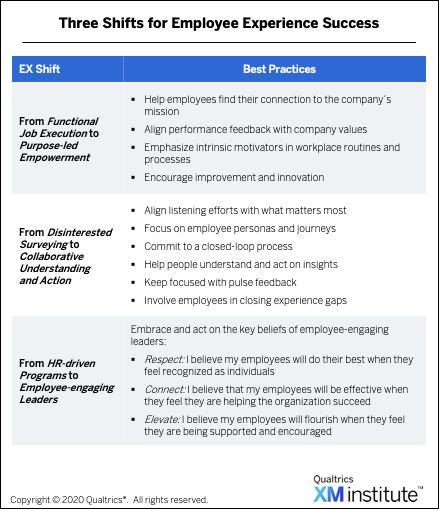 Making these shifts will require organizations to tap into the full capabilities of the 6 XM Competencies. and the report identifies program considerations across the XM Operating Framework:
Culture. In many organizations, adopting these three shifts will require a fundamentally different environment where new mindsets and behaviors will be able to take hold and thrive. It is culture that will ultimately accelerate or inhibit progress so it will be important both to create organization-wide intellectual understanding and buy-in to the shifts and to foster a belief that the new ways of working are truly valued by the organization's senior leaders.
Technology. Getting leaders, managers, and employees to embrace new processes and behaviors can be hindered when employee systems and tools support old ways of doing things. An organization can propel adoption and scale of these shifts with technology that integrates into daily workflows and delivers tailored guidance and behavioral nudges to employees at all levels.
Competency. In many cases, these shifts will mean employees at all levels of the organization will need to build new skills that support the type of employee experience the company wants to deliver. This will mean capability-building across all six XM competencies: Lead, Realize, Activate, Enlighten, Respond, and Disrupt.
3 Shifts for Employee Experience Success
Download the full report