Employee Experience
The future of the office: What's it looking like?
Due to unprecedented times, leaders are wondering what to prioritize for the future of the office and whether to ask employees to return. We'll discuss what to expect and how to prepare your organization.
The future of the office is the question as the US enters the highest inflation rise for almost 40 years, brought on by the impact of a pandemic and economic recovery efforts: we can see that the Consumer Price Index, a way to measure inflation, increased 7.0% from December 2020 to December 2021.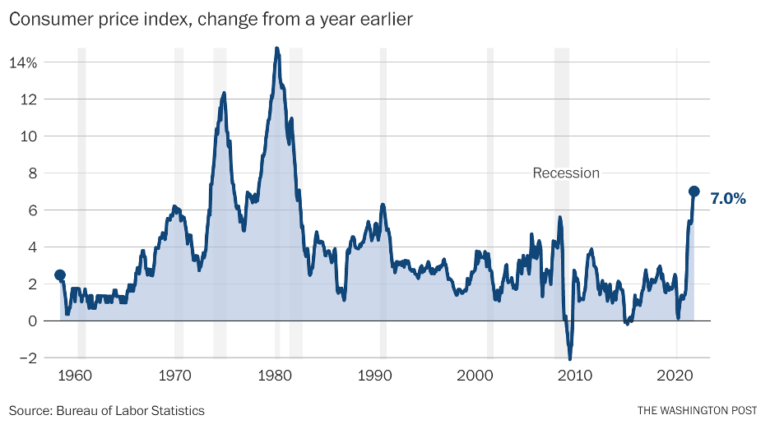 Why does this matter? Employers are facing a market where customer's buying power is reduced, leading to lower customer spending. With inflation rates set to remain high going into March and beyond, businesses face another uncertain time for their sales and employees. In addition, the unpredictability of the Covid-19 pandemic continues to affect workplaces across America. With these uncertain factors in play, leaders may begin to wonder what to prioritize for the future of the office and whether to ask employees to return.
The workplace for businesses and employees
Think back to before the pandemic when a staggering 91% of employees worked in an office. Then consider that, in 2020, in the Uqualtrics nited States, 71% of employees who could work remotely did remotely work.
Upon entering the third year of the pandemic's effects, we can reflect on the impact of the pandemic on working in an office.
As businesses faced changed consumer behavior that prioritized digital-first experiences and a surge of app usage, they responded as best they could. Some pivoted quickly and adopted new technology or innovated to respond to consumer needs. 46% of employees say their organization has become faster at acting on employee feedback since the crisis began
Others fell under. In the first year alone, 2020, Yelp's Economic Impact Report found Covid-19 responsible for 97,966  permanent closures (60% of closed businesses). In June 2021, closures affected 6.2 million people.
Employees also felt the effects: harder commutes, long and uncertain periods of working from home, and lack of supportive sickness policies.
Employee engagement became a hot topic as companies were faced with problems of managing a remote workforce:
Women with kids reported a lower work-life balance, ability to manage stress, productivity, access to relevant workers and resources at work, focus, sense of belonging, and overall satisfaction than men with kids — and even left the workforce at a higher rate than their male counterparts.
77% of workers felt uncomfortable taking public transit.
47% of workers report that they've felt burned out since the beginning of the COVID-19 crisis. Worryingly, family isn't a source of comfort as before: 29% of married workers are 29% more likely to have experienced burnout than those who are divorced
Companies moved to implement measures that would help to boost employee's mental health (employee assistance programmes, mental health meditation apps) and support at-home working environments (equipment budgets), to keep productivity high and the company going.
This has helped and many employees feel that their employee experience has gotten better since the pandemic: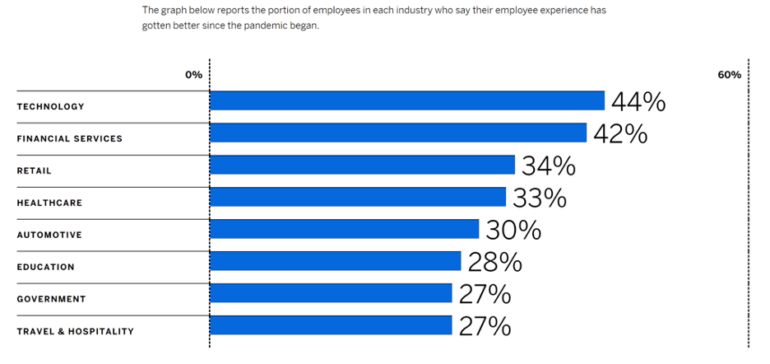 But for companies to plan for the future, Deloitte found that 'Making the shift from "survive" to "thrive" depends on an organization becoming distinctly human at its core.' Their research  reports that this is 'a different way of being that approaches every question, every issue, and every decision from an employee experience angle first.'
The pandemic on employee experience and the future of the office
Whether your business has a public sector or a corporate office, there are some shared elements that make up the 'office space'. Lets see how each one has been affected by the pandemic and how things have changed:
Company culture
Leaders embraced the fact that 'a people-centric workplace environment can be achieved without sacrificing efficiency or effectiveness', as reported by Deloitte. During the pandemic, we can see that businesses made waves to improve their own culture ratings: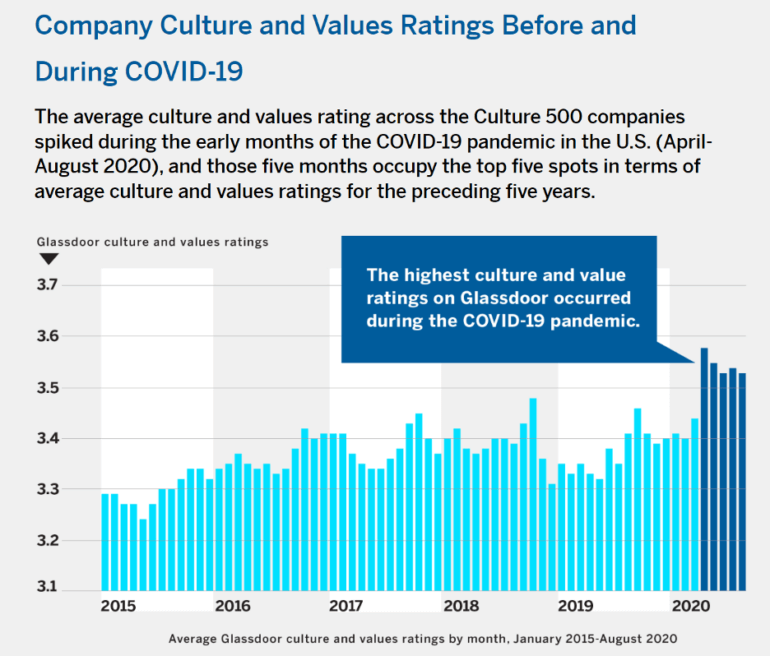 Companies focus on improvements to the working culture, like:
Delivering morale-boosting online company events
Implementing policies for new working practices
Offered flexible working patterns
Our research found that 37% of workers feel that company culture has improved since the beginning of the Covid-19 pandemic. This was significant as culture impacts the employee's feeling of purposefulness:

Intent to stay (ITS) is a key measure of employee experience, a measure of overall organizational commitment, and has been linked to actual turnover. With increased ITS levels, this can help management predict turnover, allowing for action taking and planning ahead.
With the continued focus on improving the employee experience, businesses are more likely to retain key workers and reduce attrition rates.
Communication
With teams being separated by social distancing and stay-at-home measures, high-quality communication was a core theme for leaders. Sentiment scores in Culture 500 companies were highest during the pandemic, as employees gave their corporate leaders much higher marks in terms of honest communication and transparency during the first six months of the coronavirus pandemic compared with the preceding year.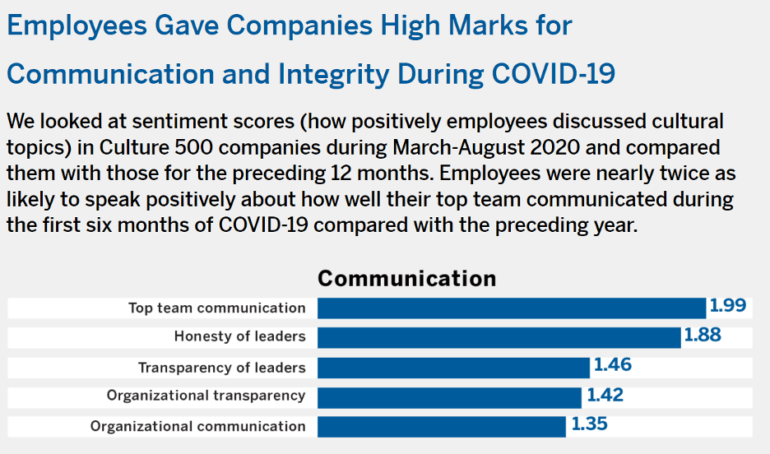 As we move forward, honoring the past lessons and continuing to grow from there by listening to employees will keep employees front and center. McKinsey provide a great framework for considering communication for employees returning to work: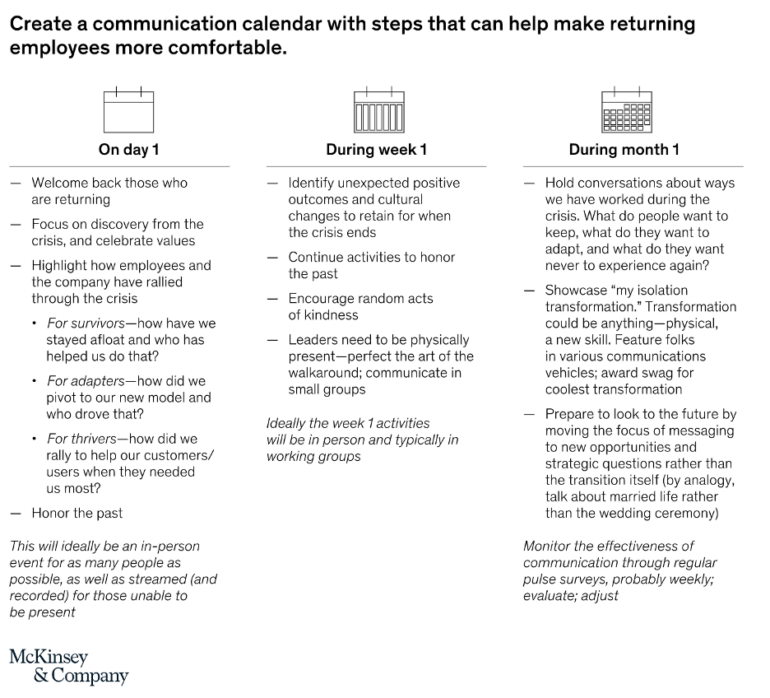 Work-life-balance
68% of employees favorably rated their company's efforts to support balancing their work and personal lives during COVID-19 and 52% of people say that they've felt more purposeful in their work since the beginning of the COVID-19 crisis
Now, the issue facing work-life balance for the future of the office is growing workloads. In our 2020 Global Workforce Resilience Report of over 17,000 employed individuals, 79% of all respondents feel "at or beyond workload capacity".
Despite organizations implementing well-being benefits and policies, employees are still unable to or afraid to take time for their own health: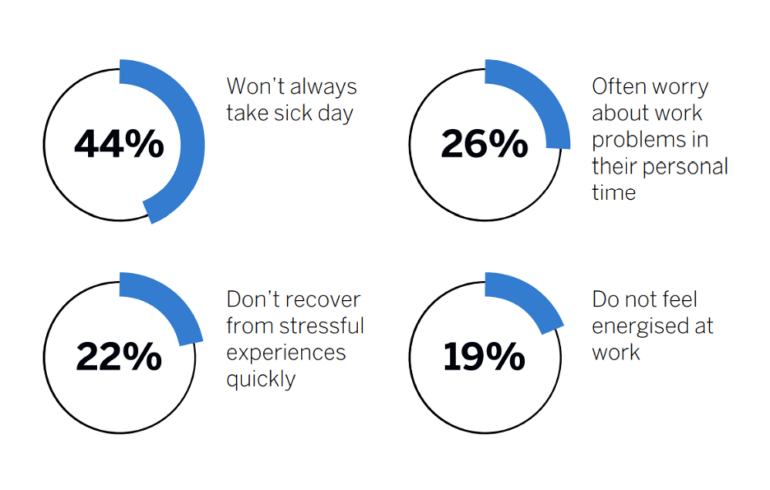 Fundamental changes in the office space or at home, driven by management, can help employees accept and adopt healthier practices that enable them to help themselves.
Working remotely
When Covid-19 impacted businesses, companies were at different levels of readiness, but most industries found they were able to shift to a digital-first mode. 77% of telecommuters report being more productive, because of reasons like: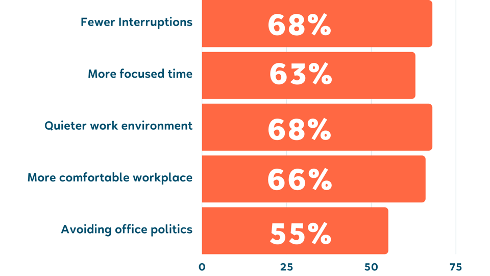 Image Source: Flexjobs
In the near future, remote working is still desired. 54% of people report that they like working from home, while 19% of people don't.
Going forwards, 68% of people are interested in working remotely some or all of the time going forward. 76% of tech workers — more than any other industry — expect remote work will be more common in the future.
This is also because of the investments made during this time in the home. McKinsey found that 28% of consumers invested in amenities such as home theaters, gyms, or studios to make the lockdowns bearable, and 30 percent more plan to continue spending on their homes post-pandemic.
To support remote working, consider how your business is helping to fulfil employee's wants for home working. Here are the top tips voted on by employees that could give you a good starting point to consider future improvements: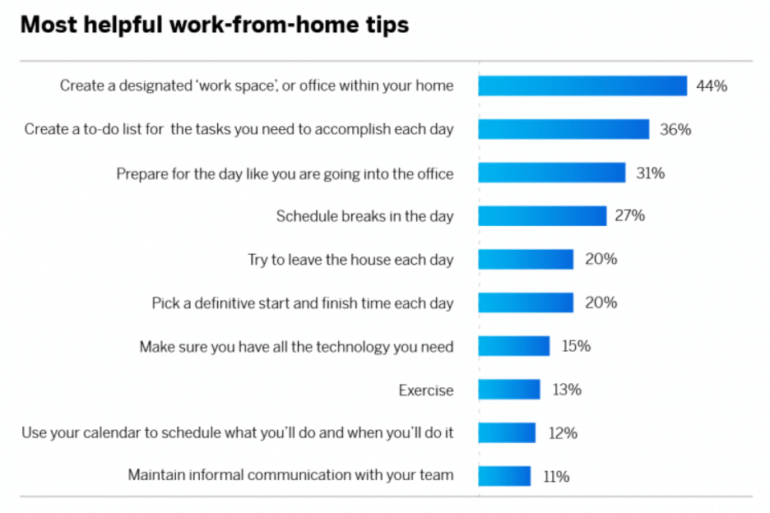 Safety standards
Adopting to a workplace where most people will have been vaccinated, but some may never choose to. At the moment, the US has approximately 65% of its citizens vaccinated, yet 40% of adults surveyed are unsure or won't get it. Our research cited these reasons:
How quarantine measures are implemented at work could impact how comfortable people feel about taking time off, as 70% said they would be more motivated to take vaccinations if they could visit a hospital or another state without quarantine.
Crucially, less than half of employees who work on-site are satisfied with their company's efforts to maintain a safe work environment. Even fewer—37%—are confident that their company's policies will keep them safe at work.
People also expect their employers to keep them safe at work once they come back, with 69% saying they trust their company leadership to make the best decision on when employees should return to work, 16% reporting that they were neutral, and 15% who disagree.
But they also expect additional safety measures from their company leadership:
74% want their work office space to be thoroughly and regularly cleaned and disinfected
63% want their company to consult with local and state authorities to make sure it's safe to come back to the office space
62% want strict policies about who cannot come into the corporate office, like those who are sick or have recently traveled
57% want masks available to anyone who wants one
Office space
The association of work only happening within a workplace has been tested and found unreasonable, found Deloitte, who reported that leaders shed their traditional thinking about the relationship.
Leaders have witnessed that work can occur just as productively from home using video conferencing tools. This opens a wider range of options and considerations for an organization's physical asset management.
If physical spaces are needed, leaders should consider how office spaces can encourage safe working practices. Smaller offices may need to consider ventilation – some companies are trading in their commercial real estate and private offices for leased offices and flexible work spaces.
We are also seeing that most organizations are delaying reopening the office (for example, Apple), and downsizing, allowing for more remote working. One article found that since COVID-19 was officially classified a global pandemic in March 2020, in the past year, the US has shed 138.4 million square feet (MSF) of office space.
Will workers ever return to the office?
Back in 2020, two out of three people (66%) were not comfortable going back to the workplace. Compared with a post covid world, 56% of current remote workers would feel comfortable returning to the office.
Yet, it could be demotivating. In one study, only 30% of the survey respondents believe they'll be back working at the office when it reopened and, when asked what they were looking forward to, 20% responded with "nothing."
In terms of responding to market needt, customer trends towards a digital-first and mobile experience aren't changing anytime soon: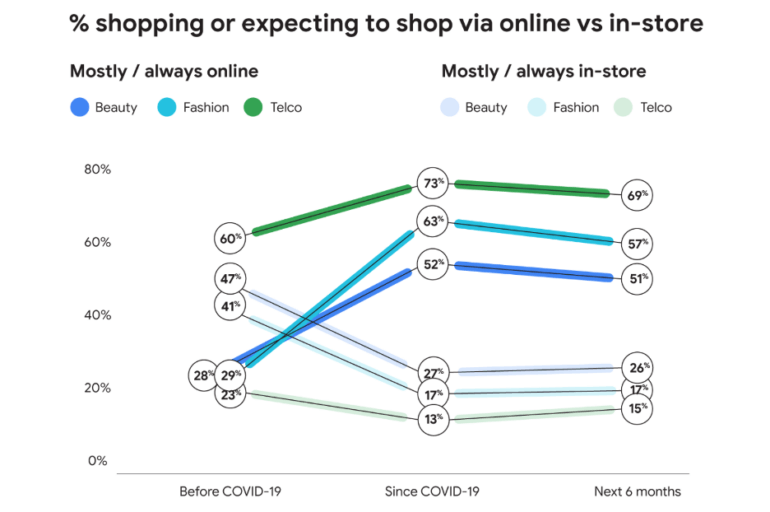 Image Source: Think with Google
Furthermore, Think with Google's analysis suggests that those who are newly converted to online shopping will seek a more omnichannel experience going forwards: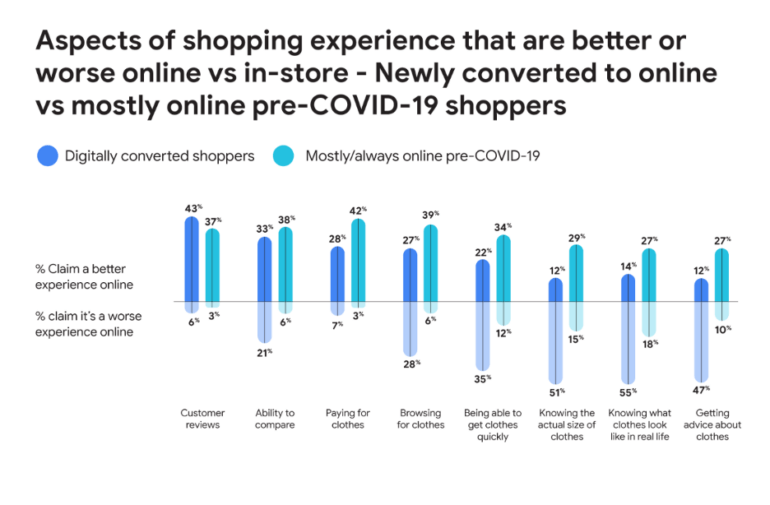 Image Source: Think with Google
So, remote work could continue if it's useful for the company.
From our research, from 4,000 employees around the world, we know that:
Only 27% of employees want to go back to the office full-time
Very few (only 7%) want to work from home full-time
The vast majority of employees (73%) want to work remotely at least 1-2 days a week
This means that leaders may be looking at full-time, remote or a hybrid model of working hours in a physical office, but there is clear evidence that suggests that remote working in some form is here to stay.
Yet, leaders need to acknowledge that times have changed and employee requirements are different than before. In a post covid world, the key takeaway is greater flexibility is one of the top factors that determines employee job satisfaction — second only to salary, according to a new study by the Future Forum, a consortium backed by Slack, conducted on the Qualtrics platform.
Nearly all (93%) knowledge workers want a flexible schedule, while 76% want access to flexible work environments. And employers looking to attract and retain talent should know that 21% of knowledge workers are likely to switch companies in the next year, while more than half (56%) are open to looking for a new position.
Where can leaders optimize their future investments?
Our insights have found two main issues with the uptake of experience management within an organization:
XM leaders run into technology limitations: 26% of companies whose XM capabilities are considerably above average selected technology limitations as a significant obstacle to their XM efforts. This was not only the most common obstacle for this group, but these companies also ran into this problem more frequently than organizations with less strong XM capabilities.
XM laggards suffer from a lack of strategy and leadership: 34% of companies whose XM capabilities are average or below average selected lack of clear strategy as a significant obstacle, making it the most frequently encountered obstacle for this group. The second most common issue is lack of leadership for these efforts, with 32% of this group identifying it as a problem.
For the first obstacle, we found that a company's ability to turn feedback into action can directly affect employee engagement.

We know that listening is crucial and the ability to feedback relates to better employee experience. Feedback matters - there is a higher engagement score (59%) from employees who said their company provides a feedback program.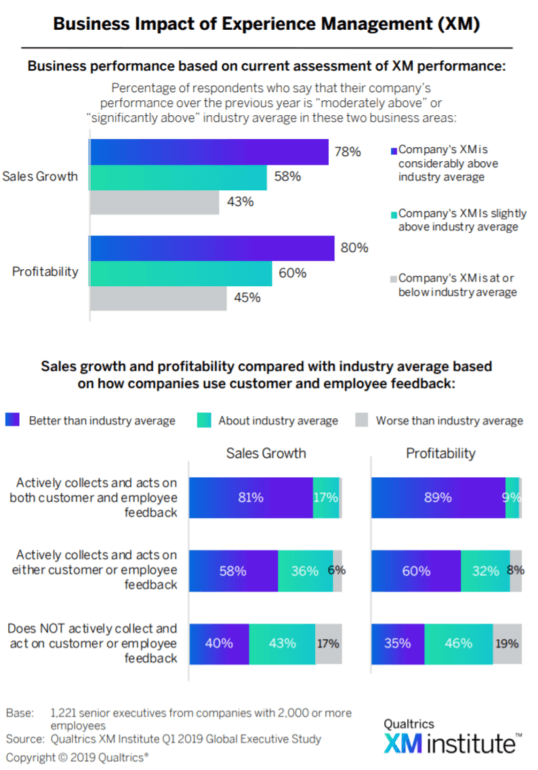 According to the Future Forum Pulse, companies that invest in digital infrastructure see:
Higher productivity (+54%)
Higher sense of belonging (over 2x)
Greater ability to manage stress and anxiety (over 5x)
This is not just a benefit to employees in-house. 63% consumers think businesses need to do a better job of listening to feedback, as 60% said they would buy more as a result. That's crucial in the harder high-inflation times ahead.
We'd recommend that leaders think about what their organization could benefit from a system that:
Integrates with all your current systems?
Easy to navigate dashboards that can be customized and auto-populated real-time
Intelligent analytics that look at the qualitative and quantitative data
Bespoke application that works for your company set up
If you'd like to easily manage and improve the employee experience with our employee management solution, we can set up a quick demonstration.
In the meantime, you can take advantage of the following resources:
Whatever form your return to work takes, we can help get you back to business with the Return to Work Pulse, an automated solution that allows leaders to listen, understand, and act on employees' health and safety needs. The service helps managers stay better connected with employees and ensure they have what they need to succeed in this new environment.
Also, check out our Back to Business solutions, which are designed to help organizations stay connected with customers and take actions to build customer confidence.
Try using our free customer-focussed feedback surveys like: CSAT, CES or NPS
Pull quote
For the second obstacle, to help you move forward with, we've developed and validated a more modern view of employee experience. This helps make employee experience easier to understand and act on.
How does it work? Our in-house team of organizational psychologists identified 5 key KPIs to measure EX:
Engagement: The relationship and support from the manager
Intent to Stay: Does the company's culture attracts workers to stay
Engagement: How engaged the employees find their roles
Inclusion: How involved and included they felt in their teams
Well-being: How does the company encourage employees to focus on their health
And there are 25 drivers that influence them, which come together as a framework called EX25, an industry-leading holistic approach to measuring and optimizing employee experience: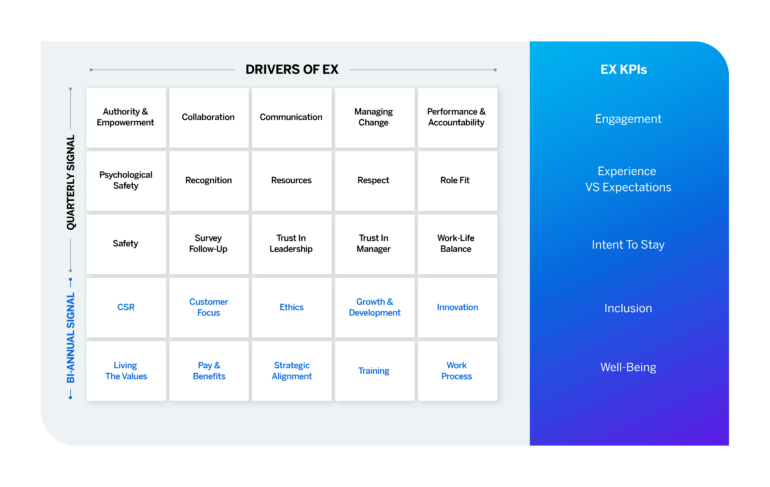 With EX25, management can holistically understand employee experience and where to focus and lead employees in order to drive impact. It's crucial to know as you make more changes to the organizational structures and to the future of your company.
Learn more about EX25 and how this works by downloading free our EX25 ebook
If in doubt, here's what Benjamin Granger, our Senior Principal at the XM Institute says: "Before you implement long-term policies, send out a survey to gauge how people are feeling. You can then use that to frame how you communicate with your people."
Start making strategic changes to your organization