Featured
What are the top market research challenges in 2022?
We all know that conducting market research in today's landscape is nothing short of challenging — from the need to deliver deeper and more meaningful insights faster to developing strategic, always-on research functions.
In many ways, the pandemic amplified existing challenges while creating new ones: the role of the market researcher has evolved from just the deliverer of insight to the supporter of strategy, while organizations are gradually moving towards end-to-end research platforms to support every area of the business.
These are, of course, early days, and many organizations are still finding their footing — but those that are aware of and combating these challenges are those leading the charge.
In this blog, we analyze some of the top market research challenges from our 2022 Market Research Trends report, and provide tips and tricks on how to overcome them.
Challenge 1: Addressing market uncertainty
For market researchers, acting during times of uncertainty is nothing new. After all, much of their expertise lies in analyzing large amounts of disparate data to uncover conclusions and highlight opportunities. And it's through this data, specifically experience data, that researchers can chart a course forward.
However, in times like these (with the pandemic and shift to digital), there's a tendency to pause or cancel projects and initiatives — perhaps to recoup lost investments, protect employees or ensure the business can continue to run.
That said, there's a compelling argument for organizations to weather the storm — to continue pushing through and put more faith into their research activities to understand how business and customer mindsets have shifted. By investing more time and resources into market research, organizations can get ahead of the competition and start to deliver experiences fit for the new world of work.
And most organizations have responded positively. Through our research, we discovered that while market uncertainty is one of the top challenges for market researchers — the vast majority of respondents (67%) are investing more in specialized market research technology to get a grasp of the post-COVID-19 world. As important, 77% see these technologies as critical to their organization's success.
There's more — these organizations are also investing heavily in product, brand and customer experience technology to close gaps across their activities. It's through these tools that they can improve brand recognition and sentiment, customer engagement and satisfaction, and ultimately deliver more valuable products.
The reality is that uncertain times are highly dynamic. Needs, priorities, concerns and perceptions change frequently. But the only way to be successful in an ever-changing landscape is to adapt and understand the new state of play.
Challenge 2: Improving data quality and insights
For almost a third of our report's respondents (31%), the most helpful innovation for addressing their business' challenges in 2022 would be an automated data quality solution. Indeed, gathering and processing data, especially with a series of disconnected, disparate tools and a growing list of digital channels — often leads to inconclusive or low-quality insights.
But as well as lacking the right tools, some organizations lack the expertise and resources required to properly utilize the assets at their disposal. According to our report, 20% of respondents cite a lack of skills and training as one of the reasons their market research is being held back. Another variable affecting data quality.
Similarly, data from Forrester Consulting's report (The State of Evidence-Based Experience Design) — commissioned by Qualtrics — highlights that limited use (by almost half of the respondents) of analytics tools and siloed processes poses major challenges to data-driven experience design and adoption.
Typically, data quality issues arise from these problems: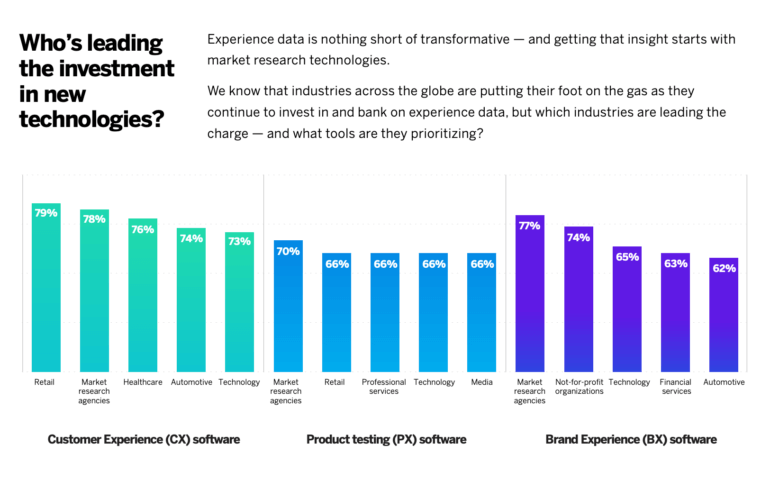 Therefore, to get the most value from market research in these instances, organizations must do the following things:
1. Develop and implement a repeatable, scalable and robust data gathering and collection process.
As business outcomes are built around new market research, ensuring you have a solid strategy and approach to using the data is absolutely critical. This means embedding consistency at every phase of your research project, carefully evaluating the methods you (or your market research agencies) use and asking yourself: "is there a better way of doing this?"
And in most cases, there is. You may have disconnected processes and knowledge gaps, or your approach to market research is outdated. The idea here is that you build a best-in-class research culture that's supported by the technology you choose to use. If your strategy and approach are riddled with problems, your data will suffer the same.
At every opportunity, try to identify ways of doing things better and more efficiently to support your overall market research goals, whether that's automating specific elements or outsourcing the data collection so you can focus on analysis. What's key is that the process is repeatable, scalable and robust.
2. Acquire a solution that empowers everyone, across the organization, to carry out and analyze research
We've spoken previously about the benefits of platformification for the market research industry, but it bears repeating here. Considering the challenges facing market research projects, including the need to glean higher quality insights faster — platformification offers a solution.
By consolidating data, and combining qualitative and quantitative capabilities and datasets in a single platform, platformification enables organizations to connect the dots at every stage to surface more holistic insights efficiently. This is also incredibly important as less than half of organizations (45%) use qualitative and quantitative data to uncover new experiences.
Analytically, platformification means organizations can use modern technology to capture data from multiple sources and deliver richer insights, faster. For the expert market researcher, it enables them to use advanced statistical analysis tools to elevate findings and get significantly more from the same amount of data.
Finally, with the right choice of platform, it becomes possible for anyone in the organization to carry out data collection and research projects — all without training. It's the natural evolution of market research, an approach that gives everyone the capabilities they need.
3. Clearly define research methods, analysis and use the right tools
Relying on a platform that offers all types of research, quantitative, qualitative and more, vastly increases your data collection and analysis capabilities while giving you the flexibility you need to carry out specific projects.
Furthermore, using the right tools and technology means that you can make sense of certain types of data, such as structured and unstructured data. For example, the ability to capture and analyze open-text responses across multiple channels to determine customer sentiment and engagement.
4. Establish collaboration across the enterprise
A core part of developing and deploying successful market research projects is collaboration across the entire enterprise. Having a singular platform helps — in that everyone is effectively working from the same location — but it's also important to get buy-in and clearly articulate the purpose of the research in advance.
It's also worth setting up regular meetings or sessions with teams before, during and after any market research project to understand progress, highlight opportunities or issues, and then identify ways of improving upon the process.
This kind of collaboration fosters not just good relationships with departments (enabling market researchers to become trusted advisors and strategists, rather than just analysts), it also builds a culture where market research is put at the heart of all campaigns.
Challenge 3: Getting leaders to invest
Conducting market research today is perhaps one of the most important things an organization can do. With the right data sources, market researchers get better insights, leaders can push business decisions and product developers can come up with solutions to business problems.
The challenge is getting leaders to continually invest. According to our report, 21% highlight communicating ROI and business impact as one of their top market research challenges. The same percentage highlights competing internal priorities as another.
At some organizations, market research is a means to an end — done to support new product initiatives or marketing campaigns. But the real value is in ongoing market research supported by an embedded research function.
The first step to getting leaders to invest is to clearly demonstrate, regularly, the impact of market research on business outcomes. For example, by using role-based dashboards, you can provide stakeholders and executives with high-level summaries of how market research projects have contributed to business outcomes.
As for ongoing product development, let's say you carry out some product research, using conjoint analysis, to identify which product features customers value most. You can then compile this information for product teams and executives to see before making the necessary changes. You could also carry out market research to identify the ideal product pricing point before going to market — or do that same research to work out how to alter your product prices in the current market.
What about ongoing improvements? Well, you can apply market research to products in situ and run focus groups and surveys to uncover new customer preferences. You could even use listening tools on digital platforms to capture customer feedback and reviews and use that information to create new products or add features to existing ones. Then, communicate the results of these changes to teams, executives and stakeholders with ease.
Of course, all of the above requires the right platform — one that can listen, understand and act on market research data to empower you and your teams to create better experiences.
Discover the market research trends of 2022
At the heart of business success is market research, but overcoming the problems and capitalizing on the trends requires a well-thought strategy.
In our second annual study into the state of market research globally, we delve deeper than ever before to uncover the market research challenges and opportunities for organizations in 2022.
From the changing role of the market researcher to what you should be prioritizing, discover everything you need to know.
Just download your free copy using the button below.
Learn more about the 2022 market research trends and challenges