Product Experience
Defining your product's value proposition
Your product might be amazing. But without a succinct value proposition, your customers may never know why. Even worse, the wrong value proposition can confuse or mislead prospects who may desperately need what you have to offer.
No one knows their product better than those who created it. Marketers have the task of distilling down a product's messaging into a compelling value proposition.
Effective product value propositions bring together your product's positioning and benefits, succinctly describing your unique, useful and needed features.
In this guide, we'll cover everything you need to know in order to create an effective product value proposition and bring it to life.
What is a product value proposition?
A product value proposition is a statement that articulates the product's features, uses and differentiators while taking into account the customers' problems, wants and needs. It is the north star for product messaging.
A product value proposition describes what the customer will get out of the product. It serves as the foundation for additional ancillary marketing copy that will branch off from it.
It is the product's elevator pitch—boiled down to one sentence. It shouldn't just describe the product, though. It should sell it.
Prospects reading the product value proposition should immediately understand the product's benefits and have a desire to learn more about it.
Why are product value propositions important?
Consumers have short attention spans. They are bombarded with so much marketing content that it can be overwhelming. Businesses that effectively navigate the clutter and offer an intriguing product statement that resonates will be the ones that succeed.
Company messaging begins with your product's value proposition. The statement is a useful marketing tool that can be used to describe your product and share its benefits with customers who are scrolling by quickly.
In addition, it can realign employees and provide them with a concise way to describe your business' offering.
With so much content being published everyday, businesses only have a few seconds to attract and engage prospective customers. That's why product value statements can be an effective mechanism to frame your product in consumers' minds.
Examples of effective product value propositions
Effective product value propositions stay with the consumer for a period of time. They cover all the different aspects of the product's benefits, while framing the product as a solution to the problems their target customers face.
Let's take a look at a few different product value propositions from ten well-known companies and see why they work well.
1. Buffer
Buffer, a social media scheduling platform, highlights simplicity in both their product and their value proposition.
Their product value proposition states, "Simpler social media tools for authentic engagement."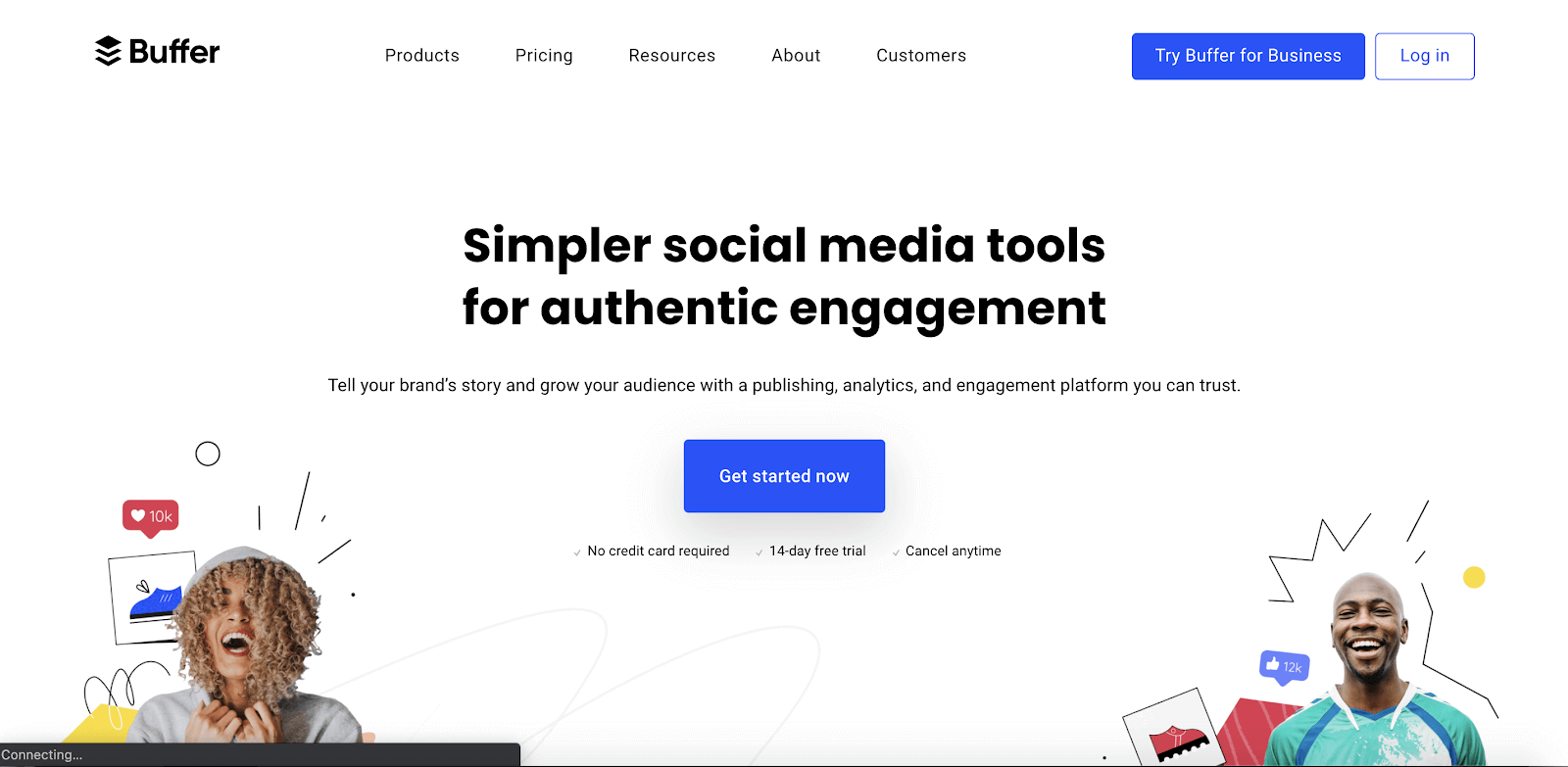 (Image Source)
Simplicity is a competitive advantage for Buffer. Maintaining an engaging social media presence is complicated and other social media platforms are complex.
Buffer touts their simplicity as a competitive advantage, showing that they are empathetic towards the challenges their customers are facing on social media.
The phrase "social media tools" directly states what the product is, while "authentic engagement" is the outcome that the customers will get after using the product. This is the singular benefit that Buffer is touting in their product value proposition.
Buffer's product value proposition is a concise and effective way to explain the product to someone who has never seen it in action or isn't aware of why it's needed.
2. Drip
Drip, a marketing automation platform, focuses on the outputs that customers will benefit from if they use their product.
Their product value proposition states, "Drip's intelligent marketing automation empowers every ecommerce store to build genuine, authentic customer experiences."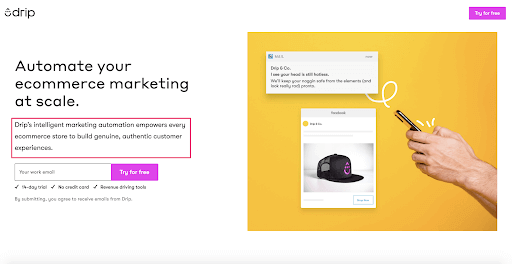 (Image Source)
The statement begins simply by stating what the product is: "intelligent marketing automation." Then, it reinforces the target customers: "every ecommerce store." Finally, it highlights the outcomes it will deliver: "genuine, authentic customer experiences."
When you focus explicitly on the outcomes, you don't have to directly state the challenges customers are facing.
By highlighting "genuine, authentic customer experiences," Drip was alluding to the fact that their target customers may have struggled to create meaningful digital connections. They see their product as a means to facilitate and create those connections and subsequently solve their customers' problems.
3. Buzzsprout
Buzzsprout, a podcast hosting provider, says they have "Helped over 100,000 people start their own podcast. It is the easiest way to host, promote, and track your podcast."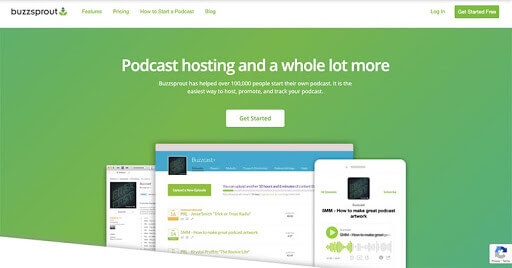 (Image Source)
Buzzsprout positions themselves as a tool that does what is needed in an easy way (podcast hosting) and a whole lot more. They are one of the top podcast hosting tools on the market and use social proof (100,000 people) to showcase that.
4. Reply
Reply, a sales engagement platform, conveys customer challenges and product benefits in their value proposition for their browser extensions.
Their product value proposition states, "Reply's LinkedIn Email Finder and Outreach extension searches for prospects' emails in seconds, automates email search and sales outreach."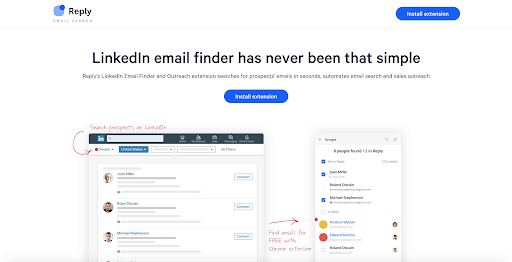 (Image Source)
Reply positions their product value proposition around the time-saving benefit it provides. In addition, they describe the product's functions and allude to the challenges their prospects face.
By reading it, you'll fully understand why you should download their product.
5. Monday.com
Monday.com, a project management tool, offers a promise to their customers in their product value proposition.
Their product value proposition states, "Monday.com powers your teams to run projects more efficiently in any way they choose."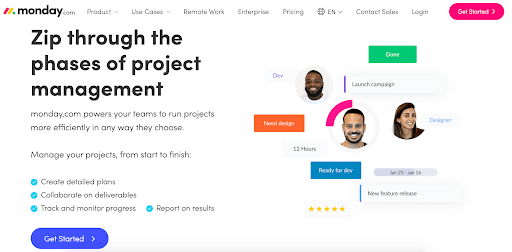 (Image Source)
Monday.com's promise to help their customers "Power their teams to run projects more efficiently in any way they choose" shows that they understand how busy their customers are and how they value their time.
Monday.com's product improves processes and efficiency, so focusing on getting more done is a smart way to reach prospective customers who are eager to improve the way they work. Monday.com writes a lot about creating strong virtual teams and the rise of remote work, playing to their strengths.
6. Robinhood
Robinhood, an investing app, positions itself as the market leader, while highlighting the benefit it provides to their customers.
Their product value proposition states, "Robinhood, a pioneer of commission-free investing, gives you more ways to make your money work harder."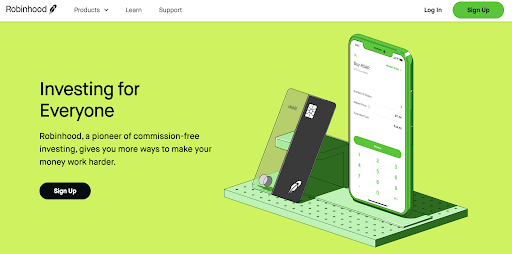 (Image Source)
The word "pioneer" sets the app apart from competitors, reinforcing the idea that Robinhood was first-to-market and is currently blazing the trail.
In addition, the phrase "gives you more ways to make your money work harder" states the benefit that customers get from using the app.
7. EasyWebinar
EasyWebinar, a webinar hosting platform, teases their customers with the holy grail of marketing content: high-performing assets.
Their product value proposition states, "EasyWebinar is an easy-to-use platform that makes high converting webinars a reality."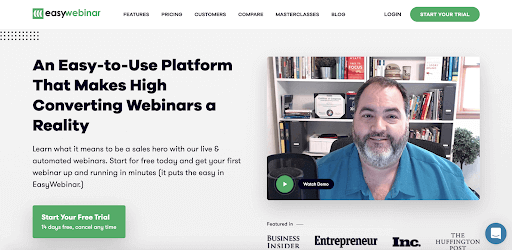 (Image Source)
The statement focuses on the simplicity of the platform and the ultimate outcome that customers will be seeking.
EasyWebinar knows that their customers are more interested in the leads and sales, than simply creating a webinar. That's why it was a good idea to add the phrase "high-converting" into their value proposition.
By doing so, they aligned their product with the customers' end goal. Customers aren't just looking for a good webinar platform; they're looking for webinar software that will get them more sales.
8. PandaDoc
PandaDoc, a proposal and contract management software, sells customers on a dream of crushing quotas from proposal to close using their streamlined sales operations platform.
Their product value proposition states, "Teams use PandaDoc to improve deal workflows, insights, and speed while delivering an amazing buying experience for their customers."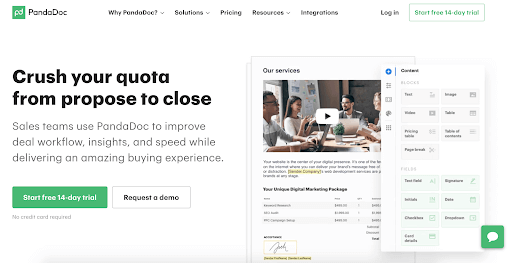 (Image Source)
Rather than focusing on the features of their software such as electronic signatures, collecting payments, or contract management, PandaDoc recognizes that their target audience of sales professionals is action-oriented.
By speaking their audience's language in terms of closing deals, PandaDoc has successfully generated over 20,000 companies using their software to accelerate the deal closing process.
At the end of the day, it's important to follow suit and focus on the bigger picture when trying to sell your product rather than getting caught up in the smaller details.
9. Tidio
Tidio, a live chat software, enables users to build and add their own chatbots to their website without needing to know any code. But again, rather than focusing on the features, Tidio states that their software can help turn 3X more visitors into paying customers.
Their product value proposition states, "Add Tidio to your website in three minutes. Chat with visitors in real-time and turn them into happy customers. Try this free live chat software for free and increase sales now!"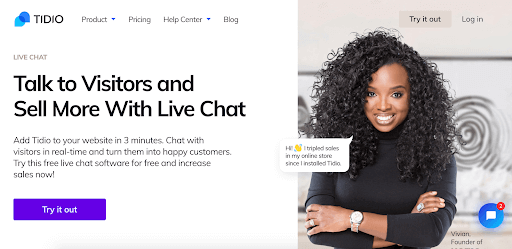 (Image Source)
So not only is their software incredibly easy to use, but it also promises to increase sales and improve customer experience by reducing response times.
Not to mention, they also flaunt the fact that they have over 300,000 websites actively using their live chat software to back up their claims.
Hopefully by now you're starting to recognize a pattern when it comes to crafting a successful product value proposition, but let's take a look at one last example.
10. BigCommerce
BigCommerce, an open SaaS platform fueling ecommerce stores, focuses on selling a new era of ecommerce that's met with flexibility and innovation.
Their product value proposition states, "Ignite growth, not complexity; Meet the flexible, open SaaS platform leading a new era of ecommerce. Explore limitless possibilities to Build, Innovate and Grow."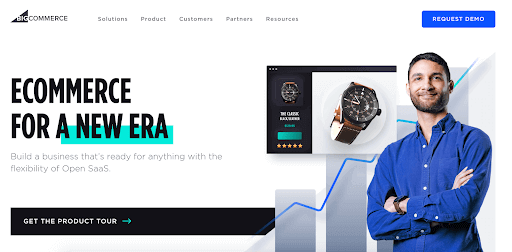 (Image Source)
BigCommerce speaks to an audience of frustrated merchants who are fed up with product launch delays, broken sites and servers, and inability to scale. In other words, those looking to truly "build, innovate, and grow" their brand.
Put simply, BigCommerce is known as a high-performance platform for ecommerce stores at every stage of their growth and backs some of the world's most renowned brands.
However, BigCommerce speaks directly to those with strong visions for their brand who don't want to be held back by technological compromises.
Now that you've seen a few different product value propositions, let's look at how to create an effective one.
How to write a product value proposition
It may take a few drafts before you create the perfect product value proposition. For most businesses, that's normal. Product value propositions should be living statements that continuously evolve over time.
By incorporating these three tips into your strategy, you'll be on the right track to draft a product value proposition that converts.
1. Write in the voice of the customer
To start, marketers should sit down with key stakeholders, product managers and other influential leaders at the company. Together, they can take a systematic approach to writing the most accurate and effective value proposition.
Although a product value proposition is a part of your marketing messaging, you don't want to sound too salesy. It should be a balanced statement that is rooted in your customers' reality. Make sure you're writing for your target customers, matching their voice, tone and style.
To accomplish this, understand the challenges they face and how your product can help. Use their words and phrases. Share their pain. Surface what is important to them. Focus on what they value. Say it in a way they'll recognize.
Before you ask existing customers for feedback, review any testimonials, client communications or online reviews on Google, Facebook and related sites. Failure to infuse the customer's voice in your product value proposition may make your company seem like it lacks empathy and is unaware of how to improve their customers' lives.
2. Start narrow and go wide
Think about your marketing messaging as a whole. Your product value proposition will be a combination of multiple aspects of your overarching messaging strategy.
Before you begin drafting your product value proposition, make a table that outlines the following categories:
Product value propositions will address each one of those topics in some form. Writing them out before you begin weaving them together is essential. This will help you address each area—whether directly or indirectly—in your product value proposition.
These details are specific, but together, they can portray a wider product value position. They'll act as a roadmap for the destination you're trying to reach.
3. A/B test different variations to ensure it converts
Marketers aren't done once they have a final draft of their product value proposition. It needs to be battle-tested by prospects and existing customers to see if it resonates.
Integrate it into different campaigns to A/B test different versions. Gather the insights and adjust the statement accordingly before you finalize it.
As always, continue to test and iterate it over time. Your product, business and industry will evolve, so you should always be prepared to update your value proposition and messaging.
How to market your product value proposition
With your product value proposition finalized, it's time to weave it into your marketing assets. To start, add it to your website, integrate it into multi-media content and share through proactive outreach.
1. Add it to your website
Where else will it be more effective? Your website is one of your most valuable owned assets. If your value proposition is for your flagship product, consider adding it to your homepage slider. Once prospects visit your website, they'll be greeted by your product value proposition and immediately understand what you're offering and why they might need it.
This will also provide you with the chance to continue testing slight adjustments to the copy to ensure it resonates with prospects. Businesses can use A/B testing software like VWO to show different parts of their website to two different audiences. They can add two value propositions and see which one drives the most clicks or demo requests.
By adding your product value proposition to your website, you'll grab the attention of passive visitors and turn them into qualified leads.
2. Integrate it into multi-media content
Your product value proposition should be in nearly every piece of content you produce—whether overtly or indirectly. All of your product messaging should flow back in some way to your original product value proposition.
Perhaps you want to bring it to life through a product video or explain it to customers who are listening on an industry podcast. Either way, your product value proposition should always be top-of-mind, so you can share it passionately at every chance you get.
3. Share it through proactive outreach
You don't have to insert it into every prospect email, but always ensure it's on the tip of your tongue when someone asks about your product or business.
In addition, it should be a core tenant of your communications strategy. Pitch human interest stories to trade media publications or submit guest posts on related sites and include a modified version of your value proposition.
As it's featured in more locations, your customers will learn about your offering and think of your product the next time they are faced with the problem it solves.
Conclusion
Product value propositions are essential for educating and converting prospects in a short amount of time. Effective value propositions are succinct statements that convey how the product will solve the challenges customers face.
By drafting and testing your value proposition, you'll find one that effectively engages prospects, shares your product's benefits and nudges them closer to purchase.
Related Articles